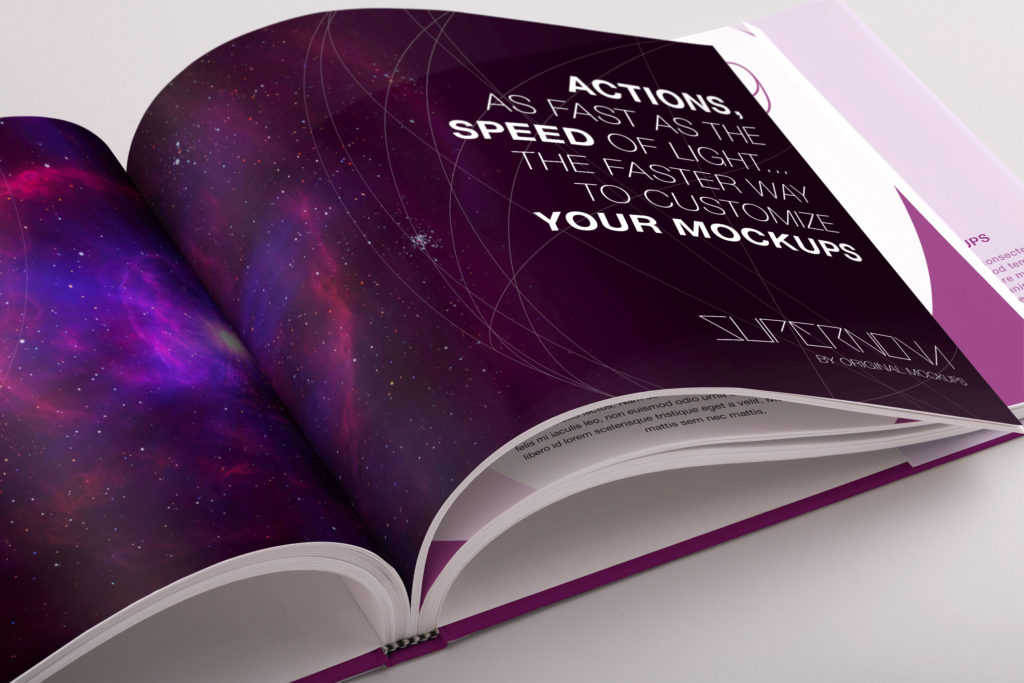 One of the difficult things about working on any print design – apart from doing the design work itself – is showcasing the final product to the client in a visually appealing way.
For instance, if you're working on a book cover design, how do you show it to the client in a way that they can immediately imagine what the design is going to look like on an actual book?
Well, you obviously need to find a nice template of a blank book and then put your design on the cover. But this is much easier said than done.
While most designers spend an incredible amount of time working on their primary task, they later on tend to compromise their efforts by rushing through that final part – preparing a product demo. The reasoning is that the client needs something "now" and you don't really have time to fiddle with pixel-perfect demos at this point, right? Unfortunately, this attitude can have a huge impact on the client's perception and the overall perceived quality of your work.
Luckily, this is where the solution we're reviewing today comes into play.
It's called the Supernova Bundle and it's built by OriginalMockups.com.
What is it?
In a sentence, the Supernova Bundle is a set of 80+ PSD mockups that will help you digitally represent your print designs in a way that makes them look exactly as if you were holding them in your hands.
Here are just a couple of examples to give you a general idea of what I'm talking about: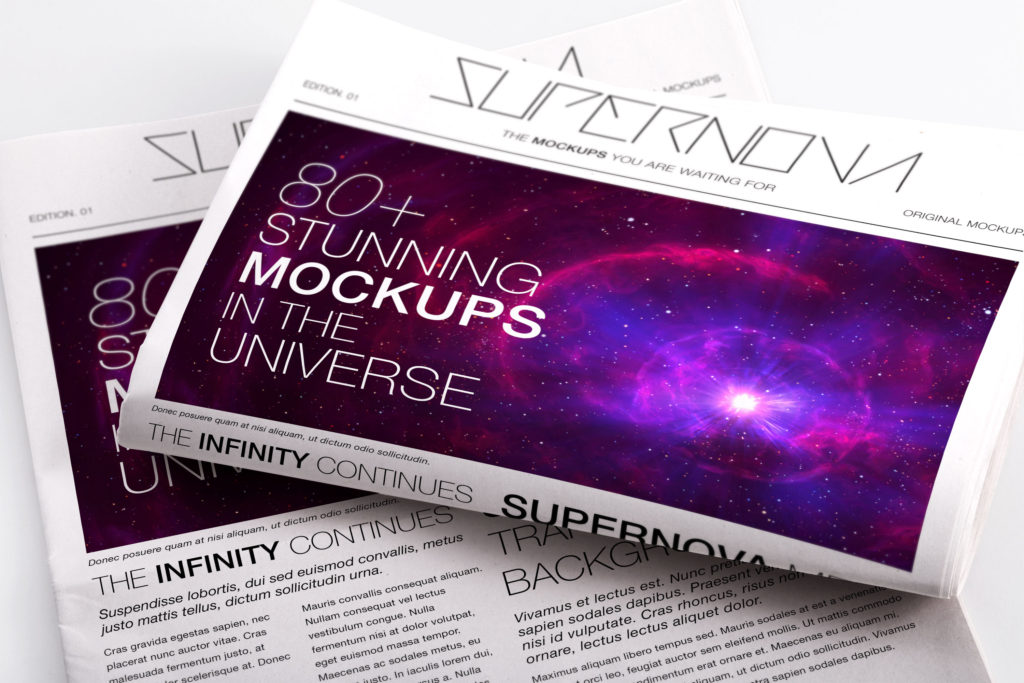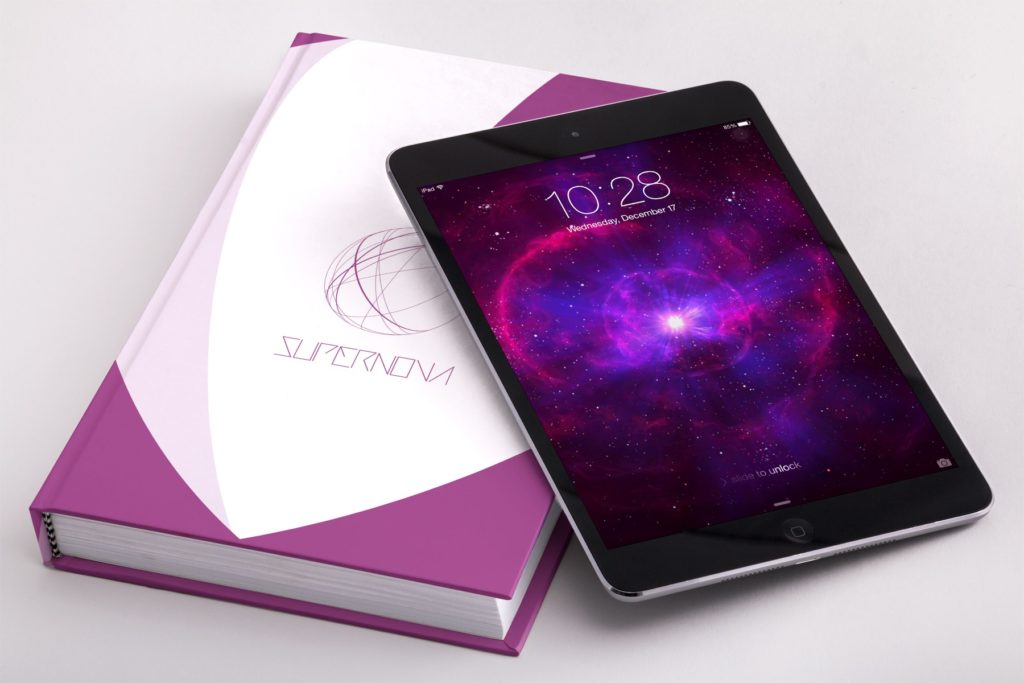 What's inside the package
Just to name the more important details:
There are 80+ mockups inside the package. The mockups are geared at editorial and print designs, such as books, catalogs, magazines, newspapers, etc., plus a couple of less obvious types of work too, e.g. mugs, cups, and a handful of iPhone 6s.
Each mockup comes with a set of Photoshop actions for easy editing, as well as Smart Objects integration and a layered structure to help you find your way around the design.
Guideline and measurements templates (bleed, cut area, exact page sizes and margins, etc.), which allow you to handle the integration with the end design margins faster.
There are customizable background colors.
All mockups come in high definition and high resolution (3,000 by 2,000 pixels at 300 DPI).
There's premium support. This means that if you have any problems working with the mockups, you can reach out to the OriginalMockups team and they will help you out.
What about the quality?
In a word, I'm really impressed with the quality of these mockups.
They are incredibly photo-realistic and look nothing like the product demos used by most companies these days.
This is especially apparent when we take a look at some of the non-obvious mockups, like the ones presenting a person going through a book, for example: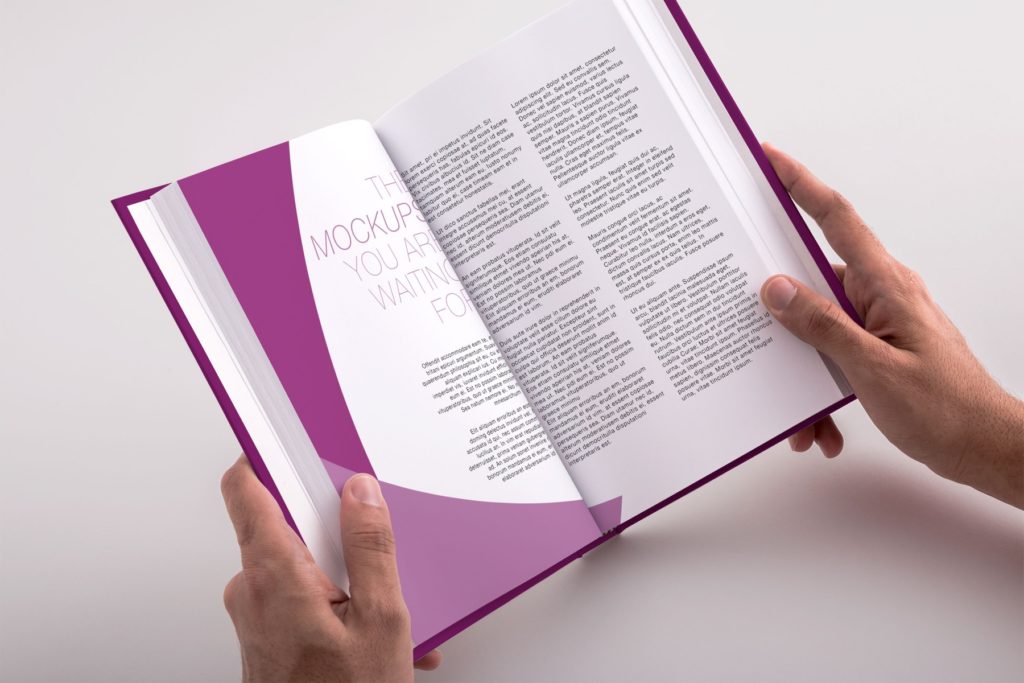 Or the one where you can see the curvature of the pages and the contents nicely following suit: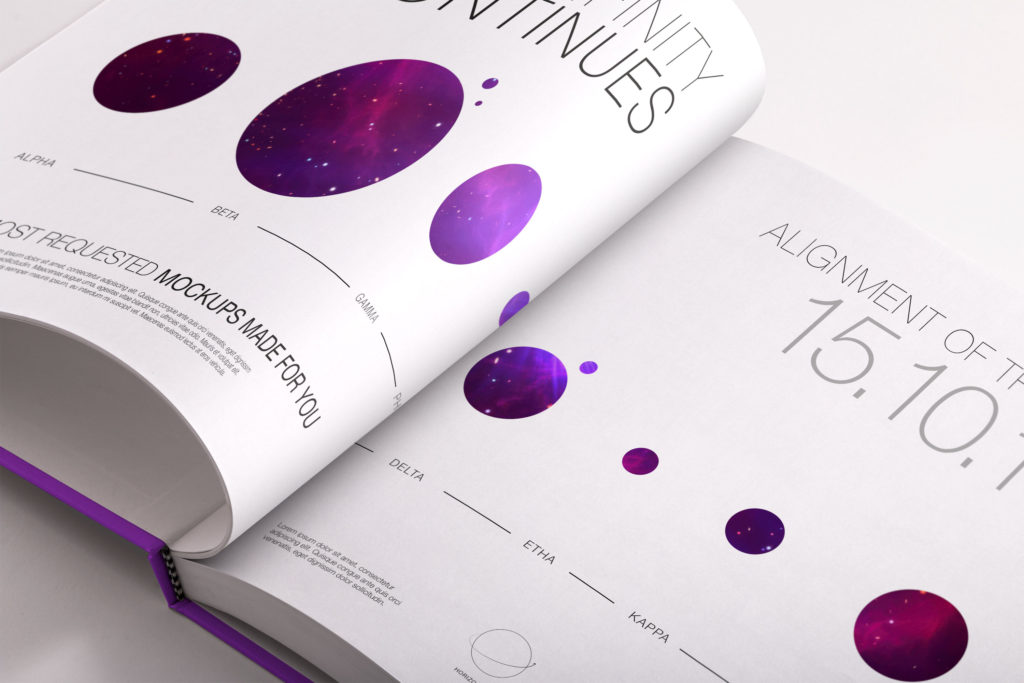 And of course, just for the record, all mockups are high-def, so they will look great on any screen and device.
How to use it
First, the rules. When you get Supernova, you can use the mockups for both commercial and non commercial projects as many times as you want. Attribution is appreciated but not mandatory.
When it comes to the usage itself, the great thing about these mockups is that they are built with Smart Objects and also include Photoshop action files to help you speed up your efforts.
All it takes is importing your final design into the main Smart Objects (the blue layers), running the corresponding Photoshop action, and then choosing the background (and optionally tweaking some of the effects). After just a minute or less, you will have the final presentation/model ready.
The bottom line
In my opinion, there are four main elements that make this bundle great:
It's

 

"the whole package"

 

– everything you would need to present a print design in an attractive way.
The quality is truly high.
You don't need to be a Photoshop ninja to use them.
You don't waste your money buying individual mockups. There's a clear single price for the whole thing $39 (for a limited time), and you also get free upgrades and unlimited downloads for one year.
Who would I recommend this to? Every designer working on any kind of projects for print. Putting your final design through one of these mockups will add a great deal of perceived value to your work. And your clients will love it.
But wait, there's more!
Okay, so the review isn't actually the only thing we have for you today.
There's also a giveaway.
In short, we're giving away another product built by OriginalMockups.com – their Infinity Bundle. Basically, the Infinity Bundle is similar to Supernova – it's also a bundle of mockups –  but focusing on stationary, business cards, devices, UI displays, flyers, posters, and more.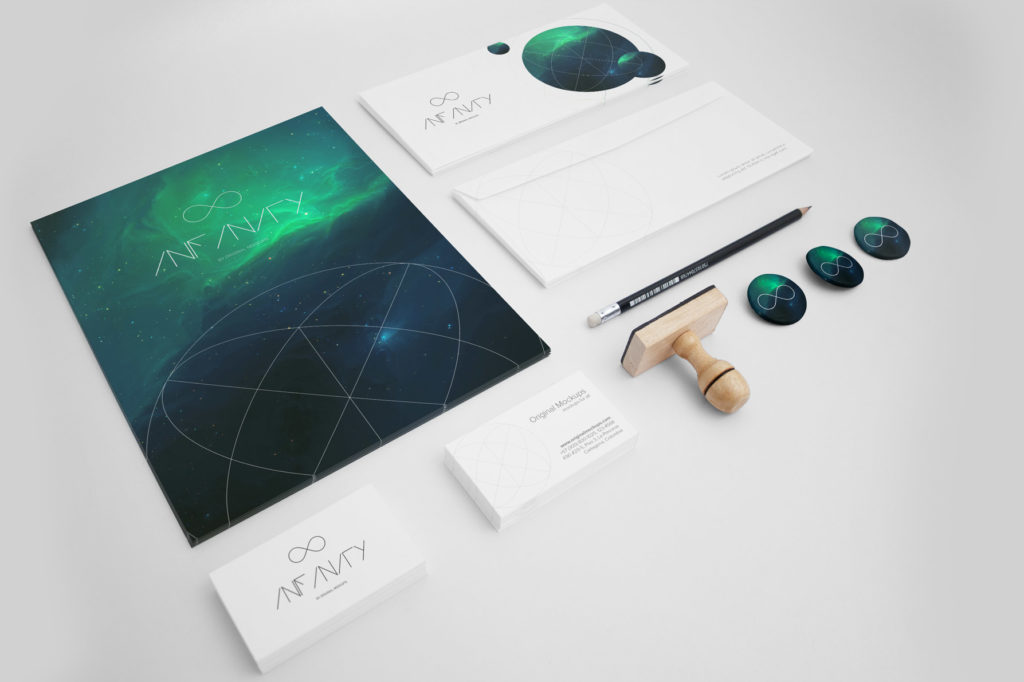 To participate in this contest, please see all the rules and details here:
Touchdown!
The giveaway has ended and this are the lucky winners:
Aaron Morrison
Trí Tâm
Jost Behre
You will be contacted via email within 24 hours by the author of this awesome bundle regarding your prize.