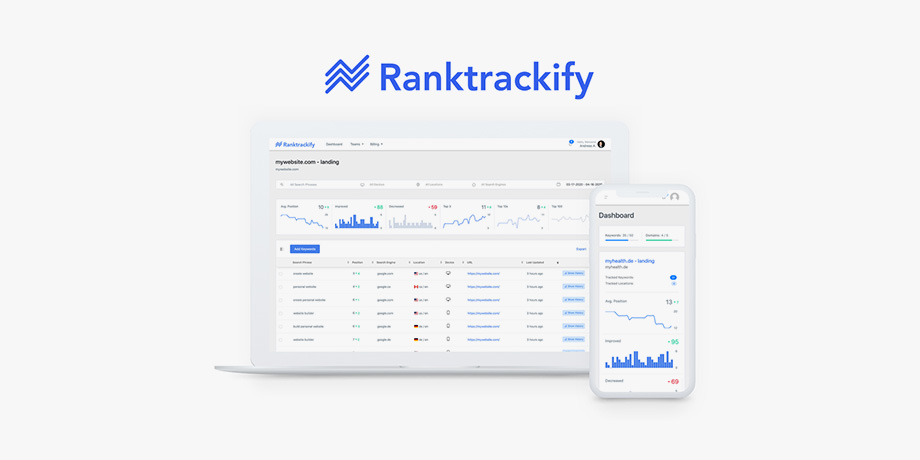 SEO is the soul of content marketing and many other internet businesses today. And a basic understanding of SEO without a knowledge of how to track your keywords on search engines like Google, Bing, Yahoo, and several others might hold back your marketing strategy from thriving.
However, several cutting-edge technological tools have been developed to help businesses, marketers, and individuals check and track the rankings of their keywords on search engines. These tools, commonly referred to as Rank Trackers, are uniquely developed to perform both basic and advanced checks on your SEO strategy, whether it's useful or not.
RankTrackify is a seamless rank tracker that is designed to give you insights into the performance of your keywords on search engines. To find an immediate pull of current rankings on your keywords and general SEO strategy, RankTrackify is one of the best go-to tools around.
Here is a detailed, easy-to-read review on RankTrackify revealing all that is about it- its pricing plans, features, technology, and many others.
What is RankTrackify?
Businesses always need new initiatives and innovations to start right ahead of the competition. And with RankTrackify, you are in for a distinctive advantage over others in your industry. The rank tracker helps you check and track your keyword rankings. Depending on the amount of data you are interested in pulling out about your SEO strategy, this technology will go all the way with you.
The rank tracking tool is built with Vue.js and Laravel with Spark. It was designed to make daily SEO checks and tracking for keywords easy for both technology novices and experts. RankTrackify provides you with up-to-date data on SEO activities, rankings on every search engine so that you can have better insights into what works, and whatnot.
As a simple, complete rank tracking software, all sizes of companies can use RankTrackify to monitor the results of their SEO activities and check performance. The software offers an extensive range of possibilities with only a few straightforward clicks here and there. The tracking tool equally enables individuals to set up their rank tracking process to get up-to-date information about their SEO performance.
RankTrackify offers a concierge onboarding for all its pricing plans to make users comfortable. And with just a few clicks coupled with an adherence to the detailed instructions on the easy-to-use rank tracker, you can set-up a RankTrackify account for your personal use. Supporting more than 50 keywords, 5 websites, and daily updates on its 14-day free trial, let's dive into all the features and pricing plans of this innovative tracker.
Key features of RankTrackify
RankTrackify is a leading rank tracking software for SEO. And with the simple and straightforward tool, companies and individuals can quickly check and track their keywords, get daily reports and insights into their SEO activities. More so, as an easy-to-use tool developed with Vue.js and Laravel with Spark it has some innovative features for seamless implementation by all and sundry.
Here are some of the key features of RankTrackify:
International Targeting: the rank tracking comes with an impressive feature that allows geo-specific rankings for any location. The tool organizes reports across search engines about your SEO activities across the globe. This feature makes you get insights into the specific countries your keywords are performing and not performing.
Mobile Tracking: RankTrackify also performs mobile tracking for keywords. It gets comprehensive reports for users on their SEO mobile performances. This feature provides insights on the keywords, whether they are well mobile-optimized or not, and identify ranked landing pages.
Daily Keyword Updates: A unique feature that allows users to stay ahead of the competition in their industry. With the daily keyword updates, your marketing becomes indispensable and you are armed with enough data to better position your SEO strategy for profits.
Extensive Reporting: the rank tracking software uniquely provides users with necessary reports through which they can make meaningful deductions and inference as regards their SEO activities. The technological build-up not only pulls up fresh data but also provides a suite of data, including visibility, rankings, and others.
Smart Filters: Easy navigation with filters. This particular feature enables users to use less to get their desired results within a few minutes. With this, you can move straight to the main section that interests you without wasting your time. It is a smart feature that makes you get maximum results for your time.
Team Management: After creating your account on RankTrackify, you can locate this feature on your dashboard and get to create a section for your team members. It is an innovative design to enhance maximum productivity for team members.
Intuitive Charts & Keyword Metrics: RankTrackify provides you with intuitive charts and relevant keyword metrics on which you can deduce insights and base your decision. With this daily updates, you can make more informed decisions regarding your SEO activities.
Pricing plans of RankTrackify
RankTrackify has three main pricing plans alongside its 14-day free trial plan. These plans are entirely affordable to make it accessible to individuals and companies of all sizes. Here are the pricing plans alongside their packages:
14-day free trial plan: this is a 14-day free plan for users to try the services of the rank tracking tool. This covers up to 50 keywords, 5 domains with daily keyword updates
Extra extra small pricing plan: this plan is $7/ month but goes for $6/month when billed annually. It covers 50 keywords, 5 websites, 1 team member, daily keyword updates, reports, and email support.
Small pricing plan: this plan is $27/ month but goes for $22/month when billed annually. It covers 500 keywords, 50 websites, 3 team members, daily keyword updates, reports, and premium support.
Large pricing plan: this plan is $97/ month but goes for $78/month when billed annually. It covers 3000 keywords, 300 websites, 10 team members, daily keyword updates, reports, and premium support.
Conclusion
RankTrackify is a leading rack tracking tool to monitor SEO activities for individuals and companies of all sizes. The software does justice to generate reports for keyword rankings on relevant search engines for businesses to be able to make more informed decisions on their marketing strategy.
The tracker is affordable and easy-to-use for all. With its team management feature, companies can maximize productivity from the software. The tool also delivers timely keyword reports to enhance SEO activities.
Coupled with its inexpensive and straightforward pricing plans, RankTrackify offers users a 14-day free trial plan which covers up to 50 keywords and 5 websites. It is truly an innovative rank tracking tool for seamless keyword tracking and SEO monitoring.