I don't know about you, but I really don't enjoy scouring the depths of the web whenever I need a particular icon for a project. Or, let me rephrase, it's not that I don't like the process of looking for cool new things, I just don't have the time when on a tight deadline.
And there's another problem; what if you need more than, say, five icons at a time? This means that you need them all to be of the same style and design. This is where real trouble starts.
So the way to potentially solve this is to get your hands on an icon set that achieves a couple of things:
(a) it's huge – or you won't be able to find the exact icon you need,
(b) it's uniform – so that any two icons can be paired with one another,
(c) it comes in a handful of styles – sometimes you need full color, other times just outlines,
(d) it's customizable.
This is where a new product called Orion comes into play. It promises to provide a solution for all of the above. Let's review it and see how much of that is true.
What is Orion?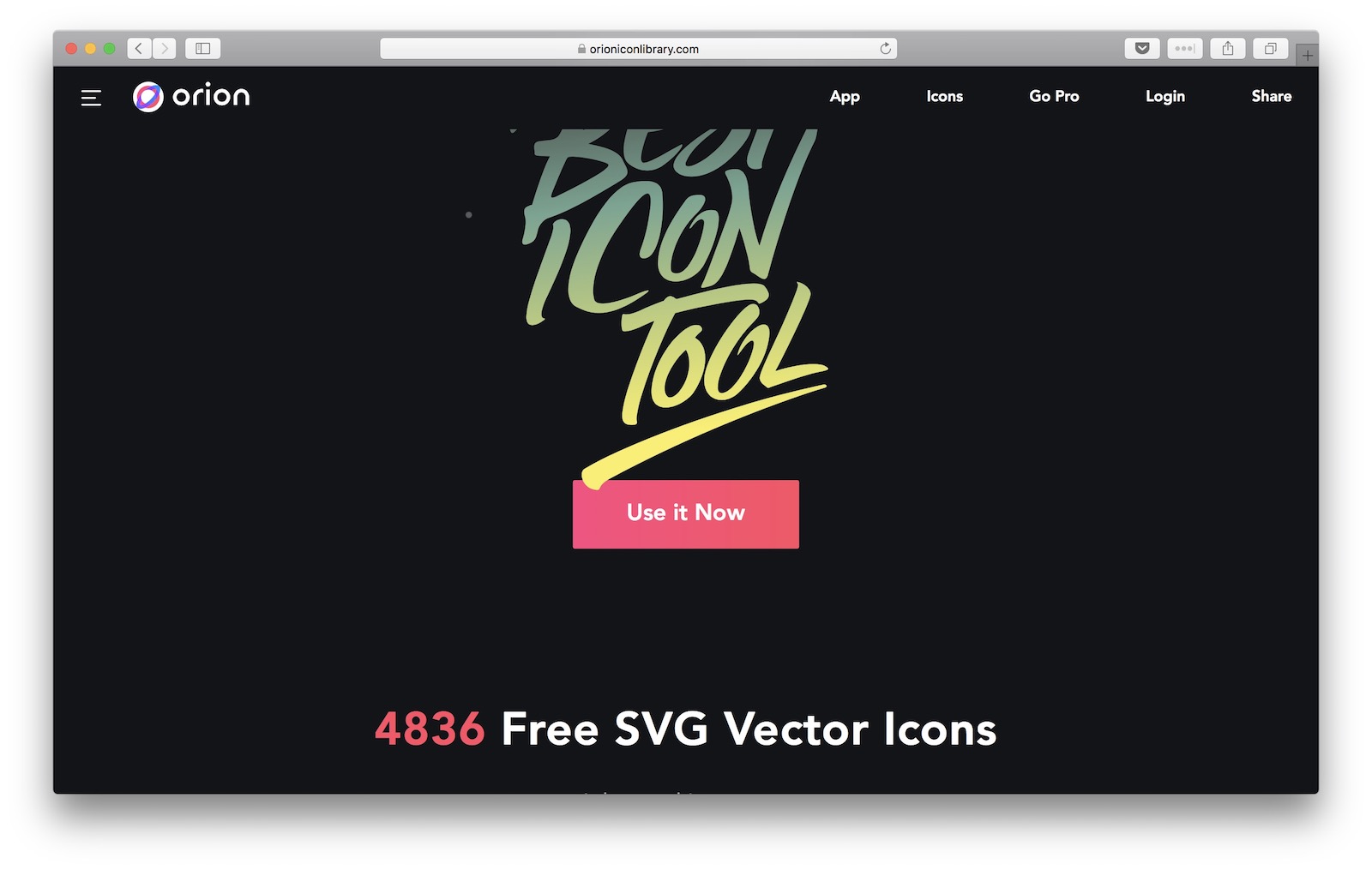 In a sentence, Orion is an icon design tool combined with an icon library.
What this means in practice is that you can use Orion not only to pick from a wide range of ready-made icons available in the tool, but also to then modify those icons to make them fit your project 100%.
It's that ability to customize everything that makes Orion really unique out there in the market. Basically, we've seen a lot of icon sets come and go over they years, but for something to really stick, it needs to be able to adapt to changing times and designers' needs. Orion is perhaps an answer to that.
Here's what you need to know about it:
What's inside Orion?
The main Orion tool is available as a web app. Once you fire it up, you get immediate access to more than 4800 SVG icons that you can use and customize.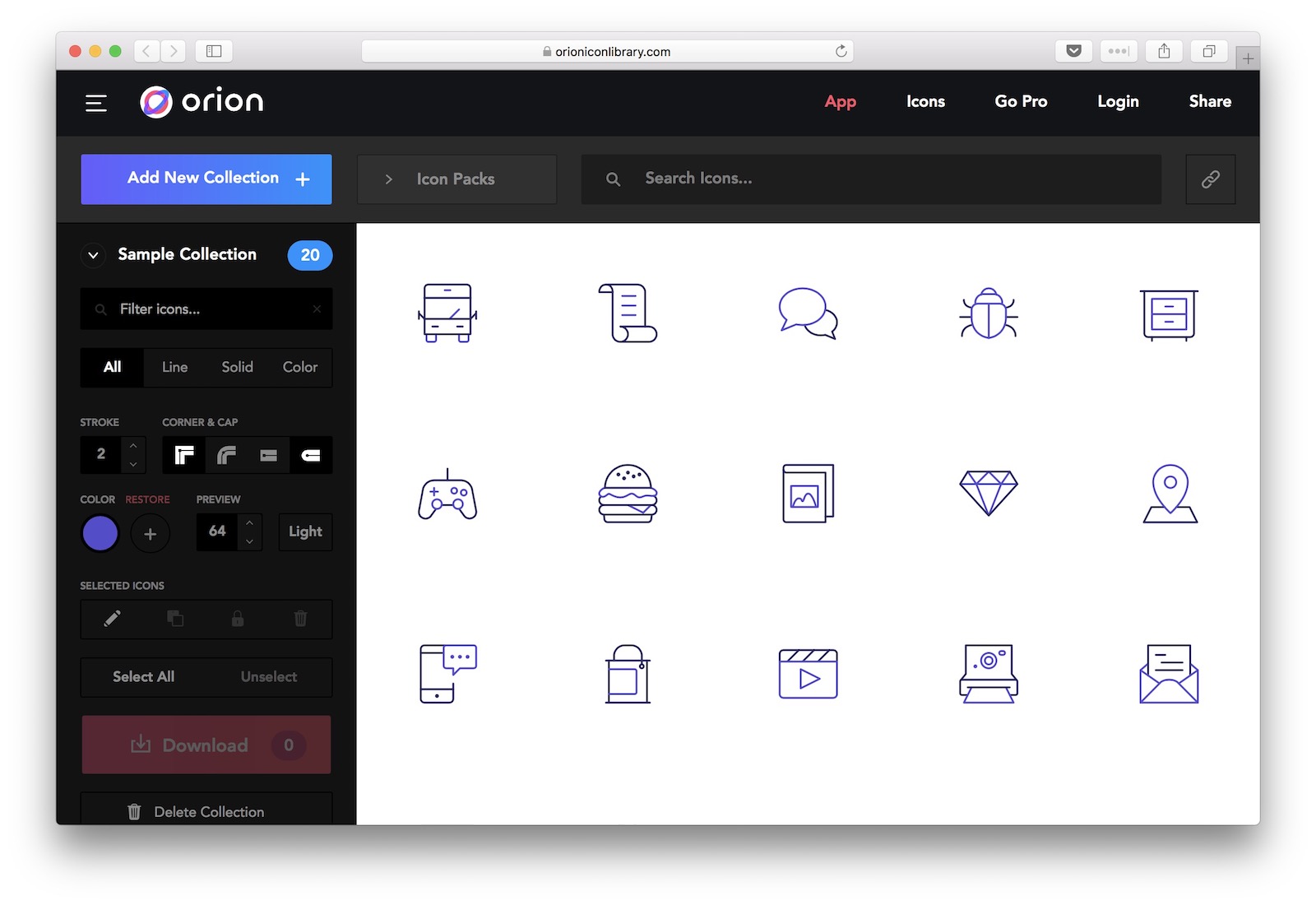 The interface of the app is very intuitive and all the options seem to be obvious and easy to understand. It's clear that making this friendly towards non-designers was one of the main goals when building Orion.
The best way to begin with this tool is to first compose a collection of icons that you need for your project. This is quite easy – just browse through the available icon packs and add the icons that you like.
In the next step, you can customize your icons. And this part is really cool; here's what's possible:
you can use the icons in outline, solid color, and full color (multiple colors) modes,
you can set the size of the stroke,
you can customize the corners (square, rounded, etc.),
you can change colors – the main outline color and also the fill colors,
you can change the sizes.
Then, once you're done, you can download your final icon pack. Orion allows you to export icons to PNG, SVG, and Sprites.
What's really useful in Orion – something I feel I should point out – is that you can see the results of your customizations in real time, and that you can do everything right inside Orion, without the need to then transfer over to Photoshop or Illustrator. This speeds up the design process considerably.
When it comes to the categories of icons available in Orion, there's basically everything you might need. Just to name a few sets: interface icons, food, hardware and software, social and people, books, weather, media, location, e-commerce, communication, and more. And you can even upload your own icons if you wish to.
Who should use Orion
Overall, Orion is a very promising tool, and one that can potentially make your work much easier if you constantly find yourself looking for yet another icon on the web.
Additionally, or perhaps crucially, the ability to customize the icons right inside the tool is what's going to be the killer feature for you.
The sole fact that you can do all customizations in just a single place (and don't have to then fire up any other tool to get the job 100% done) has the potential to shave some serious time off your projects.
Orion comes in two flavors, there's the free edition and the pro:
Free – you get access to all 4800+ icons, the web app, and you can export to PNG, SVG, and Sprites. There's no attribution needed for personal use.
Pro – No attribution needed at all (even for commercial projects). You get 1430+ extra icons, all design source files, the ability to save, sync, upload and share your library of icons. The pro package is available either as a monthly subscription ($5), an annual subscription ($49), or as a one-time payment – the "Forever plan" ($99).
But there's more! Here's the best part:
The giveaway
The good guys behind Orion – the Pixeden team – have provided us with 3 fully featured, Forever plans to give away here.
Here's what you get with each of these licenses:
The complete, unrestricted access to Orion pro – the tool and the library, as well as all the perks that come with it.
More than 6200 total icons, including 1430+ premium icons.
No attribution needed when using the icons for commercial projects.
No time limit – the license never expires.
How to participate
See below for the rules and info on how to get on board: