jQuery … the ultimate way of tricking people into thinking that you know JavaScript when you actually don't.
And I don't mean anything negative here.
Quite simply, for the past couple of years, jQuery has become one of the main web development tools for smart website creators who want to do more by writing less (the actual slogan of jQuery).
jQuery is an awesome library. This goes without saying. However, finding the top resources and tools for it can be time-consuming.
Sure, you can look for jQuery plugins on Google, but these days, the market is so huge that it's no longer simple to separate the wheat from the chaff and not end up with a sub-par solution.
That's where Unheap comes into play – a tidy repository for jQuery plugins, which we're reviewing today.
What Unheap is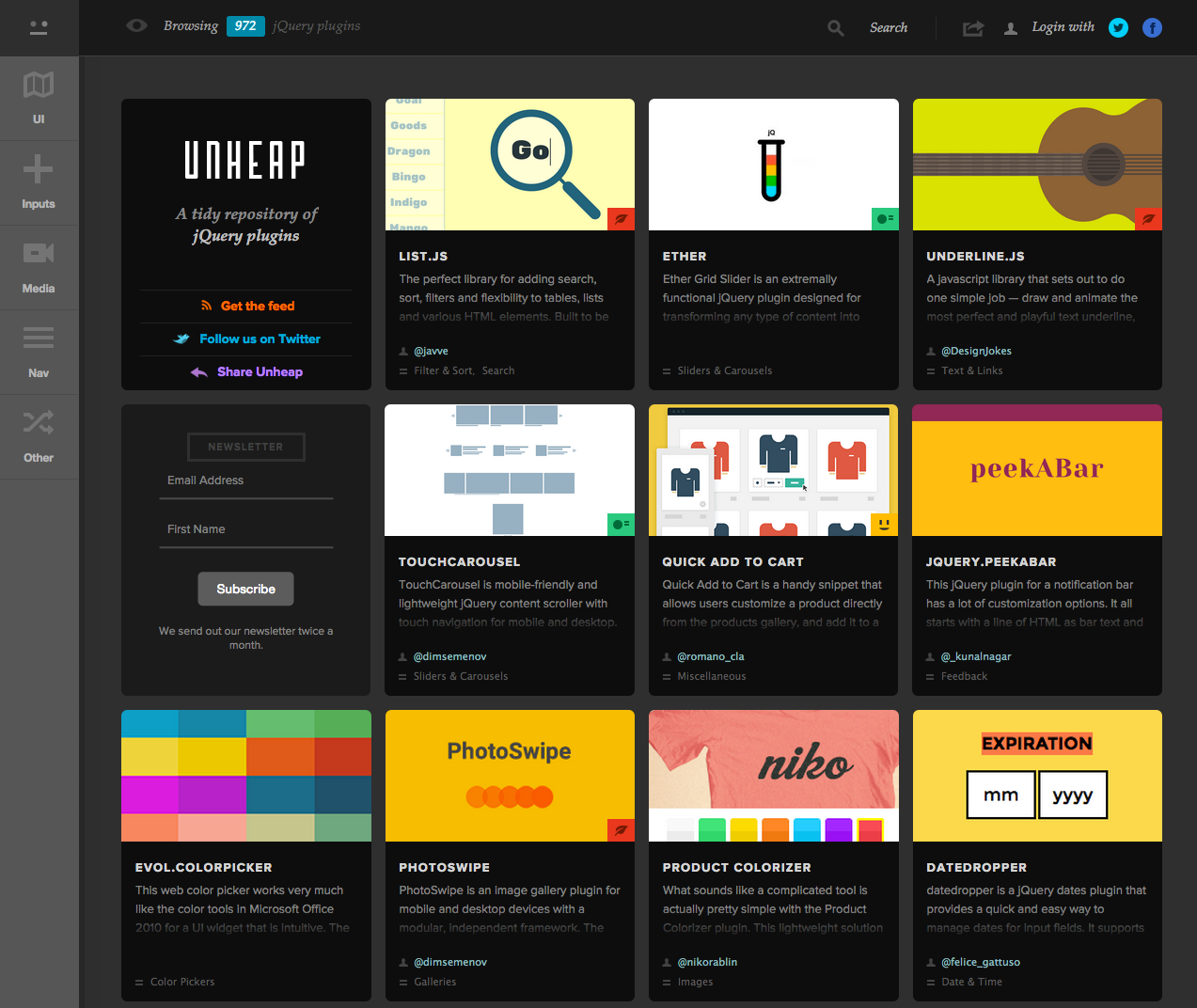 Unheap is a website that gives you access to loads of jQuery plugins (both free and premium), and does so in a visually accessible and easy-to-use way.
Unheap does a great job at organizing, categorizing, and tagging plugins that they have in the repository. Each plugin listing features things like:
a link to the plugin's site – or downloadable version,
a link to the live demo version if available,
a quick description,
a nice thumbnail,
a view counter (to indicate how popular the plugin is),
and a possibility for you to leave feedback or report a bug.
Additionally, when you sign in with your Twitter or Facebook, you can save plugins onto your own "Saved Plugins" list. This is great for fast browsing and building your own personal repository of the top plugins by your own standards.
Each plugin in the repository also gets its own sub-page that provides even more details about it, as well as a list of related plugins.
Who it is for
Obviously, Unheap is a resource website for developers, web developers, JavaScript developers, and basically anyone who works with jQuery.
Unheap provides a really usable list of plugins that's much easier to navigate than Google pages or any other alternative way of finding jQuery plugins.
Another thing going for Unheap is that the repository is curated, so no sub-par plugin will ever find its way into it.
The plugins available
There's a lot of different plugin categories at Unheap. The main repository is organized into four top-level categories, with a number of subcategories for each.
Just to name a few of those: UI elements, backgrounds, dialogs, hovers, lists, loading icons, scrolling, tags, tooltips, all sorts of input fields, media elements (audio, video, galleries, maps), navigation (menus, accordions, responsive elements), animations, social media elements, mobile elements, and a lot lot more.
The price
The plugins listed at Unheap aren't actually hosted on unheap.com. Instead, each listing links to the plugin's parent website. Depending on the plugin, this website can either be a plugin's official site, or a listing in some premium plugin directory (like codecanyon, for example).
For that reason, the plugins listed at Unheap are available at different price points. Everything from $0 to $7 (standard codecanyon price tag), and up.
Using Unheap itself is totally free. This means that you can browse the repository and check out individual plugins as you please.
The bottom line
At the end of the day, Unheap makes your work much more efficient, and leaves you more time to do what matters – developing new jQuery solutions – rather than having to sit around Googling for things or looking for plugins elsewhere.
The guys behind Unheap say that the site was developed as an internal team resource, and this really shows. The whole thing is a user-first creation that doesn't attempt to advance any behind-the-scenes business goal, but instead focuses on delivering value to the user above all else.
What do you think? Have you tested Unheap yet?