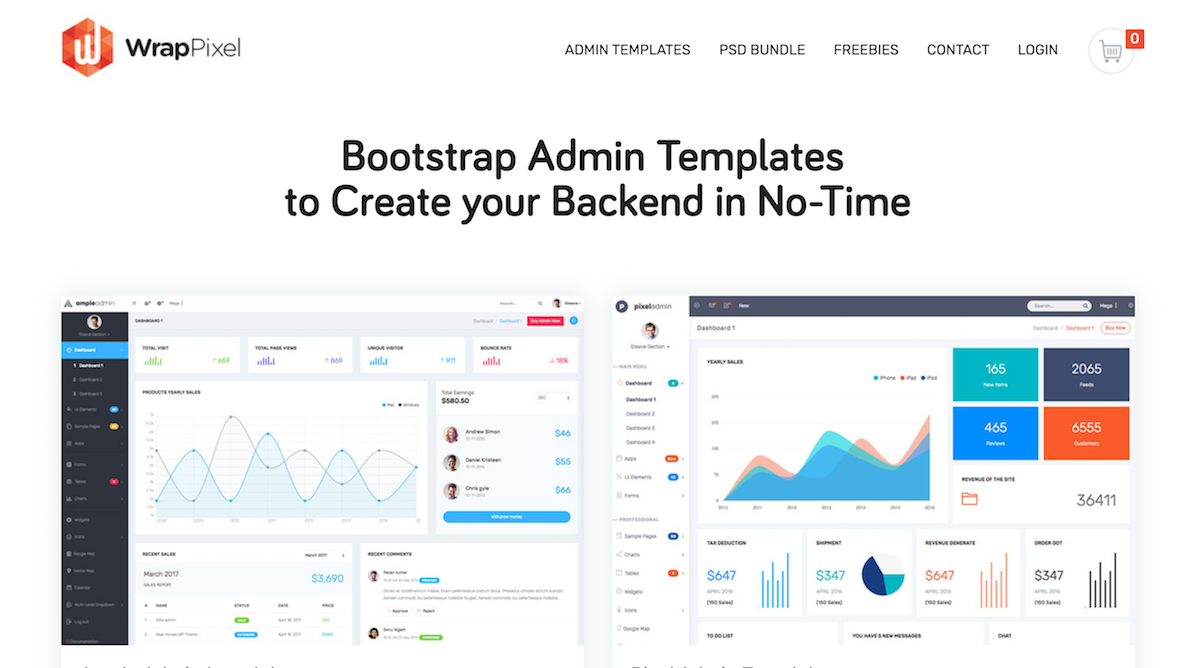 Website templates and kits are a common thing on the web, especially in the space of design blogs and resource websites – we can all agree with that, right? However, there's always been something missing from this picture…
Think about it; if you want to build a front-end website, you have more than enough resources to choose from. There are (literally!) thousands of kits and resource packages to take advantage of. However, you are not that lucky if what you're working on happens to be an admin interface – a dashboard of some kind.
Well, it appears this is not the case anymore! Let's introduce WrapPixel and have a look at what they bring to the table in this regard.
Here's what WrapPixel is and how it can help you build optimized admin interfaces quicker and at less cost.
What follows is our WrapPixel review (first) and giveaway (scroll to the bottom of the page for that):
What WrapPixel is
WrapPixel started only in November 2016, but they have managed to carve out a nice piece of the market for themselves already. In a little over three months, they've attracted more than 12,000 users and counting.
In short, WrapPixel offers high-quality admin templates (PSD and HTML) – think, product / app dashboards, backend interfaces, admin panels, etc.
Apart from those, they also have some more traditional, front-end website templates for you to choose from too.
WrapPixel is a team of five people (design and coding experts), and they keep adding new products to their database every two to four weeks. Everything you see on the site has been custom built by the team, and they also offer 24/7 support for all inventory (both free and paid).
What WrapPixel has for you exactly
All of WrapPixel's admin templates are based on the Twitter Bootstrap framework. This makes them responsive by design and optimized to work on all devices. (The last thing you want is your admin interface not operational when there's a need to do an emergency tweak when on the go, right?)
The templates seem to be of really high quality, the designs are understandable, clear, and should be easy to grasp for anyone who's the final user of the admin interfaces built with any given template.
There are three main sections at WrapPixel: Admin Templates, freebies, and PSD bundle.
The Admin Templates section is where you go for the complete, usable admin interface templates. Each template features all the elements you would expect, such as PSDs, HTML, JS, and CSS.
The Freebies section is actually a very good starting point of your experience with WrapPixel – you can see what's available there, and then decide whether or not you want to get some of WrapPixel's paid templates based on that.
Now, the PSD bundle is where the real fun starts! That bundle is very affordable and allows you to get some of the templates at an impressive 87% discount. There are more than 140 PSDs in the bundle and new ones are being added as you read this.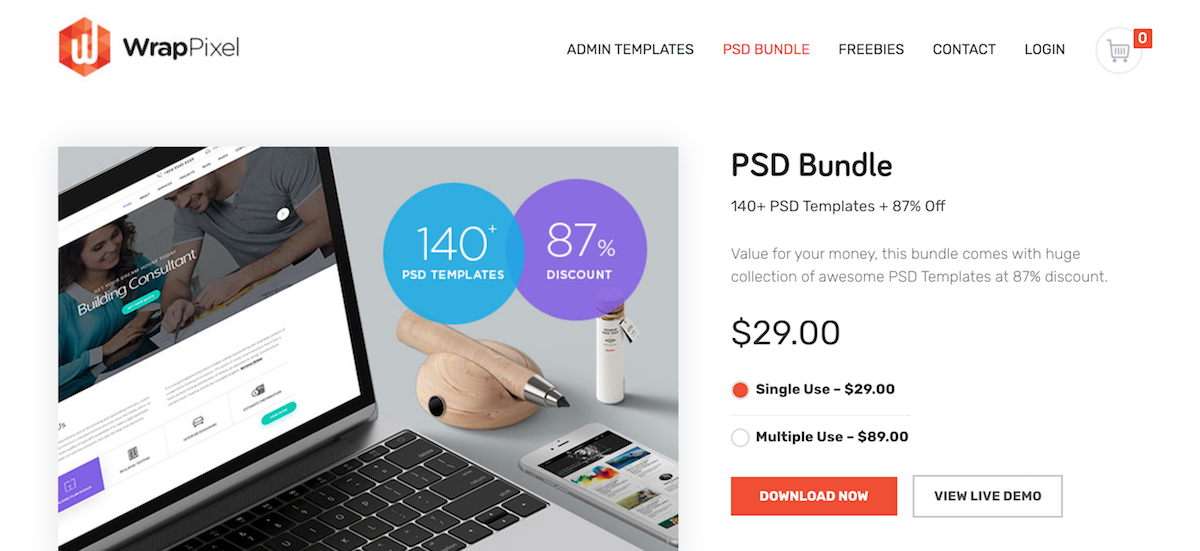 Last but not least, whatever item you download, whether it's free or premium, you get one year of free 24/7 support and free lifetime updates.
Who should use WrapPixel
There's no mystery here … if you're working on any design / development project that includes an admin dashboard component, you can really benefit from getting some of WrapPixel's templates.
We all know that meeting tight deadlines is tough, and very often we find ourselves focusing much more on the front-end of the project while making the admin side an afterthought. We all know this is bad, but we just don't have the time to handle things properly…
WrapPixel helps with that. Simply speaking, they help you build quality admin interfaces in a fraction of the time.
Discount + giveaway
This is what everyone's been waiting for!
First off, if you go to WrapPixel and use the coupon code EWD25 you get an additional 25% off every purchase you make (even the PSD bundle). But that's not the best part yet…
The best part is the giveaway that we have for you here! The good guys from WrapPixel have provided us with 10 license packages to give away, consisting of:
the Ample Admin template,
the Pixel Admin template,
the PSD Bundle.
(Fine print. There will be 10 winners, who will each receive one license of Ample Admin, one license of Pixel Admin and one license of the PSD Bundle.)
Again, we're talking about 10 fully-featured licenses of WrapPixel's bestselling products. You can use them for any purpose and any project that you happen to be working on right now.
All things combined, the total value of this package is $1870!
How to participate
See below for the rules and info on how to enter: