You can admire WordPress all you want, but you have to agree with one thing – WordPress has never been good when it comes to even the simplest of tables, not to mention more complex data representation, like charts.
I mean, sure, you can use the Text editor in WordPress and structure your tables via raw HTML, but that's not entirely a user-friendly approach, isn't it? Albeit HTML isn't necessarily uber-difficult to master, it's still not in the realm of users who just want to create their content in a visual manner, and not get into any code-related shenanigans.
So this is where the plugin we're reviewing today comes into play. It's called wpDataTables and it promises to solve all your table and chart problems. Let's see what it is exactly and why you should consider it for your WordPress website. Here's our wpDataTables review:
What is wpDataTables?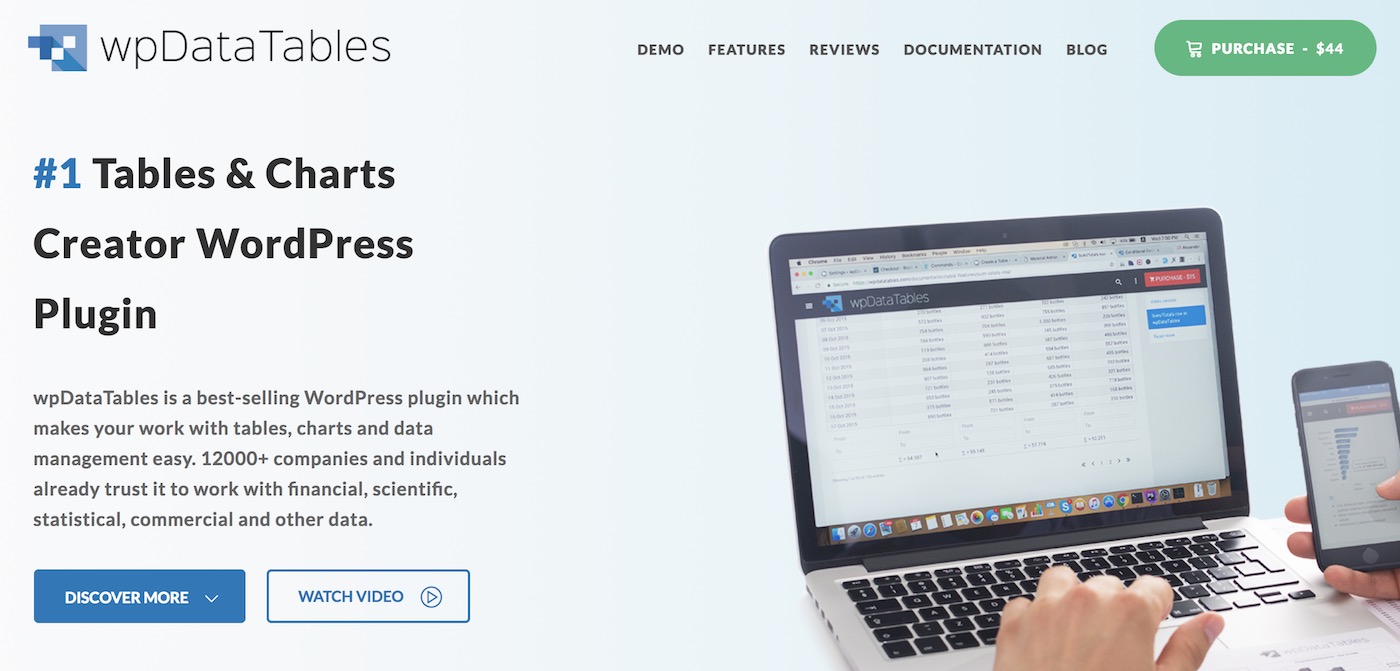 wpDataTables (created by TMS) works as a plugin for your WordPress website. In a sentence, it lets you build functional tables and charts in minutes, and without needing to be tech-savvy or know how to code.
The main selling point of this plugin is that it really simplifies the whole process. It lets you build your tables and charts through a handy user interface where you can do everything by clicking and adjusting various settings on screen – instead of having to learn a complex programming language, for example.
Despite being this easy to use, wpDataTables is also quite powerful. It offers tens of features – some of which we'll discuss in a minute – and has been trusted by over 12,000 customers that use it to handle their financial, scientific, statistical, commercial, as well as other types of crucial data.
Lastly, wpDataTables offers a handful of add-ons that allow it to integrate with third-party tools and services, making it perhaps the ultimate data- and table-management tool for WordPress. But let's have a deeper look to make sure:
The features inside wpDataTables
Something that I should point out up front is that wpDataTables is really rich in features, and listing them all here would be rather unreadable, so instead, let's focus on the stuff that all users are likely to benefit from due to those features' universal natures:
All tables created in wpDataTables are natively responsive, which means that they can be viewed on any device and will always look great.
It can handle very large tables, up to millions of rows.
All tables remain editable, which means that you can log in to your WordPress dashboard and tweak any piece of data you wish.
The tables are interactive – different rows highlight as you hover your mouse over them or take other action.
There are advanced filters and search. Those allow you to narrow down the dataset you're seeing in the table.
It has conditional formatting – allowing you to color-code different cells based on their contents.
It lets you generate charts based on the data in your table.
Allows different sources of input data for your tables. For instance, you can use a MySQL query, CSV file, Excel file, Google Spreadsheet, XML file, and more. What this means is that in order to create your table, you only need to provide wpDataTables with a data source (through a couple of clicks), and the plugin will take it from there, generating your table automatically.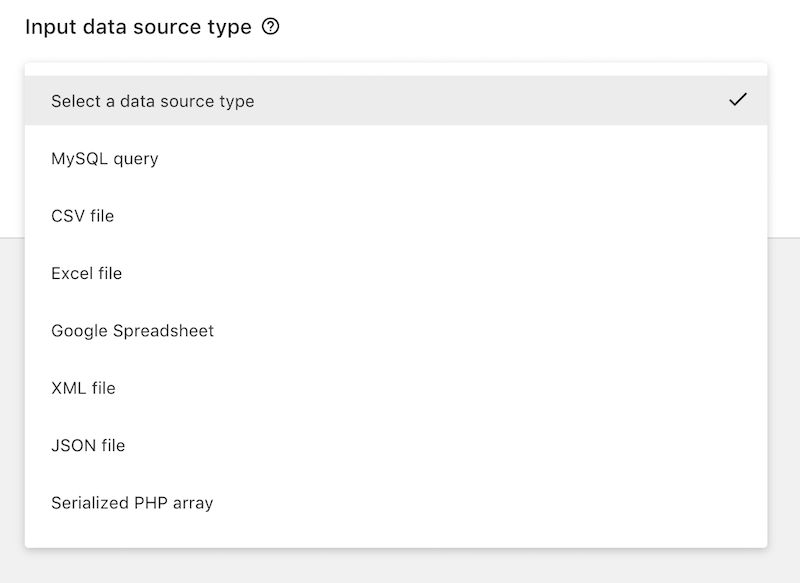 Allows you to create a table from scratch via a step-by-step wizard in your WordPress dashboard. With that, you can select the number of columns you want to have and the type of data you want those columns to hold.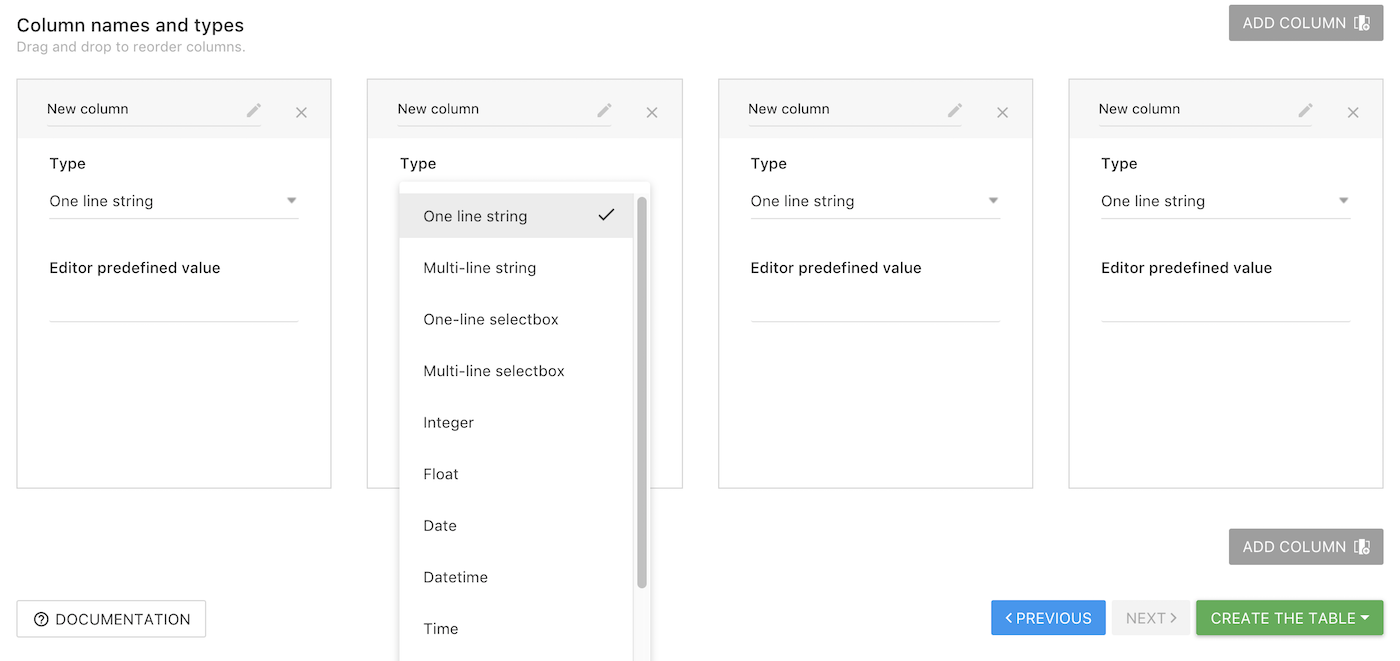 It lets you make your tables editable from the front-end. Meaning that instead of having to work with your table from the WordPress dashboard, you can actually do it from the front page. This allows you to make the tables editable for other users.
You can create charts using an on-screen wizard. This neat interface lets you select the data source for the chart, and then configure all the fine details about what type of chart you want to use and what you want to display in it.

When building the chart, you get to pick from one of three chart engines (Google Charts, HighCharts, Chart.js) and you can change them on the fly. Apart from that, you can get really in-depth when it comes to the individual pieces of data you want to feature in the chart and how you want everything to look.
Setting the default features aside, there's also a handful of interesting add-ons, should you need to integrate wpDataTables with an external solution:
The Formidable Forms add-on and the Gravity Forms add-on allow you to create wpDataTables based on your entries from either solution.
The Report Builder add-on allows you to generate Word or Excel documents and spreadsheets by taking a template and filling it with the data from your wpDataTables tables.
How to use wpDataTables
"Okay, but how easy it actually is to create a table or chart with wpDataTables?" – you ask. Let's find out:
Creating a new table in wpDataTables is a three-step process.
Provide table data – by either picking it from the list or deciding to create your dataset by hand via the on-screen wizard.
Fine-tune your table – pick if you want it to be editable, have conditional formatting, be mobile-responsive, etc.
Pick a post or page where you want to display it.
Here's a quick demonstration of how it works if you're creating a table from scratch within your WordPress dashboard:
Once you have your table ready, all you need to do is grab the shortcode that wpDataTables will provide you with and copy/paste it into any post or page. That shortcode will be converted to a live table immediately.
Who should use wpDataTables
First off, you need a WordPress website in order to use this plugin.
You should consider wpDataTables if you want a reliable and simple way of working with tables (data sets) and then having the possibility to display them on your site in various forms (as HTML tables or charts).
There are lots of great things about this plugin, but the ones that stand out the most to me are:
it's all mobile-responsive – meaning that the tables will look great on all devices (something that's not as common with other similar tools),
the plugin is extremely easy to use – you don't need to know coding and there's no complicated setup,
it's very functional – whatever you want to do with your tables, you can do.
The main wpDataTables plugin costs $44. What you get in return is the complete functionality described above, plus all future updates and six months of customer support.
(The add-ons are $20 each: Formidable Forms integration, Gravity Forms integration, and Report Builder.)
For more information, documentation and tutorials, you can visit the official website of the plugin at wpDataTables.com.
What do you think? Have you been struggling working with tables on your WordPress site?