Productivity, or rather lack thereof, is one of the toughest challenges to overcome for every creative person, no matter if you're a designer, developer, building WordPress sites, building apps, doing print design, or whatever else.
The core of the problem is twofold. First, you can't remain creative for hours on end, so you need rather frequent breaks to keep yourself sane. But, on the other hand, it's way too tempting to make those breaks a bit too frequent, up to the point where they start interfering with your work day.
And last but not least, the fact that, these days, we can handle both our "work" and our "entertainment" from the same computer doesn't make things any easier. That's insane.
So, to help battle this insanity and remain productive, one of the best ideas you can implement is a timer tool or app – one that would pay attention to what you're doing plus for how long, and then give you a report at the end of the day – a report that you can then analyze and thus improve on how you spend your time during working hours.
This, in short, is exactly what the aptly called Timing app does. Let's look into it today in the following review.
(Want to get straight to the discount? Scroll to the bottom of the page.)
What is Timing?
In a sentence, Timing is an app for your Mac that observes how you use your computer and categorizes your activities on a timeline.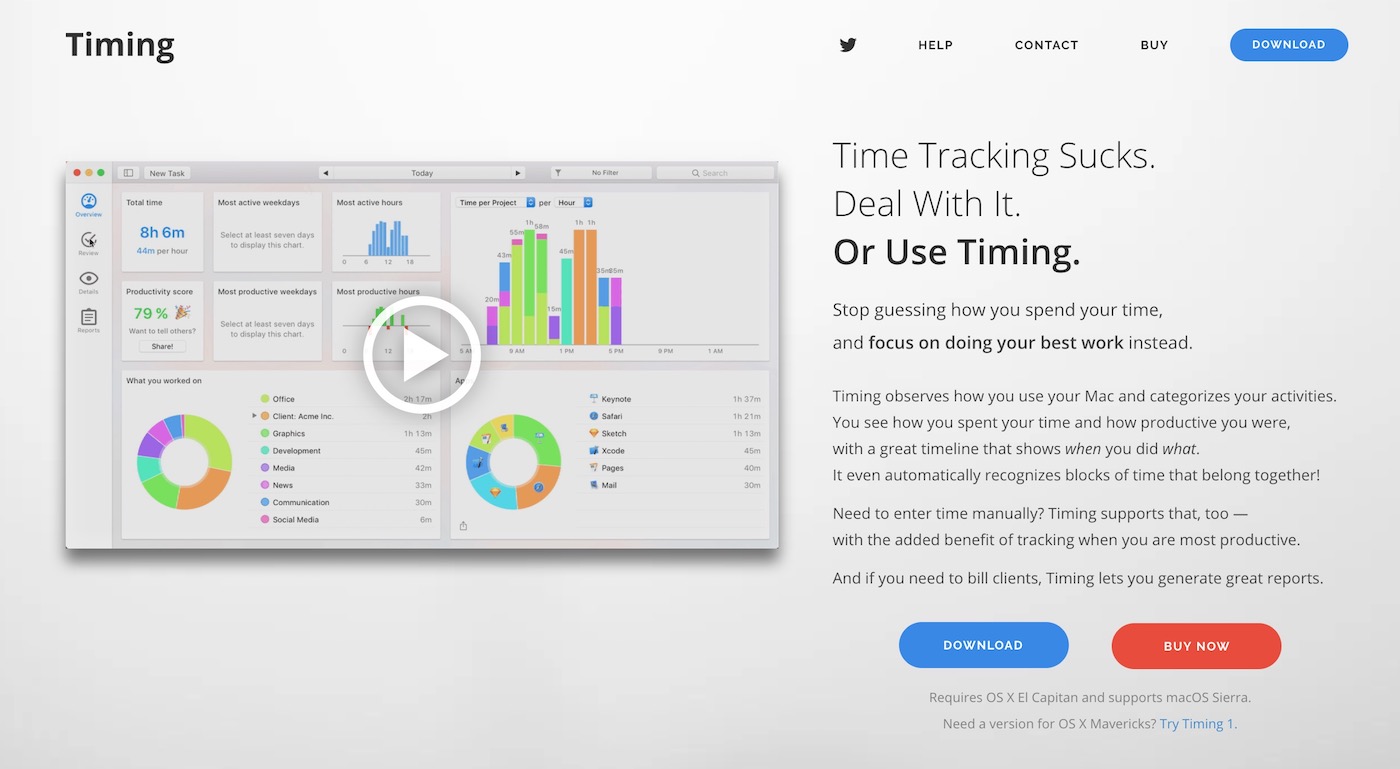 The best thing about it is that it actually tracks everything without you needing to "start" or "stop" a timer. It all happens in the background automatically.
I should probably emphasize on this. From my experience, and I've been using timers to track my projects for over three years now, the need to start and stop timers is, by far, the biggest hassle of the whole ordeal.
Apart from the fact that it interrupts your workflow, every once in a while you will forget to activate the timer when you're just about to start working on a client project. This can be troublesome, since you no longer have a complete record of your billable work.
Having the ability to automate this just makes a lot of sense. After all, interacting with the timer itself shouldn't be the focus of your work. Instead, you need to devote your attention to the actual tasks at hand, and the timer is only a side tool that helps you stay with your finger on the pulse. This is why the idea of Timing is so enticing to me.
The features that Timing offers
As I mentioned above, Timing is a Mac app. Immediately after firing it up, it's gathering data on what's going on with your machine. It records how much time you're spending on each website, app, document, or any other thing you have installed/available on your Mac.
Timing is not just something you can use to satisfy your personal curiosity as to how you spend your time, but also a tool that will generate good-looking reports for you, which you can then send to your clients directly.
When you're first getting started with Timing, you don't even need to configure any categories, and instead just let it run freely for a couple of hours or even the whole day. After that, you can start reviewing the data that Timing has gathered and group things into individual categories and projects.
The main part of Timing's interface is the timeline view. This is where you get to see exactly what you did at any given time. It also gives you suggestions for blocks of time that belong together (which makes grouping your projects quite easy to grasp).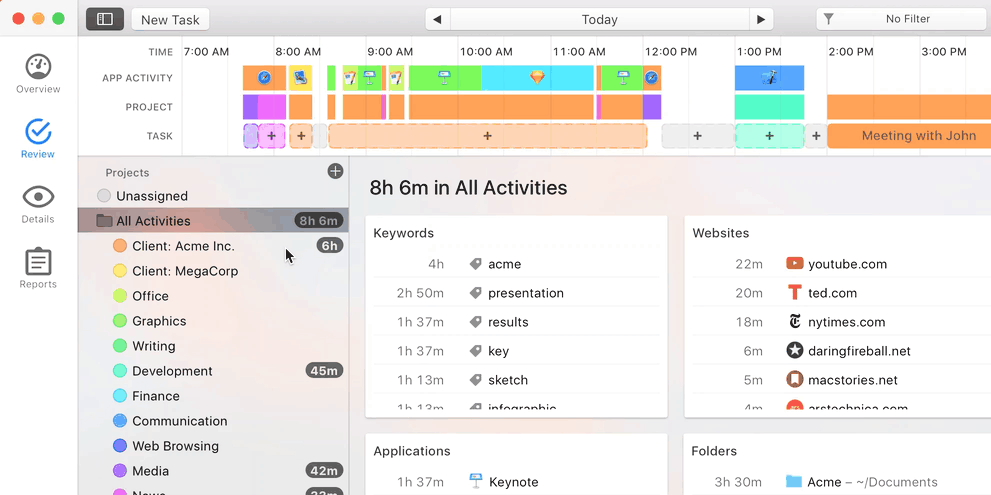 An interesting thing here is that this also works for times when you are away from your Mac (if you ever need to enter time manually, you can do that), which in turn gives you an overview of your whole workday.
From my experience, tracking breaks is particularly handy. Whenever you come back after a period of inactivity, Timing will ask you how to fill this gap in your timeline. With that, if you label your breaks correctly, after a week or two you can review the amount of time you're spending away from your desk. This is perhaps the most surprising thing that users find out about their daily workflows. That and the amount of time they waste on Facebook, but that's another story.
Of course, monitoring your offline time isn't only about breaks. It's also just as good for keeping track of meetings, in person training sessions, phone calls, etc.
Apart from the timeline, Timing also gives you access to a nice dashboard. This is where you can have a bird's-eye-view on your day and the places where all your time went. This is particularly handy on those less productive days, where you actually do end up wondering where all the time went.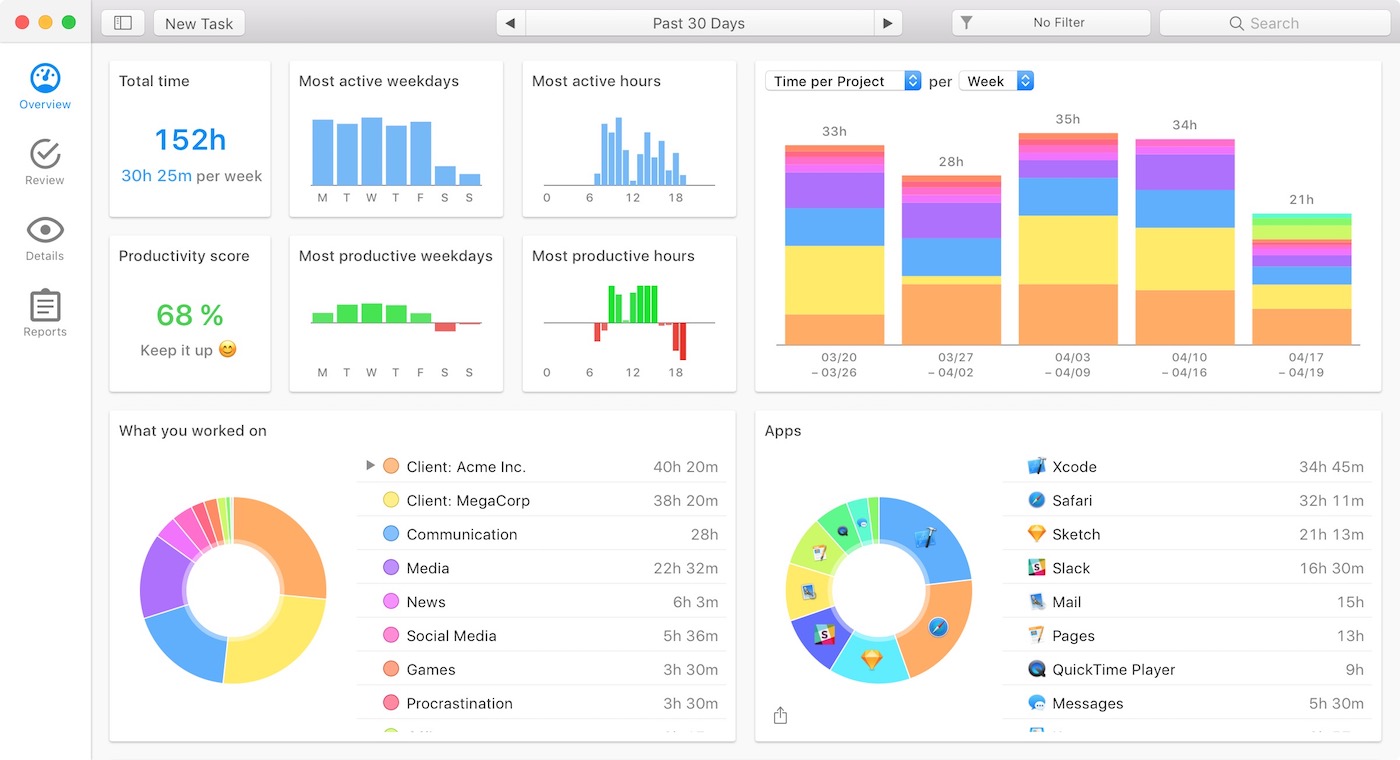 Speaking of the dashboard, it's also where you can check your most productive weekdays, your most productive hours, and the average number of hours you spend working every week/day. This is really insightful if you want to figure out what's the best time to work according to your body and your personal productivity radar, so to speak.
Basically, we're all different, and while you might feel that you're pretty productive throughout the whole day, Timing can help you discover the exact moment when you hit that afternoon slump, or other interesting revelations to that tune.
Lastly, here's a quick rundown of everything else that's also in Timing:
Your data never leaves your Mac. It's all stored locally, which is important for privacy.
It's fast. This is because Timing is a native Mac app and not a web app, or an app adapted from a web tool.
It supports tracking of your Safari, Chrome, and Firefox browsers.
It gives you document-based tracking – meaning you can see the exact documents that you interacted with throughout the day (titles) and not just the name of your text editor app itself.
You can track as many projects and as many tasks as you need.
Who should use Timing
Sorry, I know this will sound cliche, but I truly believe that everyone who does their work on a Mac computer should at least try Timing out. And if you're a freelancer who needs a reliable solution for billing clients then you'll benefit from it even more.
The sole possibility of seeing where your time goes exactly when you're on the computer is invaluable. It shows you which apps or websites you interacted with (and for how long), when you tend to slack off through your workday, when you're most productive, and much more. If you make it a deliberate practice to come back, review, and learn from that data regularly, you will be able to improve your overall productivity many-fold.
Basically, the main idea is to spend less time tracking and more time working.
Try it out for free + get a discount
If you want to give Timing a shot, there's a free 14-day trial available + a 10% discount if you decide to purchase a full license. Those are available at $29, $49, or $79 based on how advanced you want to get with your time tracking.
Note; you have to get your free trial through our link in order to make the discount work. Just click here.
What do you think of time tracking? Have you experimented with the idea yet?