Almost ten years ago the first blogs were added online. In just few years, having a blog became a real phenomenon and tons of people willing to share their ideas created personal blogs. Nowadays, this "revolution" became something normal since everyone is either reading a blog or maintaining one. Under these circumstances, it's obvious why so many people love and use WordPress. It's the most used platform for blogging and the statistics are simply amazing, for instance the moment when this post was written, more than 72 000 WordPress sites were online.
Fortunately, people have more possibilities than just WordPress and even if this is the most famous blogging platform it has very serious competitors. Tumblr is a special competitor – it doesn't offer the same features as WordPress, but both are targeting the same public. The specific feature of Tumblr is that it allows "micro-blogging". The main idea was that people don't have enough time to maintain a blog, but still they want to share impressions, thoughts or interesting multimedia items with their friends. A WordPress blog may satisfy these requirements, but it seems that Tumblr is doing it better.
Even if the maintenance/customisation of a Tumblr micro-blog doesn't take much time, it doesn't mean that it should be neglected. Many people created highly visited online presences by using Tumblr. Obviously, the layout of the micro-blog is very important and many web designers created visually appealing Tumblr Themes. It's true that these aren't as famous as the WordPress ones, but a good one may bring a decent profit to the creator.
I hope that I managed to make you curious about Tumblr themes and in order to convince you that these deserve your attention here are showcased 20 wonderful responsive themes. Enjoy them and please let us know which one is your favorite:
Showcase of 20 Wonderful Responsive Tumblr Themes
Grafenberg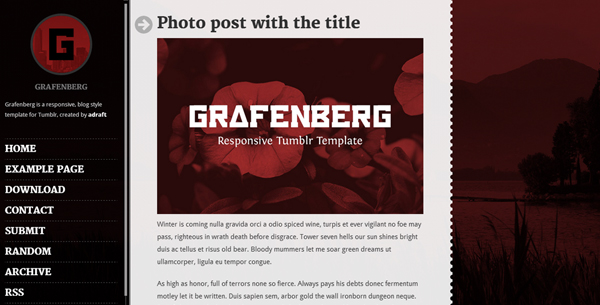 Grafenberg is a very elegant Tumblr theme that will undoubtedly impress any visitor. The entire layout is visually appealing, but the strongest point of the theme is the colour scheme. The black mixed with dark red creates a romantic atmosphere and it will determine people to use it. It's a fresh theme and personally I think that it will be a huge success.
Ceres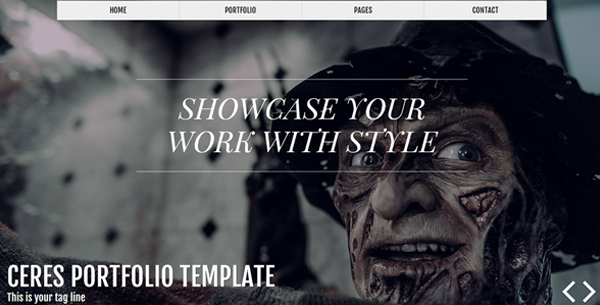 Tumblr is designated for micro-blogging, but it doesn't automatically mean that it can't be used for other purposes, too. Ceres is a wonderful theme that allows users to transform their Tumblr presence into a modern portfolio. Surely, the visitors will be captivated by the impressive images used! You can go ahead and check them yourself if you are not yet convinced!
Tanoshi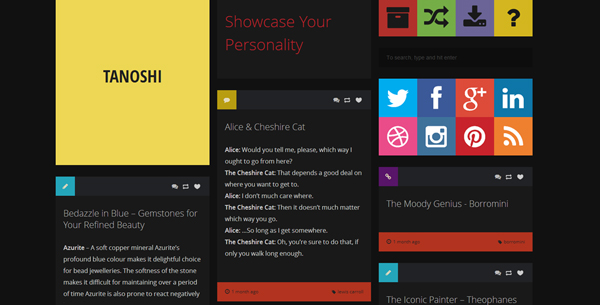 Our ancestors were right, the Earth is flat! Well, not the surface of the planet is flat, but the Internet is the realm of flatness. This theme is a good example that flat is also a solution for Tumblr. The social media buttons look extremely nice and the entire layout is a delight for the users' eyes.
Flattery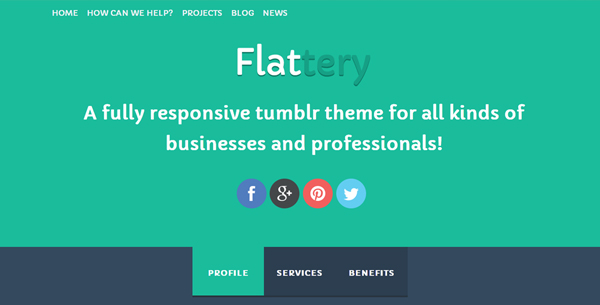 Flattery is another flat theme that will satisfy even the most demanding tastes of the Tumblr users. It is fully customisable, supporting each type of Tumblr posts and having widgets inserted into the footer. Besides that, it has implemented Discus commenting system, therefore you have the best conditions for blogging.
Impetus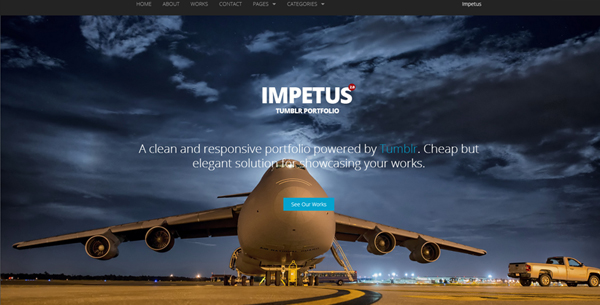 Impetus is a great Tumblr theme that is suitable for portfolios projects. The big issue, as far as portfolios are concerned is how to achieve the best balance between efficiency and good web design. A good portfolio lets the users study the uploaded works – the more discrete, the better. In the same time, a pale portfolio won't ever attract a client. Personally, I think that this theme has managed to create the perfect balance. What do you think?
Ellisium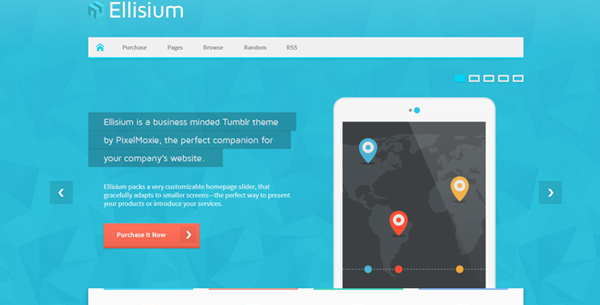 Ellisium is the work of a very talented and laborious team. Firstly, the theme comes into two different versions, secondly, each version is customisable and thirdly, the documentation is so well written that it is impossible not to understand the explanations. In addition to these, the theme is very beautiful. So, there are enough reasons to pay closer attention to it, don't you think?
Ordo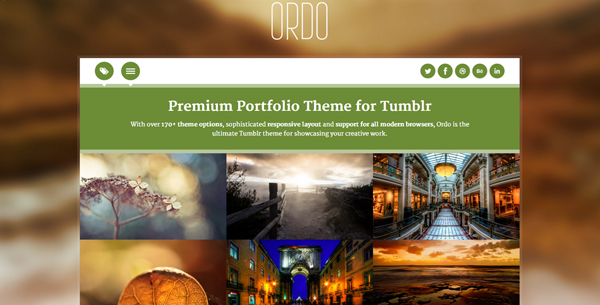 The brown blurred background is wonderfully matching the greenish header, it's impossible not to fall in love with such an inspired chromatic approach. Ordo is built to exhibit the works of a designer/photographer, but it can be a good solution for an environment related micro-blog.
Penoolis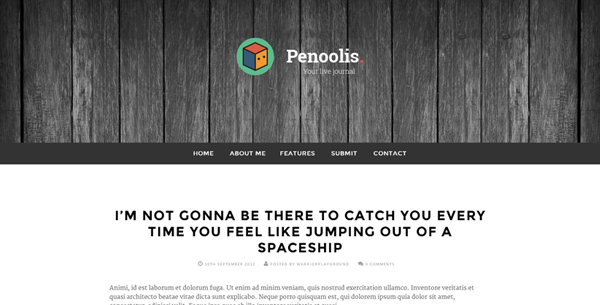 Penoolis is a really simple, but good looking theme and such an item couldn't be absent from this list. Simplicity has its special beauty and if we were to take into account the fact that Tumblr was created with this feature in mind, then it's obvious that this theme is perfectly tailored to this platform.
Bloq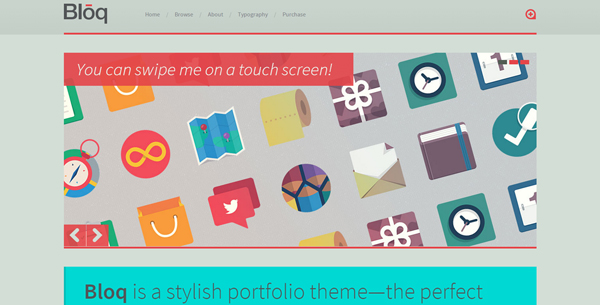 Bloq is a very good Tumblr theme that impresses everyone due to the high quality of the design. It's suitable both for portfolios and blogs; it is retina ready display, which means that regardless of the device, the content will be enjoyed by the readers in the best conditions.
Cooking Monster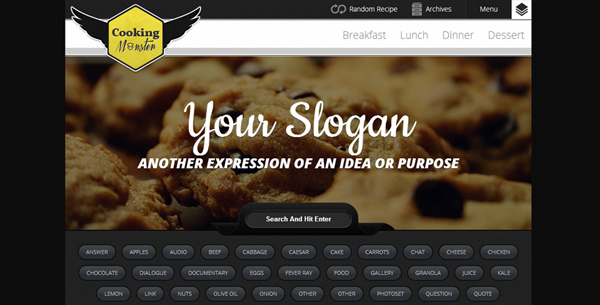 This theme is suitable for a blog destined for culinary subjects. The originality of Cooking Monster consists of the huge header where many tags are exposed (usually these are placed in the sidebar). Also, the great majority of culinary related themes use big images of food as backgrounds. Altogether, this theme stands out, so if you want to be original, you should definitely check this out!
Sewed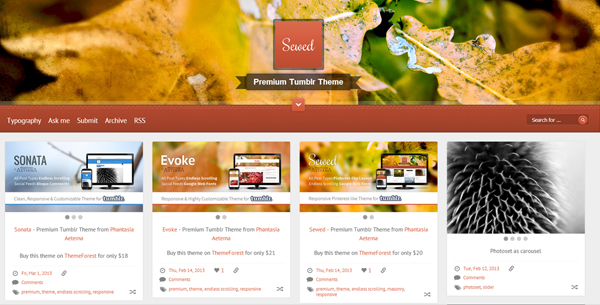 Certainly, the strongest point of this theme is the relaxing colour combination- orange and brown. This theme may be used for blogging projects or for photo sharing networks due to the nice Pinterest-like layout. As far as I am concerned, this is one of my favourite themes for Tumblr blogs!
Pop Gallery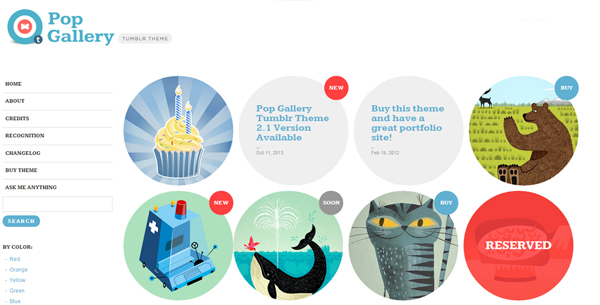 Pop Gallery is a very original and polyvalent Tumblr theme- it may be used in many areas, from blogging to e-commerce platforms. The circular and colourful thumbnails are in a pleasant contrast with the white background, but this theme has many other features that are extremely important such as: interesting and useful widgets, infinite scrolling or editable colour schemes.
Magazine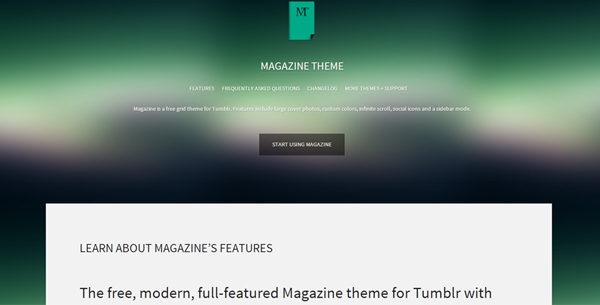 Magazine is a "wow" theme and its extremely high quality will determine any visitor to pay closer attention to the blog. Moreover, the theme is created with the user in mind: the wonderfully green blurred background puts more emphasis on the content and the reading becomes a real pleasure.
Crystal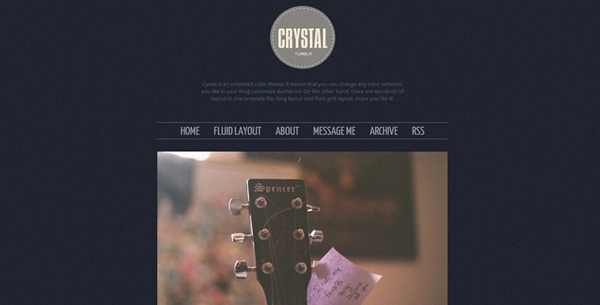 Crystal is a theme that deserves your attention if you want to buy a new Tumblr theme. It comes in two versions: blog layout and fluid grid layout. Besides, the theme may be easily customised to suit the buyer's preferences; therefore it has all the qualities of a good theme.
Railway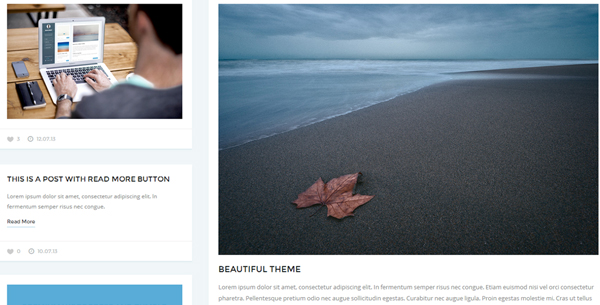 All the themes from this list are beautiful and qualitative, but in a way these departed from the initial purpose of Tumblr: simplicity and super-fast maintenance.  Railway is a simple theme that focused on highlighting the content and providing the user with information in the most accessible way.
Brooke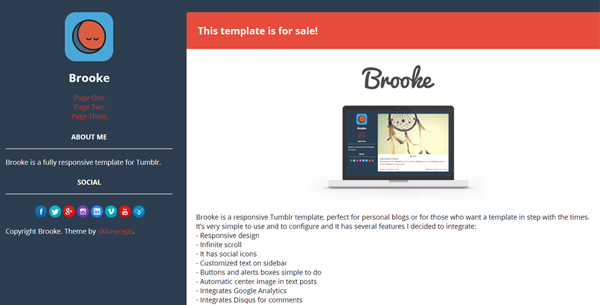 Brooke is another simple Tumblr theme that highlights the content and allows sharing the posts via multiple social networks. It is another example of impressive flat design based theme and therefore you should see it!
Friday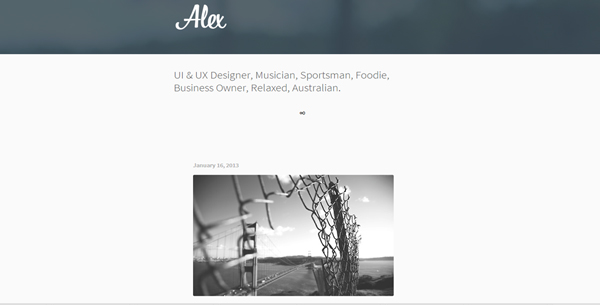 Many people prefer very simple themes because they are easy to maintain and the blog visitors can focus only on content. These being said, there are some Tumblr users that takes this to the extreme and appreciate only very minimalist themes- white backgrounds, small black and white images and very readable fonts. If you are the adept of the minimalism, then Friday is a good option for you!
Halcyon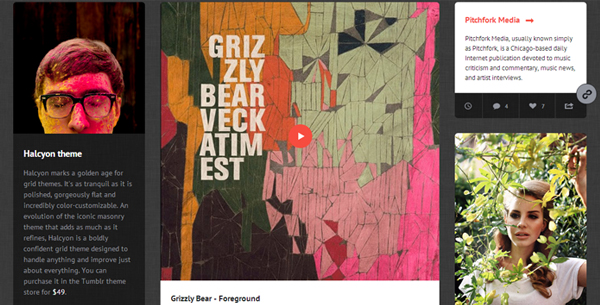 Obviously, minimalism has its beauty, but it doesn't mean that a denser layout is ugly. This theme is somehow the opposite of the previous one and it can easily be mistaken for a WordPress theme. Halcyon is a Tumblr theme specially designed for blogging. Indeed, it's one of the most expensive themes, but overall you will get to the conclusion that it is money well spent!
Sunset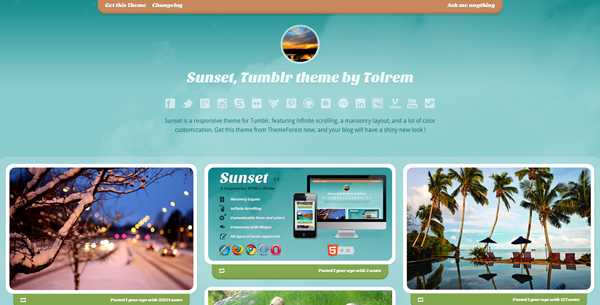 Sunset is a wonderful responsive Tumblr theme that is willing to relax the users. The blue background reminds of summer and shiny days spent at sea (at least from my point of view!). Anyway, the theme may be used for blogging and surely the readers will fall in love with it! In my humble opinion, it is the perfect theme for "light" subjects such as: travel, summer sports or relaxing therapies.
Flat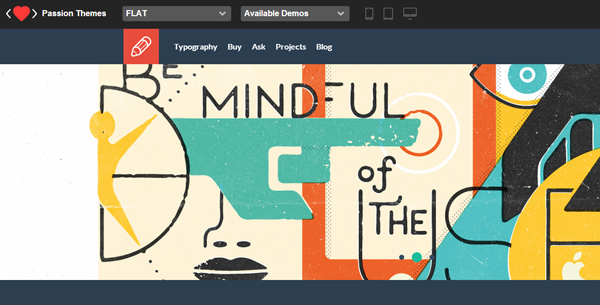 The last theme from this collection is Flat, a premium business Tumblr theme. The most attractive items of this theme are: the colour scheme- a flat design specific one and the illustrations that are the work of a great designer. I think that even if it is the last on this list, it shouldn't be the last in your list of preferences.
Conclusion
Tumblr is a great platform and any web designer should try to benefit from it. A Tumblr blog may be used as a small but original portfolio, but also as a source of sharing small ideas and some interesting multimedia items. On the other hand, creating new themes for Tumblr is an activity that may bring you some extra money. So, why shouldn't you give it a try? We gladly accept to showcase your works with our readers, so keep in touch with us!