Many designers avoid talking about money, but it's not the best approach. Money is part of our life and denying this evidence is a bad mistake. Unfortunately, the income of the huge majority of the web designers is dependent on the finalized projects. It's not bad, but a wise web designer must have a proportion from his monthly income represented by the passive income. It's not too difficult to have sources of passive income, but the designers ignore this aspect.
Passive income is represented by the amounts of money gained from various methods that don't imply the direct involvement of the income owner. In the design community, the most frequent form of passive income is represented by the selling of e-books, website templates, themes, plugins or other design items. Some designers give a chance to this aspect and they manage to earn impressive amounts of money. 
It sounds pretty interesting to go on vacation and at the end of the month your finance balance to be positive due to the passive incomes made by selling design works. Yeah, it's possible, but the money earned is only the tip of the iceberg. The reality is a little bit different. First of all, selling design works isn't so simple. There are tons of designers that sell design works and the competition is harsh. In this context it's simple to understand that only top-quality works have a chance of being sold. Secondly, in order to earn serious money, the items for sale must be sold multiple times. Once again, the quality of the works for sale is capital.
Thirdly, everything for sale must be marketed and selling design works isn't an exception. Usually, there are two possibilities: selling the items directly from your website or by using various marketplaces. It's all up to you; we want to help you and here is a list of 20 website to sell your design works. We tried to make a very fair selection, but everything man made is perfectible, therefore in case that we missed your favorite website to sell design works, please add the address in the comment form!
Theme Forest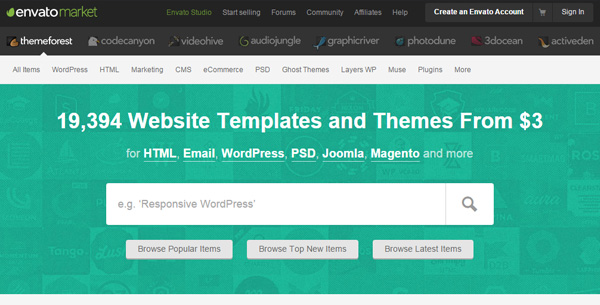 Theme Forest is quite probable the most famous website where the designers are able to sell design works. The most successful section is represented by the WordPress sellings and here are made millions of dollars (no exaggeration).  You may also sell various design projects, from website templates and landing pages to psd files and Ghost themes. As you already guessed, the website is heavily visited and thousands of items are daily sold.
Graphic River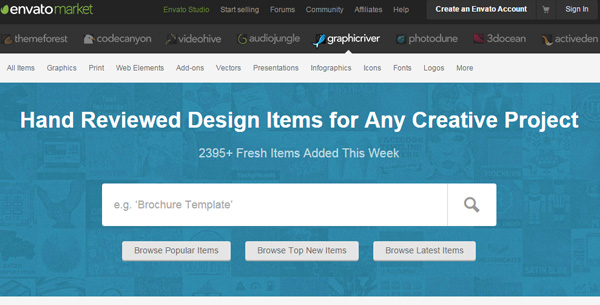 Graphic River and Theme Forest are part of the Envato network. This website is destined for selling design works as print templates, web elements, fonts, logo templates, infographics or vectors. Practically, everything that can be created by a designer may be sold/bought here. The same as Theme Forest, the items submitted by the designers must satisfy some quality standards. The result is obvious: there are for sale only quality works.
Creative Market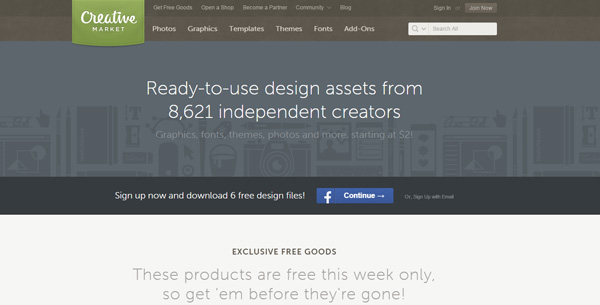 If you truly want to make an income from selling various design works, then Creative Market seems a very good solution. Any designer has the option of opening a shop and start selling his/her designs. The prices are established by the designer. The website is visited by many people willing to buy – all the "ingredients" of a profitable affair are present, so good luck!
Designmodo Market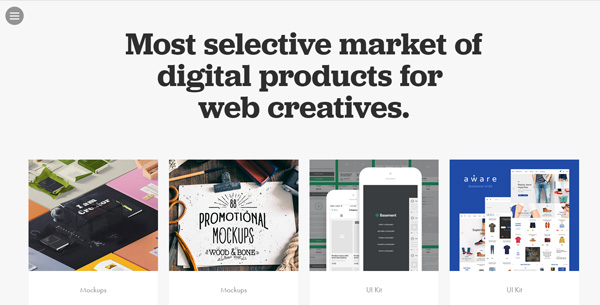 DesignModo is a famous web design blog and the team behind it recently launched a market for designers. The prices of the products for sale are competitive and their quality is really high. I consider it a very exclusivist marketplace…if you think that your products are satisfying the highest standards feel free to submit these.
Fantero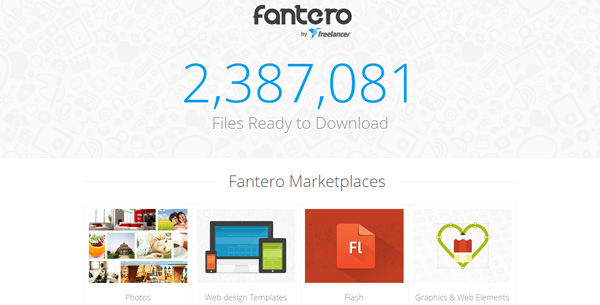 Fantero was recently acquisitioned by Freelancer and I believe that the future is shiny for the ones using this website. At the moment, Fantero has for sale 2,383,703 design items and it demonstrates that you should give a heed to this opportunity!
Dmartify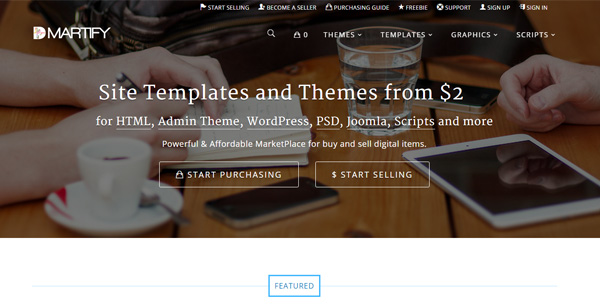 Dmartify is relative new, but I think that it has the potential to grow and became a famous marketplace. The designer earns 70% from the price of the items for sale and he/she may sell from WordPress themes and website templates to JavaScript scripts.
Luvly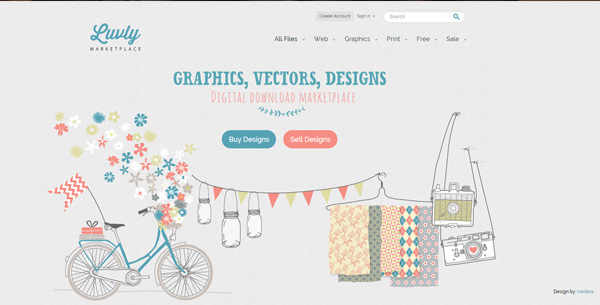 Luvly is a standing apart marketplace. The design works for sale are all carefully selected by a demanding team, so you shouldn't worry about their quality. If you want to purchase or sell some artistic works, then Luvly is surely the best resource. The designers are able to open shops and this is a very good method of strengthening the relationship client-designer.
My Fonts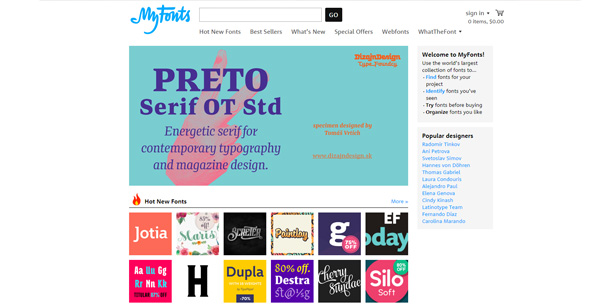 Every designer wants to have the best fonts for his/her projects and some that didn't find the proper ones create new fonts. Obviously, the fonts may be sold and My Fonts is a place that allows selling fonts. The designer receives 50% from the cost of the font and the payment is done on a monthly basis.
Fotolia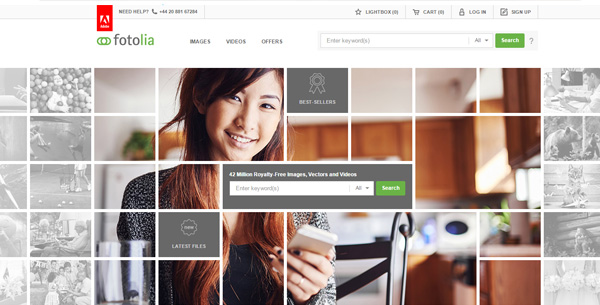 There are many designers that are passionate about photography. Instead of keeping the photos on your hard-drive, wouldn't be a better solution to sell and make money from them? I guess that the second option is more attractive for everyone. Fotolia is a famous website selling stock photos and they welcome you to contribute with your best shots. If you are interested in, check the support page for contributors and you will find short, concise and useful explanation for any potential issue.
Shutterstock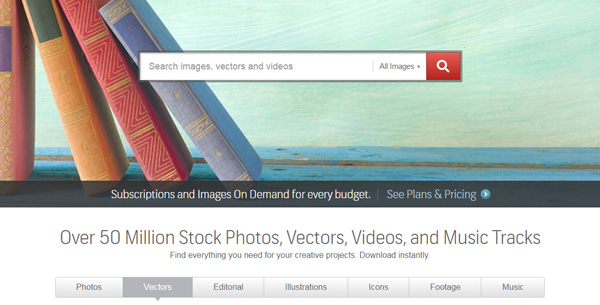 If you think that Fotolia isn't a good solution for you or you simply want to expand your sources of income, then Shutterstock is a viable option. It is a huge brand amongst the websites selling stock photos, therefore if you are providing quality images, videos or vectors, the success is almost sure. The ones interested in should download the free guide for detailed explanations to become a successful seller.   
Vector Stock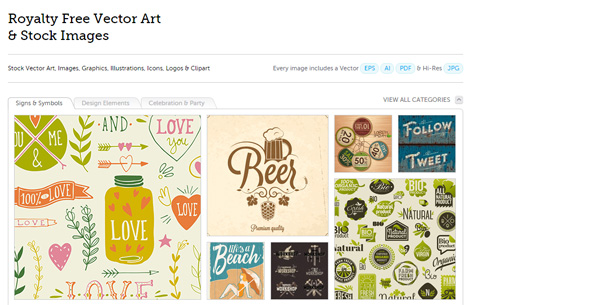 Vector Stock is another great solution to earn some extra money! It's simple and profitable: you submit some vector arts to Vector Stock and a design team evaluates the quality of the works. In the event that these are OK, the works are uploaded on the site and the client may purchase them.
Zazzle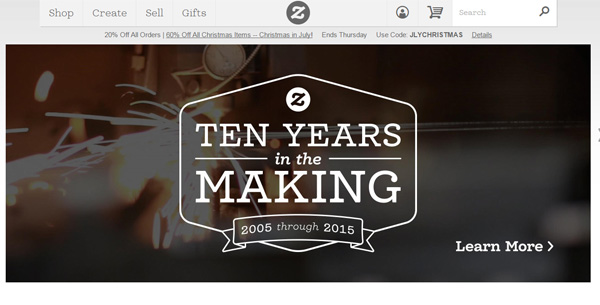 Zazzle is a very interesting platform for designers in order to make passive income. Once you registered as a designer, you have the option of creating a store. Here you may customize business cards, t-shirts, mugs, or stickers. The concepts that are liked and bought by a visitor are manufactured by the Zazzle team and the designer receives a percentage from the payment.
Logo Ground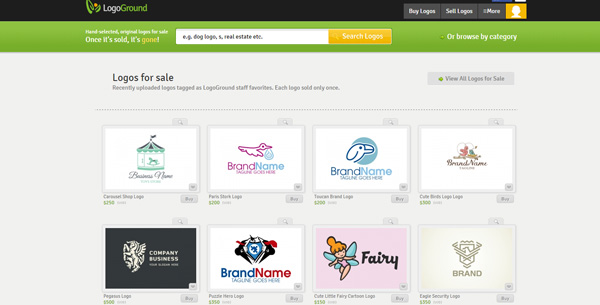 The logo designers have multiple possibilities of selling logos. If you have some great logos created just for fun and you want to receive some money for them, then Logo Ground is a solution for it! Creating an account and uploading a logo is free and the logo designers earn 100% from the value of the works uploaded for sale.
Brand Crowd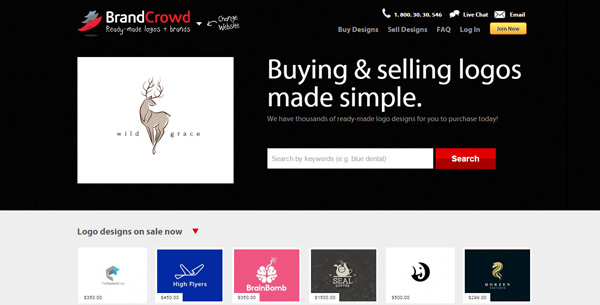 A top quality logo is very expensive and you don't have the certitude that the final result will look OK. Brand Crowd is a good solution if you are in need of a logo. Here are showcased amazing pre-made logos and the buyer has the possibility of achieving as many logos as he/she wants. Once selected the winning logo, the designer customizes it according to the buyer requirements. Finally, the logo files are emailed to the buyer and the payment is transferred to the designer.
Identity Crowd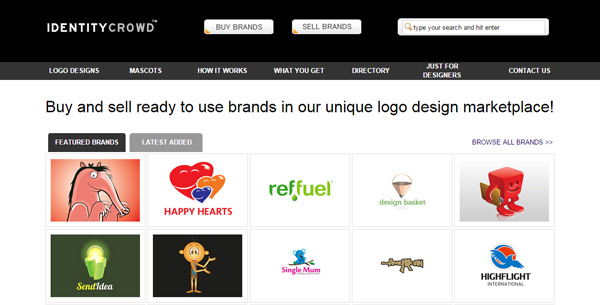 Identity Crowd is another logo design marketplace that should be bookmarked by the logo designers. The lowest price is $100 and creating an account is free. Once a logo sold, the designer receives 65% from the total cost of the logo.
99Designs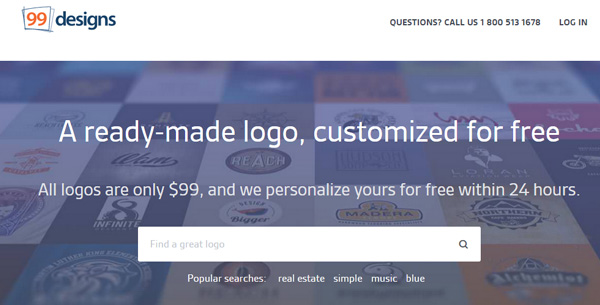 99Designs is a famous spec work website but under some conditions a logo designer may show his/her logos under ready-made logos section. The cost of any logo from this section is $99…what do you think, is it a reasonable price?
Mojo Marketplace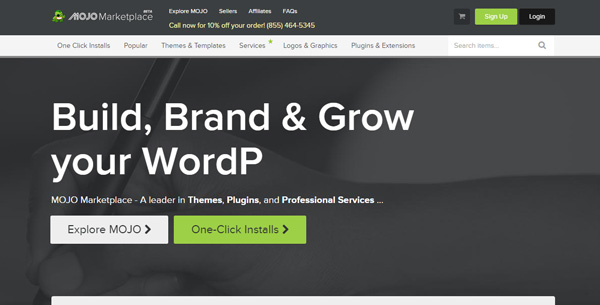 Mojo Marketplace is one of the most famous WordPress themes market, but here the designers may sell various templates (Joomla, Tumblr, Shopify, Magento), logos & graphics and plugins. The team behind Mojo is very demanding, therefore your works for sale must be top quality in order to be accepted.
Ink Themes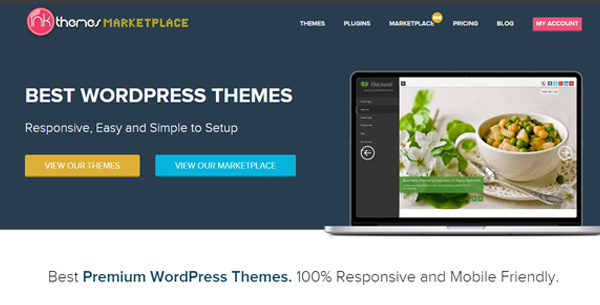 Ink Themes is a marketplace focused on selling WordPress themes and plugins, but you are free to sell also other various graphics (vectors, psd files). The designers are able to set their own prices and there is no exclusivity requirements (so you are free to sell the same item on multiple marketplaces). Pretty interesting, isn't it?
WP Eden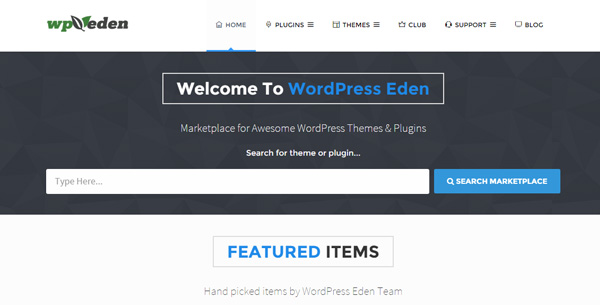 Selling WordPress themes and plugins is a very usual method of earning passive income, so I want to provide you multiple solutions. One of the most attractive offer is WP Eden – it's a famous brand amongst WordPress community, it's highly visited and the sellers and buyers are satisfied with WP Eden services.
Inkd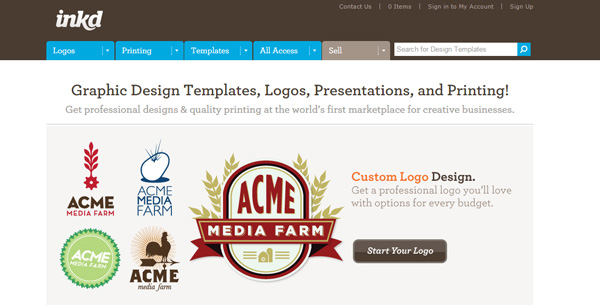 The specificity of Inkd is the fact that the ones interested in contributing with design works should use a specific template which is provided for free by the Inkd team. You may sell here any type of template- letterheads, business cards, flyers, envelopes, greeting cards etc. You should pay attention to the sizes of the design works created and I think that the idea of a template offered to the designers is a good one that substantially simplifies the creation process.
WebFlow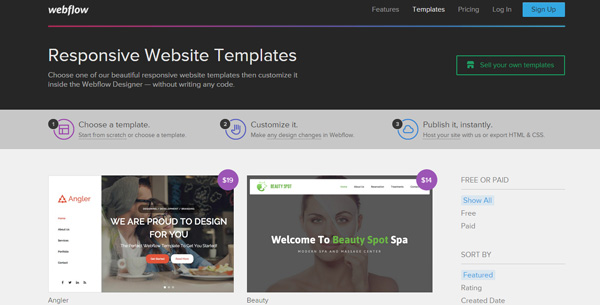 If you want to sell your website templates, then WebFlow is the best resource. The designers receive 80% from the cost of the sold templates which is pretty Ok. By taking into account the traffic received and the support offered by the WebFlow I think that you should give a try!
My list of websites to sell design works is over, but it might happen to miss a good marketplace (none is perfect). If you know such a website, please add it in the comment form. It will be great to share with us your opinion about selling design works, too!