How far can wireframing and prototyping go?
That is the question of the day.
I mean, we are all quite fascinated with tools like WordPress and so on. But even with WordPress, at the end of the day, you still need to get your hands dirty and dive head first into the source code (or the wp-admin) in order to create a website that truly suites you (or your client).
Alternative? How about wireframing and prototyping that could let you build a great site without the need to do any coding?
Just think about it … why would you spend hours learning to code if you can just drag and drop individual site elements onto a canvas, hook it up to a template, and then have the final version of the live site generated for you.
This is basically what Axure gives you. It's a wireframing and prototyping software that's meant to help you build websites and even web applications.
How Axure helps you exactly
The sole concept of wireframing and prototyping isn't a very new thing. We've been able to use various tools for years now, but they haven't been all that great when it comes to high fidelity stuff.
I mean, you could build a wireframe, but it was really basic in nature, and would be hard to pose as a usable website.
So Axure attempts to change that by giving you this another layer, and enabling you to turn your wireframe into a finished product (all without having to work with any source code).
But there's a problem.
Most of what's available for Axure out there is rather simple and not the most modern from a design point of view.
Luckily, this is where the template that we have for you today comes into play.
Parallaxure – built by AxureThemes – is one of the most refined Axure templates ever created.
In simple terms, it puts its own layer of modern and great-looking design on top of Axure's wireframing abilities. What this means to you in practice is that you can start by building your wireframe in Axure, and then have it turned into HTML with the use of the Parallaxure template. This way, you get the best-looking outcome possible.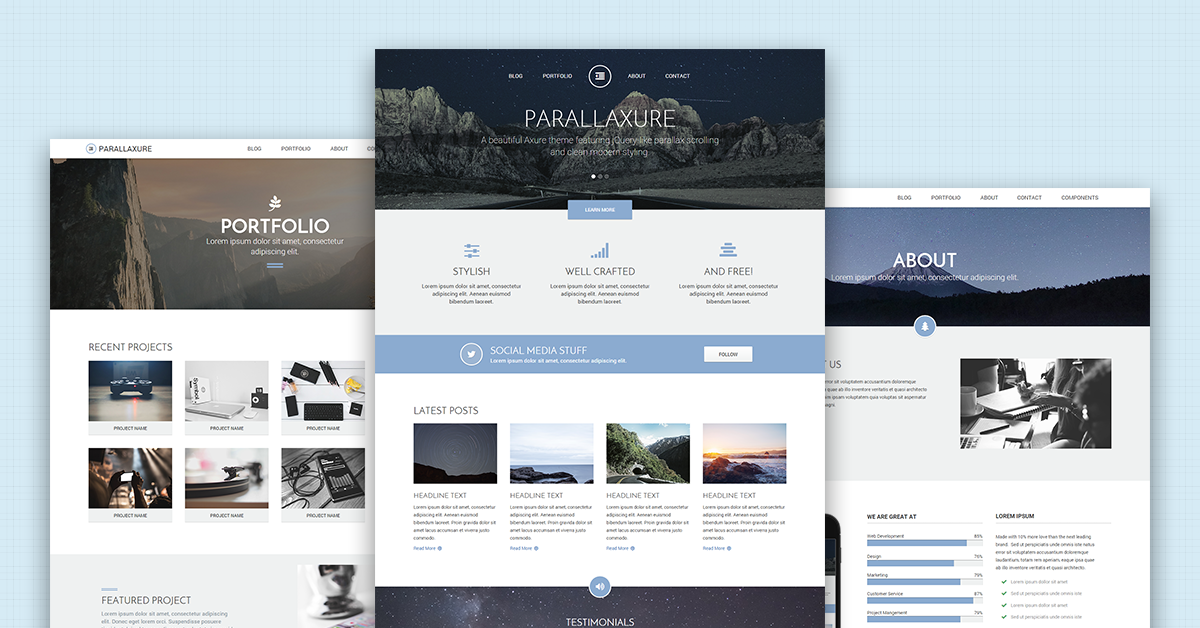 What's inside Parallaxure
On the outside, Parallaxure gives you 5 custom-built demo pages that have been optimized for specific uses, such as: homepage, about, blog, portfolio, contact. As part of that, you get access to a load of individual site elements. Just to name a few:
subheadings,
blockquotes,
lists,
15 different social media icons,
buttons,
progress bars,
navbars,
carousels,
form fields,
testimonial blocks, and more.
In total, there are 86 different widgets/elements.
When it comes to the technical stuff, Parallaxure includes:
the complete and functional prototype files (.rp),
the Axure library (.rplib),
all the images (neatly organized in folders),
the PSD and iPhone mockups.
Additionally, everything comes integrated with jQuery parallax scrolling effects (hence the name), a full-width browser design, Google Fonts already embedded, Font Awesome integration, Google Maps support, and some beautiful commercial free photography.
The price
The Parallaxure package is available at Gumroad for $19.
But we wouldn't be ourselves if we didn't give you a way to download it for free, would we?
This is where the giveaway comes into play!
Today, you can get one of the 5 full licenses to Parallaxure for free.
How to enter? See below for rules and details:
Touchdown!
The giveaway has ended and this are the lucky winners:
Andrea
Thomas
Joshua Punshon
Maxim Marchenko
Joaquín Malo
All winners will be contacted via email within 24 hours regarding the prize.