Drupal is one of the most popular content management system and it is also free and open-source. It is written in PHP, just like WordPress, and used by at least 2.1% of all websites worldwide. All kinds of websites can use Drupal, including personal blogs, corporate, political and government sites.
Some of the most popular websites in the world running Drupal are whitehouse.gov and data.gov.uk. Drupal can also be used as a tool for internal or external business collaboration.
Today we will show you some of the best free Drupal themes out there, so in case you think of running Drupal, you will have where to pick some good layouts from.
Download Free Drupal Themes
Marinelli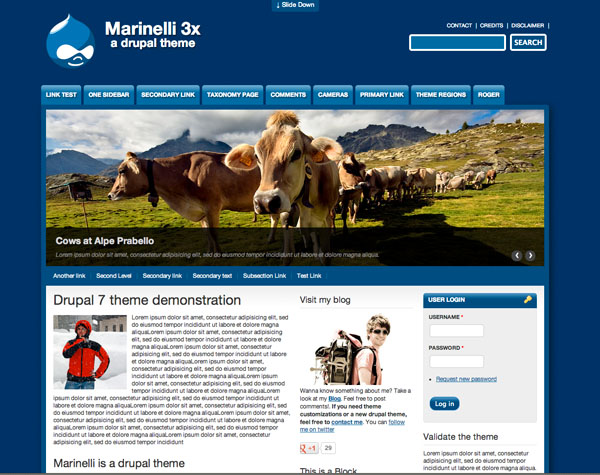 Although the standard layout has very poor typography, this can easily be changed. What is important is the layout and this theme comes with a very good one. The theme is based on a three-columns layout with a wide image banner and a primary tabbed link system placed at the top of the page.
This theme also comes with an animated slider that can slide down from the top of the page. You will notice a button called Slide Down in the demo. Click it and see what happens. That's very cool and very useful in case you want to save some space.
Bluez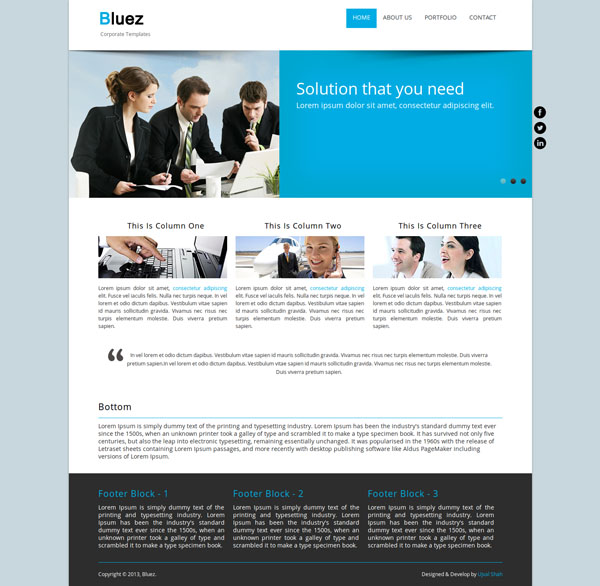 Our second example is a corporate layout based on a design with a fixed width of 960px. It loads fast thanks to it being lightweight, it is developed according to the Drupal standards, uses Google Web Fonts and comes integrated with a custom JavaScript slideshow.
Responsive Green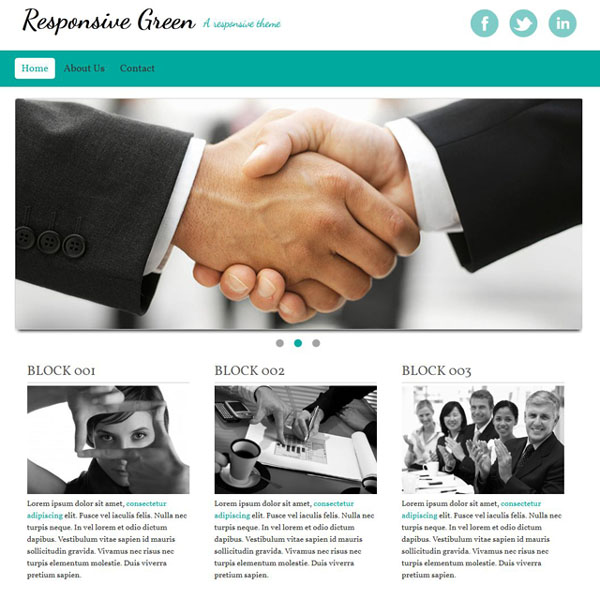 This is another professionally designed Drupal theme not dependent on any core theme. It is lightweight, which means it loads fast, although it comes with a bunchload of features. The theme is responsive, as its name says, it has a clean design, a custom front page region, social links included and even a multi-level drop-down menu which is easy to customize and add items to.
Day and Night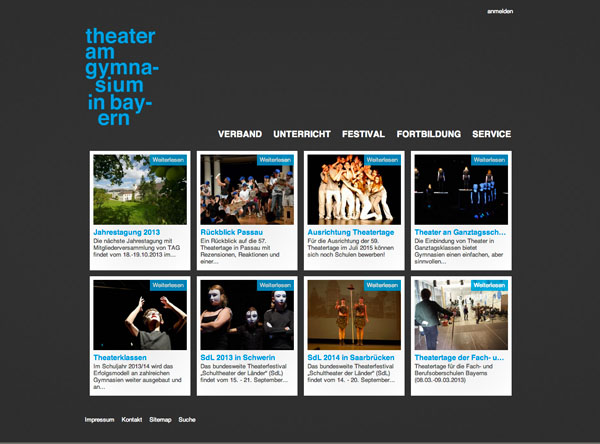 Day and Night is a responsive layout, but it is based on another core theme, called Zen. This means you will have to get Zen first, and then install Day and Night.
Zen is a simple HTML5 starting theme with a mobile-first design grid. It works as the starting point of many Drupal themes, so you might want to keep an eye on it, as it might be useful some other time as well.
Going back to Day and Night, the theme has a fancy drop down menu which is suitable for big menus, it comes with SCSS / SASS support and it is still maintained by the Drupal community, so updates might be released from time to time.
Business Responsive Theme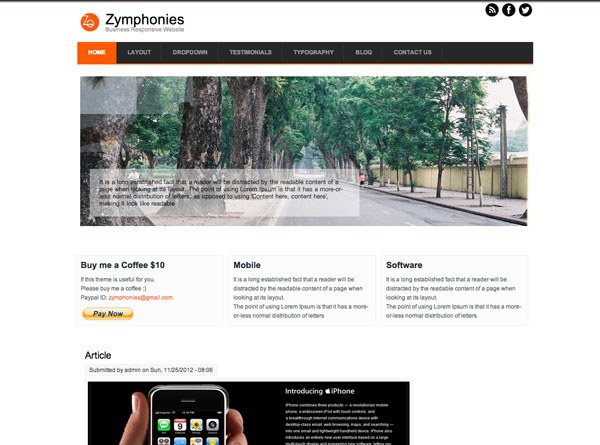 The name might not be the most innovative one, but the theme is definitely high quality and professional.
This corporate layout is fully responsive, coded with HTML5 and CSS3, comes with social media links incorporated, multi-level drop down menu and with a Nivo slider implemented (which is one of the best jQuery sliders out there). The front page can be customized and has four block regions and you can see that the designers worked a bit with the typography as well.
Hatch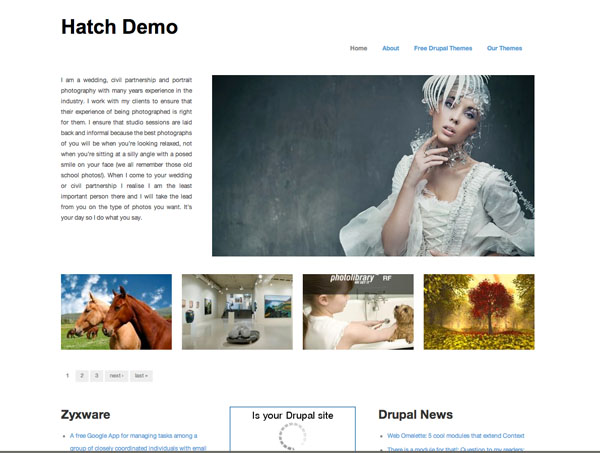 Hatch is a very simple theme designed to be a portfolio theme for photographers and maybe designers as well. Hatch was first designed for WordPress, then for Drupal, and is based on the 960 Grid System. The layout is tested in many popular browsers and is fully XHTML and CSS compliant.
The theme is unfortunately not responsive, which is a nice feature to have for websites showcasing images, as they are very heavy to load at full size on smartphones and tablets.
Likable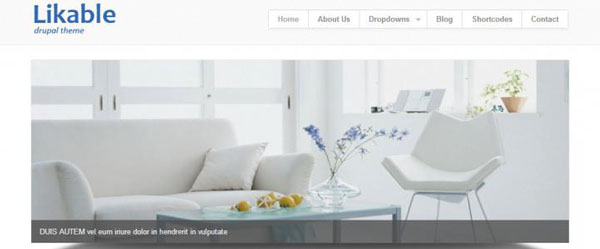 Likable is a Drupal 7 theme designed with many block regions and an integrated slideshow ready to use. This HTML5 design is clean, it supports custom logo upload, has a fixed width of 1000px, multi–level drop down menus and multiple columns (you can choose between one, two or three).
SimpleCorp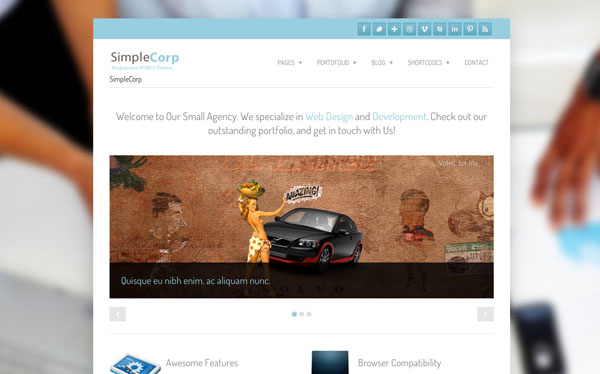 Another very well designed Drupal theme is SimpleCorp, which is also responsive and designed with HTML5 and CSS3. It comes in more than 15 color schemes and button color styles and it also comes with 15 different block regions, so you can customize them in every way you want. You can choose between one, two or three columns and you can also use the integrated Flexslider Slideshow and JCarousel implementations.
Corked Screwer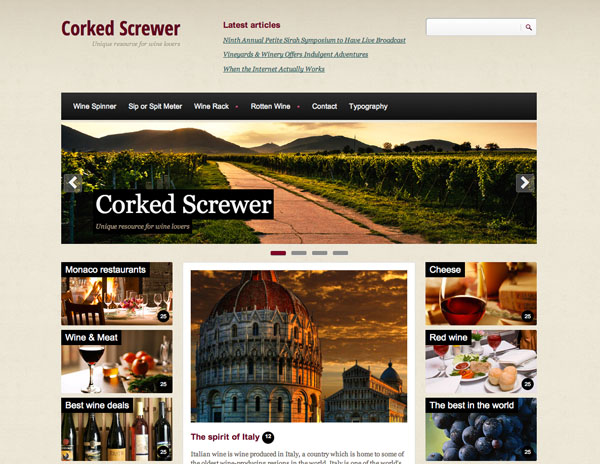 Not only the name is cool, but this theme really comes with something special too. The layout looks amazing and it is responsive and the theme is compliant with the latest Drupal standards.
There is support for different number of columns and the theme comes with a built-in jQuery slideshow. This comes with full documentation, full HTML support for each slider and lots of beautiful effects.
There are not many themes which come with breadcrumb display, but this one does – you can turn it on or off in the settings. The CSS code is organized and the theme comes with extensive CSS rules for comments, user profiles, search block and many other elements; and all these for free!
Andromeda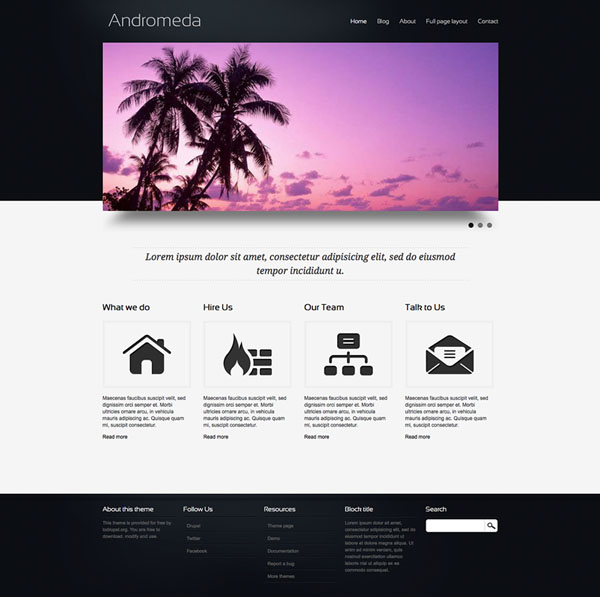 This is one of my favorites thanks to its minimalistic, simple design, as well as for the good use of shadows and colors (or non-colors for this matter).
The theme comes in one or two columns and offers support for a blog page as well. Andromeda downloaded almost 85.000 times, which says a lot about how popular it is.
Omega Kickstart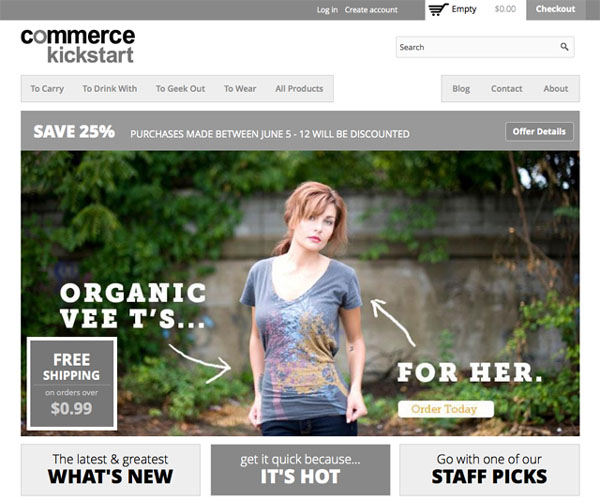 Another good theme is Omega Kickstart, developed as a starting point for other themes. It is responsive, works for everything from desktop and down to mobile and is still actively maintained by the community and the developer.
MD Foto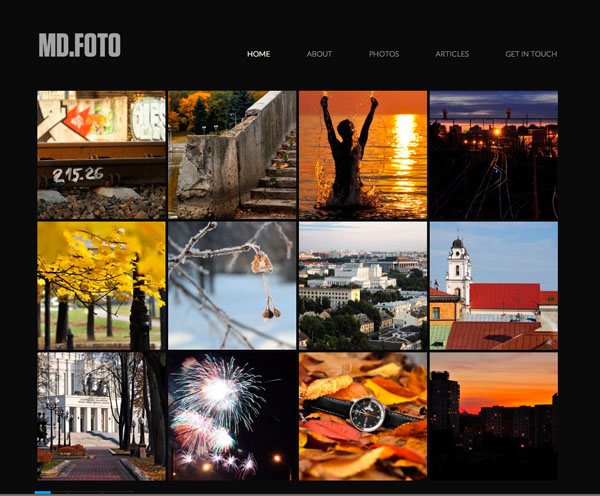 Another good theme for a photography or design portfolio is MD Foto, which comes in two different skin colors: light and dark. The background can also be customized, as well as the typography; and the sidebar can be moved as well. The theme is fully responsive and mobile ready, which is always an advantage.
TouchPro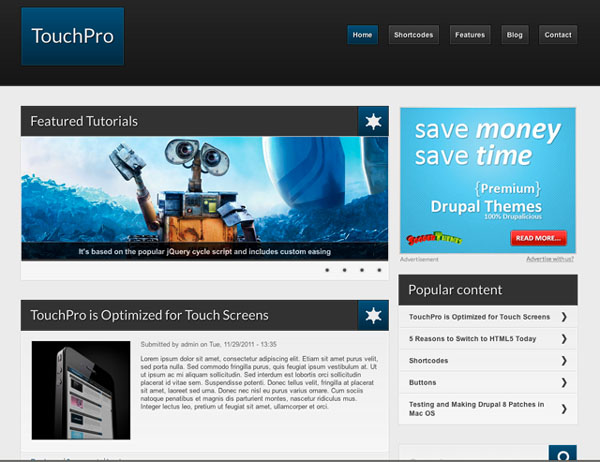 Although this is a premium theme, it is free to download. It is a magazine-style theme optimized for all kinds of devices, as well as touchscreen. The reason behind this theme being free, although it is premium, is because it was voted by the Drupal community to become a free premium theme.
This says a lot about how good the theme is and how much the community wanted it. However, it has only be downloaded less than 20.000 times, which is a mystery for me…
RetroMania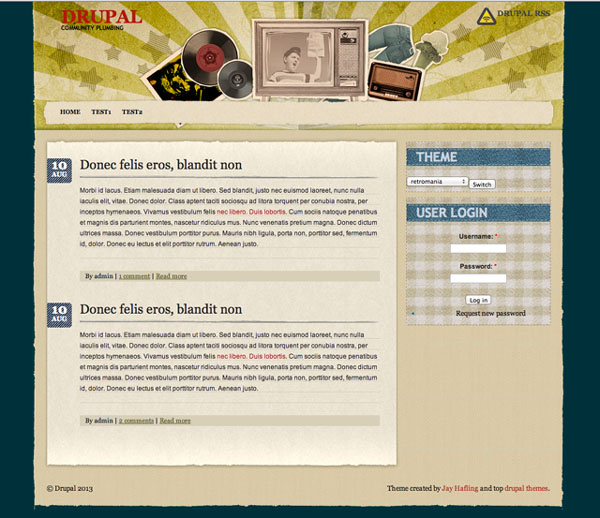 RetroMania is another free multi-purpose theme and it is available both for Drupal 6 and the latest version, Drupal 7. The design is compliant with the standards and the theme only comes with a two-column layout.
RetroMania looks like a layout that could become quite popular between blog owners, as it is quite fancy and has a special feel to it.
Journal Crunch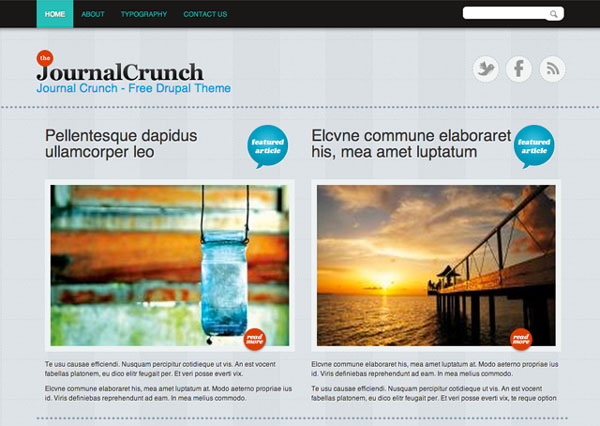 The last example on today's menu is Journal Crunch, which is based on the WordPress theme with the same name. The theme has been ported to Drupal recently and comes with a one-column layout as standard, as well as a two-column layout you can switch to. There are CSS rules for tags, categories, comments and image into content and a footer with four block regions.
Although WordPress leads in Content Management System usage all over the world, and will probably be on top for a long time, Drupal has its own loyal community and they are always looking to become better. By creating all these free themes, the community definitely becomes better and the users probably love it. This might also be the reason behind the themes having tens of thousands of downloads each.
Tell us what you think about today's showcase and if you are going to use some of these themes and why.