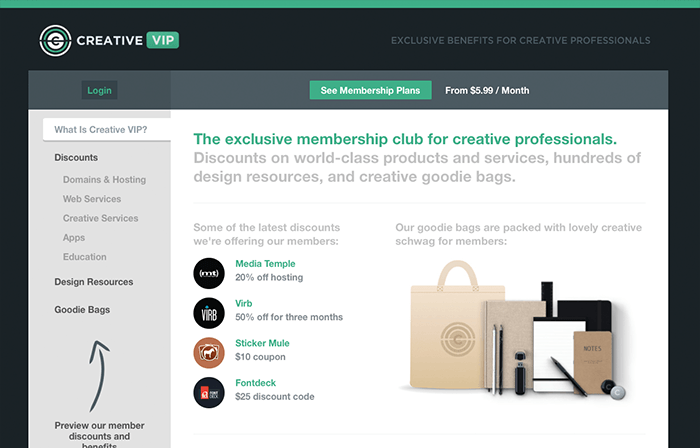 Designers often find inspiration in many places before creating their work, which is not a bad thing, and often helps creative individuals produce outstanding results. But sometimes we have no idea where we can get high-quality, inspiring resources at a decent price. I've often hit this problem before myself, so I decided to go out on a scouting mission. The results have been great.
I found many good resources, but most of them were either too expensive or the quality of them was not pleasing enough. There was, however, a product that stood out more than others, both in price and quality, and in this article we are taking a close look at it and at the benefits it offers.
Creative VIP offers lots of discounts on products that many of us could find useful – it's a membership club for creatives and designers. The service doesn't only offer discounts on design resources, but also on hosting, domains, web services, apps and others. A few of these include:
Media Temple: 20% off all hosting
Virb: Save 50% for three months
Designmodo: Save 15% off any purchase
Backblaze: An extended 3-month trial
Squarespace: 10% off any plan, forever
Name.com: Discounted .com domains
Sticker Mule: Grab a free $10 coupon
Fontdeck: Grab a free $25 coupon
Creoly: 20% off every stationery order
But, without a doubt, their most exciting feature is the design resource centre. They have more than 500 resources, graphics, icons and templates that you have access to free of charge if you sign up for membership.
Speaking of their membership plans, they're good value. If you don't immediately save your money on one of the discounts from companies like Media Temple and Squarespace, you'll get your money back because you have free access to all these resources that you can use to build upon in your work.
There are two types of memberships. You can be a standard member for $5.99 per month, or an elite member for $9.99 per month. The difference is not huge, but if you get the elite membership, Creative VIP will send you a yearly goodie bag. According to some of the feedback left on the website and Twitter, the goodie bags include some excellent products – people seem to be happy and excited about them. They include goodies like high quality pens, Moleskine notebooks, Field Notes packs, gadgets, and other creative schwag, all hand picked and different every year.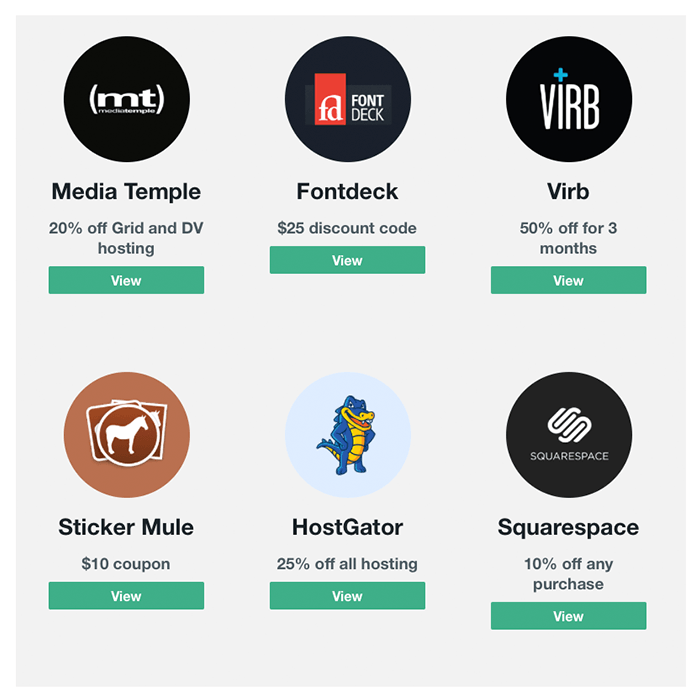 Now speaking of the great resources standard members have access to, I can name a few that will probably make you interested. You can find different flat pricing tables, Google product icons, UI flat kits, iOS7 custom packs, interfaces, widgets, menus, sliders and many, many other elements that can come in handy at any point.
The reason why I would always choose Creative VIP over all the freebies is because they offer, without any doubt, work of high-quality. There is a often a reason behind freebies being free – the designers behind them didn't spend too much time on creating the resources, because all of us need to earn money to live off. We can't live off creating free stuff for others.
I can assure you that no product that comes for free can be compared with a similar high- quality product that users have to pay for. It's the same here.
I would encourage you to go and take a look at Creative VIP. It's great if you're a designer, or even a company with a design department. Making use of these resources (and the impressive discounts) would definitely help your employees cut hours off their project time.
With this being said, I am closing off today's showcase. I am quite excited to continue my Creative VIP membership into 2014, and I look forward to hearing what you think of their amazing service!