When you are still in the process of designing and coding your webpage, it is always a good idea to try to create a bit of hype about it with a well designed under construction page. The problem is that not all companies have enough resources and time to afford to spend on developing such a page, therefore many prefer to use free templates on the web.
Today we come in and help the ones of you who are in this situation with fifteen well designed under construction templates that are free to use. You will notice that not all of them have a download link. In case this is true for one of the templates you want to use, just save it by hitting CTRL + S on Windows or Command + S on Mac.
Under Construction Website Templates
Free Coming Soon Template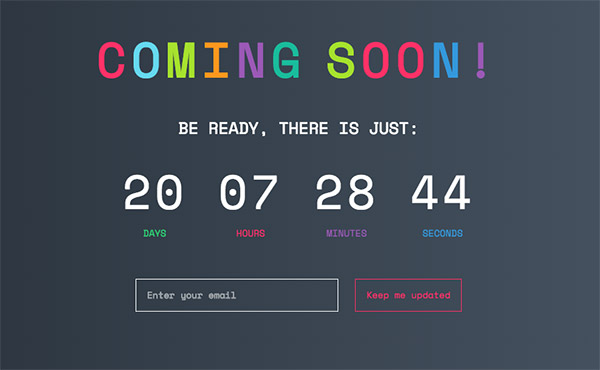 Minimal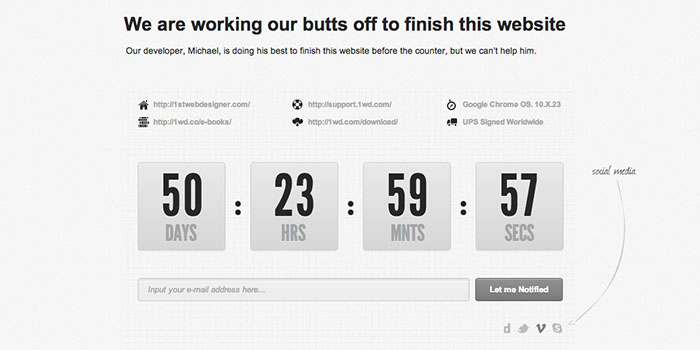 The first example is called Minimal and, as the name says, it is designed with a minimalistic style and features a countdown with the number of days, hours, minutes and seconds, which is quite cool if you already know when you want to launch the website.
It also comes with an e-mail input field, where people who are interested in your website after it is launched can type in their e-mail.
 HTML5 template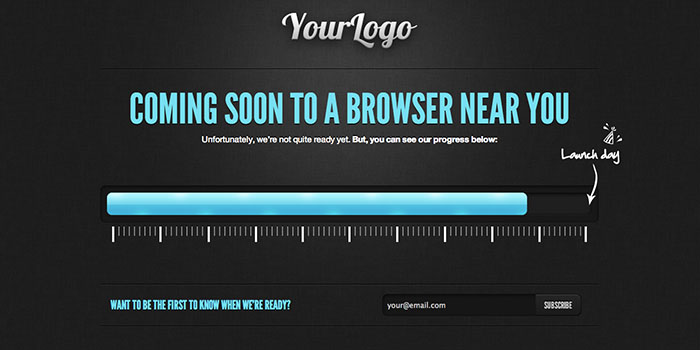 Our second example is also free and gives users the functionality to update the template's progress bar, which works as a status indicator on the coding work that is currently done for the website. The template is coded with HTML5/CSS3 and is tested in the majority of browsers.
Paper launch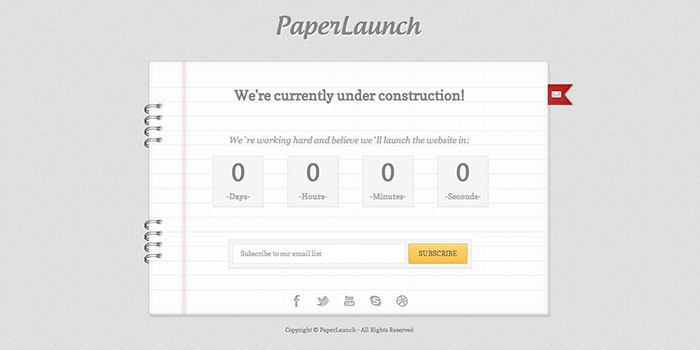 Another well-designed template is Paper launch, which can give your audience a good idea about what kind of a website or service you will offer after the official launch. This one has a countdown too, as well as an e-mail subscription field.
Landis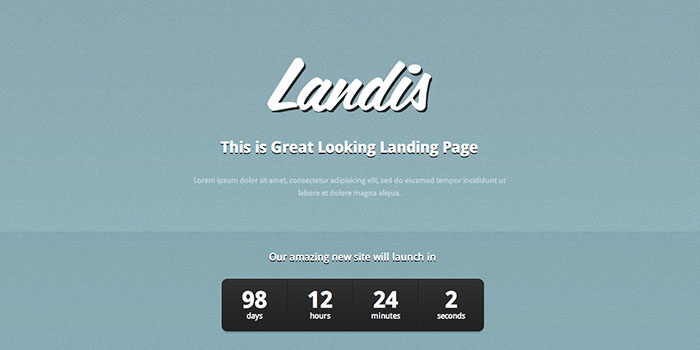 This design offers some more possibilities of customization than the other ones. The large, full-width design allows you to put a lot of information on the page about your company or product, as well as the countdown at the bottom of these "header information". Moreover, social media buttons can be implemented at the button, so that people can spread the word about you.
Wtf template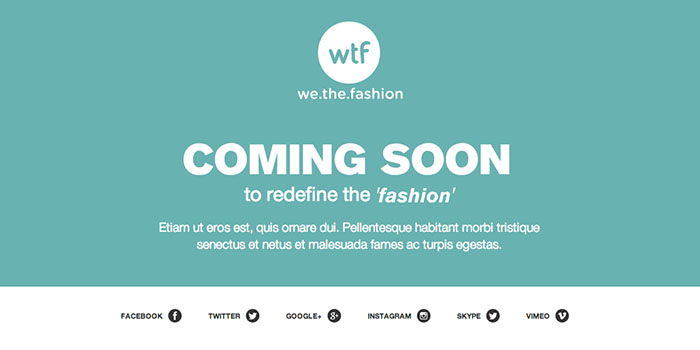 After ignoring the dumb name and looking at the design, you will notice that this one is also a great coming soon template, potentially very useful when you want to spread the word about your launch via social media. There is no countdown, nor a subscribe form, which might be a downside, but not everybody needs these two.
Time a wastin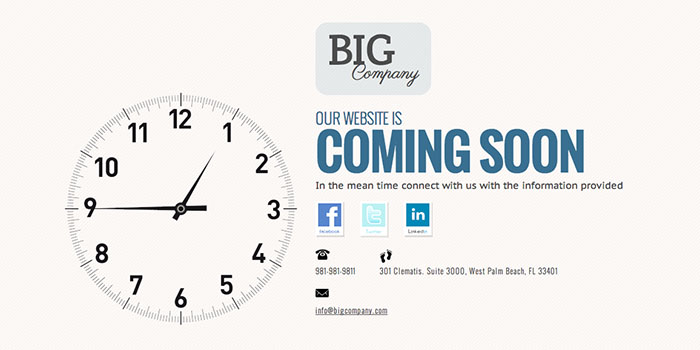 This one is also nice because it shows a clock which doesn't work, but it kind of explains the visitor in a matter of seconds what this page is all about: something with waiting; most likely waiting for a website.
There is a lot of place you can write text on if you want to and there is also a formatted area where you can place your phone number, address and e-mail.
Stay tuned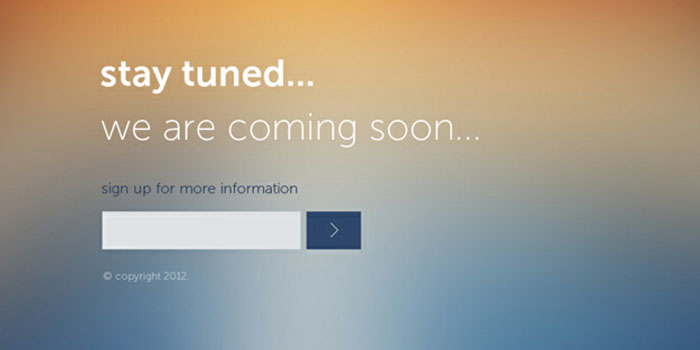 In case you don't know yet when you are going to release your website, this template is definitely a good choice, because there is no countdown on it, only a short headline, a sub-headline and a sign-up form. Sure, you can modify this as you wish, but I think it works just fine as it is and you might want to give it a try if you are out of other ideas.
Website under construction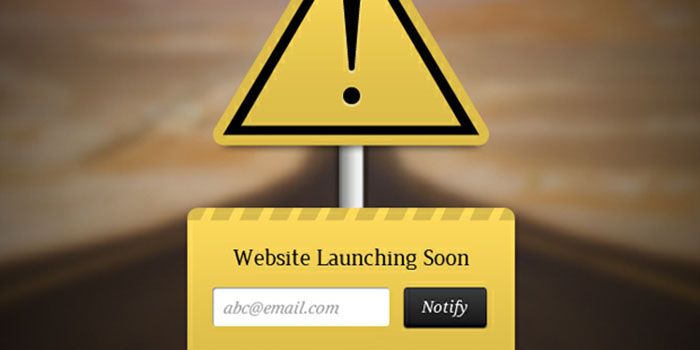 This template comes in PSD only, so no HTML, but slicing it shouldn't be too difficult and it shouldn't take more than 30 minutes. You are allowed to modify this template as you wish to, so this is another advantage, considering also the template comes as free of charge.
Responsive template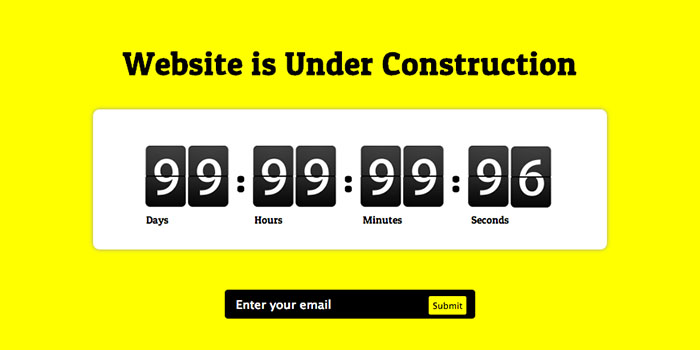 What we rarely are able to find are high quality responsive templates, but this example is definitely one of the good ones. This under construction template works perfectly on desktop, tablet and mobile. It has a countdown that only appears on desktop and tablet, while it is not visible on mobile, which increases the loading speed.
Grey Matter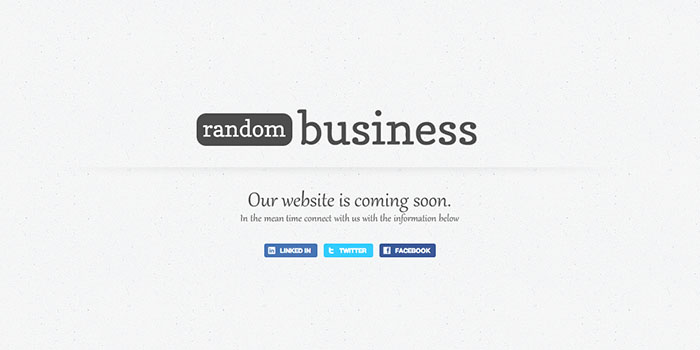 If you don't want to have anything complicated as your under construction template, this one should be the perfect choice for you. There is no countdown and no sign-up form, only a headline, sub-text and social media buttons. It would work just great if you only need to keep this template live for a few days.
Dark Night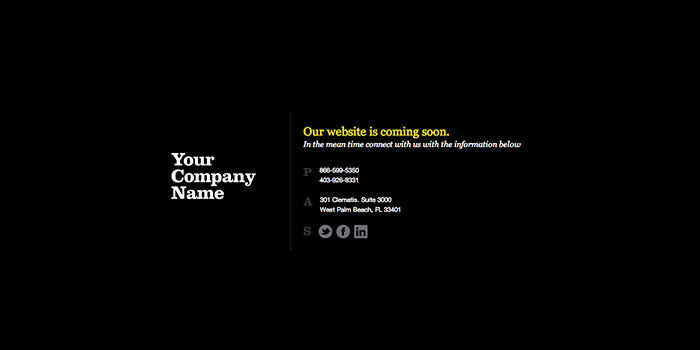 Another very simple template is this one, only now it comes on a dark background instead of a light one. Again, only social media buttons and nothing else complicated such as sign-up forms or countdowns. It is totally free to modify and use, so go crazy with it!
All the lights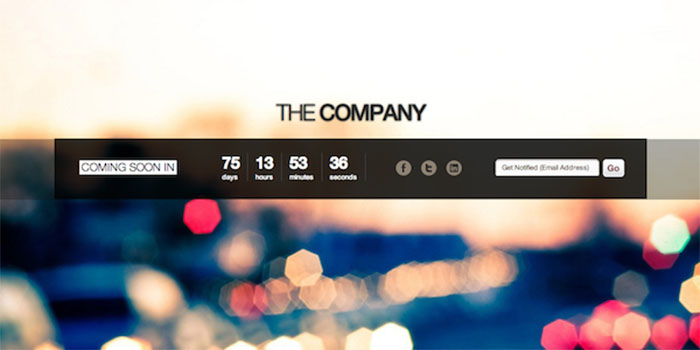 I strongly believe this one has one of the most powerful visual impacts out of all that we have been reviewing today and this is mainly because of the very cool, blurred picture on the background. It is not complicated at all, but it works very well.
Wood craft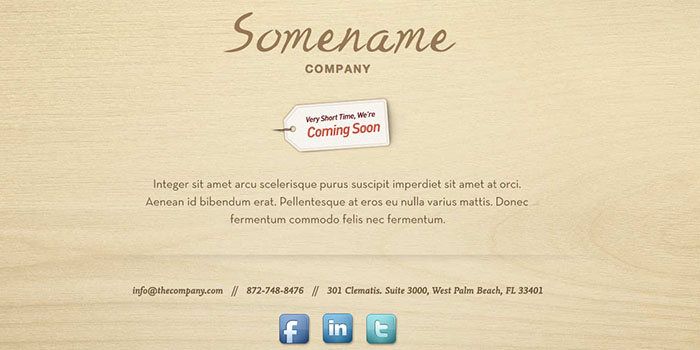 This one is also very good in case your company uses wood for something in production, as the template has a crafted wood pattern on the background. This can be both very useful for the purpose of your page, as well as very easy to look at by the visitor. The image doesn't make the eyes tired when reading or looking at it, which is something patterns often do.
Auto Care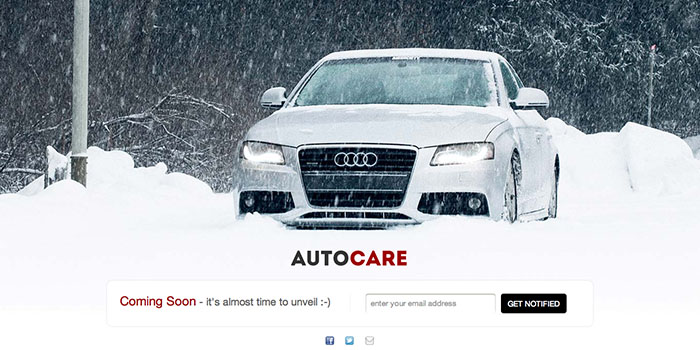 This is another template with a powerful visual impact, as the image is full-width and also spreads across the whole height of the page, while the necessary information is not out of focus or difficult to see. The good part about this template is that a simple change of the background picture can totally transform the impact it has, so you can play with this and use it for every purpose you need.
DrinkAlike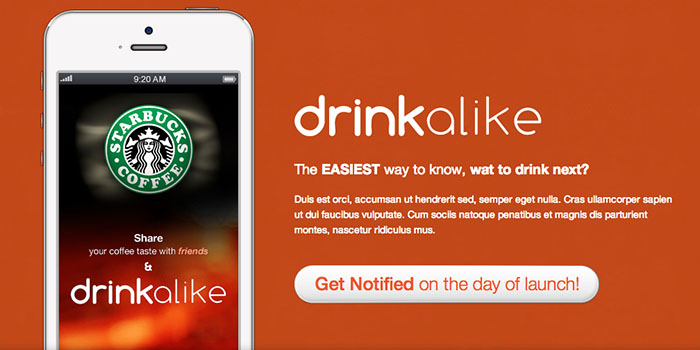 In case you are launching a smartphone app, this template should be great, as you can see in the preview. Moreover, there is a lot of space for social media icons at the bottom, a copyright footer and some big headlines here and there. I really enjoy looking at this template and I believe it could be a good choice for you too.
The web is rich of under construction templates, so it has been a tough choice to get to the best fifteen, but we believe we did a quite good job today. We hope you enjoyed today's showcase and that you will at least take a deeper look at some of them, if not make use of them.
Which examples were your favorites and why? Have you been using some of them before, or do you plan on using some in the near future?