It's rather difficult to do your job as a designer or a developer without your access to some reliable UI elements, icons, templates, scripts, or other assets to that tune.
Sure, on the one hand, you can build everything you need yourself, but that would be hugely unproductive. Also, very often, some of the ready-made stuff ends up being of really high quality, so replicating it on your own doesn't really make sense.
However, this creates some problems, or rather one big problem – paying retail for those goodies is really demotivating. I'm sure you're not someone who takes kindly to spending $30 on an icon pack, or $200 on a set of Lightroom presets, right?
This is where Greedeals comes into play.
Greedeals promises to be the best source of products for designers, developers and freelancers, and at the best prices available. Let's see if that's the case in this Greedeals review:
What is Greedeals?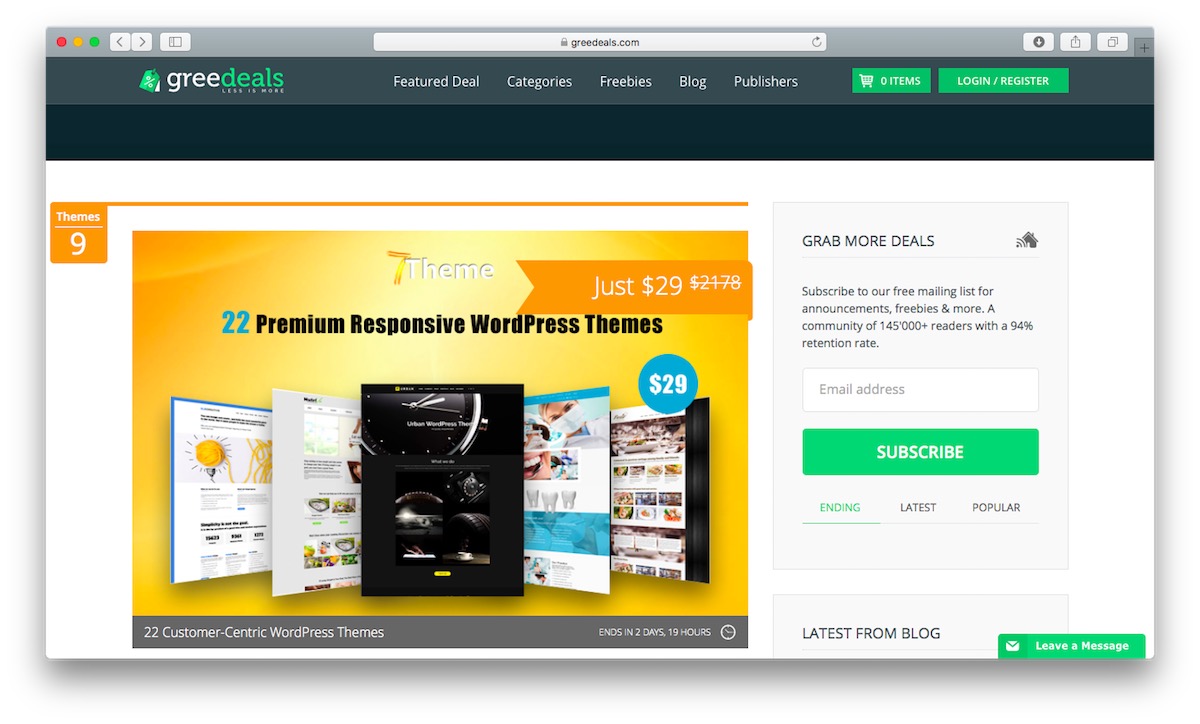 Greedeals is straightforward to explain. Simply speaking, it's a site where you can find some interesting deals on myriads of design and dev assets.
Basically, Greedeals is the place to check out if you happen to be in the market for any of the following: WordPress themes, plugins, icons, UI elements, templates, patterns, overlays, Lightroom and Photoshop presets, even online courses, and much more.
One could say that if you need anything – any product – that's going to help you do your job as a designer, developer, or freelancer, then you're likely to find that product at Greedeals.
The things you can get at Greedeals, specifically
Let's highlight four deals in particular, just to show you the kind of scope and quality that the site has to offer.
Example deal #1: 1300+ Magnificent Overlays Bundle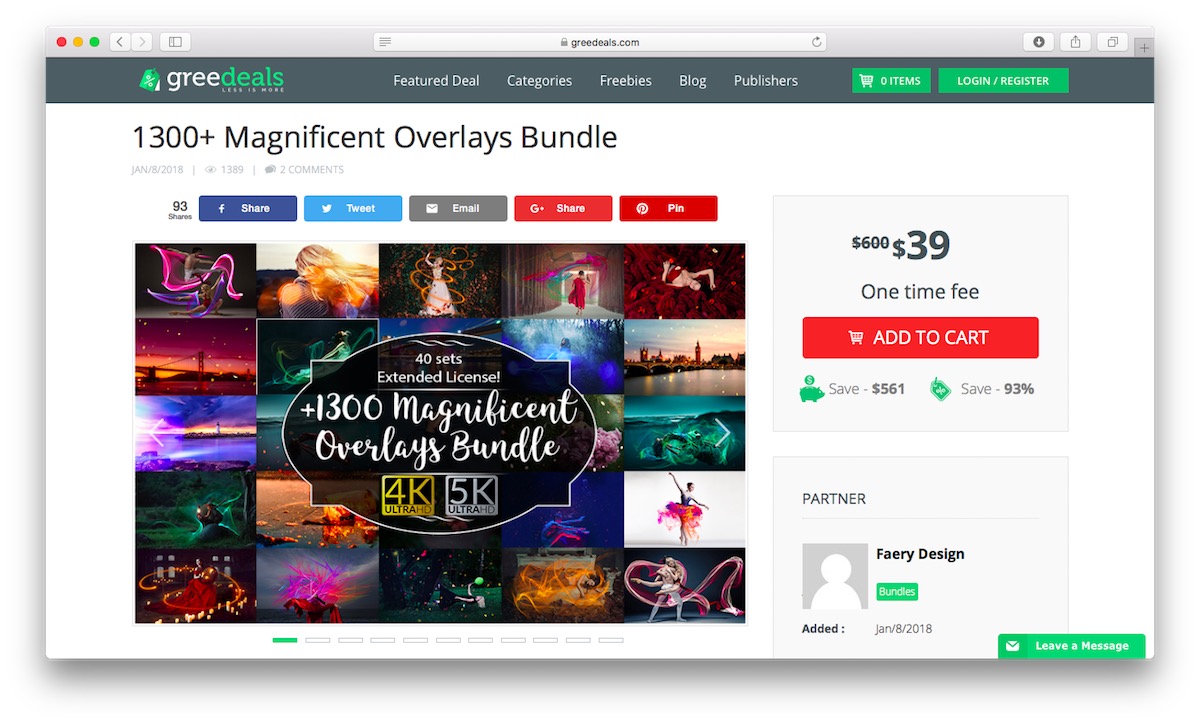 This bundle of overlays is meant to help you breathe some new life into an otherwise boring image.
As part of this bundle, you get some pretty strange elements, such as: ladybugs, autumn leaves, red rose petals, bees, confetti, light leaks, fire sparkles, color spirals, galaxy overlays, and a lot more – up to a count of 1300.
You can apply all those overlays in Photoshop pretty easily, so they're basically ready to be used out the box.
Bundle price: $39 instead of $600 retail.
Example deal #2: Mega Bundle of 5,900+ Professional Lightroom Presets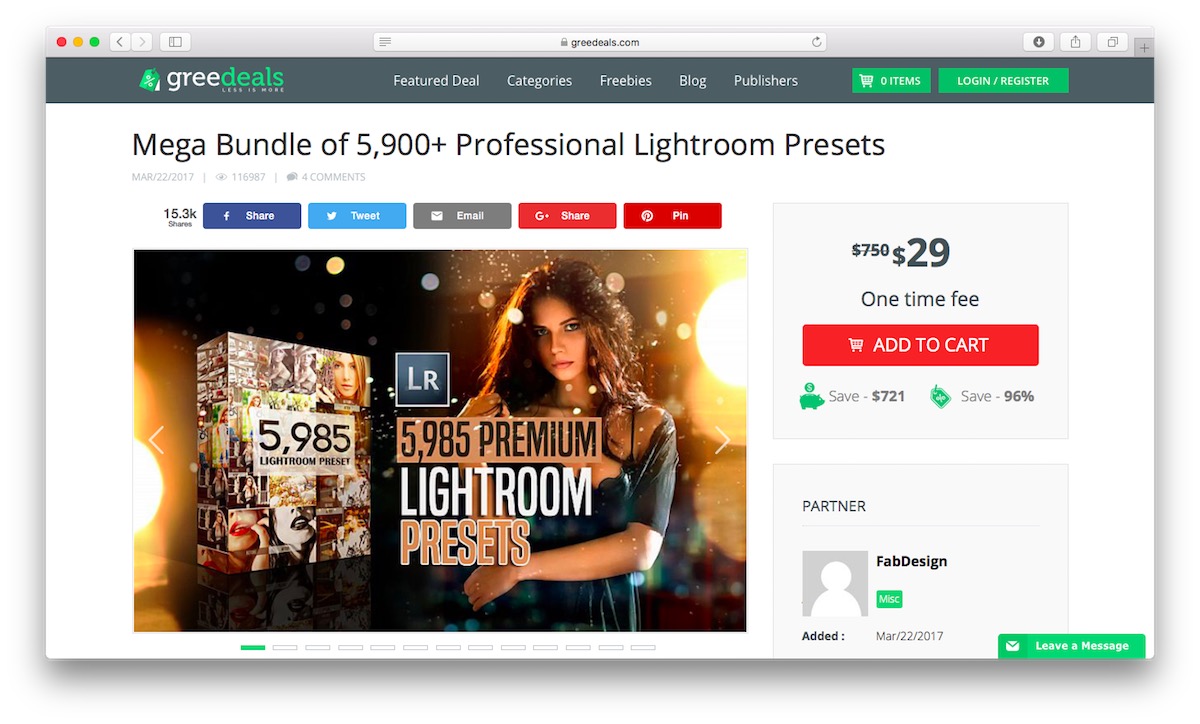 Lightroom is an awesome tool, it really is … if it only wasn't for the amount of time it takes to finish up an image.
This is where presets can help. The tough part with that, though, is to have enough of those presets to be able to serve different types of photos. This bundle checks out on that.
As part of it, you get presets for all kinds of scenarios, such as: interior presets, spring presets, summer presets, BW presets, cinema presets, skin retouch presets, landscape presets, matte presets, and more.
Bundle price: $29 instead of $750 retail.
Example deal #3: 320 Fantasy Overlays Bundle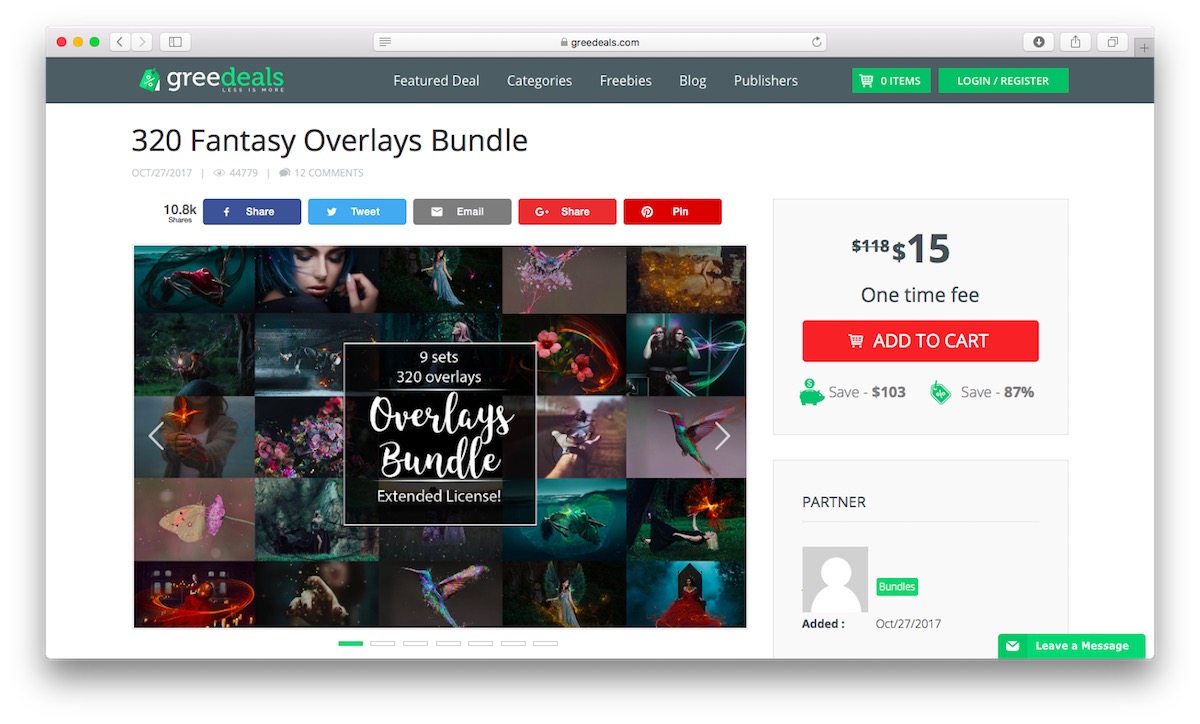 If you happen to be working on any project that involves a fantasy component, you won't be disappointed with this bundle.
This is a set of 320 overlays, including things like: magic fireflies, pixie dust, fire flares, fire entities, black magic, and more.
Again, apply those overlays easily via Photoshop.
Bundle price: $15 instead of $118 retail.
Example deal #4: A Ginormous Bundle of 2000+ Beautiful Overlays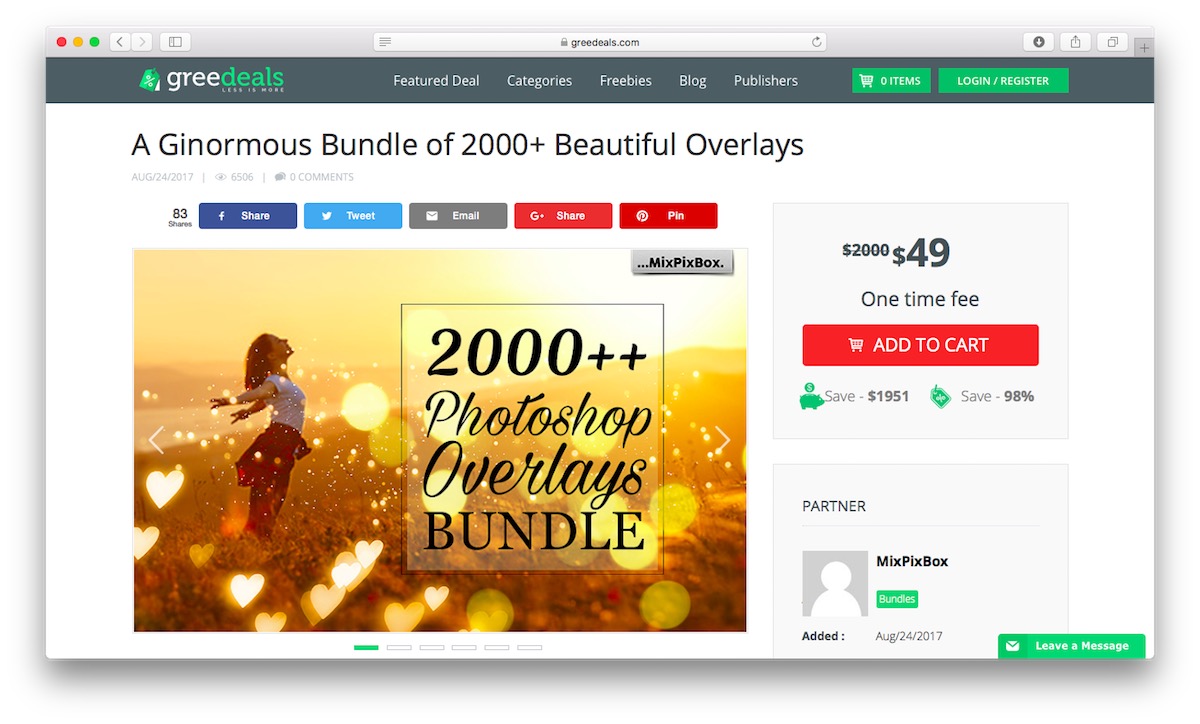 Last but not least, we have a huge bundle of what I would call, general purpose overlays. Due to its versatility, this is your go-to set of overlays for most image projects that need to be "fancied up."
The bundle contains overlays such as: Christmas effects, falling petals, flare and haze, glitter, bokeh, floating dust, bubbles, and more.
(Need some next-level magic? Combine multiple overlays in one image.)
Bundle price: $49 instead of $2000 retail. What?!
Who should check out Greedeals
Greedeals looks like a very interesting resource to check out if you often find yourself in a situation where you need to complete a project fast, and would rather get a good quality asset than have to build everything yourself.
The range of prices offered at Greedeals makes it a great budget choice, and their library is very impressive. What's perhaps even more important, is that you're not strong-armed into signing up for a regular subscription, but can instead get the exact bundles that you need and thus keep your costs low.
Under the hood, Greedeals runs as a blog, so you can hook it up to your content reader normally, and that way don't miss any interesting bundle going live.
What do you think, does Greedeals seem like something for you?