As a graphic designer (or a web designer), traditionally, you had to buy each of your fonts individually. Unless you're working off of free Google fonts or something. But most of the time, you can't avoid premium fonts. Nor should you…
Putting a premium font to work is one of those things that make your design pop more – make it feel more premium and also make it more custom and tailor-made from the client's point of view.
After all, no business owner wants to have a website (or some other piece of design work) that's built entirely of free resources and assets. After all, how many times can you use Arial Black before people start talking?
So, premium fonts it is! But this creates a problem – it's a problem of budget.
Premium fonts can be expensive on their own, plus you also have to make sure that you have the exact license that allows you to use them in a project. On top of that, you don't always end up utilizing everything you buy (due to client's feedback or whatever else). So wasting your money on, say, five premium fonts, only to use two of them at the end of the day isn't the best investment.
This is where Fontstore comes into play. Let's see what the platform has to offer and why you should perhaps give it a try. Here's our Fontstore review:
What Fontstore is
To say this simply, Fontstore is a font subscription service created specially for designers.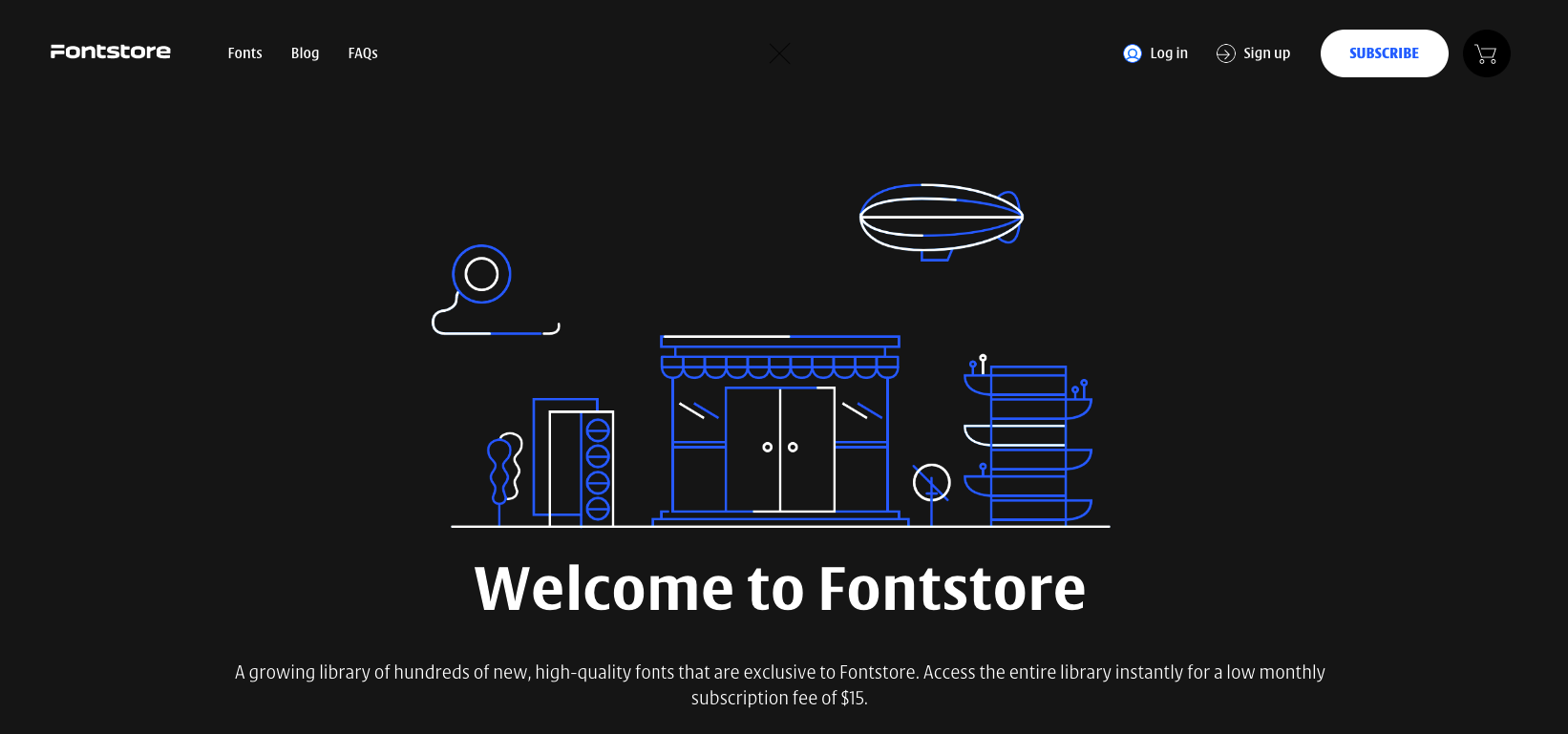 The idea in itself is very simple, and clever at the same time:
Instead of having to buy a font that you want to use in a project, Fontstore allows you to access the font without having to pay for it directly. In fact, as part of your subscription, you can use all of Fontstore's fonts in commercial projects.
Here are some more details on that:
What Fontstore has for you
Under the hood, the way Fontstore works is rather simple. As a designer, you get to use Fontstore's library to access any premium font you wish for no additional payment. The only investment on your part is your subscription fee (more on which in a minute).
The idea behind Fontstore is not to charge designers for the fonts. As a matter of fact, designers very rarely use fonts for themselves – they're not the end user. They just need fonts to complete a project they're working on, and that project will then be handed over to the client.
In that scenario, Fontstore makes fonts accessible for designers at an affordable price. The standard single user license allows you to use the fonts however you wish, provided that you're doing it from one desktop, and that you're not handing over the fonts themselves to third parties (aka. your clients).
What this means in practice is that you can take the fonts, design something with them – like a logo, for example – and then provide an outlined version of the logo to the client. This sort of approach doesn't require the font files to change hands, thus making it in tune with the license.
So long story short, Fontstore is a service for designers that allows you to use great premium fonts at a very low cost. Then, if your client indeed does require the font files for whatever reason, they can pick those up for an additional fee. This two-fold nature is perhaps what makes Fontstore so revolutionary.
Here are the most important details:
As part of your Fontstore subscription, you can access the entire library of their fonts all at once.
Fontstore is the largest library of exclusive fonts on the web – you won't find those fonts elsewhere. As of today, there are 75 brand new font families in the library.
The subscription prices start at $15 a month (single user). For that, you get a desktop license for one user, and a web license for 10,000 page views per month.
If you invite three other designers to join, your subscription will become free for the first 2 years.
Also, there's an affiliate program.

The guys from Fontstore promise that the initial fee is not going to change, even once the library gets expanded to thousands of fonts. That's potentially a huge benefit and might just be the very last font repository you'd ever need.
Also, there's the aforementioned affiliate program. Basically, the way Fontstore works is that your subscription allows you to use fonts in projects and then help clients buy those fonts directly (should they need them) with you as the affiliate. Every time you purchase a font for a client, you get 40% of that sale.
Now, about the available fonts themselves – those are kind of cool! Every font looks great and there's a nice search engine with filters and categories to make finding fonts easier.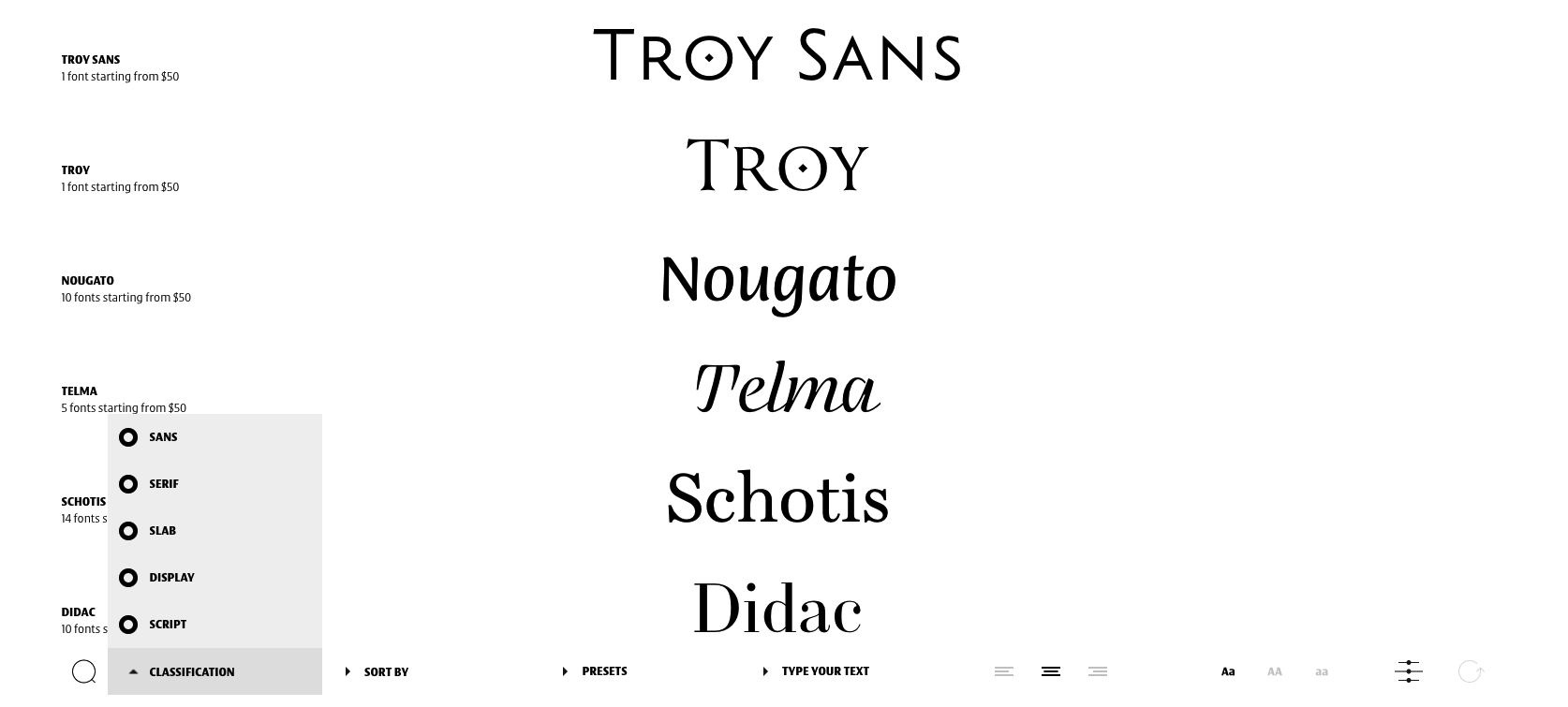 Who should use Fontstore
If you're a designer working on multiple projects then this one can be a good investment for you.
If you've ever had to buy individual fonts for a project only to test out how they look and perhaps not even use them then you know how expensive this can get (and how quickly). With Fontstore, you can just use whatever font you wish from the library – in all your commercial projects – and not worry about the cost.
At the end of the day, why would you have to cover the bulk of a font's cost if you're not the end user, right? Paying a small subscription fee just makes a lot more sense.
Check it out, you might enjoy it. Just go to Fontstore.com.