Our friends over at Designmodo have a talent coming up with interesting new solutions when it comes to making WordPress as user-friendly and as business-friendly (that's a new thing) as possible.
What they have released now is technically a WordPress theme, but that's a big understatement. The main idea behind this product – simply called the Startup Framework – is to make building websites as easy as possible and thus available for the non-designers among us.
In fact, what Designmodo aims at is making it possible for every business owner to build a truly quality website in a relatively short span of time.
That's a big goal if you ask me, and many have failed at it in the past. But maybe the time has come for someone to finally get it right. Let's check if that's the case with Startup Framework for WordPress.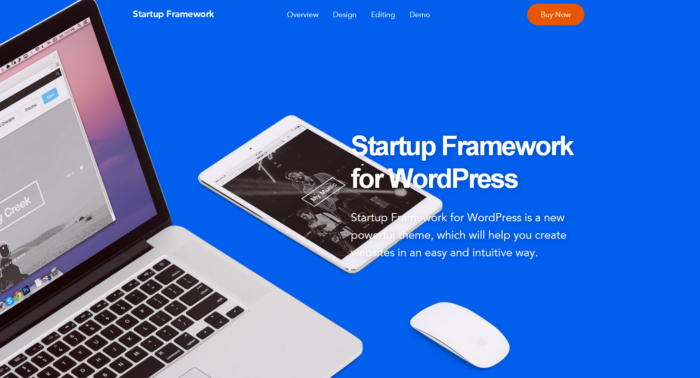 The Prep
In order to check if this really works, I've decided to not only play around with the demo of the theme (you can request yours, by the way), but also do it in a fairly ignorant manner. What I mean by this is that instead of trying to build the prettiest website I could, I've decided to take the default route and see what the framework has to offer to someone who's not particularly experienced with site building.
The Installation
At first glance, Startup Framework looks just like any other theme. So, in order to use it, you have to get a domain name, install WordPress on it, and then upload Startup Framework to the themes directory … the usual.
After activating the theme, you will see a new block in your main wp-admin menu: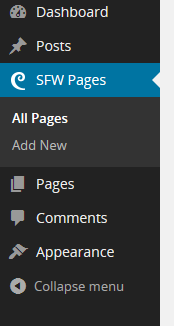 It's called the "SFW Pages," and it is the container for all Startup-Framework-enabled pages. There's a new button next to the Demo page, labeled "Visual editor."

When you click it, it's where the fun starts.
The panel that will be displayed to you is the main Startup Framework control panel where you get to give your site this unique and attractive look that has been promised to you.
Features
The way that Startup Framework works is based on individual content blocks that can be arranged on the page in any manner. Those blocks can be moved around with drag-and-drop, plus there's visual editing functionality for each block individually (so you can set the content just the way you need it).
Right at the very beginning, you get access to seven different sets of content blocks (including headers, main content blocks, contacts, etc.) from within the sidebar: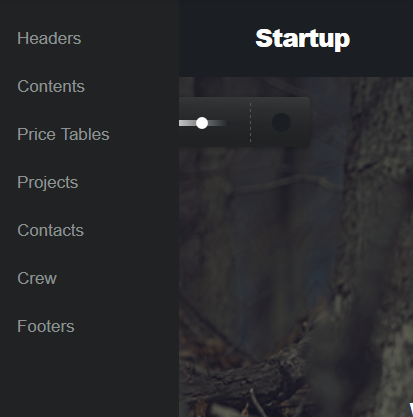 Once you select any of them, another sidebar pops up and gives you (literally) dozens of different blocks to choose from (Designmodo says there's 100 in total).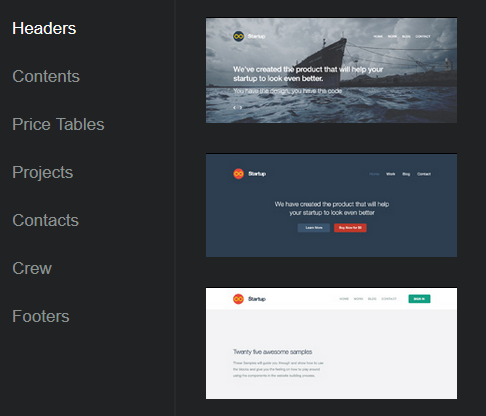 From there, you can start working with everyone's favorite site building method – drag and drop. So just grab the block that interests you and put it somewhere on the page.
Depending on the block you're working with, you can tweak the background image, pick the menu items (all nicely integrated, so you're redirected to the native menu settings within WordPress), input the text in a true what-you-see-is-what-you-get style, change the colors, etc. Additionally, if you're feeling confident, you can switch to HTML editing mode.
Just like that, block by block, you can design your whole website very quickly.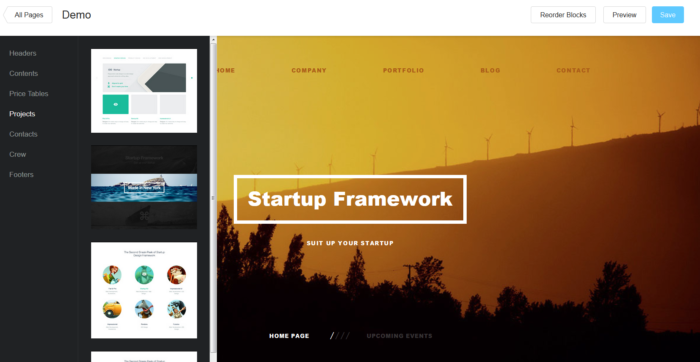 Moreover, looking at the range of the content blocks available, you're not limited to a certain kind of website. With this framework, you can create sites for apps, online tools, products (there are pricing tables available), brick and mortar businesses, online businesses, you name it.
Now, here's what I think is the best thing about all of this. Although the individual blocks are very diverse, they have the same flat design feel to them. What this means is that no matter what you do, things will fit and look good together, and this makes it a truly beginner-friendly tool.
The Bottom Line
Startup Framework is a really interesting solution for people who want to have the possibility to not only design their site quickly, but also be able to come back to it at any time and make some changes.
But this can be taken even further. Why not create two parallel versions of one page and use them for split testing sales messages and designs? The possibilities are plenty, to say the least.
One other important thing is that the designs that Startup Framework produces are responsive and can be viewed on any device. This has become a standard these days, but it's still worth pointing out.
Perhaps the only downside is the price. A one-site license is $149 (for that you also get one year updates and one year email support). The other two licenses available allow you to install the framework on three sites ($249) and five sites ($349).
On the other hand, hiring someone to design a custom website for you, or even modify an existing theme would cost you much more than that, so it's still a great deal. In a nutshell, Startup Framework proves to be a great WordPress theme with a lot to offer.
You can get it at: http://designmodo.com/startup-wordpress/