One must be honest and must accept the fact that there is time for everything, but the huge majority of us can't simply manage the working time. There are many people who spend a lot of hours in front of their computers, but at the end of the day, they hardly accomplished anything. On the other hand, there are many people that are efficient and in just few hours they manage to realise an important part of a project.
Also, it may come as a surprise for you the fact that a high amount of time is wasted even when staying in the office. There is a subtle and important difference between being into an office and effectively working. These are very different things. Time management is still a relative new area and many designers should have their hands dirty with it, the consequences will be positive. Anyway, the harsh part is that if you are in the office for eight hours, then you should be satisfied in the eventuality that you have effectively worked for five-six hours.
It sounds disappointing, but it's the ugly truth! If you don't believe this fact, I strongly recommend testing it on yourself! The following tracking time tools are for you and I consider that any designer (if not every person) should use one in order to find out how to manage their time better! Here are 20 awesome solutions, so it's impossible not to be satisfied with them!
List of 20 Alternatives to Track Your Working Time
TimeTrack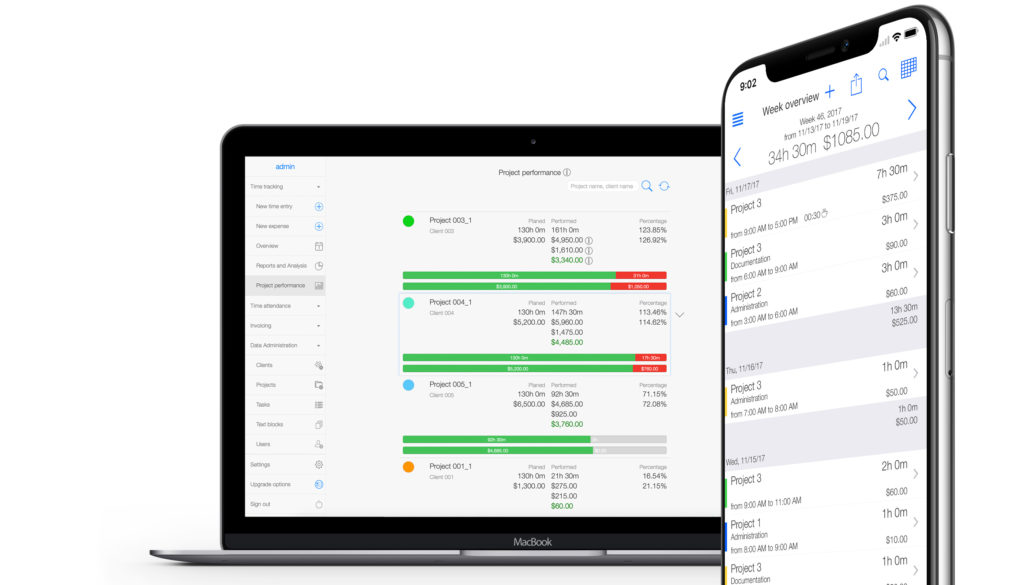 If you're looking for an easy time tracking software, with a great variety of features and a beautiful design, give TimeTrack a try. You can track your working hours, plan projects, keep up with project progress, create invoices for your client and even plan your employee's vacation. On top of that there's a smartphone version (iOS and Android), so that you can keep working while you're on the go.
Clockodo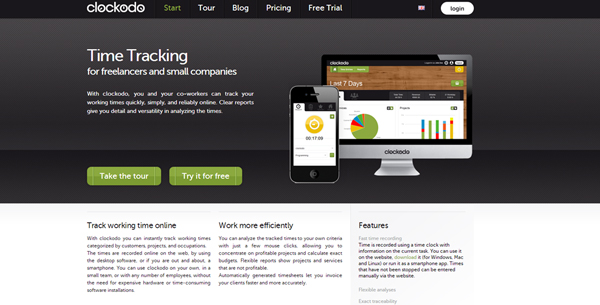 Clockodo isn't a free application, but its small price is immediately amortised due to its huge advantages. The interface is very intuitive and the design is pleasant, there are two versions for smartphones (Android and iOS) and the tracked time is broken down by services and projects. The dashboard is well designed; therefore there is no reason why you shouldn't try their 14 days free trial. Don't you think?
Toggl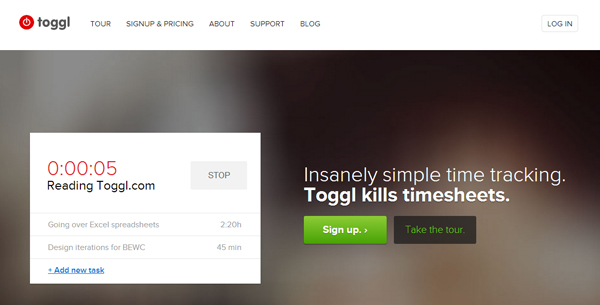 Toggl is my favourite web tool for tracking time and I have tons of reasons to sustain my preference. The design is simple and it's impossible not to accommodate with it easily. Secondly, Toggl offers complete reports even from the past years, this way the user has full control over his / her activity. And last, but not least you may work offline because their support service is at the highest standards.
Everhour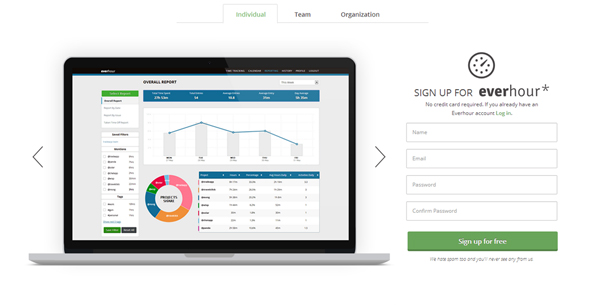 If you don't like the design of Toggl, then you should try Everhour. It has almost the same features as Toggl, but a different design. Another plus of this web app is represented by the nice introductory explanations and the customer support.
Colorhat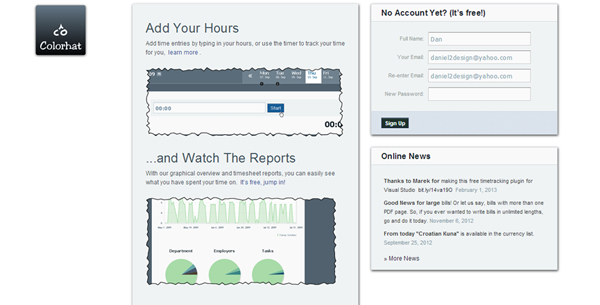 Color hot is much more than a simple tracking time service. Depending on the account type that the user has selected, he / she has the possibility to send invoices, collaborate with other users or customise the dashboard with his / her own logo. It's a web tool that should definitely be a part of the arsenal of a designer, especially one working as a freelancer.
Timely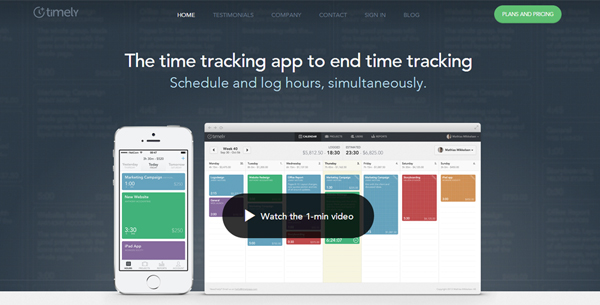 It doesn't track the time like the previous web apps, but I consider that it's a very useful tool for everyone. Anyway, you still have a complete overview over the worked time. The idea is simple and effective, at the end of the day the user sees how much he/she aimed to work and how much of it was accomplished. As far as money is concerned, there are multiple pricing plans you could choose from, but if your budget is too low, then you should just pick the free version.
Yast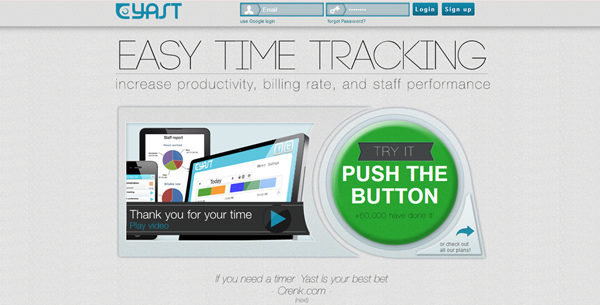 Yast is simple, but in the same time very efficient and pleasant. It's the perfect tool to demonstrate that from the eight hours work day, in fact very few time is spent on productive working. I really hope that you will prove it wrong, but I doubt it very much …
UpYourTime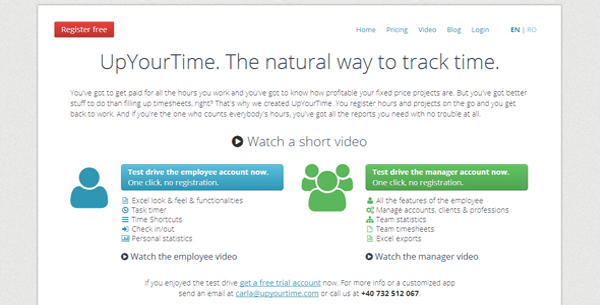 This web application is mostly designated for complex teams, but it may also be used by small teams or individuals. It's more business oriented, but the user may find out how much time he / she has worked. It's very easy to configure and its main advantage is the fact that the user has a clear situation of the billable works, for each kind of project.
Harvest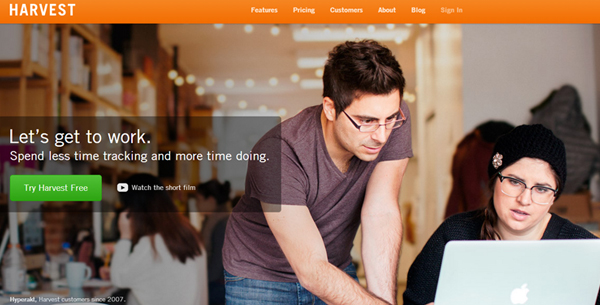 Usually, the designers are idealistic persons and sometimes this is a disadvantage. The finances are the domain of the realistic persons, but due to Harvest, even the more dreamer ones may handle the finances. Of course, this application allows tracking the time, invoicing the clients and having complete detailed reports. Besides that, the design is very attractive. It will be a real pleasure to work with Harvest.
Liquid Planner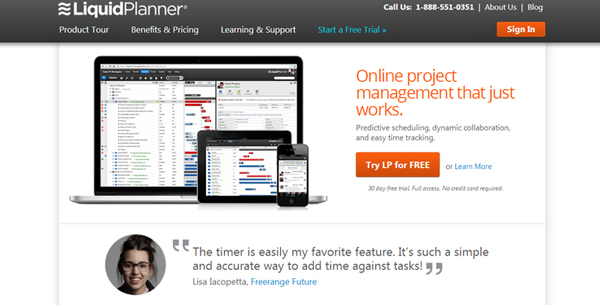 Liquid Planner is another application for complex teams. In spite that, it is an invaluable tool even for a single freelancer, even if he/she won't need its complex features. Practically, it offers a complete and detailed insight over the users' activity. Obviously, you may track your time spent doing various works.
Ronin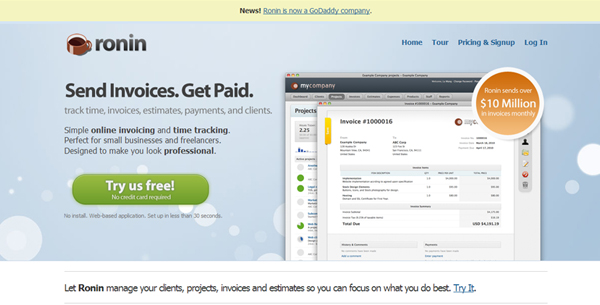 If you need a simple and to the point app to track time, invoice the clients and manage the projects, then Ronin App is for you. It stands apart from the competitors due to the high degree of personalisation. In other words, it's simple and powerful! What do you think? Aren't these features the most important ones for managing projects and tracking time application?
Mite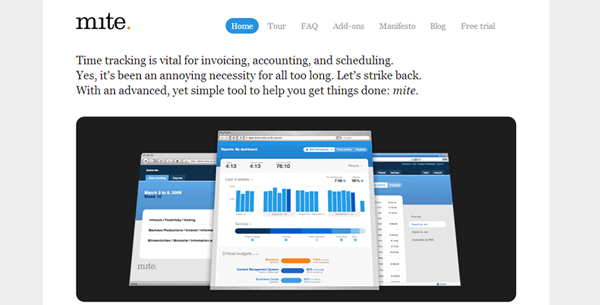 Mite is a great resource that should at least be bookmarked by every freelancer. It's discreet and unobtrusive; in other words it simply does its job. I consider that this is in fact the role of a tracking time solution. The single downside is the design- personally, I consider it very poorly constructed and maybe some people won't give it a chance due to this aspect.
Eggtimer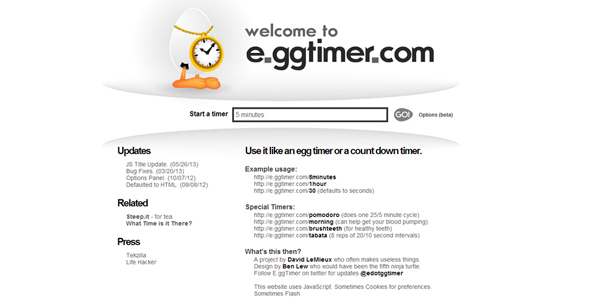 We presented very complicated applications, but sometimes all you need is just something that would count time and nothing more. A simple and useful solution is Eggtimer. The idea is simple: the user sets up an alarm and a sound signal will inform him / her about the expiration.
Timr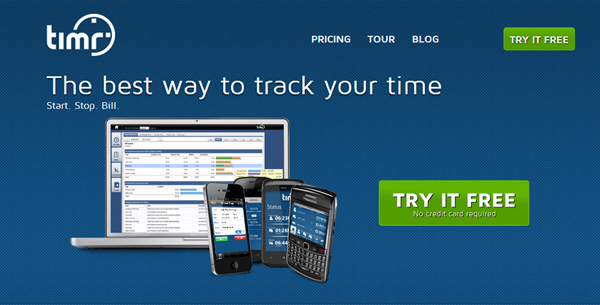 Timr is the opposite of the previous item. It's extremely complex and every design team, especially the ones where the members work remotely, should consider this. In spite of its complexity, the interface is very intuitive and even for less experienced users it won't be a problem to work with it. You cannot have it for free, but there are multiple plans to select and the prices are reasonable.
14 Dayz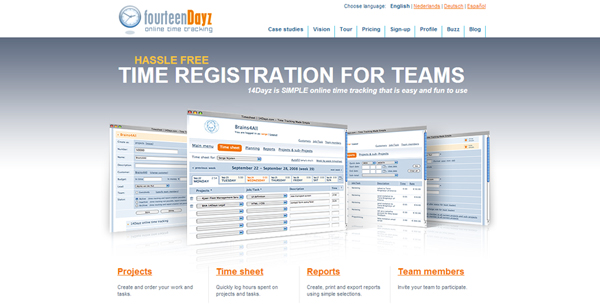 14 Dayz is a great application to track your time, the single downside being the outdated design. Of course, the design may be neglected because the user interface is well structured. I think that it is the perfect in-between solution: not very complicated, but it's still different from a simple clock alert.
Chime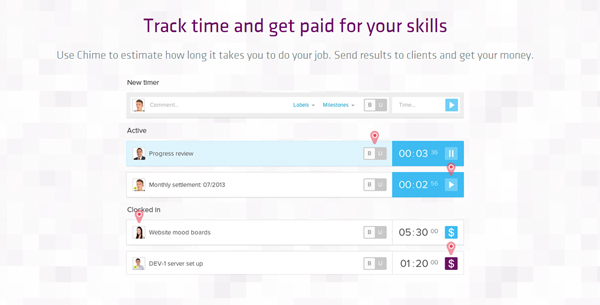 Chime is a wonderful application. Unlike the previous item, chime is very modern and visually appealing. By creating an account here (you have many options, even a free one) you benefit from a great interface and various modules may be added in order to enhance the workflow. Considering the fact that you have a free trial, I guess it deserves your attention.
Mavelink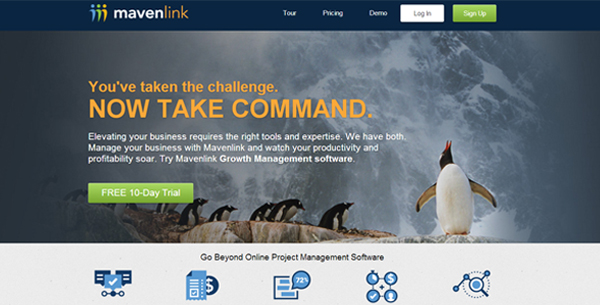 Mavelink is a complex application that allows managing projects, but it includes a rubric for time management. The interface is very similar to WordPress, but overall I think that it must be taken into account.
Timeneye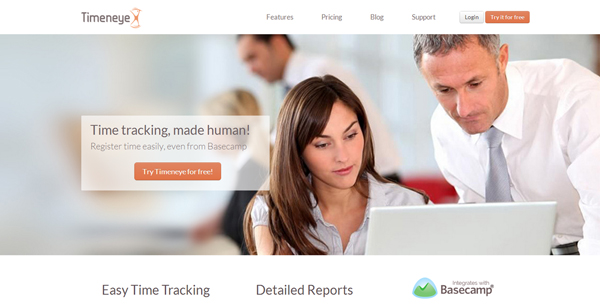 This is another web application that will reveal how productive you are during a working day. In addition to that, you may track how much time is spent doing a specific project. The trial period is free, but ulterior, there is no free account. Personally, I think that the money invested will be quickly amortised because it will let you know how unproductive you are!
Getquantify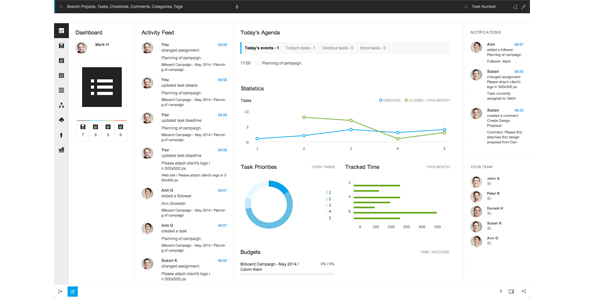 Maybe the font choosing isn't the best solution, but Get Quantify is a very professional tool. I have mixed feelings about the interface, but once you watch the video tutorials, everything is way clearer. It isn't free, but as you well know everyone has bills to pay!
Paydirt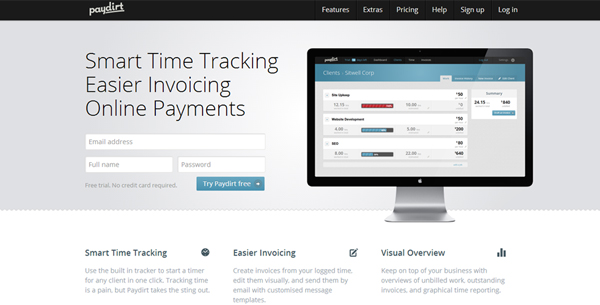 Paydirt is a great source because it offers three major advantages: you may create invoice for the clients, better manage the projects and of course, it allows tracking time. A complete, simple and reliable solution for everyone, so enjoy it!
TSheets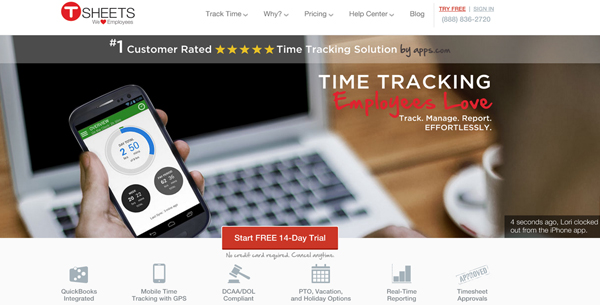 Here is the last application from our list, but it doesn't mean that it is the least important. It's suitable for medium and large companies, but it offers a clear perspective over the daily time spent. Obviously, you have tons of options and I think that is way better to visit it yourself.
I believe that it is impossible not to find a tool from this list that would satisfy even the most demanding persons. All of them are carefully selected, but in the eventuality that I missed a very good one, please add it in the comment form.