Your clients probably don't like to be ignored, nor to feel like the service they're receiving is sub-par in any way. And this doesn't only come down to the quality of what you're giving them, but also the quality of the service itself.
However, managing your relationship with clients via email or Google spreadsheets can only take you so far. And especially if the projects you're involved in tend to go through multiple steps from conception to completion – which is basically what most design projects are.
Long story short, you need a CRM (customer relationship management) platform. Preferably, an affordable one, or even free. But most importantly of all, one that's easy to use and easy to integrate with your already existing workflow.
This is where the aptly named Zero BS CRM comes into play. Let's see what it is and what it has to offer, plus why you should consider it for your business. Here's our Zero BS CRM review:
What Zero BS CRM is
In a sentence, Zero BS CRM is a stand-alone, WordPress-based CRM platform.

The great thing about it is that (1) it keeps up with the name, and (2) it's a fully-featured package, meaning that you don't need to register anywhere else to have it enabled and operational. In other words, the only thing you need to do is get the Zero BS CRM core plugin – free, install it, and right away you are able to start managing your clients and their affairs.
Apart from that, Zero BS CRM also offers you a range of paid extensions that introduce additional functionality and help you make your customer relationship management even more streamlined.
This is basically the business model that Zero BS CRM subscribes to – giving you a great core plugin for free, and then hoping that you'll enjoy working with it so much that you'll be happy to get some more upgrades. And let me tell you, it holds up! Here's why:
What Zero BS CRM has for you
To say this simply, Zero BS CRM has all the functionality that you'd expect from a serious CRM platform, such as SalesforceIQ or something. But the clear advantage is that while SalesforceIQ can set you back $75 a month or more (the recommended plan for service-based businesses – aka. what most designers would probably choose), the core of Zero BS CRM costs you nothing, and it runs on your WordPress website without any additional integration needed.
Under the hood, Zero BS CRM lets you do the following:
manage leads and customers,
send and manage quotes,
send and manage invoices,
manage transactions (plus partial payments),
generate leads with lead forms,
send email campaigns,
import and export CSV data,
set custom roles for customers,
assign contacts to companies (in case there are multiple contacts within your client's company),
use customer tags,
get sales and growth reports,
Android and iPhone apps on the way.
But that's only the tip of the iceberg. Apart from the above, Zero BS CRM also offers you the aforementioned paid extensions. Those are really impressive as they help you integrate with other third-party tools or marketplaces that you might find yourself interacting with. For instance, you can:
subscribe your Zero BS CRM contacts to MailChimp,
integrate Zero BS CRM with Awesome Support,
import your item sales history from Envato,
retrieve all customer data from Stripe,
retrieve all customer data from WooCommerce,
retrieve all customer data from Google Contacts, and much much more.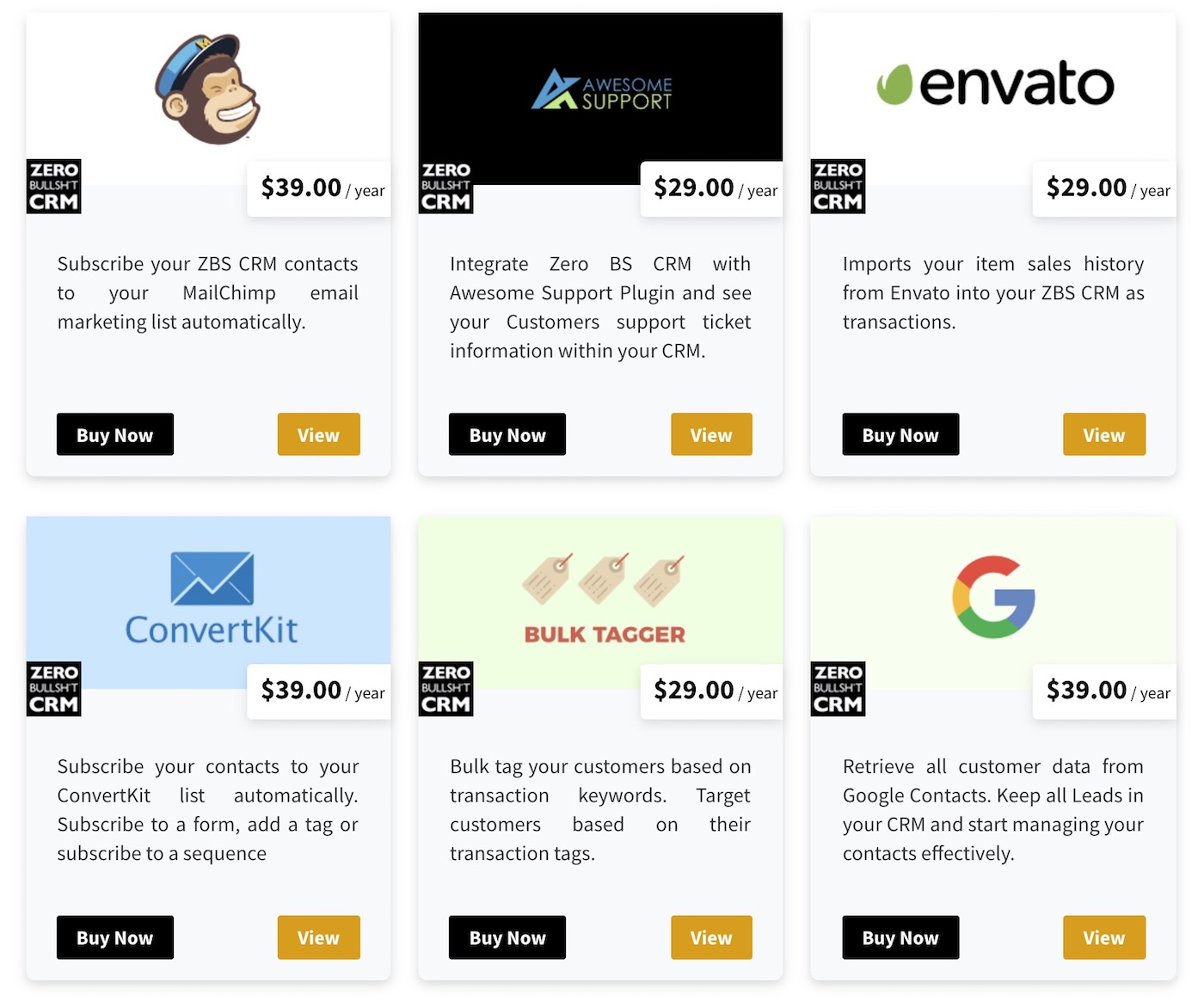 How to use Zero BS CRM
When it comes to installing the platform and then working with it on a daily basis, everything is also impressively easy to grasp.
First off, it installs like any other WordPress plugin. So all you need is to just put the plugin's name through your wp-admin's Plugins → Add New page. From there – once you install and activate the plugin – you will be taken through a four-step setup wizard. This helps you get all the details dialed in.

After that, you can either go to the plugin's settings if you want to, or start working with the CRM right away by adding your customers/quotes/invoices/etc.
Zero BS CRM uses a familiar WordPress-like style for displaying your customers and all of their information – similar to what your blog posts look like in the wp-admin.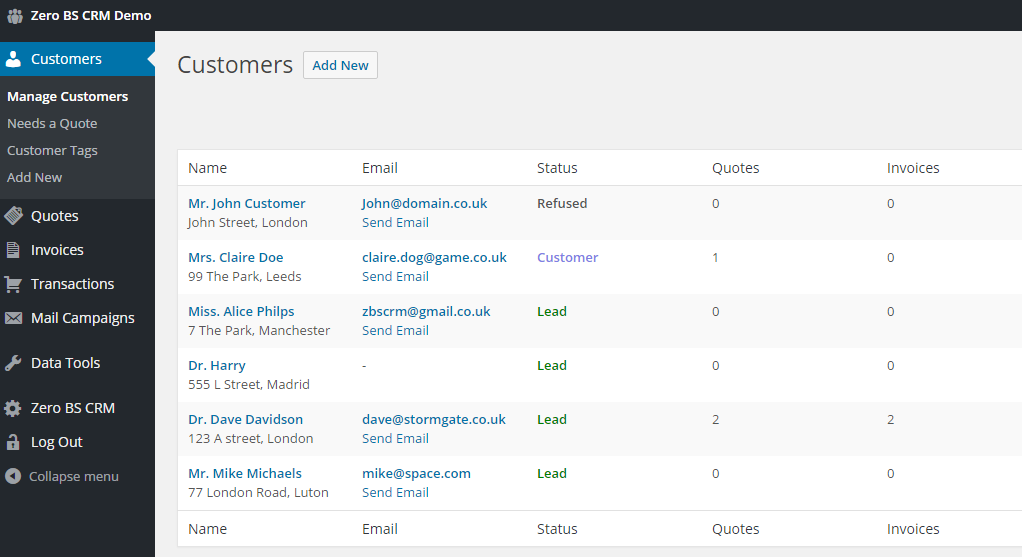 Also, after a while, as you're working with the CRM, you will start appreciating the main dashboard of Zero BS CRM more and more. It presents you with all the most important metrics and numbers as to your business results, growth, and general trends.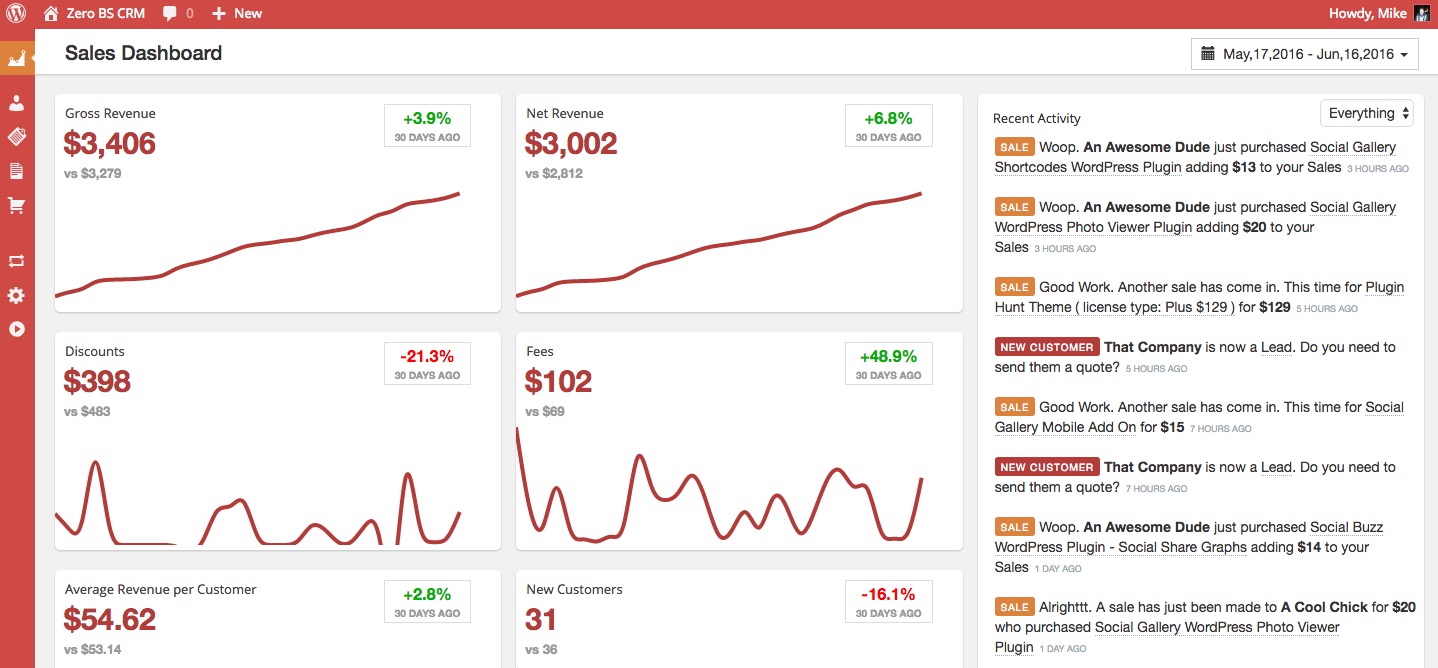 What's particularly worth pointing out here is that Zero BS CRM is not only a CRM platform but also an invoicing system and an email communication platform all in one place. What this means, basically, is that if you use Zero BS CRM, you don't need to install other third-party plugins for any of those things.
Who should use Zero BS CRM
Zero BS CRM has very interesting extensions and bundles for various kinds of businesses, not to mention the great free core plugin, of course.
Because of that, the platform can be used successfully by e-commerce stores, service and product based businesses, as well as freelancers and sole entrepreneurs working on any projects imaginable.
What the above naturally includes are designers. Freelance design – or working as a design agency – is a very specific kind of profession. You're often dealing with multiple prospective customers, and only a handful of them turn out being your paid customers. And even then, you still have to communicate with them clearly and manage the relationship effectively. For that reason, a tool like Zero BS CRM is just what you need.
As I mentioned, the core plugin is free. You can get it here.
If you want to get some of the available extensions individually, you can do that here (they are $49 – $129 a piece).
However, a much more cost-effective approach is to get one of the available bundles: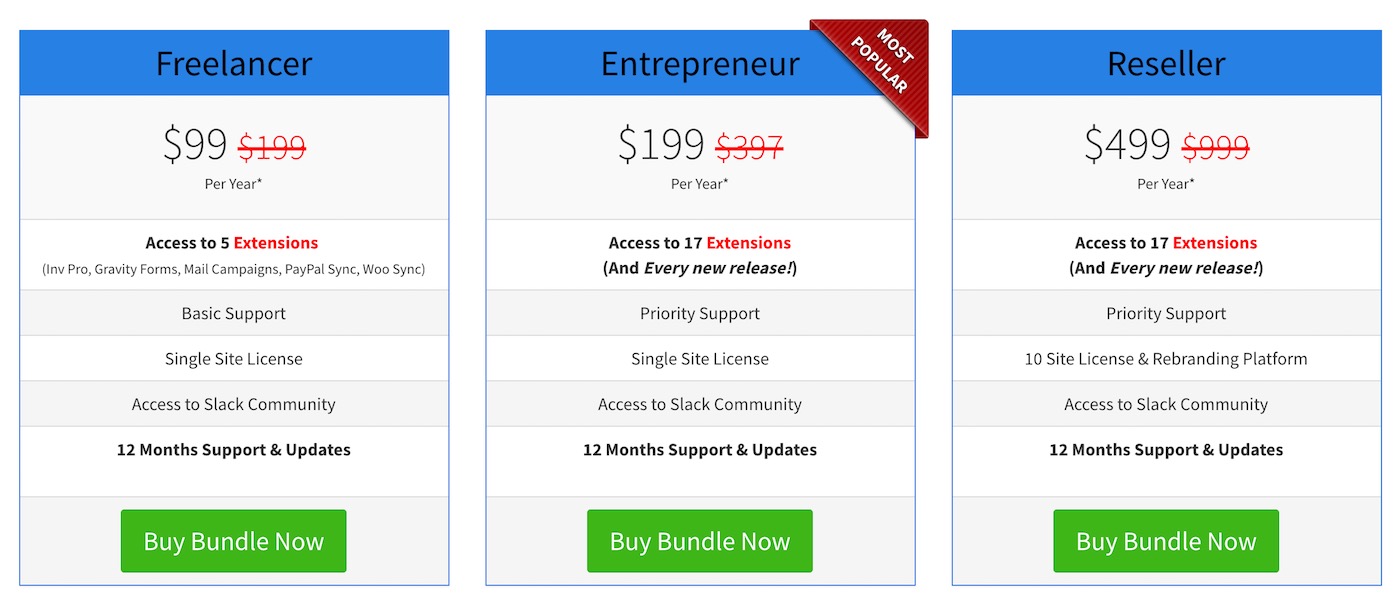 As you can see, Zero BS CRM is currently running their special launch offer, so everything is seriously discounted (50% off). If you're considering checking out any of the paid extensions, I'd say that today is the perfect time to take advantage of that 50% discount and give it a go.
And even if not, getting and testing out the main version of Zero BS CRM still costs you nothing. So no risk at all. Check it out at ZeroBSCRM.com.