The market for WordPress themes is a truly huge one. No matter what sort of theme you might need – both in terms of price and purpose – you are sure to find something to suit you.
So in all that noise, how to find the companies and products that really stand out?
Well, I like to focus on the rankings and simply look into the themes that have proven themselves by becoming highly popular and growing a massive following.
And in that landscape, it's hard to beat ThemeIsle.
If you go to the official repository at WordPress.org, for example, you'll see that they're one of only 3 third-party developers (data source) that have a spot on the top 10 most popular themes list. And (probably) the only company that has stayed on that list for more than 12 months.
What all this means? Basically, if you want WordPress themes that have proven their quality, you go to ThemeIsle! But maybe they can offer even more in the realm of premium themes? Let's find out.
What's on the "Isle"?
The Theme-Isle is a cool concept. The team behind the company wanted to prove that WordPress themes don't have to be boring, but instead, they can provide a fun experience to the users, while at the same time also delivering the best features out there.
This is what ThemeIsle has been established to achieve.
In their directory, you'll find a number of thematically-centered and niche themes. For instance, themes for photographers, small business, lawyers, reviewers, architects, medical offices, even plumbers, dentists, and other business profiles. But there are also general purpose business and magazine themes.
Everything is responsive and designed to follow the current trends, both in terms of code quality, as well as compatibility with modern mobile devices.
Their flagship product – Zerif PRO – has been downloaded tens of thousands of times and has proven to be one of the top parallax WordPress themes out there (there's also a free version of the theme – Zerif Lite).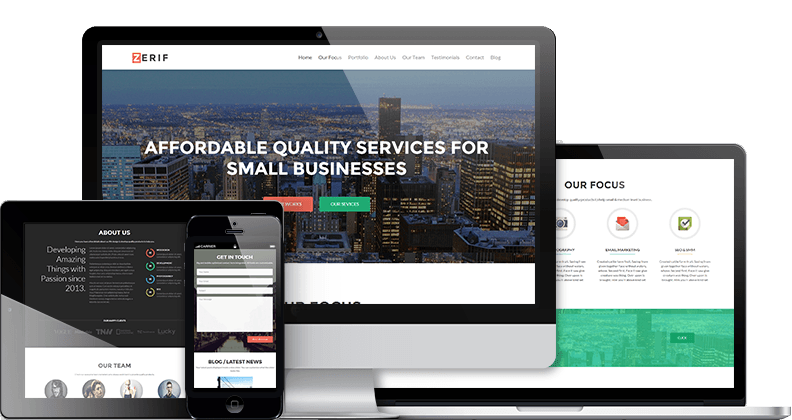 In short, with this theme, you can build a really good-looking scrolling design with parallax effects, and you also get all the other standard elements of a WordPress website (like the blog, page templates, etc.). When it comes to bells and whistles, well, you get video backgrounds, WooCommerce compatibility, custom content blocks, integrated contact form (nicely animated), integrated Google Maps, and great customer support.
What's "Pirate Club"?
Let's start somewhere else. ThemeIsle offers three main pricing points for their products. You can either:
(1) get a one-site license for a single theme with one year of support,
(2) get a license for all themes with two years of support, or
(3) get unlimited access to all themes and plugins (they also have those) with lifetime updates and support.
That third type of license is called Pirate Club.
Normally, it's $199, but if you don't want to invest any of your own money, you can take part in ThemeIsle's giveaway. In it, you can get your hands on one of the 5 Pirate Club licenses for free.
Again, this Pirate Club license gives you unlimited access to Zerif PRO and any other theme from ThemeIsle.
See below for rules and details to enter:
The giveaway has ended and this are the lucky winners:
Hugo Morales
Shane Knuth
Bry Ledesma
Frank Mohnhaupt
Nikolay Kharin
All winners will be contacted via email within 24 hours regarding the prize.