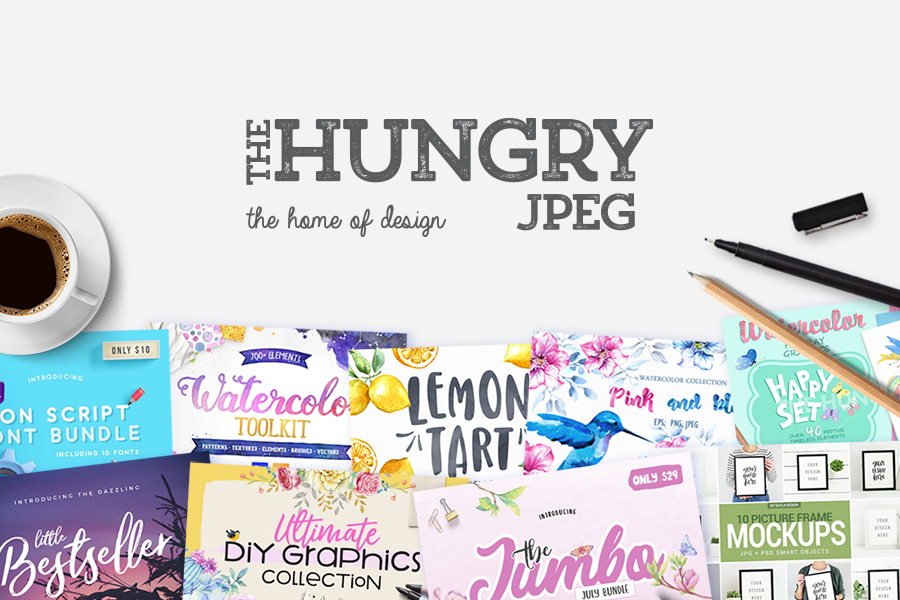 Having a good toolset is crucial when working on a design project, and that's any design project, no matter if we're talking print, web, or anything in between.
And whether we like it or not, the fact is that you can only go so far if you're using the same free resources that everyone else uses. To make your work stand out, you simply need to get your hands on unique graphics, which you can then use as the foundation of your work.
But the difficult part is … where do you get those from? While there are multiple repositories on the web, some of them tend to be a bit too far on the expensive side, thus making it hard to justify getting them.
So how do you obtain good resources and graphics without losing your shirt in the process?
This is where TheHungryJPEG – the website we're reviewing today – comes into play. Let's take a look:
What is TheHungryJPEG?
TheHungryJPEG is a marketplace for designers, crafters, newbies, seasoned graphic design ninjas and everybody with an interest in the design world.
In other words, if you want to create an awesome design, TheHungryJPEG can provide you with fonts, graphics and other resources to make your work quicker and more effective.
And let me be honest with you here, I was truly surprised by how big the directory actually is. Literally everything is there – it seems.
What TheHungryJPEG has for you
As I said, the directory of goodies at TheHungryJPEG is more than impressive. Here are some of the things you can find there (plus a lot more):
Fonts of all types
Vector graphics
Photoshop actions
Brushes
Patterns
Layer styles
Lightroom presets
Palettes
Icons
Illustrations
Infographic elements
Objects
Textures
UI kits
Web elements
Photos in multiple categories
Graphic templates (cards, business cards, menus, magazines, etc.)
Themes (HTML, WordPress, Tumblr)
Browsing through a number of their assets at random, everything seems to be of really high quality, and not only in terms of the technical quality of the graphics themselves (high DPI, multiple formats, etc.), but also in terms of their artistic quality.
TheHungryJPEG has somehow managed to gather only truly awesome graphics, which plays well into the idea of building a valuable toolset of design elements that you can use for multiple projects.
The prices range from $1 (simple fonts, graphics, photos, etc.), to ~$50 (complex products, like WordPress themes and premium quality fonts & graphics), and everything in between. On the average, you can get most of the graphics for around $10-12 a piece.
But that's not all. TheHungryJPEG also offers some really interesting deals that allow you to get many of their graphics at a really affordable price or even for free. For instance:
There are premium weekly freebies.
There's their weekly "Flash Sale Friday."
There are premium bundles released every Monday.
And that last thing – the bundles – are a true killer. Which brings me to:
Bundle discount … 96% off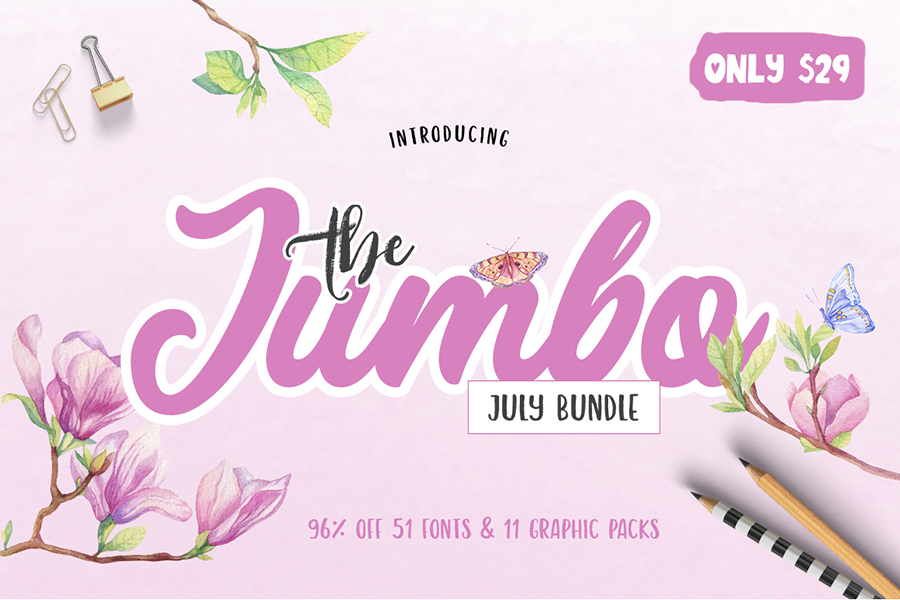 If you really want to save money then the bundle releases at TheHungryJPEG are something you should pay close attention to.
Seeing discounts to the tune of 96% off is not uncommon with those bundles.
For instance, just check out the most recent bundle – called The Jumbo July Bundle. As part of it, you get:
51 fonts,
11 graphic packs including hundreds of elements in multiple formats,
commercial license and lifetime download guarantee,
unlimited free support.
Recommended retail price? $863.
Bundle price? Just $29. So just as promised, that's 96% off.
Note; available only until the end of July.
Who should use TheHungryJPEG
This one is simple, if you're a designer and you're struggling to find good design resources (or struggle to create them on your own), TheHungryJPEG will make your life a lot easier. Even if you're just a beginner or a stay-at-home crafter. They can provide you with the necessary.
The best thing about TheHungryJPEG is that they can help you not only right in the moment when you need a certain graphic (you can get everything at a one-time fee), but also on a regular basis – by growing your toolset via their bundles and freebies.
Plus, there's great customer service, so it's not like you're left to your own devices once you download anything from the repository. They will always reply you on hello@thehungryjpeg.com within 24 hours of your queries.
Overall, you should probably bookmark the TheHungryJPEG website, and see what's up with them at least once a month.
And again, the newest bundle – don't forget to check that one out.
What do you think? How have you been building your design toolset so far?