Are you a fan of flat?
Or a fan of material?
Or maybe you don't like to take sides, but rather appreciate awesome designs in general, no matter if they follow the ideas of flat or material design.
When you ask me, I'm in the last camp.
Using flat design just for the heck of it was never my thing.
And don't get me wrong, flat design has its purpose, but sometimes you need something that stands out just a little more. Sometimes you need this additional flare that will set your project apart and impress your client, giving them something unique.
Let's face it, the biggest downside of flat design is that most of the icons following that trend tend to look alike. And that's never good for branding.
That's where the icon pack we have for you today comes into play!
It's called Illustricons. It's not flat. It's not material. It has its own unique style.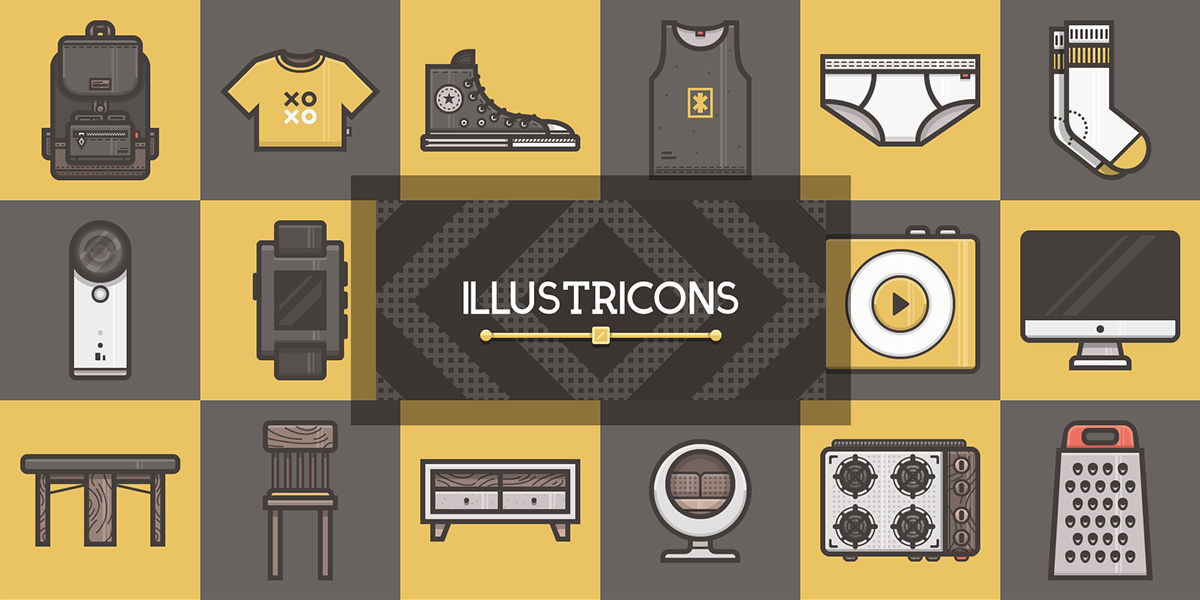 What's inside?
Illustricons is a pack of 520 vector icons – all using vector shapes in different formats and sizes.
Additionally, the icons come grouped in 7 categories for easier access, such as: technology, furniture, clothes & accessories, food & appliances, design & handmade, web design, and files.
What truly sets this set apart is the quality of the designs. I don't usually say this lightly, but those icons are as pixel perfect as it gets. The detail on the designs is really impressive, and the good color combinations make everything look beautiful.
Also, the pack is really versatile and presents some elements that aren't seen that often in other icon packs.
When it comes to the specifics:
The icons come in 5 different formats: .AI, .EPS, .SVG, .PNG, and .PDF.
You're allowed to use them for multiple personal as well as commercial projects.
You get free updates (when new icons come out, you'll get those for free).
You get support (support for icons isn't always that common on the market).
How to get it
Like usual, you have two options:
Option 1:
Buy it for $48.
Option 2:
Join our giveaway and get it for free.
Here, you can get one of 3 available licenses given us by the guys over at Sliceberry – the authors of this icon pack.
There are no limitations regarding the product. What you get as part of this giveaway is the full icon pack, along with the full rights to use it for whatever project you have on your plate.
See below for the rules and info on how to get on board:
The giveaway has ended and this are the lucky winners:
Kyle Morin
Tiffany Baca
Ricardo Gomes
All winners will be contacted via email within 24 hours regarding the prize.