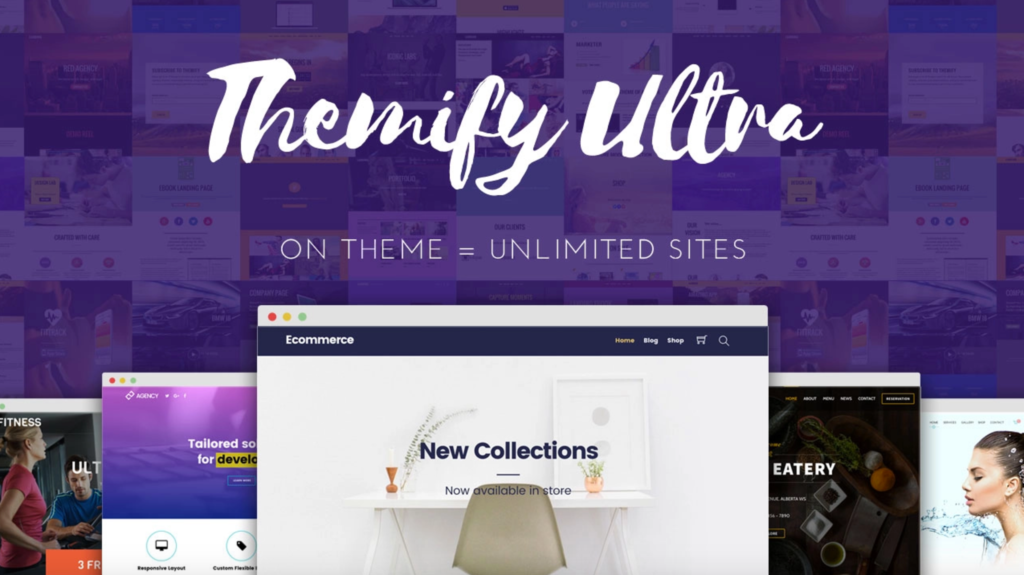 Bear with me as I say this, but I believe that, nowadays, nobody wants a WordPress theme that's just single purpose…
People want versatility. They want to be able to tweak and customize different aspects of their theme, or even overhaul the whole layout if need be.
In other words, building a WordPress site is much more than just "checking off a bunch of boxes" these days as users want to experiment with their websites prior to settling on one final look.
I mean, single purpose themes just don't make that possible to the extent needed, and give the user very little freedom in regards to the layout/design/etc. For instance, what if the user changes their mind and doesn't want to use a given layout anymore? Well, in most cases, they just have to buy another theme, since the more significant modifications usually can't be done without accessing the source code.
But that's where the theme that we have for you today comes into play.
It's boldly called the Ultra theme and it's the most powerful and flexible WordPress theme to ever come out of the Themify workshop. Let's see what it has to offer. (Plus, we also have a giveaway at the bottom of the post.)
What is the Ultra theme?
The Ultra theme is the flagship creation of Themify. Their themes and plugins have been trusted by more than 65,000 customers (and counting), and the team has poured all that experience into developing Ultra.
Ultra is meant to make a couple of crucial things possible:
Give you a flexible structure that you can adapt to your specific needs (while still keeping everything responsive).
Make it possible to create any website quickly and beautifully.
Let you take full control of the way your website looks from top to bottom header to footer.
To make all of that possible Ultra gives you a handful of elements:
The demos in Ultra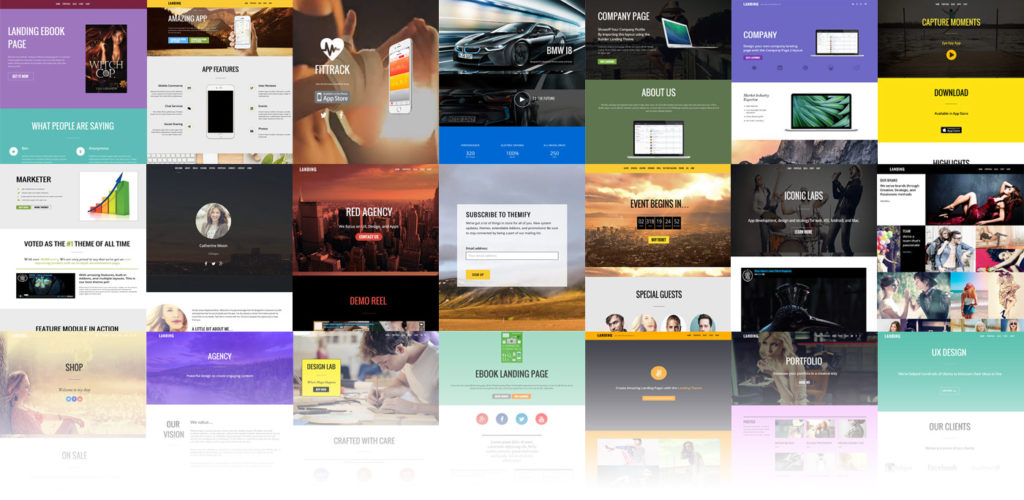 Getting started with any WordPress theme involves a fair dose of uncertainty. That blank screen or default blank look of a WordPress theme can be daunting, and importing some standard data doesn't always help.
Ultra solves that by giving you access to a nice set of complete website demos that you can import with a click.
Those design skins include complete website structures/looks (including theme settings, menus) along with demo content (posts, pages). Basically, think of them as websites in a box. Currently, there are 6 demos available for: an agency site, restaurant, wedding, fitness, e-commerce, law firm, with more on the way.
You can use those demos as starting points for your website. In other words, why start from scratch when you can start from a demo that's already close to exactly what you need…
Tweak your layout with a drag-and-drop builder
Themify Builder is a drag-and-drop content builder for WordPress that comes integrated with Ultra.
Basically, it has all the features you could expect from a builder like that – various content blocks, different types of possible layouts, slider backgrounds, parallax scrolling elements, custom styling, animations, you name it.
On top of that, you get 60+ pre-designed layouts out the box to jump-start your work, and they're all responsive and mobile-friendly.
Also, since Ultra was made to be compatible with Themify Builder from the get-go, you don't have to worry about anything looking odd.
Take full control of your header, footer, and everything in between
I really like this part, simply because of the volume of options available.
You see, headers haven't always been the strongest aspect of multipurpose themes like this. I mean, there's usually just a couple of options to choose from when it comes to the looks of things, and you can't do any significant modifications if you're not comfortable with source code. But not with Ultra.
This theme gives you 15 different header styles (based on where you want your logo, menu, other elements), and you can set them either site-wide or per individual page (which is great for creating landing pages).
Then, you get 5 distinct styles for your single post layout – an aspect that many other themes tend to neglect.
Lastly, there are 6 styles for post archives, including the popular grid and masonry layouts among others.
Of course, everything about those layouts is customizable, so you're not stuck with one pre-set look.
Use mega menus
Mega menus are a controversial thing among designers and users alike. Some of us love them, others hate them.
If you're in the first group, Ultra will not disappoint you.
The theme allows you to set up mega menus easily and put a lot of seemingly advanced elements in them. For instance, you can showcase your recent posts, feature multi-column dropdown menus, include widgets, and more.
Sell via WooCommerce
Personally, I believe that every WordPress theme should come with a tested WooCommerce integration. And "tested" is the keyword here.
You always want your WooCommerce module to look like it fits the overall design of your website. If it doesn't, your customers will notice, it'll confuse them, and they will leave. Bad.
Luckily, Ultra understands this, so it makes sure that things look great together and that your online store matches everything else design-wise, hence providing a seamless e-commerce experience.
Who should use the Ultra theme
First off, you can check out who's already using it. This should give you a good overview of what's possible.
Other than that, I see Ultra being a good choice for:
Designers and developers working on client sites, who want to be able to satisfy many clients' needs by using single, versatile mega theme that can be customized freely.
Business owners who want to build a great-looking website all on their own – this is possible through Ultra's good starter content and the easy-to-use drag-and-drop builder.
Giveaway + discount
You can get Ultra in one of two ways:
First, you can just buy it from Themify starting at $49 "Standard" license, and $69 "Developer" license.
Both let you use Ultra on unlimited sites, come with an additional bonus theme (from Themify's library), one year of support and updates, and a 30-day money back guarantee.
Additionally, you get 9 builder addons (countdown, counter, contact form, timeline, pricing table, and more). Plus, if you go for the "Developer" license, Photoshop files of the theme.
Now the best part … or rather two best parts:
If you use the coupon code EWD during checkout, you get 50% off your purchase (Ultra theme only). Expires on March 31, 2017. Click here to take advantage.
We're giving away 5 copies of the Ultra theme "Standard" license. Again, this license includes everything described above; no additional limitations.
How to participate
See below for the rules and info on how to enter:
Touchdown!
The giveaway has ended and this are the three lucky winners:
Maxime Da Costa
Iskander Okikov
Nathan Hare
Emil
Francisco
All winners will be contacted via email within 24 hours regarding the prize.
Thanks everyone for participating, and follow us for more great giveaways :)