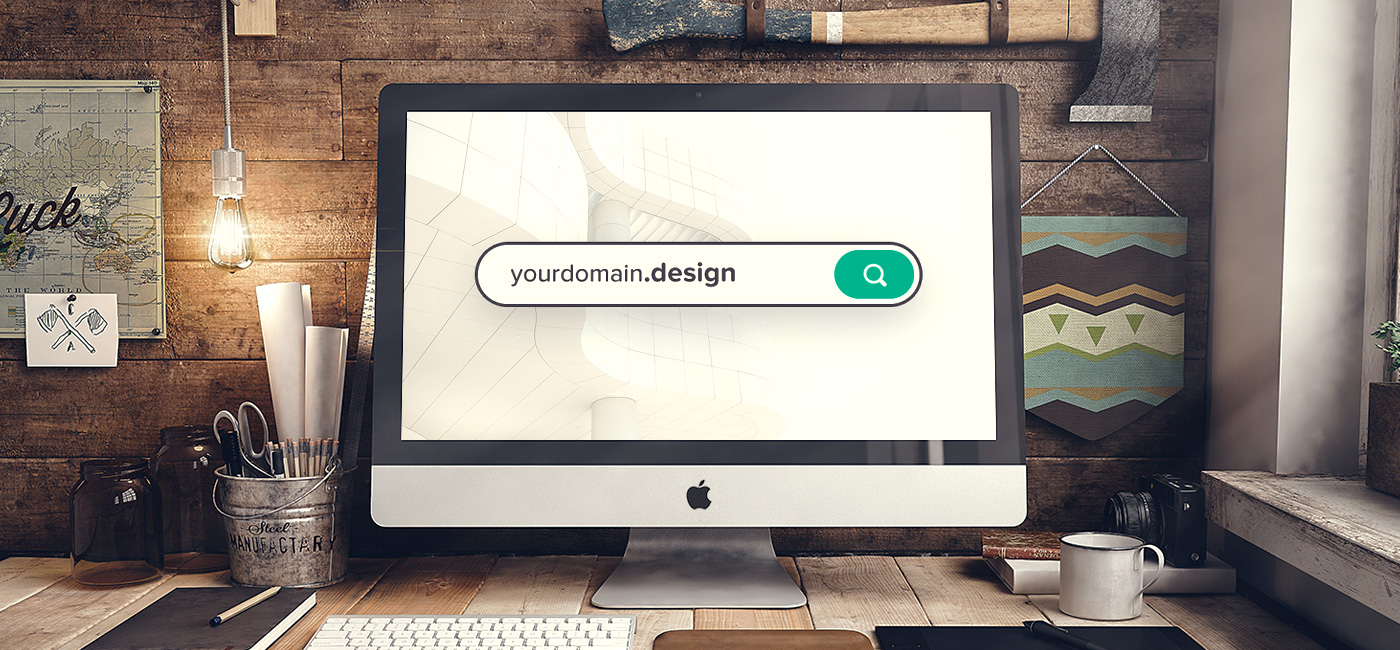 Some of the new TLDs – top-level domains – you might already be familiar with. Things like .pizza, .xyz, .hotel or .music have gotten their fair share of publicity and overall excitement around the web. But, as it turns out, there's at least one more interesting TLD out there that's worth a more in-depth look. As you can see in the headline, the one I'm talking about is the top-level .design domain.
So without further ado, this is our review – and then a giveaway slightly further down the page – of the new .design TLD.
"How do you even review a domain extension, Mr. Blogger?" – you ask. Okay, I get you. This may seem odd at first. After all, a TLD is just part of your overall web address, and as such, it doesn't hold any functionality, technically speaking.
However, there really is a couple of factors that we can look into here and base this review on. So please bear with me for a minute, and let's get started:
What the .design TLD is
Under the hood, .design works just like any other top-level domain. This means that you can use it as part of your website address (e.g. YourBrand.design), or your email address (e.g. hello@yourbrand.design).
This may seem a bit counterintuitive if you're not that experienced with domain names, but from a user's point of view, .design works just like .com. For example, all web browsers will recognize a .design web address just like they can recognize a .com, and they will direct visitors to the right place. All email servers will follow suit as well.
In case you're wondering, the .design TLD is part of the new batch of TLDs that was first made available in 2015. And since then, it has become one of the most interesting and versatile options for web addresses. Which brings me to:
Who should use .design
First, let me tell you who already uses it.
And … I need to warn you; you're going to be impressed by this quick shortlist. These are some of the more notable .design websites:
The traction that the .design TLD has been getting with the web's most recognizable brands is really impressive. All those companies have quickly realized the potential in highlighting the design side of their operations through custom web publications, and a .design domain has been turning out to be the perfect vehicle to make that happen.
Here's what Jeff Smith, Facebook Designer, shared about this move:
Facebook.design is just getting started. Like most things at Facebook, it will be iterated on frequently. But we hope this becomes a place where designers can find great resources to grow as a designer and develop in their career. Ultimately, we hope we can help push our discipline forward.
However, you almost certainly don't need to be Facebook in order to benefit from a .design domain name. First, it's quite affordable, so there's no high barrier to entry. Second, having it makes sense for a number of business models and overall purposes.
Specifically, a .design domain will work for:
designers, design businesses, freelance designers,
design agencies and bigger design firms,
design departments in otherwise non-design-centric businesses.
Let's focus on the latter for a minute – design departments. This is basically how Facebook, Airbnb and all the other companies mentioned above use their .design domain names.
If you have a design department in your business, that department can utilize a .design domain to highlight their work, share their projects and findings, and overall establish themselves in the design landscape. This can be a highly valuable thing for product-based startups – where design is usually a very important element.
An additional benefit here is that the main business can still use the generic .com (SomeBrand.com), while the design department can stand out by using the same exact name, only under the .design TLD (SomeBrand.design).
In a sentence, if you do anything at all in the design space (and coincidentally you've been late to a .com, perhaps), then a .design domain is what you should absolutely get.
How to get a .design domain
There's no complicated process here. You can get a .design domain at your favorite domain registrar.
Some of the more popular options: GoDaddy , Namecheap , Name.com, 1&1 , Hover. For the full list, feel free to hop over here: .design domain partners
The price tag on the domain with Namecheap, for example, is $6.88 for the first year.
At the end of the day, it doesn't matter which domain registrar you choose, as they will all let you register whatever .design domain you wish, as long as it hasn't been taken. Whatever you get, though, always keep it short and memorable. The best path is usually to go for something like YourBrandName.design.
Giveaway
Now the best part! The good folks from .design have provided us with 10 .design domain names to give away.
Of course, you get to choose what your actual .design domain name is going to be as long as it's available.
Again, that's a fresh and shiny .design domain name that you can use for any purpose you desire, and you get it for free for one year.
How to participate
See below for the rules and info on how to enter: