Nowadays, more than ever, the entrepreneurship is highly encouraged.  Mass-media is full of examples of profitable start-ups and tons of blogs have treated this subject intensively. Personally, I think that it's a great idea because in this way the young people are determined to work harder. A start-up isn't only a business or a bootstrap modal of making money, it may be considered a dream or a strong passion that assures an income. It's impressive to find out about people that used their passions to create a business, which brought them a considerable profit. Many people consider that it's impossible to gain much money from doing what you like, but some entrepreneurs prove that it's quite opposite.
Launching an online store is a very common business and in spite of the multitude of these things, it seems that the market isn't still saturated. In conclusion, the e-commerce activity is profitable and many entrepreneurs are preparing new online stores. The online commerce is at its infancy and many people are still sceptic about it but step by step the misconceptions will be corrected.
Definitely, the prices are very important when making various purchases, but when it comes to online stores, the design of the website is also very important. OpenCart is an open source e-commerce platform that is very suitable for small and medium online stores. It benefits from amazing features and in my opinion all people that run an online store should take this platform into account. Altogether, it has a small market share and there are many people, who have no idea about its potential.
Luckily, we prepared 20 amazing OpenCart themes for you. These are all carefully picked up and they will surely delight your eyes. It will be great to have your opinion about OpenCart platform, so do let us know which theme is your favorite.
Oneshop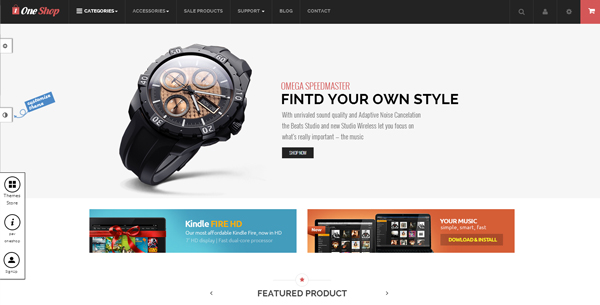 Creating the design of an online store may be a frustrating task for a web designer. Compared to other kind of design projects, the layout of an online store is strictly created by having the user in mind. Of course, all the websites are user centric, but in this case any innovation is forbidden. This theme is 100% build by respecting this idea. The design is very discrete letting the user focus on the products for sale.
Furniture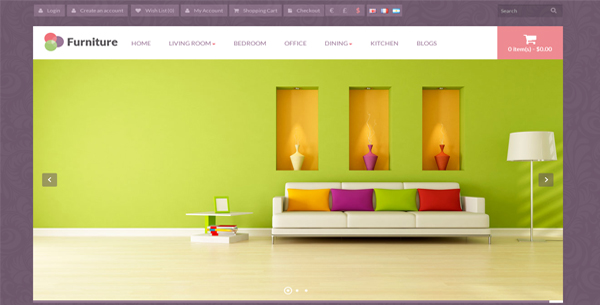 This OpenCart theme is suitable for multiple types of stores, but I think that it will perfectly match those stores which deal with selling furniture. The theme creates a feeling of intimacy that simply makes the user want to purchase the products presented. The colour scheme is very inspired because it's the key to making such an intimate atmosphere.
Pearly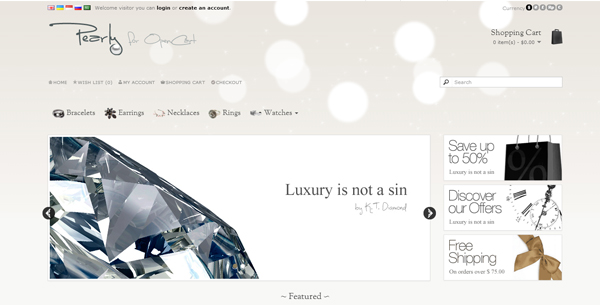 Luxury industry has extended its field in the online, but there are still some aspects that must be resolved. People don't risk buying something expensive when they don't have the guaranty of the product quality. This theme is built especially for selling luxury jewellery. The images are of a high quality and each small detail may be very easily noticed, while the layout is discrete but pleasant. In conclusion, the visitors don't have any reason to be circumspect!
iOC7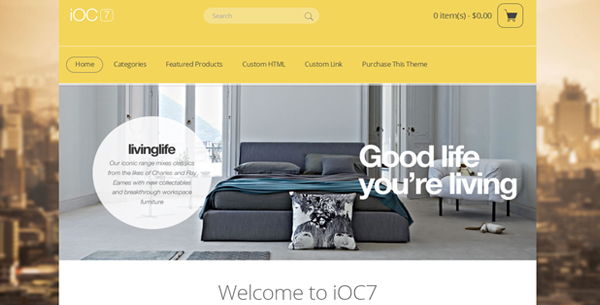 If you want to purchase this theme, then I must "warn" you that in fact, iOC7 is a package of three different awesome themes. These are responsive and very customisable so it's practically impossible not to be satisfied with at least one of the versions.
Blanka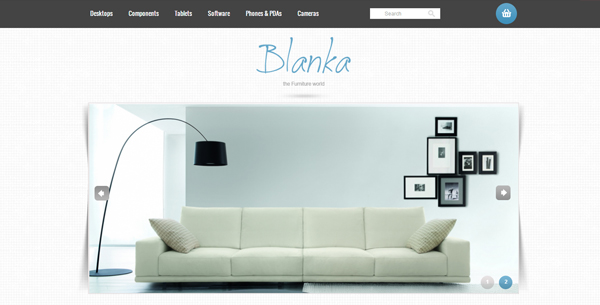 Blanka is a living example that simplicity combined with good aesthetic sense is the recipe of a good design. I appreciate very much the way in which the navigational menu is changing depending on the screen dimensions- the mobile version is wonderful. You only have to resize the browser window in order to make a better idea, if you don't have a mobile device at hand.
Furniture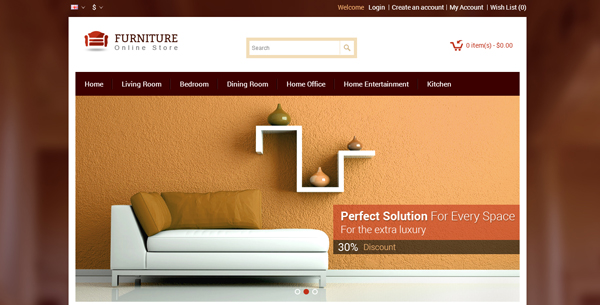 The above theme demonstrates that simplicity is a good solution for e-commerce solutions, but it's not unique. Furniture is a theme created by courageous developers that aren't afraid of using unusual colour combinations and ultra-modern jQuery sliders. It's a great theme that is perfect for stores that sell modern items such as furniture or gadgets.
PowerGame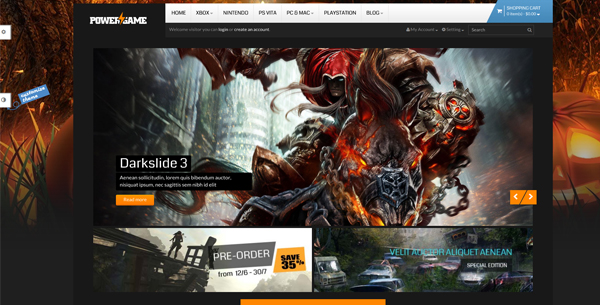 An example where it is recommended to use a more complex design is represented by the online stores selling video games and similar products. Power Game is a theme that will make you say "wow" and surely if you are in this business area, it will make you want to install it.
Garbini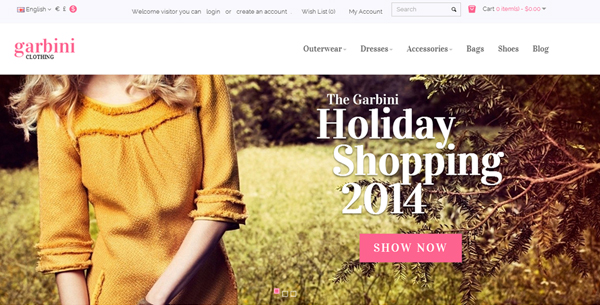 Garbini is an OpenCart theme that would better be called "Multiple" because it contains multiple webpages- including a blog, multiple zooming options-  Basic Zoom, Inner Zoom, Lens Zoom, Gallery Slider Zoom, Basic Gallery Zoom, multiple types of layouts- full width, large and medium boxed, support multiple languages, there are multiple modules to customize and it's perfectly rendered on multiple devices.
Margaretha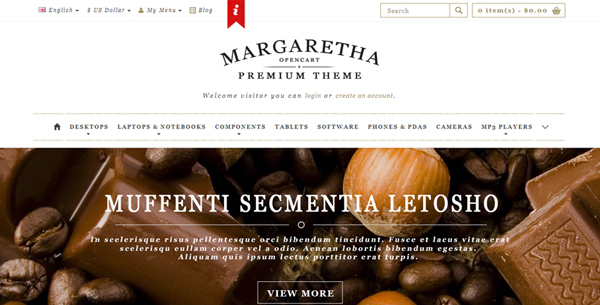 Margaretha is a premium theme….. Firstly, it will delight the potential clients with the cool jQuery effects (the header slider especially). Secondly, one will definitely be impressed with the smart use of negative space- the layout contains many items but there is enough room to breathe. And last but not least, there is no doubt that this theme will mesmerize people with its impressive customization options.
Babeshop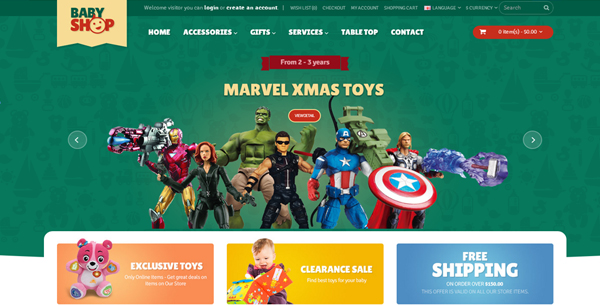 The kids are the most demanding potential clients and it's extremely difficult to create an online store for them. A very good solution for the design of a kid related store is Lexus Baby. I am sure that the illustration used will captivate the attention of the kids. Don't you agree?
Chef Delivery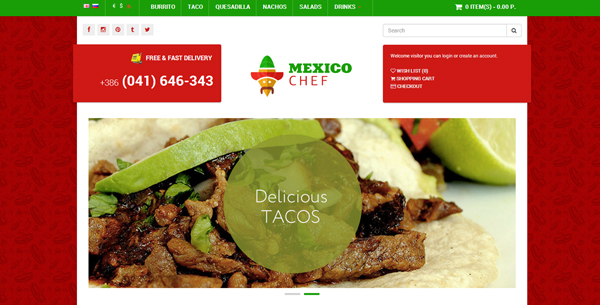 Chef Delivery is another theme that comes in three versions. The theme may be used for food ordering and I am sure that the appetising images will convince any visitor to make an order. I think that it is better to visit it yourself!
Metros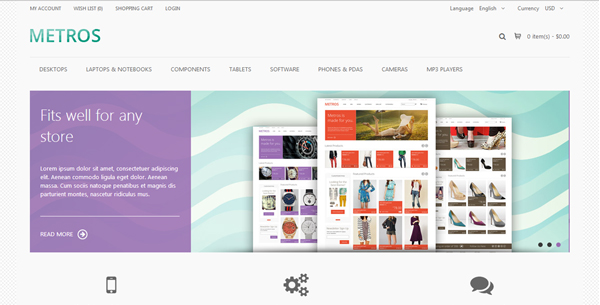 Metro style has many adepts and this theme is dedicated to them. It comes in three versions that are extremely customisable. Metro style was specially designed for handheld devices, so it was impossible for this theme not to be responsive and retina ready!
Chocolate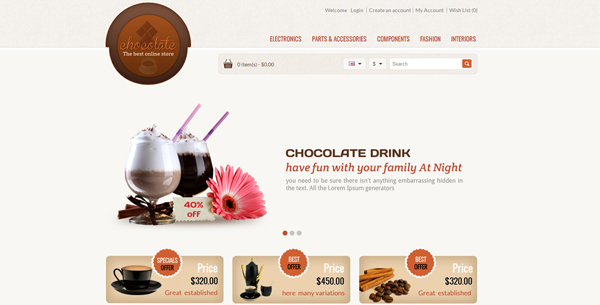 The design of an online store must "convince" the potential buyers that the displayed products are the best and the owner is a reliable person. This theme works as an "appetizer"- it's designated to sell chocolate, cakes or food. I recommend you to visit the theme yourself; this way you will better understand why I consider it an "appetizer"!
Flatro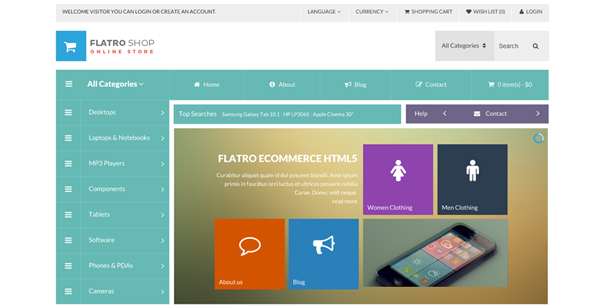 Flatro is a very complex multipurpose OpenCart theme. The navigational menu is created for huge online stores, it contains tons of submenus and in this way the clients won't waste their time for searching. The design is very modern, flat based and no doubt, it will attract many viewers.
Crypto Store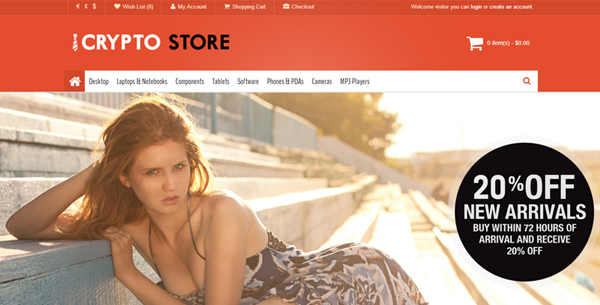 Many OpenCart themes come in two or three versions to satisfy all the clients' demands. Crypto impresses everyone because it comes with eight awesome versions. The layouts are modern and the area that contains the contact details is the item that makes the theme very special.
Acceptus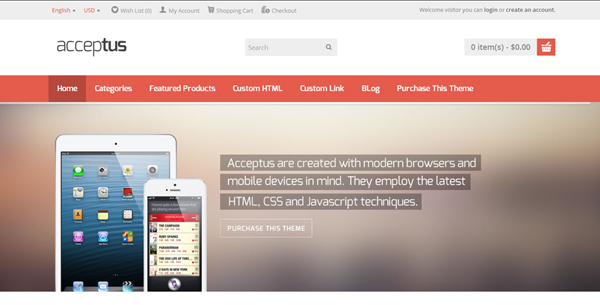 Acceptus is another well-designed theme that would be highly appreciated by the buyers. It's bold and each UI item is strong and big while the design is clean and simple. Besides these, the theme is SEO optimised and in the e-commerce world this is a capital feature.
Coffee Store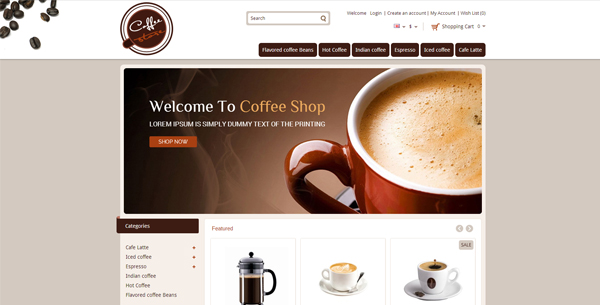 The huge majority of web designers and bloggers are addicted to coffee and I am not an exception. I must confess that I was not objective when I added this theme into this list, but nevertheless it's a very beautiful one. The layout is attractive and it will surely convince people to purchase a new coffee related product. It surely has convinced me!
Guenti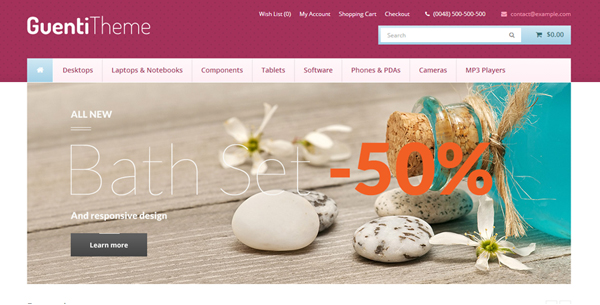 Guenti is a very modern OpenCart theme that has five colour versions, all of them looking great. In addition, the nice slider from the header will captivate the eyes of the viewers. Right above the header is the mega menu; therefore the user will definitely find here a perfect environment.
Ultimatum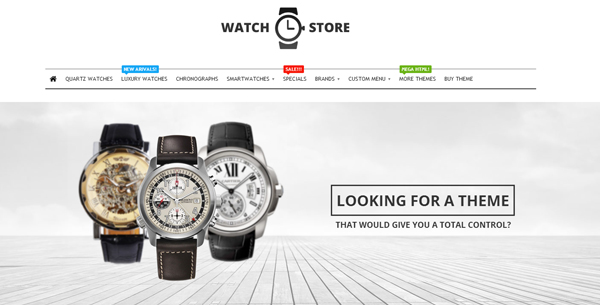 In my humble opinion, Ultimatum is the best from this list; also, it's one of the most purchased OpenCart themes from the web. You should admire all its seven versions because you will definitely be delighted with them. The layouts are very original and modern, so one will totally agree with me when I am saying that the team who created Ultimatum fully deserves our appreciation.
Blossom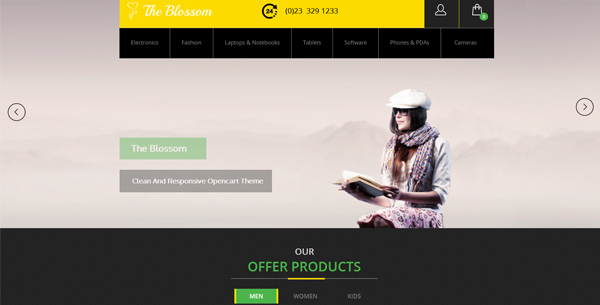 Blossom is very suitable for brands that want to promote a young and fresh approach. This theme expresses joy and cleanliness, since there is a lot of negative space. This is another theme that must be taken into consideration if you are searching for a new one that will give your online store an extreme makeover.
Unfortunately, the web design community doesn't pay the necessary attention to OpenCart. Despite this aspect, there are many wonderful OpenCart themes. If this e-commerce platform is promoted more, it will certainly obtain a better market share. I hope that you liked the themes presented and if you have a favourite one please let us know via comment form.