Let's address the elephant in the room first. If you think that all Bootstrap-based creations and designs look the same, then think again.
Granted, "look-alike-ness" is a common characteristic in the Bootstrap world, but it turns out that there are a couple of needles in this big haystack after all.
But let's hold off on that for a minute…
First off, why would you even need Bootstrap when working on a design project (app, website, etc.)?
There are a couple of key benefits:
Bootstrap gives you a pre-built structure that's well thought-through and gives you good organization of all your design elements.
The individual UI elements of Bootstrap are quite good-looking on their own, which means that you can get something good enough quickly.
It's responsive, which means that whatever you build with it will work properly on mobile.
So in short, using Bootstrap allows you to create a working prototype of your "thing" quicker, and gives you an excellent platform to expand upon in the next iterations.
But how to make your design look original?
This is where Material Kit Pro comes into play.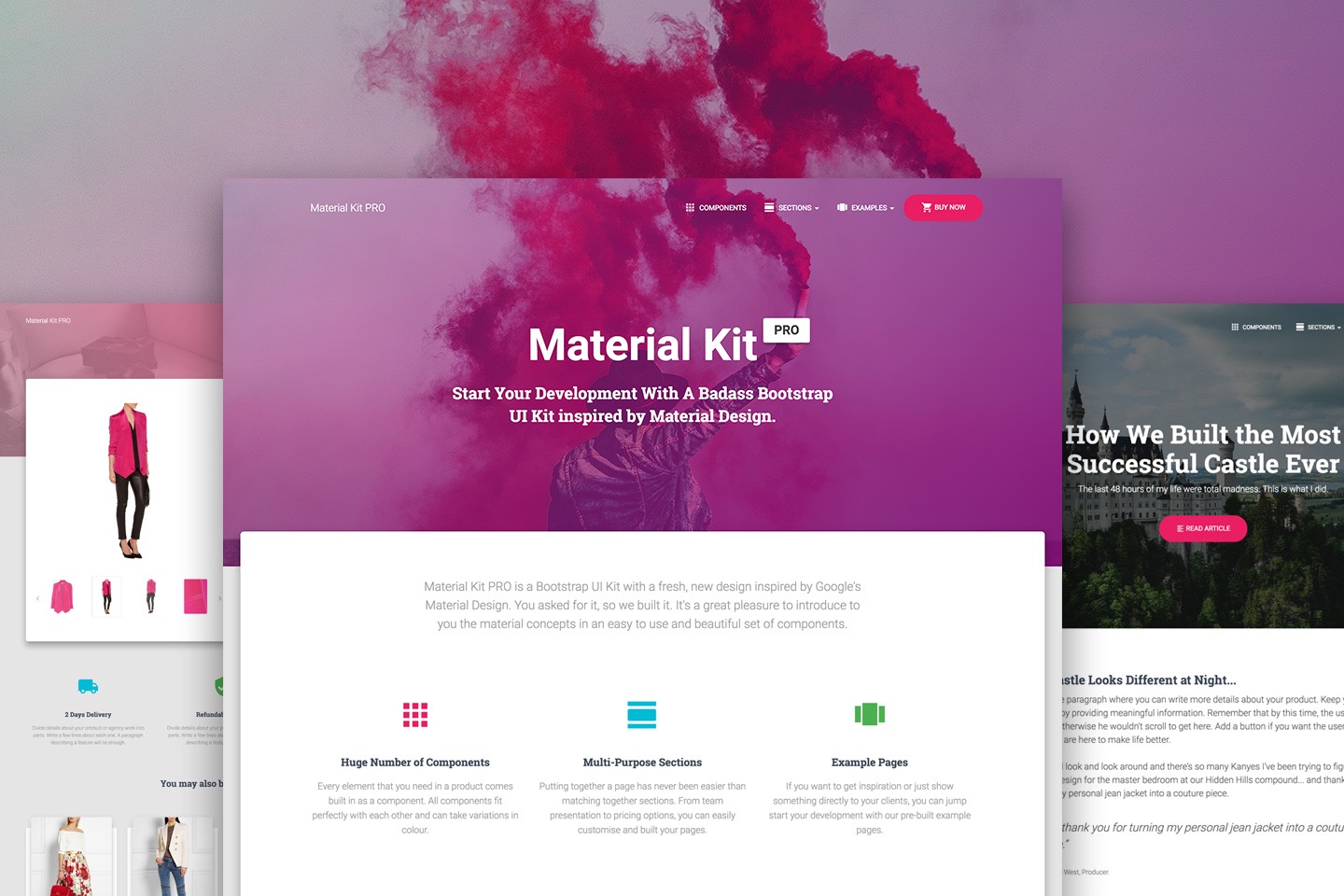 Review: What is Material Kit Pro?
Material Kit Pro was created by Creative Tim – a company devoted to building premium Bootstrap themes. It is obviously not their first stab at Bootstrap-related package, and this really shows in the quality of the kit.
Let's start with the essential details:
What's inside Material Kit Pro?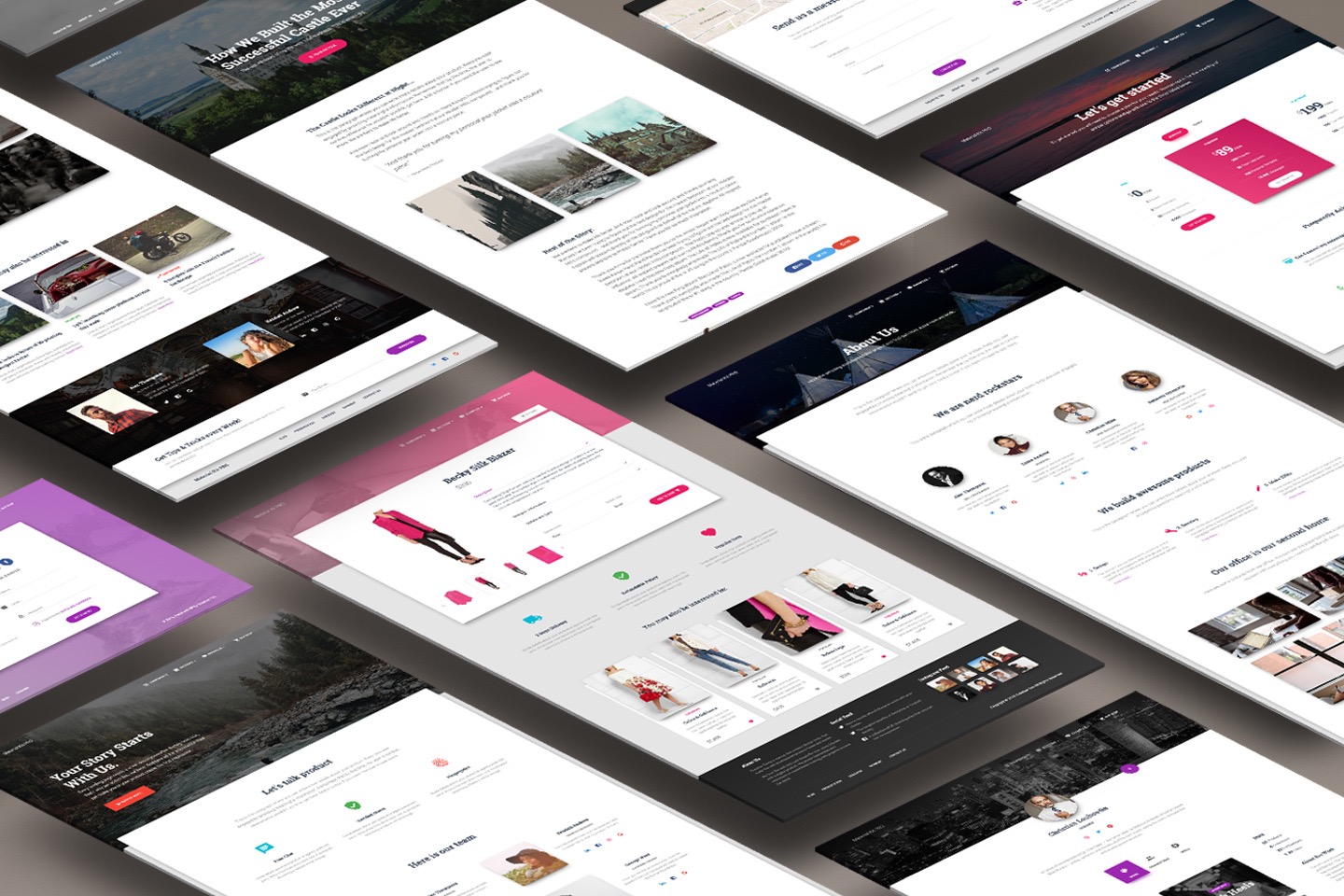 Material Kit Pro is a really huge collection of Bootstrap components. In fact, the kit consists of exactly 1000 individual elements, which is more than enough to get any project going.
Also, each of the components comes in a couple of variations in terms of color, style, etc. This gives you literally tens of thousands of possible combinations.
The elements themselves are very stylish. Everything is minimal, but not overly minimal just for the sake of it (something that flat design kits tend to suffer from).
The design of this kit manages to combine the ideas of material design, while still being very pleasing to the eye and original (compared to other Bootstrap kits available out there).
But there's more:
All components are layered: Each one comes with separate layers that are organized in folders. You can take advantage of the multiple variations of colors, styles, hover and focus states, and more.
There's support: If you have any questions whatsoever, just contact the Creative Tim guys, and they will give you the answers.
Everything is organized in sections: For instance, if you're building a sales page, you can pick a number of sections – like pricing, or testimonials – and just align them together to get an optimized final effect. This speeds up the design process significantly.
There are example pages: Think of them like your ready-made templates for standard types of pages. Like the About page, for example, or Contact page.
Bottom line
I have to admit that Material Kit Pro is a really handy package for anyone working on a Bootstrap-based project. And especially if you want to make your creation original, plus you want to adhere to Google's principles of material design.
To get an idea of what's possible, just look at the examples … landing pages, pricing pages, product pages … they all look great. And you can really create something similar in a matter of minutes.
The giveaway
Okay, now let's get into what you've been waiting for:
This giveaway is a big one! Just like you can see in the headline, each of the licenses that we're giving away is worth $599. And we have 5 of those things – 5 complete developer licenses for Material Kit Pro.
Each package features:
1000 distinct components,
7 plugins,
10 example pages (plus documentation, SASS files, and Photoshop project files),
license agreement that lets you use this kit for multiple projects (client work, building your own site templates, SaaS applications, etc.).
How to participate
See below for the rules and info on how to enter:
Touchdown!
The giveaway has ended and this are the lucky winners:
Colin Arenburg
Mathieu Lavigne
Jon Shayler
Graysen Pack
Muhammad Sumon Molla Selim
All winners will be contacted via email within 24 hours regarding the prize.
Thanks everyone for participating, and follow us for more great giveaways :)