If you're building your new app, website, or any other piece of software meant for the modern user, living in the year 2015, then you most likely need something minimal, especially when it comes to icons.
You don't want the icons to take the limelight and overpower the actual thing that you're creating.
At the end of the day, icons are meant to aid whatever the app is trying to achieve, and make the interface easier to use, instead of making it more complicated. For that, minimalism is a requirement. And it doesn't get any more minimal than outline icons.
That's where the new icon pack by Squid Ink comes into play. There are 2,000 different icons in it, delivered in multiple formats.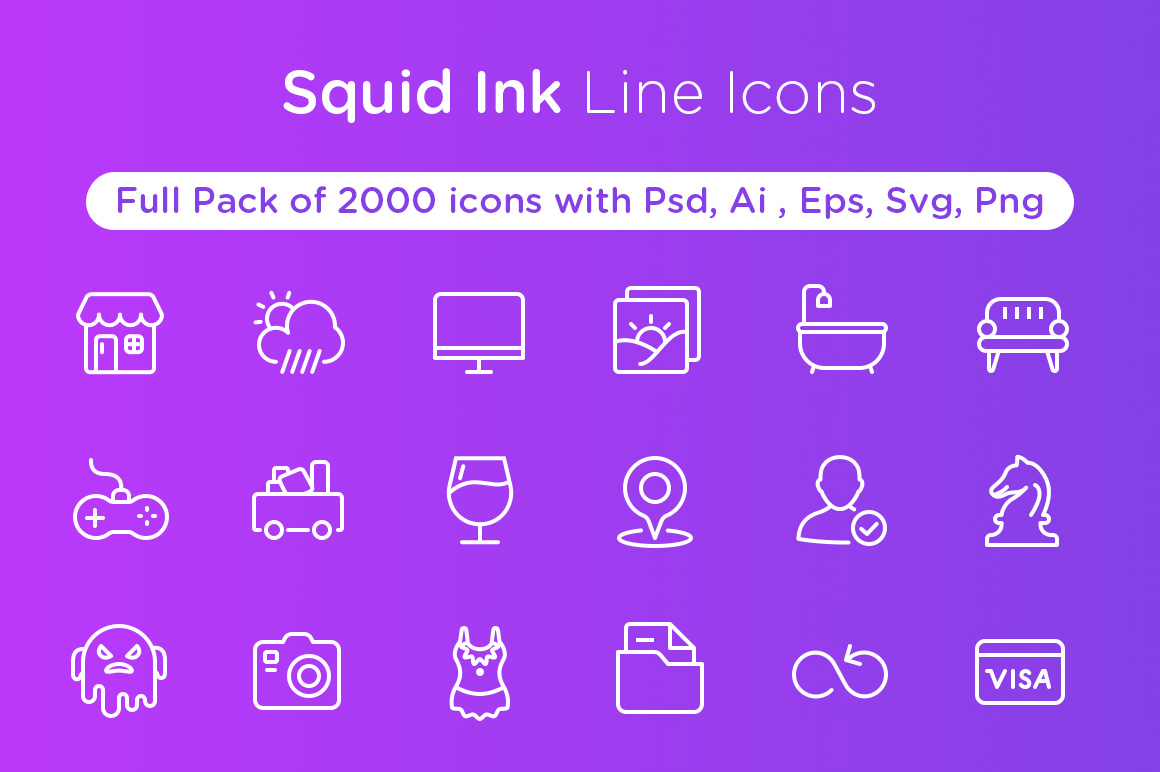 Let's see what this pack has to offer.
What's inside?
The Squid Ink Line Icons pack – that's the name – consists of 2,000 icons grouped in 22 different categories.
Inside, you'll find things like: design icons (arrows, grids, pens, pencils, etc.), documents and folders, buildings (everything from general house doodles, to lighthouses), maps and location, office (illustrating everything you'd find in an office), weather, clothes and shoes, devices and networks, interface elements, finance, food, social media, users, charts, hand gestures (useful for illustrating touch interfaces), and much more.
All icons, like the name suggests, are made of outlines, with no filling and no unneeded complication.
Every icon comes in five formats: PSD, AI, EPS, PNG, SVG. Each element is designed with vector shapes, which means that you can easily resize everything, change colors or layer styles, and so on.
Overall, the icons look very professional and manage to convey their meaning using just a handful of strokes and lines. This is ultimately what you should expect from quality outline icons. Squid Ink surely delivers in that regard.
How to get it?
There are two things you can do, either:
Alternative #1
Get the free version of the pack whenever you like.
It consists of 50 basic icons. You can use them for both personal and commercial projects.
Or:
Alternative #2
Join our giveaway and get your hands on one of the 3 premium licenses available.
As part of each premium license, you get access to the whole pack of 2,000 icons.
In other words, you get everything Squid Ink has to offer, and there are no limitations – you can use the icons in multiple personal or commercial projects however you like.
See below for the rules and info on how to get on board:
The giveaway has ended and this are the lucky winners:
Calvin Alexander
Tobias Dittmann
Marius Iorga
All winners will be contacted via email within 24 hours regarding the prize.