HTML5 has been around for quite some time now and designers are very good at coming up with new designs and HTML5 templates all the time. This is why today we will take a look at some free HTML5 templates, which can be downloaded for free, that are quite recent.
We believe you might not have seen them yet, therefore take a look at them below and make sure you keep coming back here when you need one of them.
Download Free HTML5 Templates
Bizz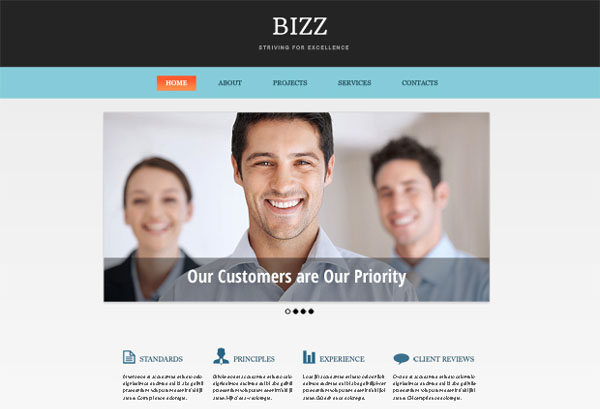 As its name says, Bizz is a great HTML5 template for corporate websites. The content is centered, it features an image slider and a design on columns. The template is definitely built on grids and this way it should be easier for you to work on it and make it fluid.
The template comes with different pages, such as a project pages, a contact page and the index, all of them having different layouts.
Brushed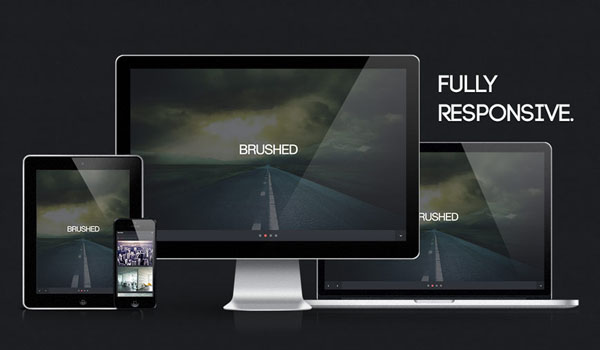 This template from Alessio Atzeni is great because it offers designers the chance of having quite an innovative template on their website. This is a one-page template where the header, with the logo and navigation, sticks with the user throughout the whole page.
The images have nice effects on them, the anchors have animations on click and the social media icons on the bottom are quite cool as well. This is definitely a theme that I would use myself.
And if all its features were not enough, this HTML5 template comes as a fully-responsive one.
Renk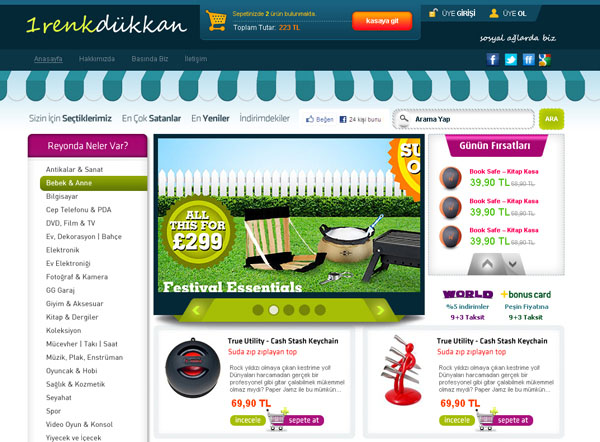 This one, although not coming from a very popular source, seems like a great template to use for e-shops based on the HTML5 design frame.
There is pretty much everything you need there. The layout is perfect, there is an image slider featured at the top of the content section, navigation, sub-navigation, subscription box and many others.
Mrova Template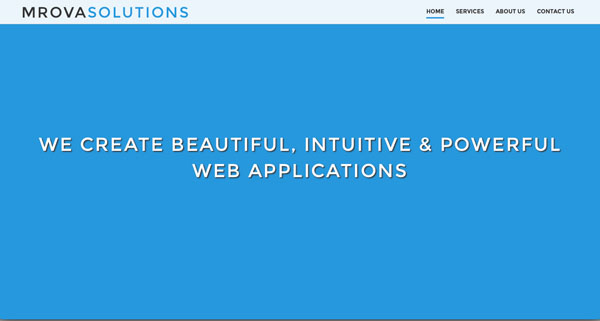 In case you like the flat design, this one will be eye-candy for you. Designer with flat, this one-page template looks great and would work just fine with both corporate and start-ups, as its design is universal.
Being quite recently brought to the market, the template is also fully-responsive, as it should, so no worries here either. It comes with different features that can be activated through short-codes in HTML and I feel like this is one of the best templates here because it is so useful, while also being so simple.
It comes with six color choices, scrolling effect, Google Maps integration and it is very easy to use and modify.
Andia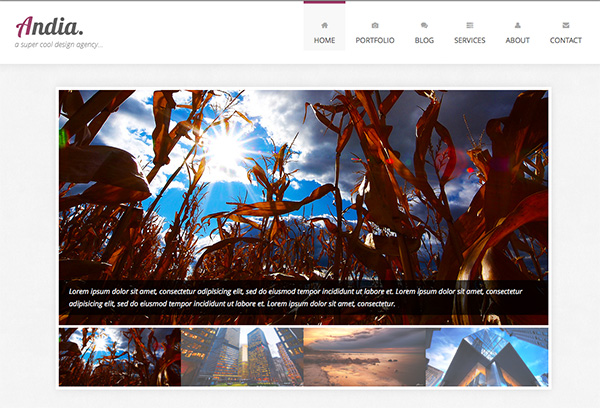 Andia is another great HTM5 template which can be used for several purposes, but mostly for companies. It doesn't really fit personal purposes, therefore don't use this one if you only have a small website of yourself.
This template is fully-responsive, built on Bootstrap, it comes with five different pages and a responsive image slider, contact form, Google Maps integration and many other interesting features.
Although I believe the typeface still has to be worked on, this is a great template to download and start working with if you like it.
BisLite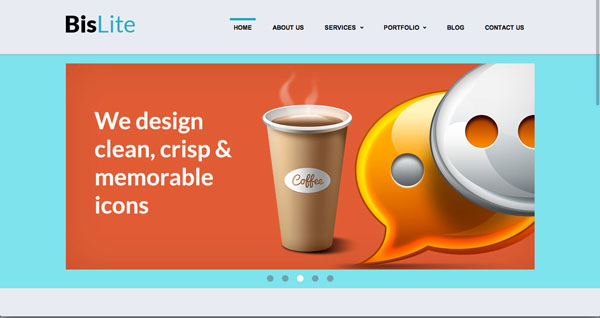 This one is quite similar to the corporate/start-up templates I have been showcasing above, but it has a feel of its own and I felt it would be quite cool to show it here as well.
It comes in both HTML5/CSS3 and PSD templates, so you can take it and modify it as you wish.
Unfortunately this one is not responsive, but there are some websites that don't need responsive features, so it's totally up to you if you want to give this one a try.
Prologue

Prologue is simply one of my favorites in this list because is is a bit unique and I believe its design is well thought. The navigation is sticky on the left side of the screen and the content can be scrolled down.
Having the navigation on the left side all the time is definitely something that will help users navigate easier – and this is also where social media integration happens, which means that the links towards Facebook, Twitter and the rest will always be there to be seen. This can only be an advantage.
Prologue is also a one-page template and comes with a smooth scrolling effect. You can preview the tablet and mobile versions by a single click.
Telephastic

Telephastic is not really similar to either of the templates showed above. It has a feel and a design of its own. With the large, wide-screen images, minimalistic feel, effects on image hover and even with its several layouts, Telephastic is one of the most good looking HTML5 templates I have seen recently, or maybe ever.
It comes in three different layouts, with sidebar, or with sidebar on either sides, contact form and social media integration and generally a very fresh look to it. I love this one!
Astral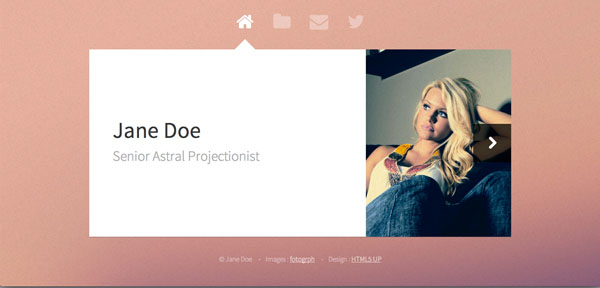 If until now I have been showcasing many corporate layouts, this one is definitely something else. In case you have a personal page, then Astral is probably a good template choice.
It is very simple, has some nice effects on page change, contact form integration and a very usable interface. It is very hard to mistaken any of the elements featured there as something else, and this is generally something I pay a lot of attention to.
Credit has to go to the design team who made this, as I can't really see flaws to it.
Miniport

Miniport is another template made with HTML5 that would mainly be good for a personal portfolio, but it is a bit more complex than the one presented above.
This one-page template is fully-responsive (desktop, tablet and mobile) and comes with a nice scrolling effect. A contact form is integrated already, as well as social media.
This one is really to use and modify and I think you should give it a try.
Verti

Verti seems to me like a template that can be used for pretty much all purposes possible. I can't see one that it wouldn't work for. It comes in three layouts, with a sidebar on each side and with no sidebar and is also a fully responsive one-page template.
Tapestry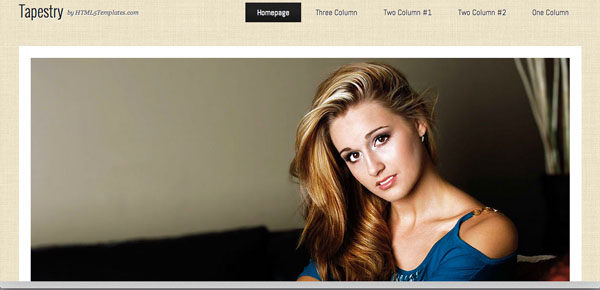 Tapestry is an HTML5 layout that would work extremely well as a blog, so if you know WordPress, you can maybe add PHP functionality to it and keep the design.
The theme is fully responsive and offers layouts with a different number of columns, as well as with only one. I also like about it that although it is quite complicated as a layout, it is relatively simple from a design perspective.
Heavy Industry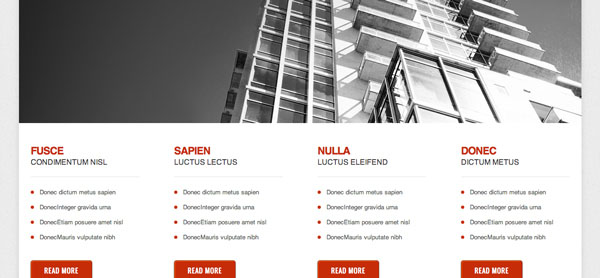 Heavy Industry is a great HTML5 template suitable for corporations. It comes in different layout combinations, with up to several columns at a time, and seems quite like a very flexible template.
The template works perfectly both on mobile and tablet and scales down beautifully, so that it will look good on any kind of devices.
Vivid Photo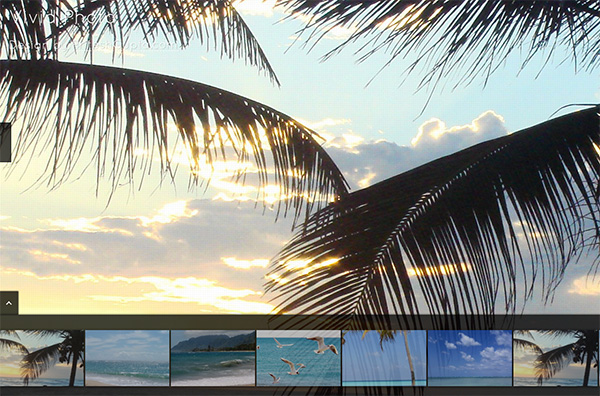 Vivid Photo is a great template for people who are interested in photography and want to showcase their work in an easy, but interesting way.
This template allows photographers to show screen-wide pictures and the layout is also responsive, so it will work on both mobile and tablets.
Kata Klimt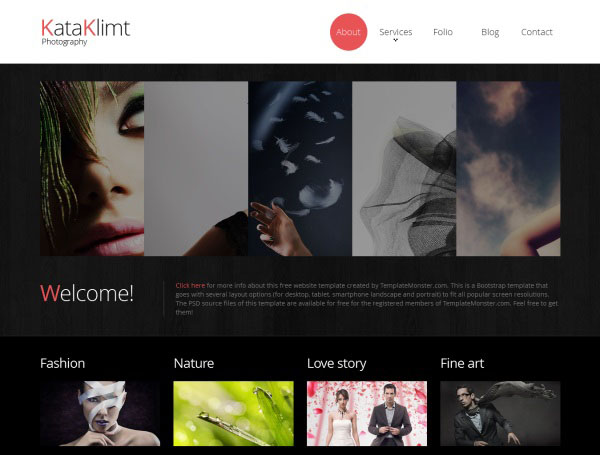 This last example is also one that is based on a lot of visual impact. It comes in layouts with two or three columns, it features an image slider, social media integration, a contact form and even a nice progress bar when new pages are loading.
The portfolio page is made so that the user will have an overview of all the work, but he can get a closer look at the pictures thanks to light-box integration by just clicking on them. Also, a drop-down menu is featured as well.
With this last example we close off today's showcase on free HTML5 templates. After taking a look at some of them, I definitely hope you found one that suits your needs, or at least that you found inspiration regarding the style you want to choose for your website.
I am looking forward to hear your comments about the showcase and see which are your favorite examples.