Theme and template marketplaces are becoming quite popular for designers, freelancers and B2C web agencies. These segments make up the largest base of people who purchase and use these "ready-made" themes and templates for their web projects.
What's the primary goal for purchasing a Drupal or WordPress theme or other templates? The goal for designers and agencies is to get the projects completed more quickly. And with already "vetted" (most of the time) software and themes, the speed in which a person can purchase and set up a new theme is only getting quicker and more seamless and hassle-free each year.
Like designers and agencies, there are millions of other people each month browsing and purchasing themes, templates, and other design-related digital items. And, as the number of customers has grown for these types of items, it has led to an increase in top notch designers jumping into the mix and selling their creative works. In fact, there are now thousands of authors online who are using a marketplace to sell their work versus simply on their own.
If numbers could tell a story, then you could just look at how successful 2014 was for these two marketplaces: Theme Forest and Creative Market. These show some really impressive numbers. In addition to this, there's other data that backs up growing sales in this industry, such as Theme Forest for example (tf.marketopia.net/statistics/marketplace).
Each of these communities listed above has their strengths and weaknesses. You can read more about the biggest online marketplaces and some of the pros and cons of each here.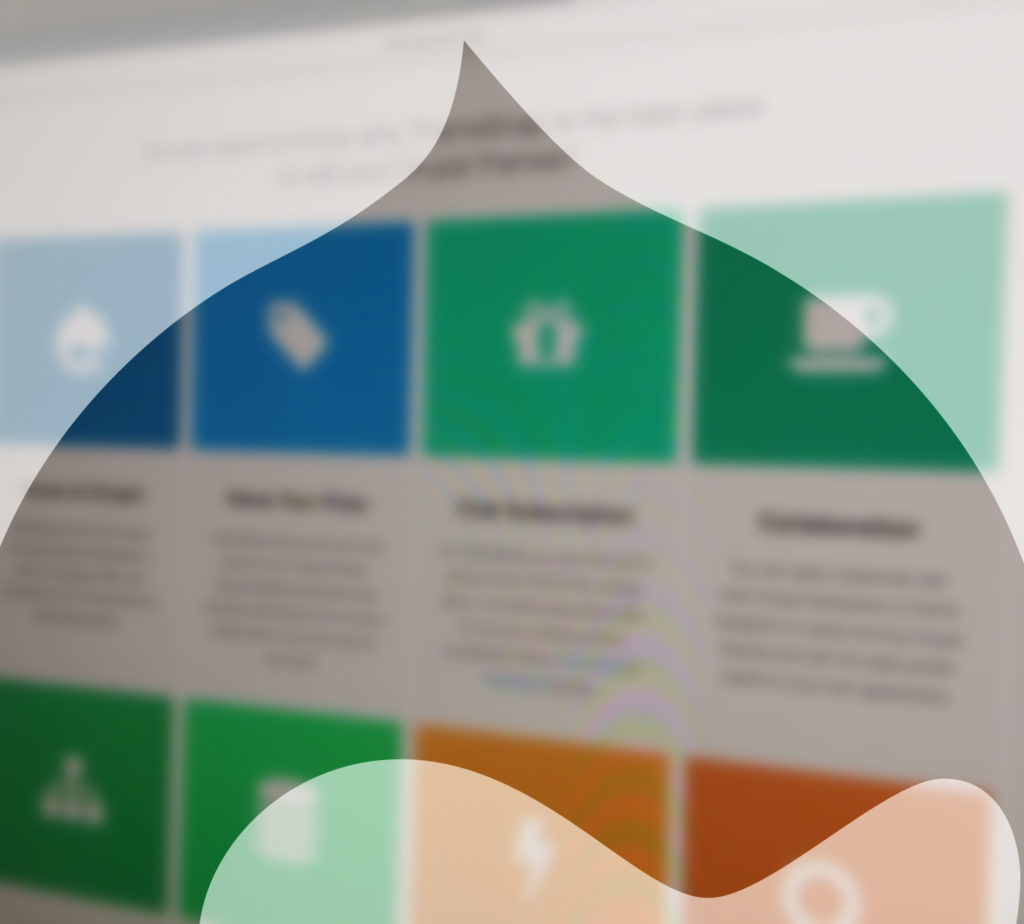 Looking More Closely at Drupal
If we only look at Drupal themes as a piece of the entire themes market, there can be specific advantages of selling a Drupal theme on one marketplace versus another. There can also be factors that effect Drupal theme sales, support, and marketing. Below we'll talk about some of the various aspects of selling your Drupal theme on the right marketplace.
What Makes Creating Drupal Themes Different from Other Themes?
On a recent interview with Tyler aka Refaktor, a creator and seller of some of the best selling Drupal themes on Theme Forest, he discusses some of the various benefits and ideas around his work and creating Drupal themes. Tyler talks about how Drupal themes are more difficut to create than WordPress themes. Most people agree with this statement. Drupal has always had a larger learning curve versus WordPress with respect to theming and development.
Another fact about Drupal themes versus WordPress themes is that the Drupal audience overall is smaller in size than WordPress. Even though the market share is smaller, one of the interesting things is that Drupal and WordPress are priced relatively the same. This tends to not be in favor of the Drupal themer, as they often spend more time and effort to create the same theme for Drupal versus WordPress.
We think there are some advantages of knowing what to look for when you thinking of selling a Drupal theme. ThemeSnap.com, for example, focuses mainly on Drupal themes and has a long history with Drupal, starting from 2008 as the first Drupal themes seller online. ThemeSnap.com's rankings are anchored in Drupal-related search phrases, and many of their partners, developer network, backlinks and so on, are also heavily Drupal-based.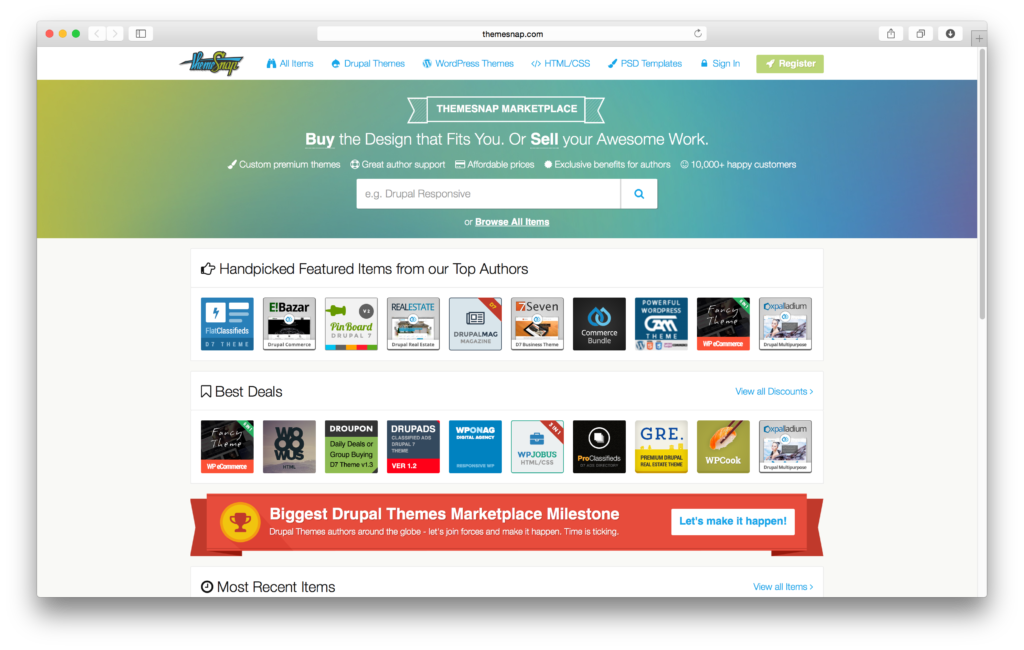 Here are just a few reasons why we think ThemeSnap it's the best marketplace to sell your Drupal themes:
Extremely Drupal Focused
Just because another marketplace has a ton of products or themes doesn't make it the best. At first glance ThemeSnap.com may be smaller by comparison. But ThemeSnap.com also has over 10,000+ current Drupal customers and their core focus has always been Drupal themes and modules. They are a more trusted source for Drupal themes for this reason.
Because of the close familiarity with Drupal, customers feel more in touch with ThemeSnap because they have worked with Drupal since 2004. ThemeSnap.com really understand Drupal themes and have even built quite a few premium Drupal themes over the years.
Name the Price for your Product
ThemeSnap lets authors decide what's a fair price for their Drupal Theme. This is because, as noted above, a Drupal theme is often built as an entire Drupal distribution and not just a simple theme. There's a huge effort by authors like DoubleMthemes to create and maintain really advanced premium Drupal themes. And sometimes a price less or equal to $58 doesn't justify their efforts.
Item Club Subscriptions
On ThemeSnap you can also opt to sell all your themes for a single price plus a monthly subscription fee. More than this, authors can even combine more products in one bundle, like these: Drupal Commerce Bundle  or Drupal Classifieds Bundle.
Collaboration
You can collaborate with other Drupal developers or Theme UI designers and create awesome new themes (and share sales profits based on an agreement). Once you register an user, you can set your preferences of role (designer / developer) and desired percentage and you're ready to browse the directory of authors which are willing to collaborate on the development or design side.
Sell Anywhere You Want
Unlike other themes marketplaces, ThemeSnap.com does not punish you with a percentage loss in case you decide to sell your theme on your own site or elsewhere.
High Payout Rate
Though you start from 55%, you get up to 75% from each sale.
Instant Item Approval
Authors can publish their products instantly without any long lasting review process. It takes a few minutes to create an account and have your first product published for sale.
Marketing and Access to Customers
Set price discounts for your customers. More than this – offer personalized discounts to members which added your theme in their wishlist! Work with your audience and potential buyers with advanced promotional tools not found on other marketplaces. Also on ThemeSnap you see the usernames which bought your items. They don't hide that information and are more transparent compared to other marketplaces.
Customers Database
Sell on an well-established marketplace. ThemeSnap.com is not new and has been around since 2008 and has over 10.000+ customers, with many being repeat customers.
Affiliates System
ThemeSnap has its own affiliate system and offers 15% from the first sale in case somebody refers a buyer.
PayPal and Stripe
A lot of potential customers don't have PayPal accounts and because of that they can't purchase items. ThemeSnap though about that and addressed this issue by implementing Stripe as an alternative payment method and now anybody who has a Visa, Mastercard or American Express card can purchase goods. That increases the author's chances to get more sales from those who don't use PayPal accounts.
Features-Rich Robust Marketplace
ThemeSnap.com is the most feature-rich marketplace out there. And the ThemeSnap team plans to stay ahead of competition with it comes to innovation and cutting-edge author, selling, or promotional tools. Since ThemeSnap.com is a small team, the attention to detail and responsiveness is very high. The ThemeSnap team also listens to its authors very closely and implements or improves a lot og things authors (and customers) suggest for improvements, making the team very agile and willing to help where needed.
So, yes – if you're looking for a Drupal theme or want to sell one, ThemeSnap is a great place to do that.