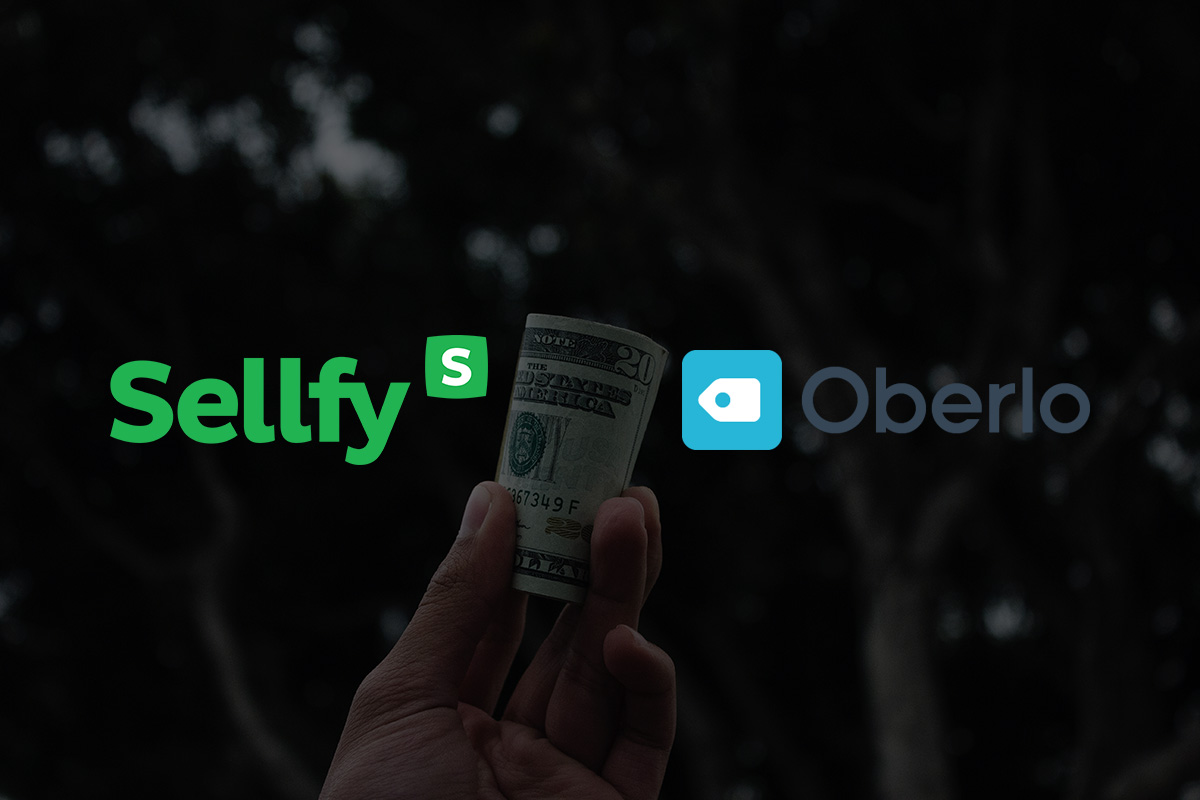 There are many ways how you can start your business online. By working as a freelance in some sites as well as tutoring someone over the web. However, one of the most popular and maybe the greatest way to start a business on the internet is to have an electronic shop where you can sell a variety of things. For example, you can use drop shipping to sell real things to others without having to store them somewhere. Also, you can sell your digital work online like icons, logos, articles, videos or anything else that is virtual. There is a variety of sites that can help you to do that. Nevertheless, two platforms, in particular, do that in a great way. Sellfy can quickly help you to sell your digital goods, and Oberlo app can help you to create your drop shipping empire in a matter of time.
Sellfy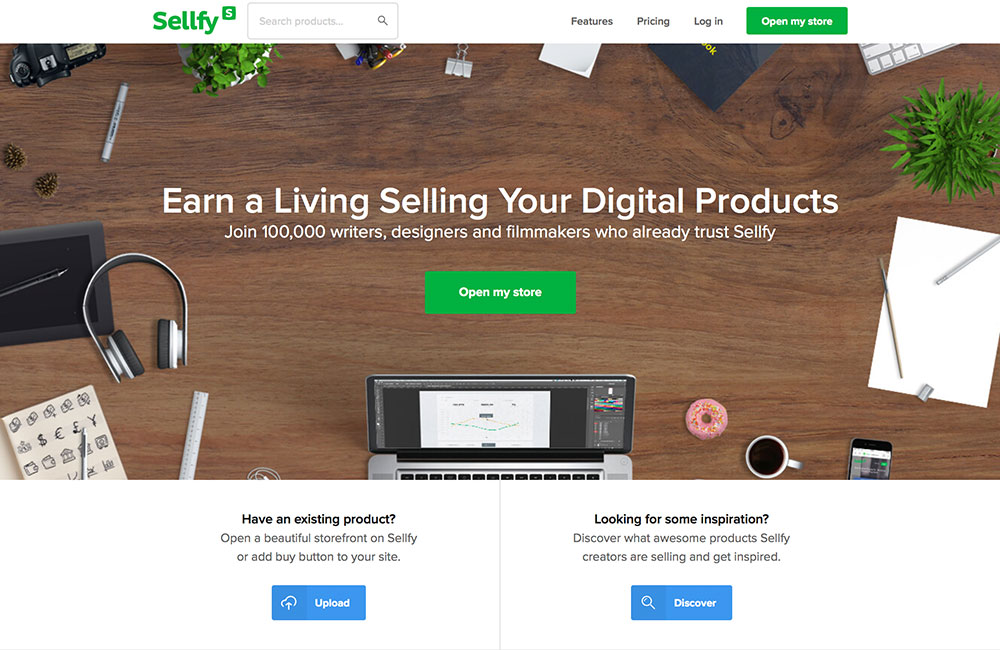 Sellfy is digital storefront where everyone can sell their own digital goods. This platform is used by over 100,000 writers, designers, filmmakers, artists and much more. You can sell any digital product there, for example, eBook, music, website templates, pictures, videos, and all other kinds of virtual stuff.
Sellfy is really user-friendly as you do not need to spend money and hours on creating your own store. It allows creating a simple built-in store on its platform. Also, they provide you with a well-established customer base, and you will find selling your quality items in no time.
On the other hand, if you already have a website or a social media account and only want to improve and simplify your sales. Sellfy is an excellent solution for that too. It provides you with "Buy now" button, widget embeds as well as your entire store that can be put on your website or blog. However, it lacks a cart feature that does not allow to buy several items at once, but it is not that big of a deal breaker.
Sellfy has a bunch of great features that will help to sell your artwork or any other kind of digital work. The storefront is responsive on every device. Therefore, you will not lose any customers. It lets you upload up to 2GB file per product it is plentiful most of the time, and the product number is unlimited. Moreover, Sellfy provides you with your sale analytics that will help to understand your audience. The storefront comes with the beautiful design, and they are SEO that ensures that you will score high in search engines. You will have a possibility to capture your buyer's email and buy that way you will be able to grow your audience through email marketing. Also, it can automatically generate discount codes when you need some promotions as well as you can set "Pay what you want" option with a fixed minimum accepted sum.
Sellfy has to possible monthly memberships. The first is Starter that is free but comes with 5% transaction fee on every sell you make as well as with some limitations that let you only add up to 5 products to the storefront, accepts payments only in four currencies ($, €, £ and ¥). Also, does not allow to customize your store a lot and does not provide with email marketing possibility. The second one is a Professional membership for $15 per month that minimize the transaction fee to only 2% per order and provides with Sellfy features possible.
All in all, now you can easily sell your digital products through Sellfy without any hesitation and worry about financial and delivery part of the sale. If you do not know how to begin Sellfy has a blog that has many great articles that can inspire you and help on your current business path. I recommend reading this tutorial that will help you to start your storefront on Sellfy.
Oberlo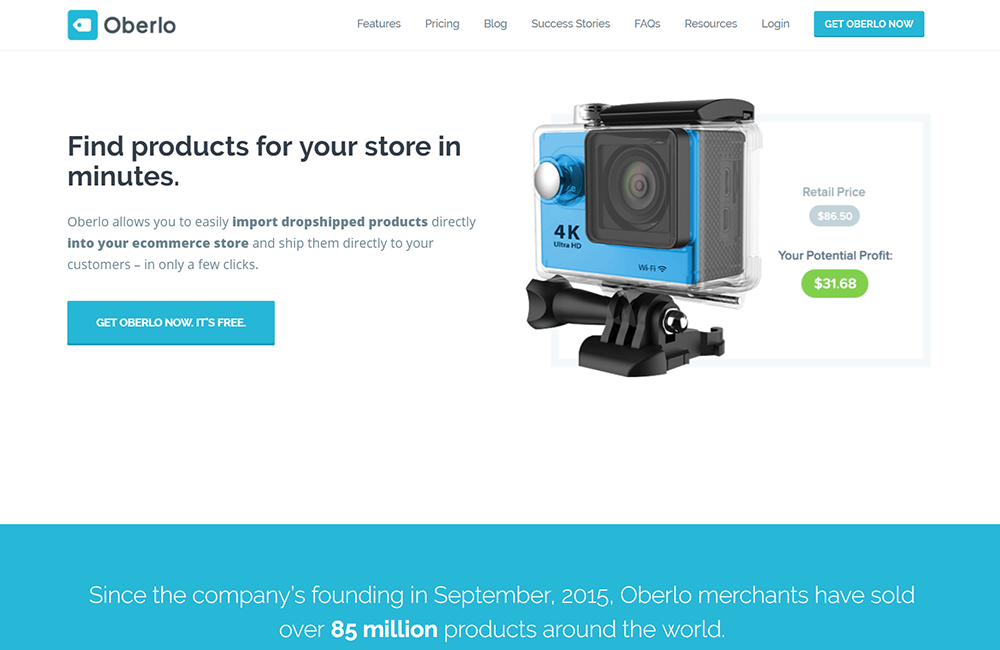 Have you ever encountered drop shipping? If not, drop shipping is a way of selling products online without having any warehouse to store products of your store. It is an excellent way to start your online business and earn some money.
Oberlo is one of the leading drop shipping apps on the Shopify platform. The most import feature of it is that Oberlo lets simply import items from AliExpress to your store. The extension of Alibaba, AliExpress has millions of products to offer for you. Therefore, you will not be in shortage of products and will easily find what you need. Furthermore, one of the best things is that you will not need to spend a bunch of money and time on buying an item, keeping it in the warehouse and only then sell it. Oberlo lets you send a product directly to a customer from the manufacturer. Thus, making it more time-efficient and if the item does not sell well, you can quickly remove or replace it with any other product, and it will not cost you anything.
Oberlo has many features that come in handy when you are in drop shipping business. It is developed that it would be easy to use and would save your time as much as possible. It allows you with just a few clicks import a product into your store from the supplier. When you have already added an item to your store you can easily customize it in the way you like, you can change titles, descriptions, images, anything. Moreover, it automatically updates the inventory status of the item as well as the price and lets you create pricing rules that you would always end up with some profit. Also, the app takes care of your orders and fulfil them automatically, and they will be shipped directly to your customer without any delay. The app provides with integrated shipment tracking. Therefore, your client can always know where their package is. To track your sales and profit Oberlo automatically does a sales' report for you to analyze it.
Oberlo provides you with three monthly plans that will suit everyone's needs. The most popular one is a Starter plan that is free. It gives you a possibility to list 500 products into your store and make 50 automatic orders per month. The second one, the Basic plan costs $29.90 and increases the number of goods to 10,000, and you will be able to make 500 orders per month. The last one, for the biggest drop shippers out there, is a Pro plan for $79.90 it increases product number to 30,000 and allows to make an unlimited number of orders. Also, it lets multiple users manage the store, and you can grant them a different level of access.
If you already have a Shopify store and been selling products from AliExpress. You do not need to worry, Oberlo can connect with them when you installed the Oberlo app in your store. Hence, you will be able to save your valuable time.
I can say that Oberlo is a great online business helper. Additionally, it has a blog that is helpful and has plenty of articles for you to read. If you need some inspiration, motivation or help to start your own drop shipping business, this article will assist you in the right way.