WordPress has helped us develop more attractive online presences for ten years. Nowadays, without this content management system the Internet can't be imagined. Practically, every type of website may be created having at its roots the mighty WordPress. We have portfolios and online stores, official websites of various companies or blogs that all are built using WordPress.
Obviously, WordPress isn't the only one in the market, it has tons of competitors and some of them are really interesting. We have previously showcased various WordPress "enemies" and we will keep you updated with what's new in the area.
Now it's time to present you a new competitor: it's simple, discrete and almost "invisible". This presentation is about Ghost and as you can see its name allows you to deduce some of its features. It has appeared on the market due to the WordPress high complexity. Yeah, for some of us WordPress is Ok or simple, but some consider it too complex.
At its beginnings, WordPress was the perfect environment for blogging, but across time, it became suitable for every type of websites. This fact annoyed the creators of Ghost that wanted to create a better platform for blogging. It's a very new tool, but it seems to have captivated the attention of many bloggers and designers. Ghost brings back the simplicity and the full focus on content and both the design and blogging communities are delighted with this fact.
It remains to be seen whether Ghost will conquer the market or not, but in the meantime we have collected for you 20 fresh and amazing Ghost themes. Enjoy them!
Unblock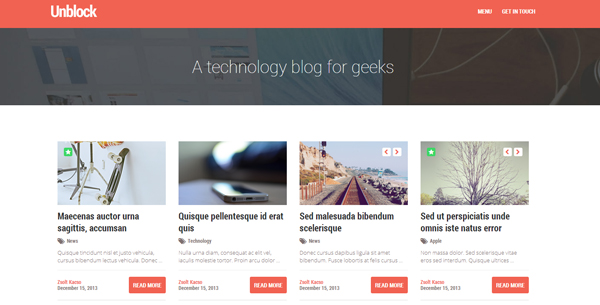 Ghost themes can't stay apart from the web design trends. Unblock is a Ghost theme based on flat design. The layout is pretty simple compared to other WordPress websites, but complex for an average Ghost theme. Altogether, one can easily notice the care for the details and the focus on content. A subtle and interesting aspect is the wonderful contrast between the white background and the red "Read more" buttons. Not too obtrusive, but the contrast is visible for everyone.
Echo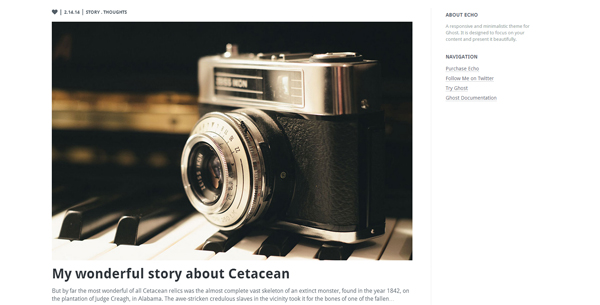 Echo is the perfect example of what a Ghost theme should be. It's minimalistic, the images used have a strong message and the reader has no items to disturb him/her from reading. In addition, it creates a warm and personal atmosphere- definitely a great climate for personal blogs.
Negative Space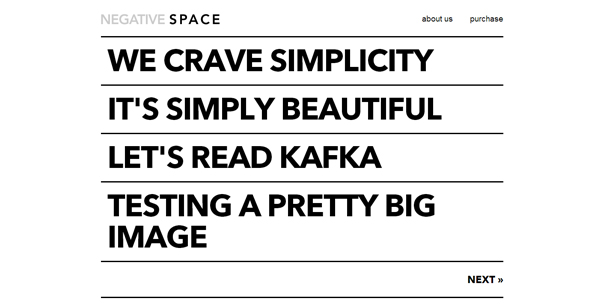 I consider that this theme is the most minimalist one from this collection. Everything is reduced at maximum, there is nothing to shine, just background and text. In spite of this extreme simplicity, Negative Space is looking mysterious and it attracts people. If you love minimalism approaches, then this theme is for you!
Royale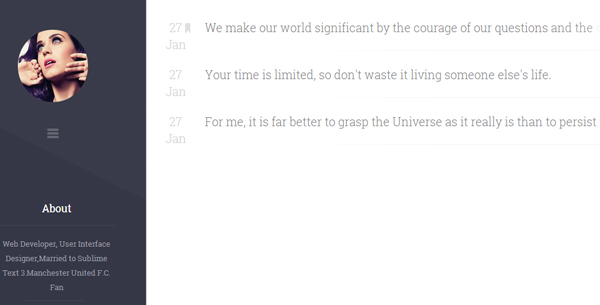 Royale is another great Ghost theme that is suitable for personal blogs projects. It benefits from Disqus comments and Flickr widget, therefore the engaging with the readers has all the needed "ingredients". Another plus is the discrete, but wonderful sidebar.
Been There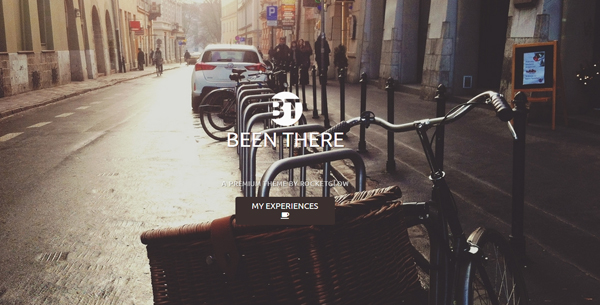 Been There is the opposite of the previous themes. These were all minimalistic or lacking images and vivid colours while Been There is an example of how colours work for a good design. It's the best choice for travel blogging, but it may be customised for almost any kind of blogs.
Verida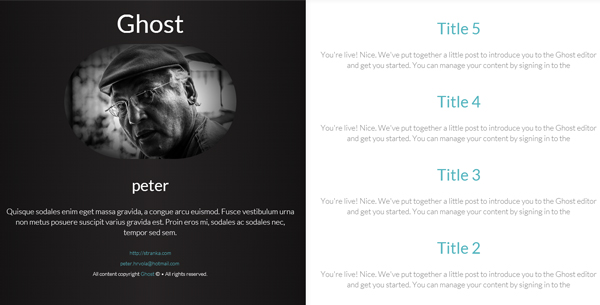 Ghost was created with the purpose of rediscovering the beauty of reading. Of course, there are many people that still prefer the old format of a paper book and the designers tried to satisfy them in this respect. Verida is a Ghost theme that imitates the format of a paper book and I think that it will be a huge success. What do you think? Am I right?
Plattan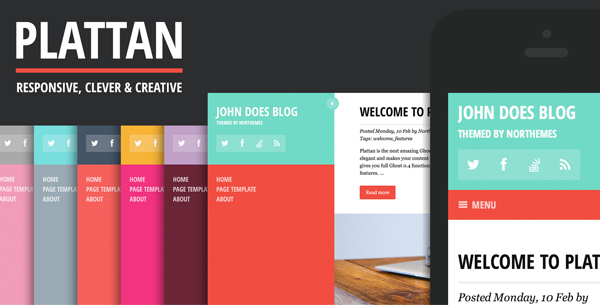 Plattan is built with the idea that colours should help the readers and not distract them. Lacking the colours may be a solution for many particular cases, but it can't be a universal key. This theme wonderfully uses the colours and I think that it deserves your attention.
Phantom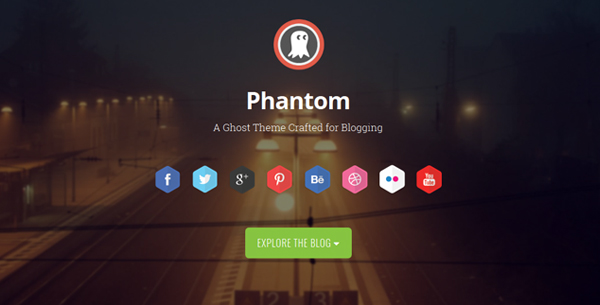 Parallax scrolling is a very used method and of course, it may be applied to Ghost themes, as well. Phantom is a great theme that beautifully displays any types of posts, including the ones embedding videos or SoundCloud items.
The Great Adventure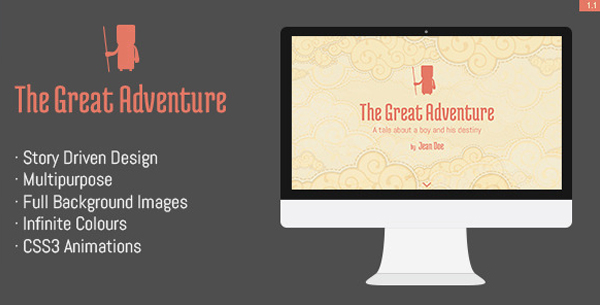 The Great Adventure is a great theme. Personally, I think that this theme is perfect for story driven projects, each post being a new episode. The full screen availability is a great feature and in addition to the fresh design any reader will be made extremely curious.
Exotique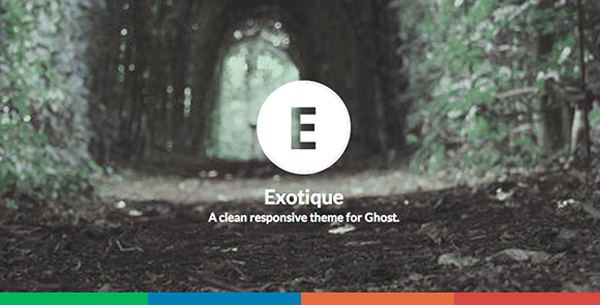 Exotique is a Ghost theme that comes into four variants, depending on the favourite colour scheme. It's flat based and it's perfect for a modern and intimate style. Exotique works best for photographers' portfolios, but it may be used for almost any type of blogging projects.
Mjolnir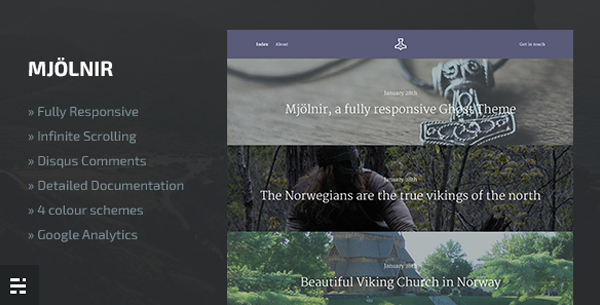 Mjolnir is a very good looking Ghost theme. It has tons of impressive features as CSS3 animations, social media sharing possibilities, infinite scrolling and Google Analytics. It's fully responsive and easy to customise so you should consider this theme in the eventuality that you will launch a Ghost based website.
Aireal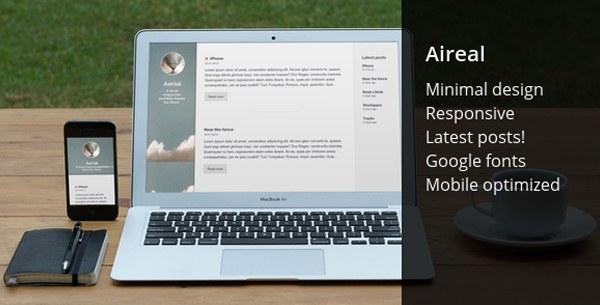 Aireal has nothing fancy into its layout, but overall it's nice and eye-catching. I think that the biggest feature of this theme is the calming atmosphere that stimulates the reading. Also, if you like cats, then you will definitely like this theme. Am I right?
Alixius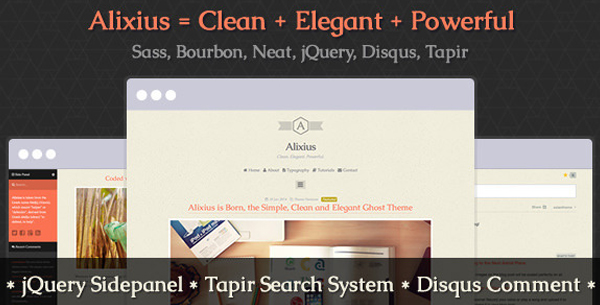 This Ghost theme is one of the most visually appealing from this list. The structure is simple and clutter free, but it doesn't mean that its usability is affected. One of the most interesting items is the discrete system of displaying/hiding the sidebar. Overall, the structure creates the perfect environment for reading and it is awesome because it is the main purpose of any Ghost theme.
Mantanization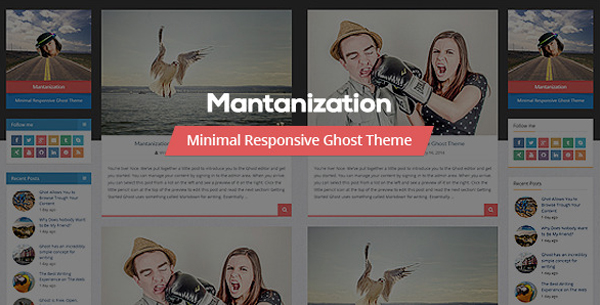 This theme has four versions (left or right sidebar by default or customisable) and it looks very similar to a simple WordPress theme. Personally, I think that this is the winning combination: a layout that isn't as complicated as many WordPress blogs are, but not as minimalist as some Ghost themes. Congratulations to the creators; big like from me!
Cicero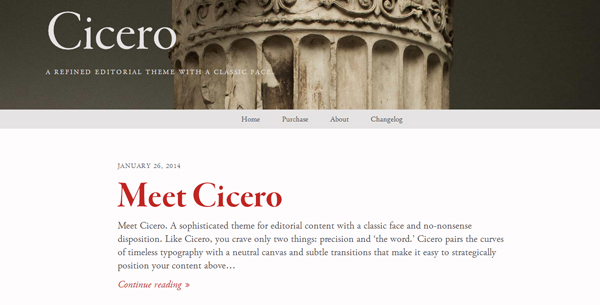 Cicero is a very formal theme that is very suitable for more serious or official online presences. It expresses refinement through a classic approach and it's impossible not to remark such a special design. Taking into account the fact that it is responsive and customisable I guess that you are already curious to find out more about it, isn't it?
Stretch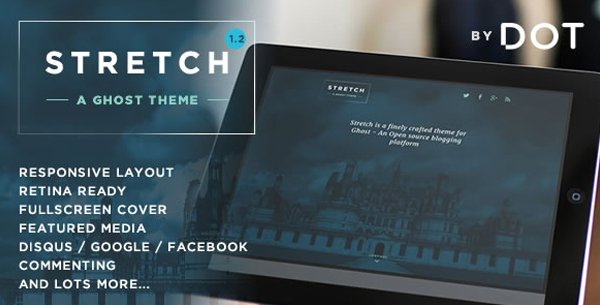 This theme isn't as serious as Cicero, but it has many similitudes to it. The landing page is very attractive and it works as a magnet for the viewers. Another plus of this theme is the font used-it's big, strong and very readable. Definitely, it's one of the best solutions for handheld devices because, in addition to these features, Cicero is responsive and retina ready.
Aerology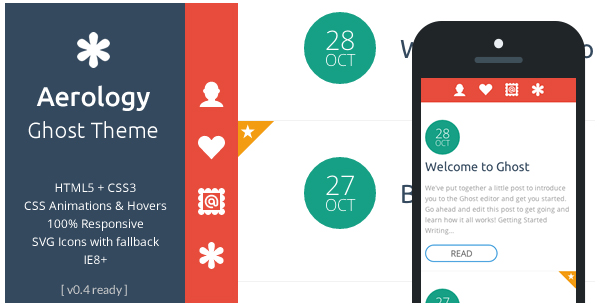 Aerology is a wonderful theme. Firstly, I like very much the use of flat design- simple and usable. Secondly, the colours used are very attractive and I think that these will convince the viewer not to abandon the website. Thirdly, the transition effects are very cool. So, there is no doubt that this theme will be a great hit!
Mason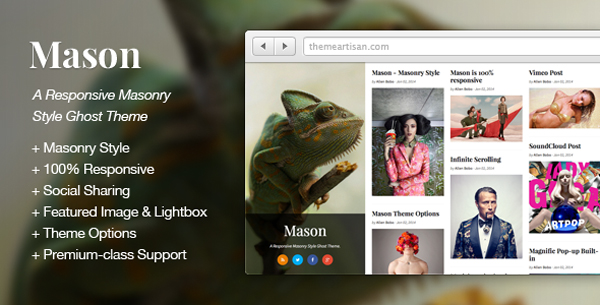 This Ghost theme is totally unconventional. The Masonry style and infinite scrolling aren't common features of Ghost based websites but Mason have inserted both of them. Altogether, the layout is clean and enjoyable. If you want to stay apart, then this theme is for you!
Norrsken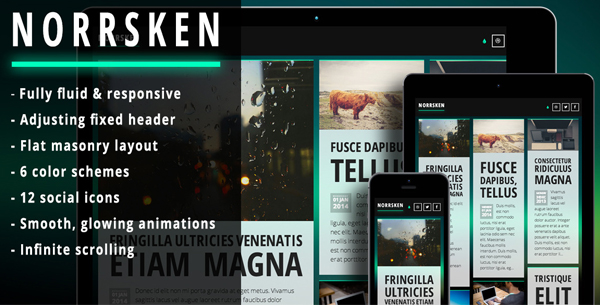 The creators of Norrsken also used Masonry style and infinite scrolling. The ones that appreciate these, but didn't like the previous themes have a second choice that is also looking great. Still, these themes are different- Norrsken has a totally standing apart colour scheme.
Swayze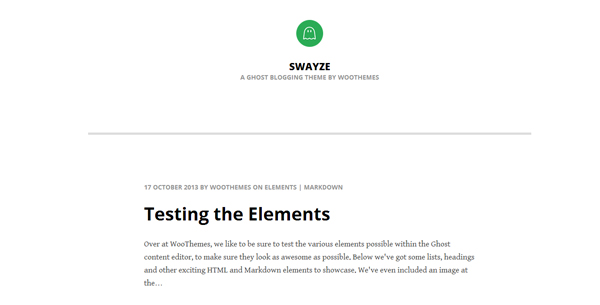 Swayze is a lovely theme that impresses with its simplicity. It's a really theme that focuses on content –  the designer preferred to play with alignments and various font heights instead of adding other UI items. I think that it's a great idea and a good realisation. No doubt, for the ones that share precious information and want to have their readers focused, this theme is golden.
Concluzion
Ghost is considered a promising platform that has the potential to bring significant improvements to blogging area. Altogether, we must see it in action to clearly determine its influence. Ghost is still in its very infancy so the design of themes may suffer major changes in the medium and long perspective. What do you think? Will Ghost bring something new in the way of blogging? The comment form is for you, so please share your opinion with us!