The no.1 thing when building any design related to finance – be it for an app, a website, or anything else – is to make it look trustworthy.
Finance is a very touchy subject for many people and if they are not entirely, 100 percent sure that the site they're reading can be trusted, they will run away.
Luckily though, the modern trends in design – flat design in particular – make things a bit easier. The simplistic nature of flat design elements makes them more trustworthy by default, plus they don't focus too much attention on themselves and allow you to really get the visitor's eye on where it matters.
So just to help you work on your finance-related projects, we're giving away another pack of icons. Today's set consists of 45 finance icons that you can download for free. The icons are all available in the .PNG, .PSD, .AI, and .EPS formats.
What's great about them is that the designs are not obvious, and the icons go a bit outside the box in terms of finance-related things. They aren't just a bunch of shopping carts and bar charts. Feel free to use them when building an app, a website, a brochure, or anything else that needs to fit in the finance niche.
The icons come from Brusheezy. You can use them for all personal and commercial purposes (with attribution).
Finance Icons Preview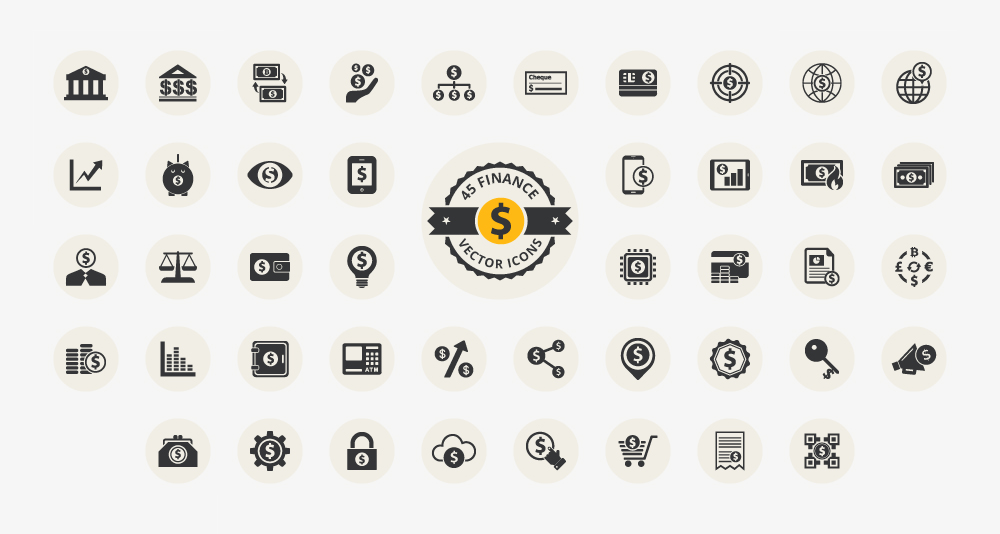 Download Here