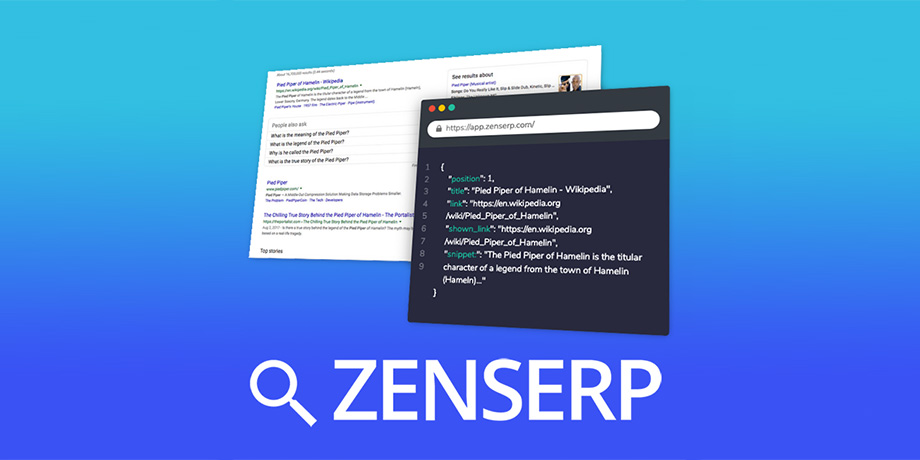 We are living in a digital world. Businesses have the opportunity to know their clients better due to the availability of data. However, it can be a bit tricky to collect and analyze this data since not all the data is submitted directly to a company.
Plus, there is a lot of data out there. Businesses cannot handle it manually, which is why they need apps and tools. Fortunately, there are several software out there that can help you find what you need.
One such software is ZenSERP. This incredible tool is designed to help businesses understand SERP, short for Search Engine Result Pages.
In this ZenSERP review, we'll find out what this software does and if it is worth a try.
Let's get started:
What is SERP?
SERP refers to the pages a search engine displays when you search for a specific query, also known as a keyword.
Users can look at the available options to find what they need. The page lists relevant websites in a specific order based on a variety of factors including how long and informative a piece of content is.
The main goal of every business is to rank well on SERP since most users do not go beyond the first few pages when they search for a product or service. Most businesses spend thousands on SEO to rank well and find more clients.
What is ZenSERP API?
All search engines upon a small click cluster up a larger heap of data. It can be difficult to read and analyze this data for a human, which is why you can opt to use ZenSERP API, a tool designed to mimic human behavior.
Short for Application Programming Interface, API is the way for an application to interact with certain systems, applications, and libraries.
ZenSERP Google SERP API is equipped with all the necessary infrastructure to process any number and type of requests and return SERPs in an easy-to-use JSON-format.
It is powered by an advanced and customer-oriented intelligent parser. Google search results API is reliable and provides all SERP elements in an integrated manner to converge results and allow you to select your required result with ease and accuracy.
Available options include answer box, snippets, paid search results, top story, organic results, and maps.
ZenSERP Products
ZenSERP promises to be a one-stop solution. It allows you to search a number of parameters and elements including:
Google Image Search API
Images are highly in demand. Businesses spend thousands on getting original and paid images. The next step is to ensure these images rank well, since a large number of people use photos to search for a specific topic.
Moreover, according to reports, posts that contain images tend to get more likes and shares. This is why businesses want to study about search results and know what kind of images rank well and how.
In addition to this, the company is also expected to introduce Google Reverse Image Search API, a feature that helps find the origin of a website. This feature, however, will be added later on.
Google Shopping API
The shopping API allows apps to connect directly with the trade center platform, broadly increasing the efficiency to manage large or complex trade center accounts. Some typical uses include
• Automated account management
• Product management on a per-product basis
• Data feed scheduling
• Managing complex tax and shipping settings
Google News API (Coming soon)
The company is said to be working on this feature. It's expected to be released next year and will help businesses get data related to the latest news.
This feature can be very useful for businesses to know about hot topics and the latest happenings. Google shows news pages from top sites. It has a news section that only shows news, which users will be able to utilize.
Salient Features
Still wondering what ZenSERP can do? Here are some of its main features:
Highly Scalable
According to reports, Google receives more than 630,000 searches per day. This equals to about 2 trillion searches per minute. We understand the number is huge. Google is powerful enough to handle such volume. This software may not be able to handle these many queries, but it is largely scalable and can handle up to 100,000 requests per month.
Easy to Use API
This API returns search results in JSON format. It is very easy to integrate, hence a top choice for a growing number of users. JSON is fast becoming a popular choice among users but if you want to use some other format, you will be able to convert JSON into other readable formats like .XMl with the help of a third-party tool.
Highly Accurate
This incredible API mimics human behavior which means you will get reliable search engine results. We have reviewed a number of similar products and the problem with most of 'em is that they do not give reliable results as the output appears biased. But, we didn't face such problems when using this tool as the AI system works well and shows unbiased output.
Maximum Speed
Thanks to excellent infrastructure, the system is able to provide quick results in real-time. With this app, you will not have to wait for hours for a process to complete.
Location Based
Local searches are quite popular on Google. Businesses even use local search result information to create PPC campaigns that offer a high ROI. With this tool, you will be able to find location based results.
This information will help you know how to target audiences in a specific location.
Compatibility
Made for Google, the software supports other search engines as well. But, that should not be an issue since about 80 percent of searches are performed on Google which enjoys great monopoly in most countries.
Moreover, it is compatible with all desktops, Android and iOS devices.
Customer Support
Potential or new users may not find customer service very good, but it offers pretty reliable customer support to licensed users. Your only option is to get in touch with the agents via email. They usually take about 24 hours to respond but we wish phone calls were also an option.
Pricing:
You can start for free to know how it works. The free version comes with limited features including 50 monthly requests. If you want to enjoy all the features then consider one of the following paid options:
Small: Billed $29.99 per month, this package includes 5,000 monthly requests and covers all SERP types. However, since it's a self-service platform, it may not be the best option for new users.
Medium: Billed $74.99 per month, this package includes 15,000 monthly requests and covers all SERP types. You will also get access to keyword CPC, keyword search volume, and batch endpoint. Plus, it includes service level agreement and concierge onboarding, hence it will be easy to handle.
Large: Billed $174.99 per month, this package includes 40,000 monthly requests and covers all SERP types.
Very Large: Billed $379.99 per month, this package includes 100,000 monthly requests and covers all SERP types.
Pros and Cons
Pros:
Offers up to 99.9 percent uptime.
Gives quick and reliable results
The system does not count responses that return an error.
You can sign up for an annual package to enjoy a 20 percent discount
Cons
Only offers a limited number of payment options
Conclusion
We like what this Google API has to offer. It looks like a good option for agencies but small businesses can also give it a try to get more out of search engine data.