We discussed earlier about Monstroid – an omni-purpose WordPress theme based on Cherry Framework, so you already know what to expect from this collection. If not, here are a few facts about Monstroid and its capabilities:
Fueled by Cherry Framework it makes use of 20+ original plugins aimed at improving its functionality and flexibility.

It has native integration with WooCommerce, bbPress, BuddyPress, Yoast and many more third party plugins.

Monstroid includes the premium drag & drop MotoPress Content Editor that allows you to shape your content quickly and easily.

It comes with 30+ shortcodes that form 120+ shortcode variations.

10-15 new free designs are released every month. You can easily switch to another child theme from your WordPress dashboard.
Since its customization possibilities are able to turn your WordPress into just about anything, Monstroid is considered to be one of the most convenient ways to launch your own web-startup. To help you with this task Startup Hub has been created – a place where you can find all the essential information on web entrepreneurship.
By the way, our friends from TemplateMonster offered a generous discout only for eWebDesign readers, all you will have to do is to enter this code " ewebdesign " at checkout and you will get 30% off.
And now it's time for an overview of the child themes that you will get with Monstroid theme. We will add new themes each month, so keep up to date.
1. Obrus
Welcome Obrus – a topic for Monstroid designed for corporate and industrial websites. It has been loaded with all kinds of premade business-oriented pages: 'testimonials', 'team', 'services' and several others. The top slider is enhanced with some nice text transition effects. The theme is pretty solid, allowing you to install this theme and immediately launch a website without having to make any significant changes to its code or design.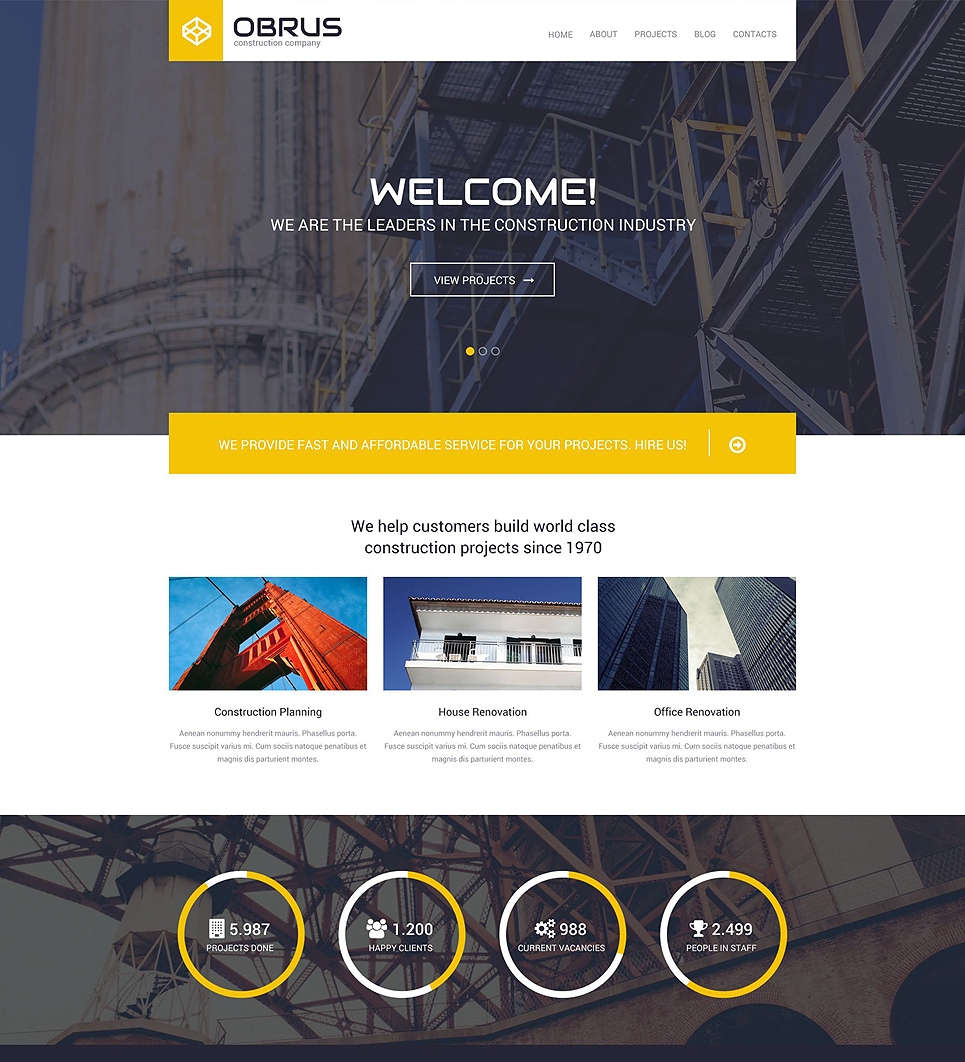 2. School District
This lively educational Monstroid topic is designed in metro style that uses screen space very effectively. It is based on bright flat content blocks, and, therefore, is perfect for official websites of schools, kindergartens and online courses. It may be too colorful for university websites, so if you are planning to launch one, we recommend #13 on our list instead.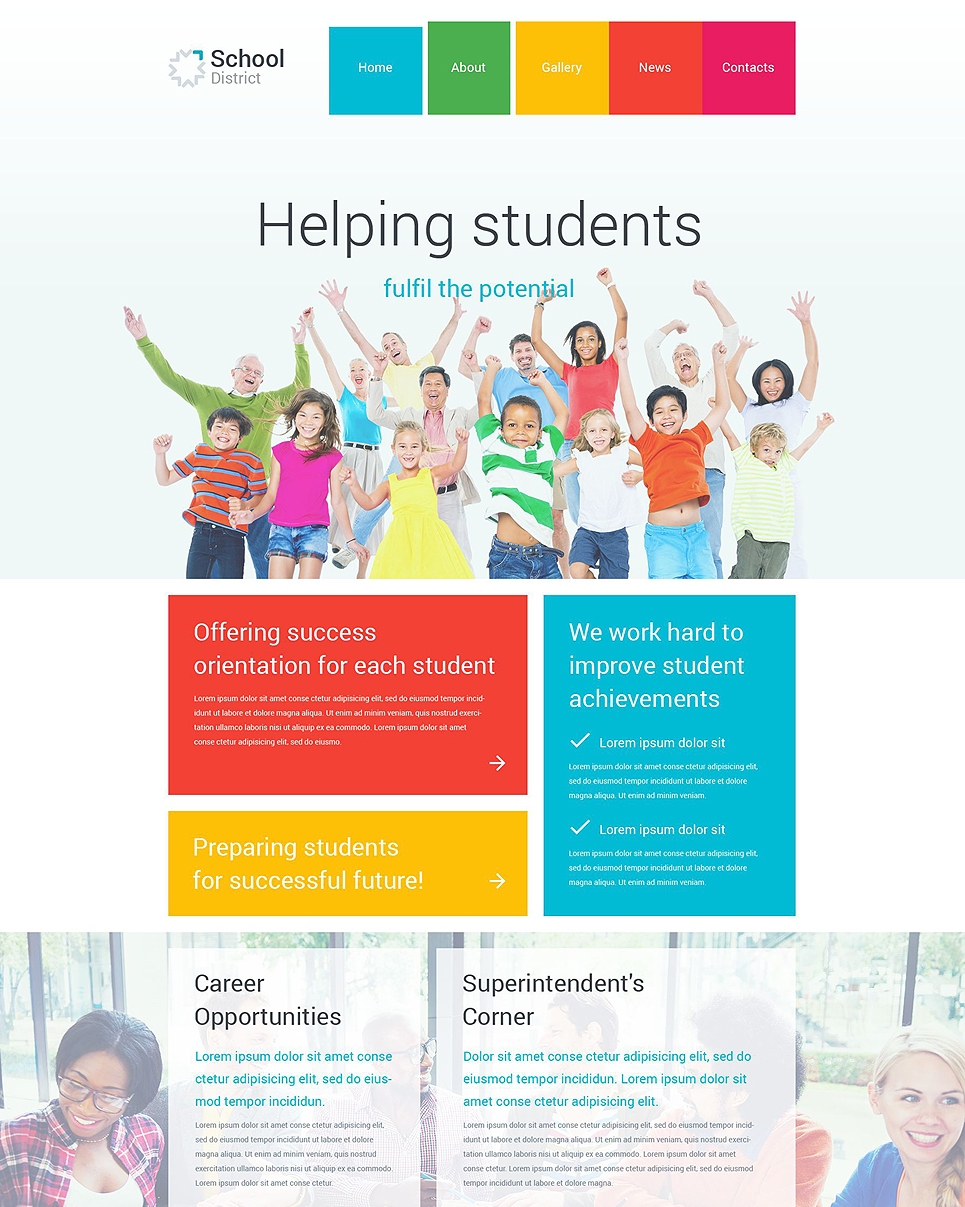 3. PixelArt
PixelArt is a simple-looking WordPress theme for web design agencies and IT companies with a lot of functions under the hood. It supports a series of custom post formats: Image, Gallery, Audio and Video. Its wide layout is fully responsive, and a narrow sticky menu can be adapted to any topic. If you are looking for a flexible solution for online representation of your business, this theme is one of the best options for you.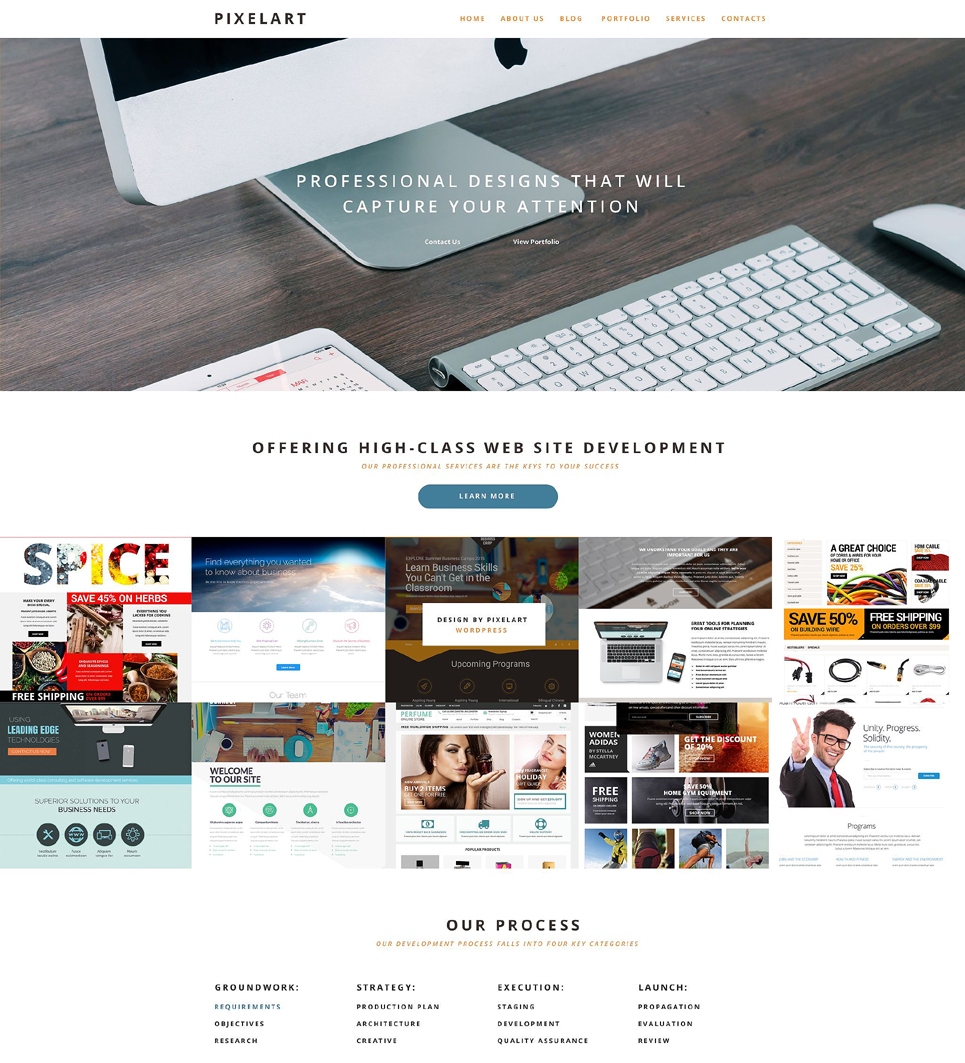 4. Furniture Company
If your business requires extensive visual presentation of your products and services, we recommend that you pay close attention to this Furniture theme. Its minimalist skeleton is abundantly covered with large images of different sizes and purposes: sliders, parallax-enhanced banners, product previews, etc. This means that your effective landing page is ready; you just need to replace the images with your own.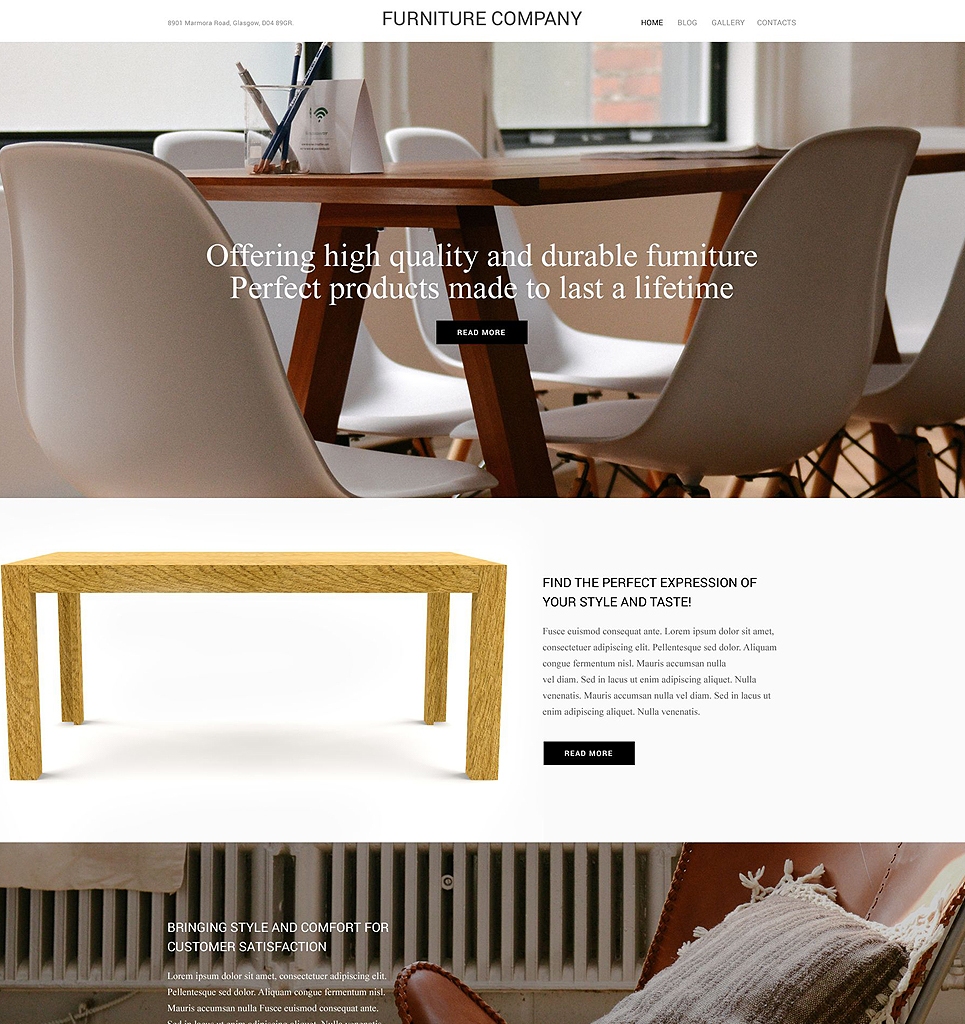 5. HR Recruiting
With this Monstroid theme you can transform your WordPress into a feature-packed job portal, a business website, a portfolio or even an online store. It offers a full spectrum of premade pages, designed with minimalist icons and flat shadow-touched blocks of 'business' colors – blue and grey. Such colors are considered to be neutral and moderate, so they will suit a wide range of topics – from law and finances to employment. Mobile app developers will also find it useful, as it contains readymade 'AppStore' and 'Google Play' buttons in the footer.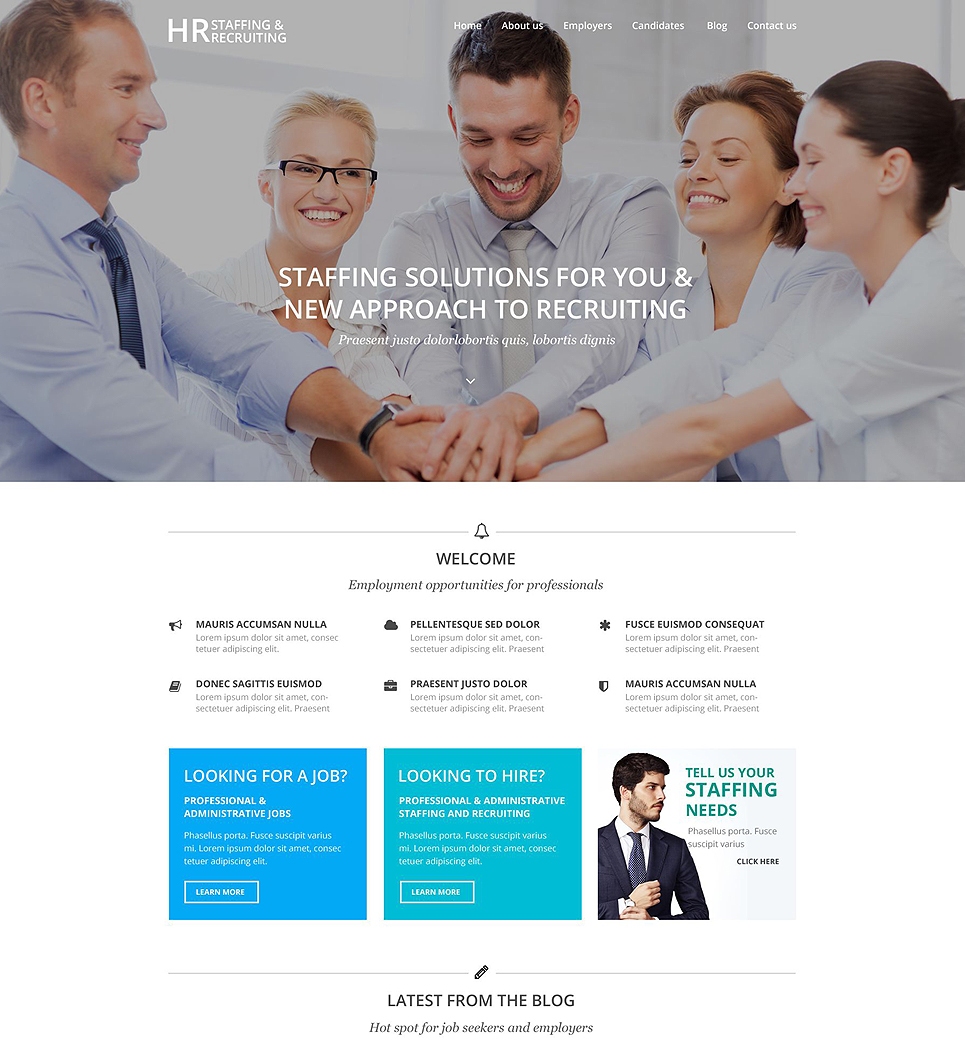 6. Gitex
Gitex is a Monstroid topic designed specifically for financial and law websites. It follows the rules of color psychology, using a combination of calm blue and grey colors that represent trustworthiness and stability. But thanks to such design trends as transparency and diagonal lines, the template also looks fresh and modern. With almost two dozen Cherry plugins it is one of the most versatile and multifunctional solutions for setting up a finance-related WordPress website.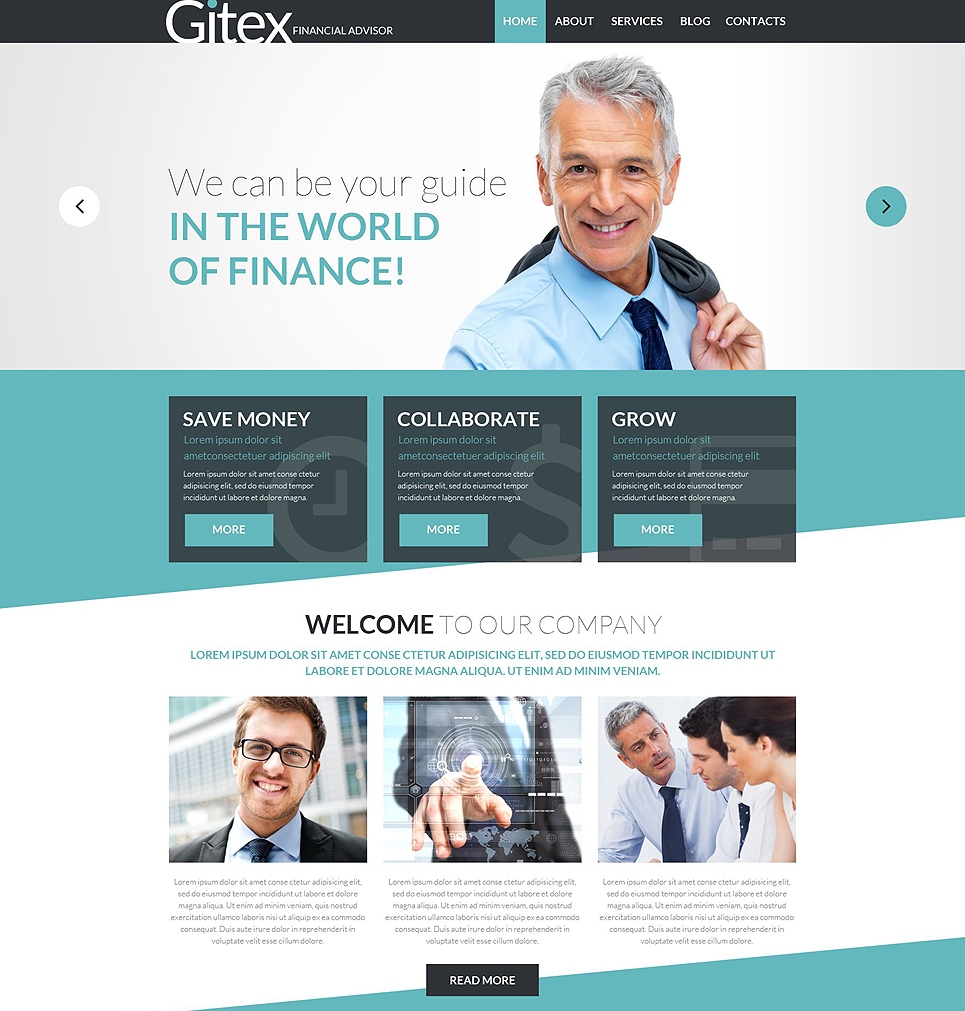 7. Energetic Cheerleaders
This up-beat sports theme is a readymade landing page with many additional functions. It features a stylish customizable mega menu, circular images and a convenient pullout login form. The homepage contains a page-wide Google map optimized for better visibility. Another detail that makes this theme a great choice for a landing page is the timeline where you can present your events and milestones.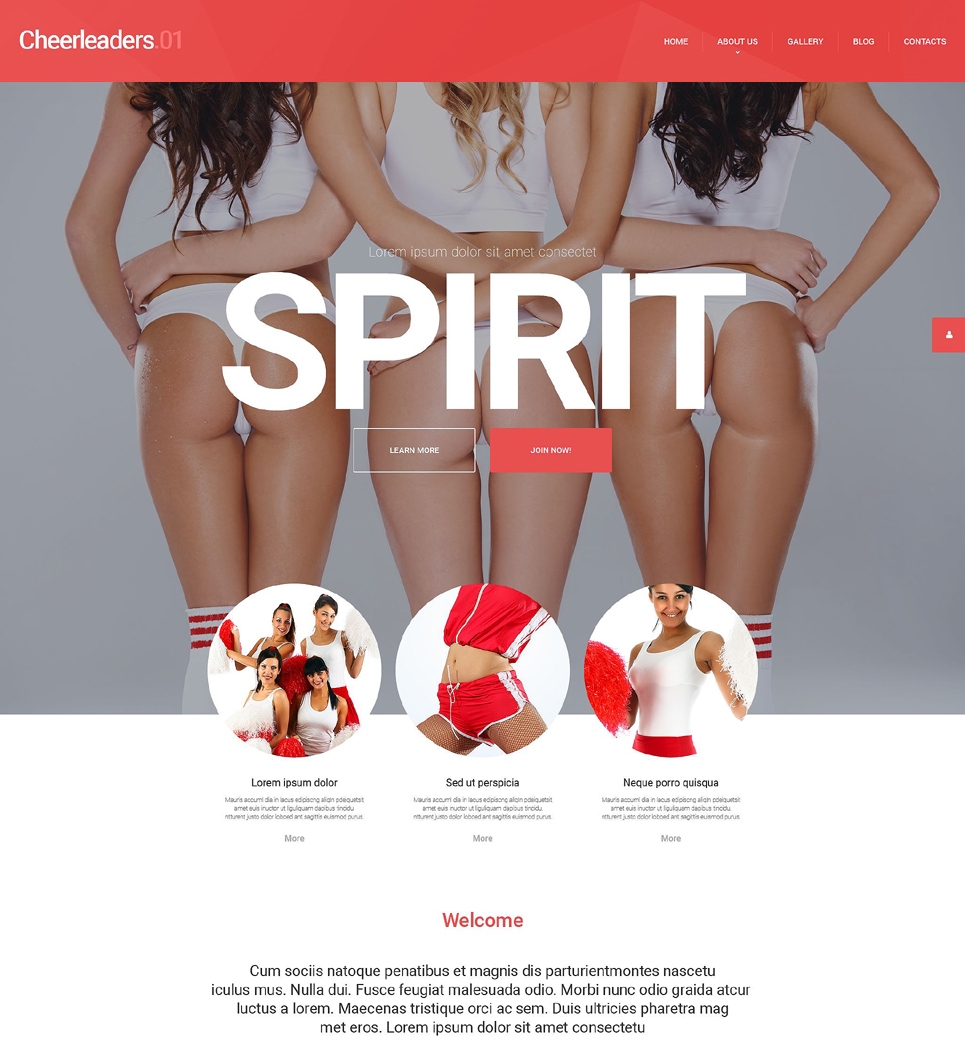 8. Cartoons Blog
If you've already been an active blogger, you know how rewarding newsletter campaigns can be in terms of exposure and profit. That's why the authors of this theme included a customizable newsletter popup form to help you with email marketing. Although this theme is initially blog oriented, you can fine-tune it further with the help of Cherry Blog Layouts – a native Monstroid plugin. It allows you to choose from a large inventory of layouts – from 'masonry grid' to 'timeline'.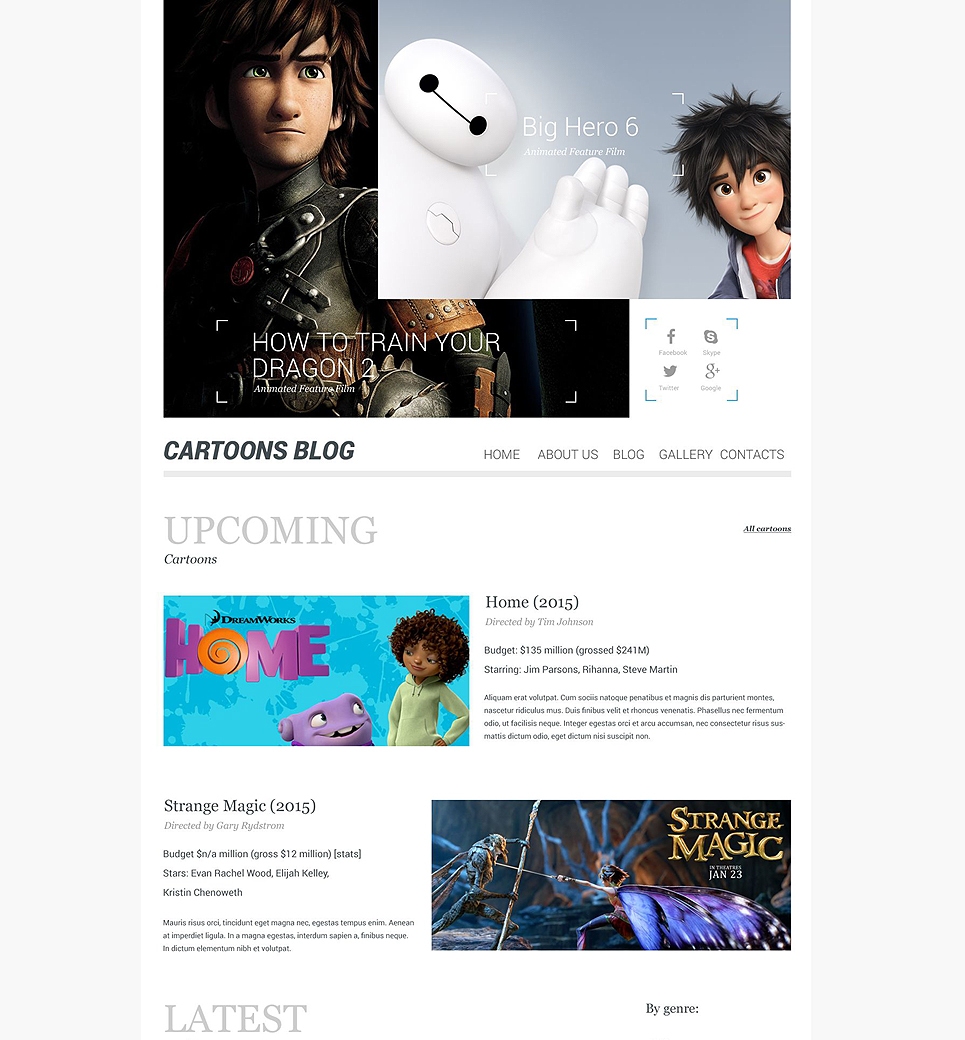 9. Hypnosis
If your business involves direct work with people, Hypnosis is worthy of your attention. This theme features a simple layout with some progressive visual features – parallax effect and folded block corners inspired by material design. Its cheerful appearance inspires trust and openness that are extremely important for such a personal field as psychology. A website built with this theme will be intuitive and easy to navigate for visitors of all ages – even for those who are not familiar with modern web technologies.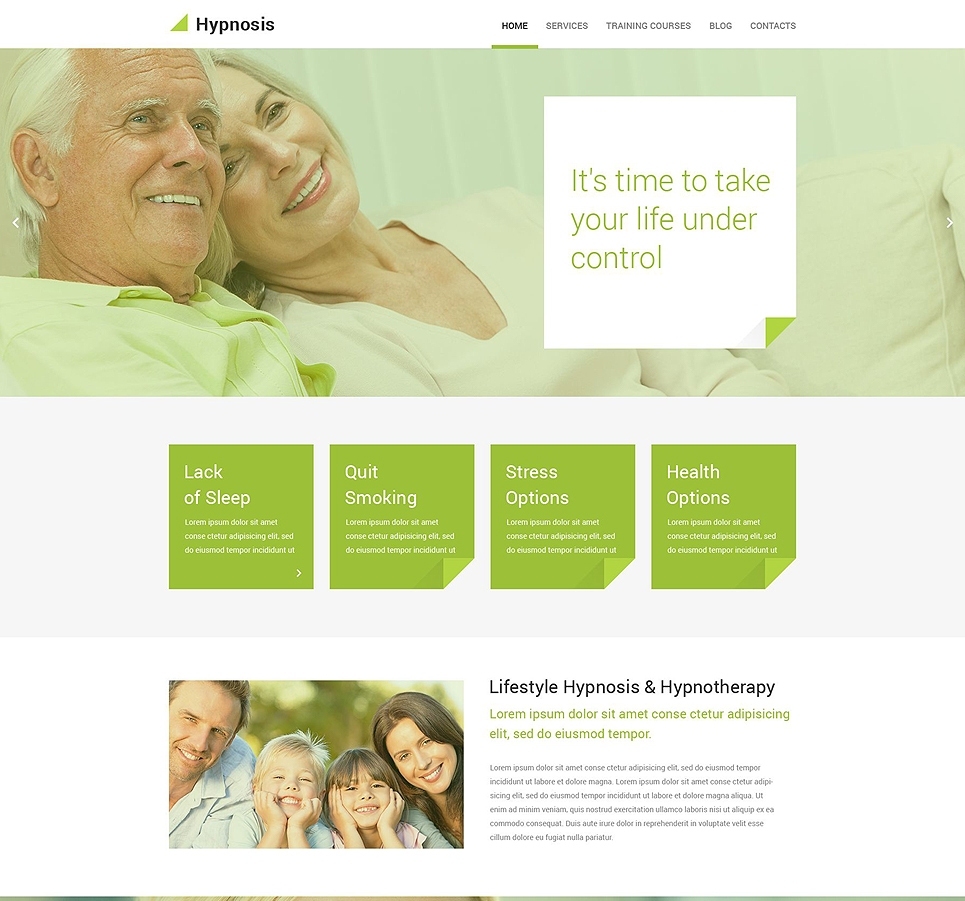 10. Country Sunset
This creative theme with pro functionality has been loaded with gallery options to present your products in the best possible way. It is intended for food industry websites, particularly for meat processing plants and farms. It wisely combines solid colored blocks and large photography, using CSS effects such as fading, semi-transparency and color filters. The theme is equipped with a stylish mega menu that can be further customized to reflect the product range of your company.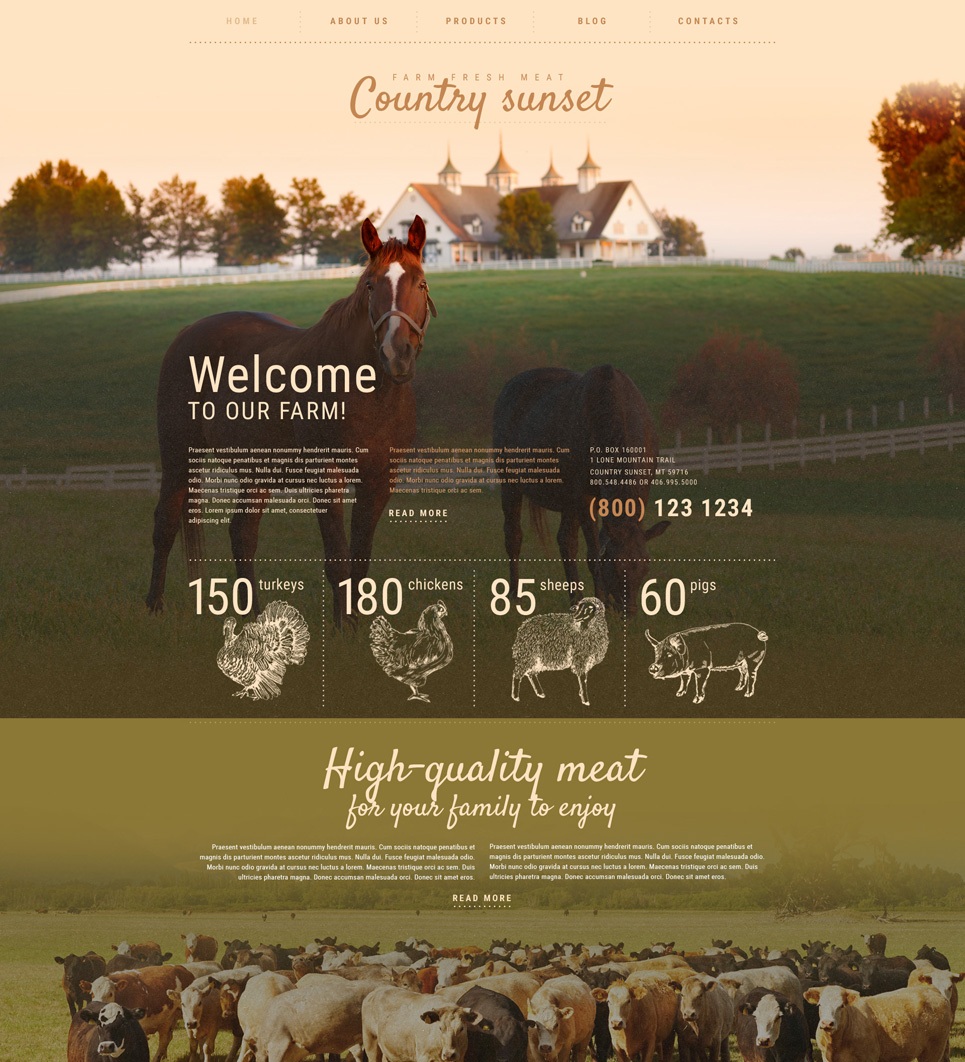 11. Limousine
Our next Monstroid topic is a WordPress theme for companies dealing with luxury cars. Its homepage is a perfect landing page including all the necessary elements smartly arranged for increasing conversion. Large sliders and CSS effects used for image previews show how you can use high-quality imagery for the success of your business. This theme reaches a compromise between a landing page and a full-featured business website by minimizing its menu to a hamburger menu in the top right corner. Thus, the navigation is still convenient, but it doesn't harm your conversion rates.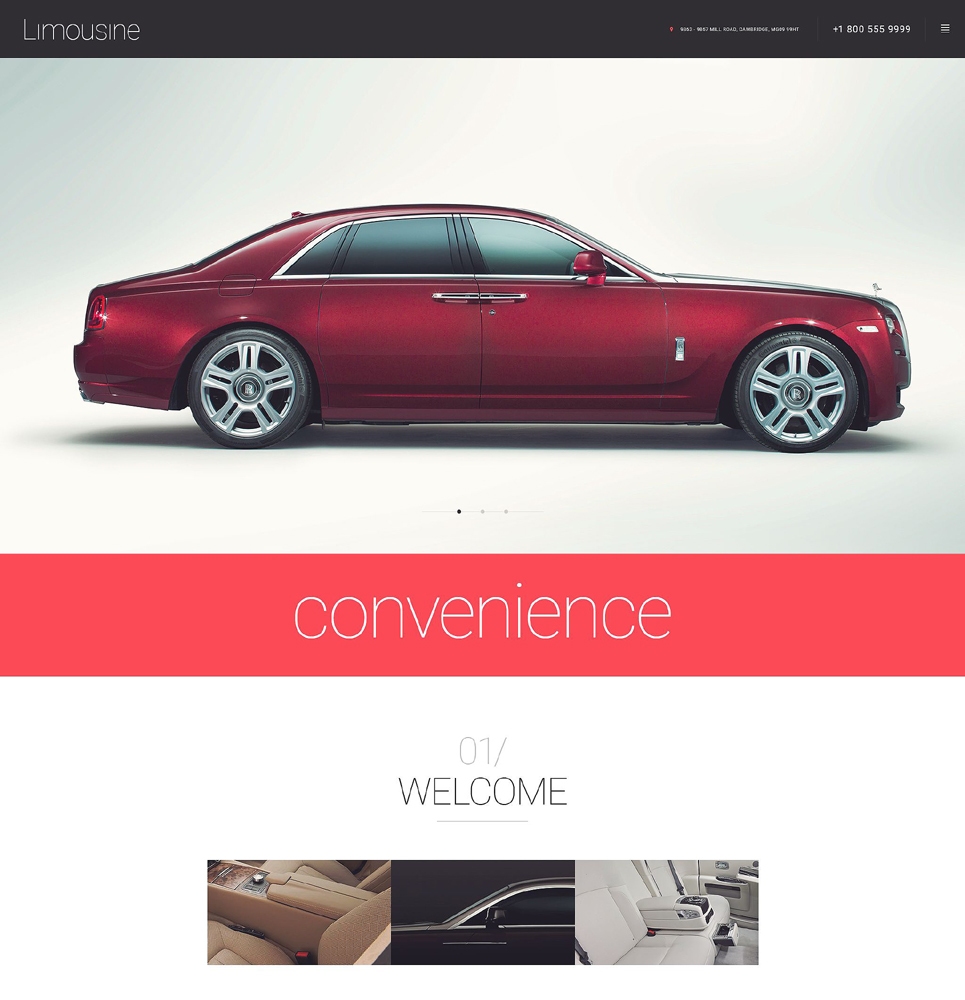 12. Interior & Furniture
Stone is a best-selling Monstroid topic for home design studios and stores. Every content block of its homepage is page-sized, so scrolling will look more like flipping pages of a magazine. This theme has a classic boxed layout that will reveal the background on wide-screen displays. Unlike other themes, where social buttons are built into the layout statically, Stone allows you to place them on slides on the large top slider.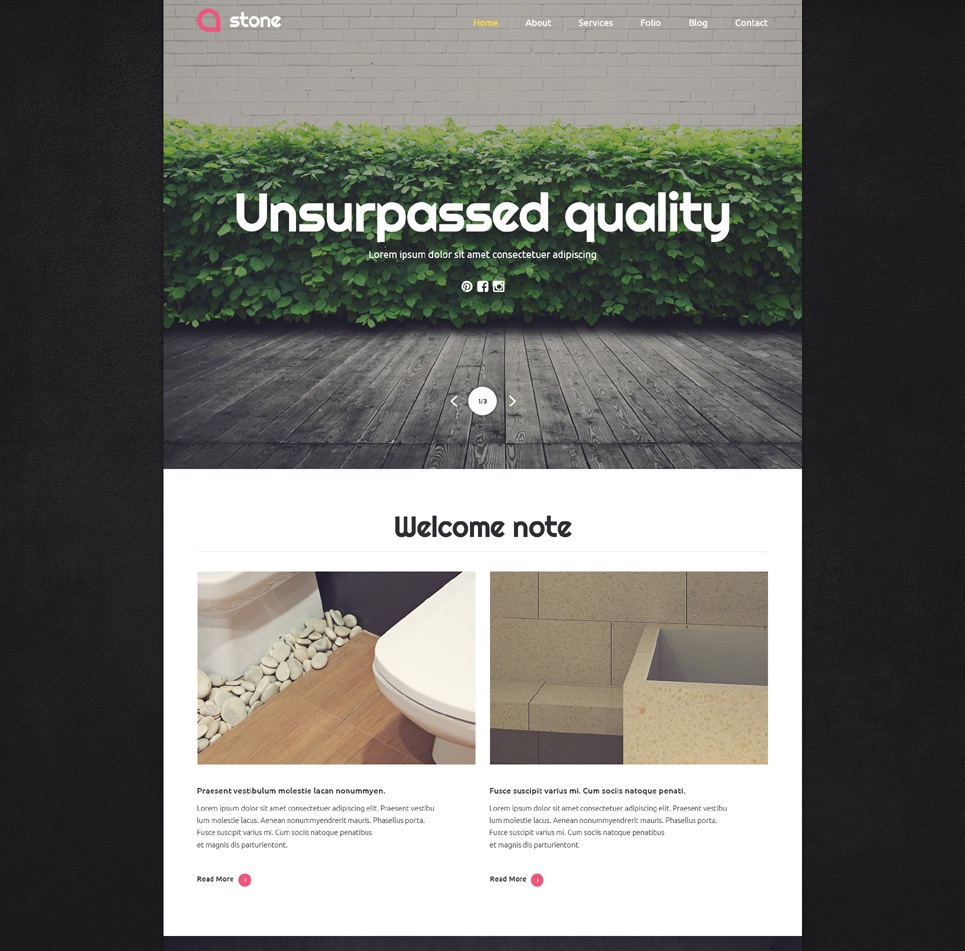 13. Education
You'd be surprised how many official university websites need to be redesigned, sooner rather than later, due to their completely obsolete look and functionality. This educational Monstroid topic has been designed specifically for this purpose. It is also a reliable solution for setting up a website providing online courses. Its large centered logo increases brand awareness, and a simple sticky dropdown menu can be transformed into a mega menu within minutes with the help of Cherry Mega Menu plugin. It is very flexible and scalable, so it can be used both for small landing pages and large educational portals.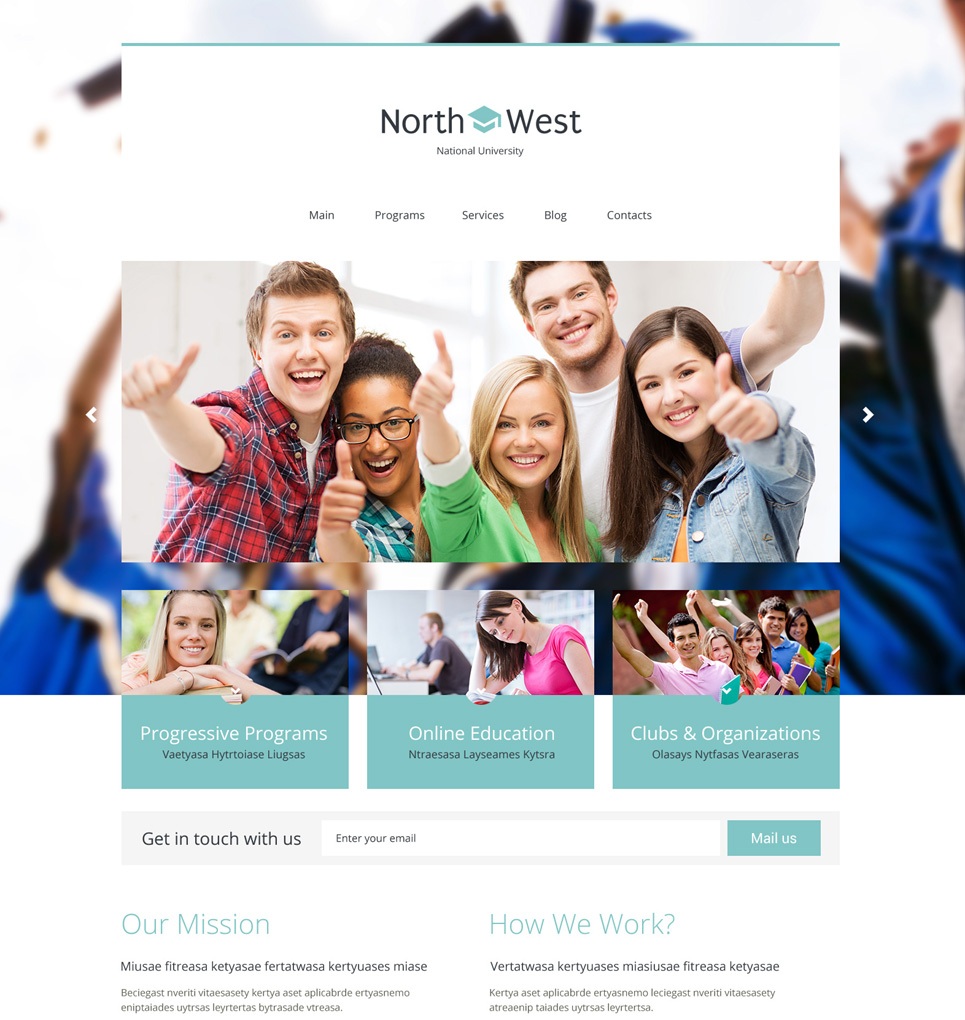 14. Pasta and Ravioli Company
The greatest thing about this Monstroid restaurant topic is that it combines up-to-date web technologies and vintage design. A smart choice of colors, carefully selected fonts, image borders and classy CSS effects – everything in this theme works towards creating a unique stylish look. Flat pastel content blocks are ideal for announcements, and appetizing photos in sliders will not leave your visitors indifferent.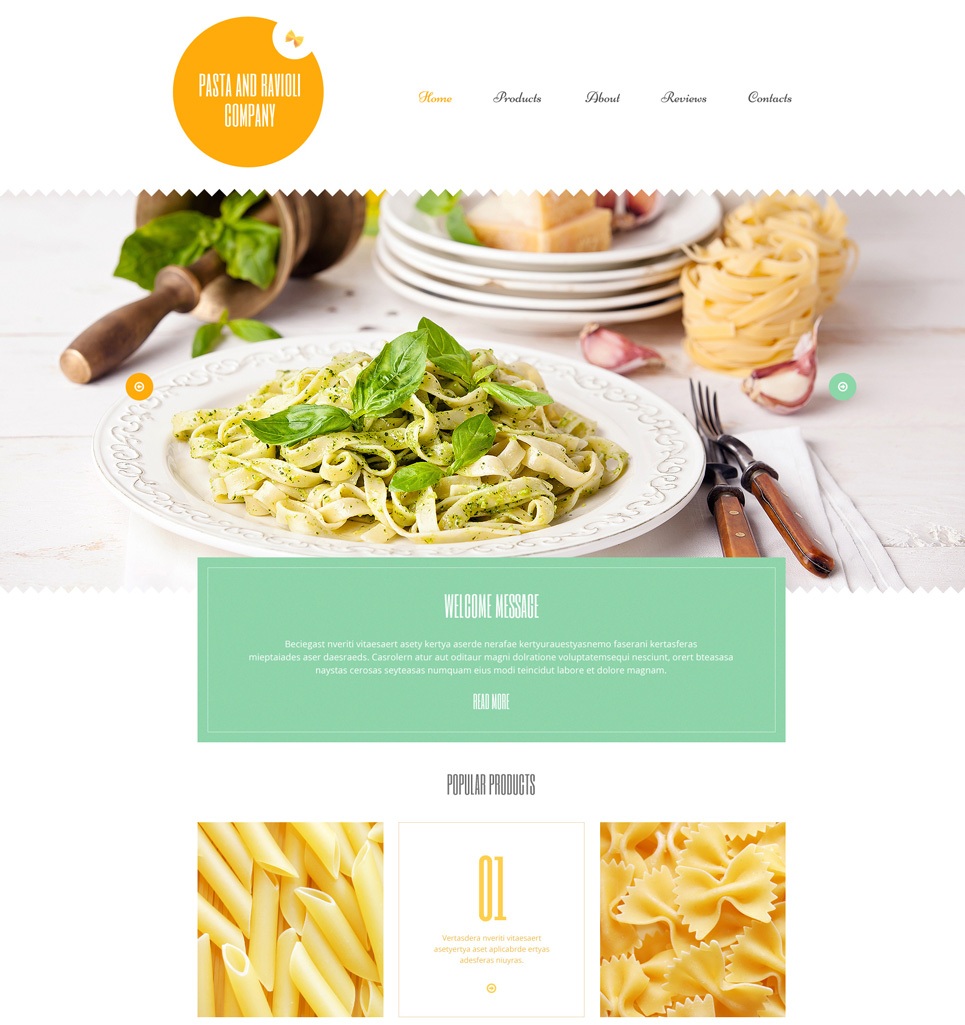 15. Sunrise
Sunrise is a theme that allows your content to speak for itself. It is based on black and white colors, ghost buttons and simple shapes. As a business theme, it offers various premade pages for displaying your services, employees and testimonials, and also an optimized contact page with a Google Map. Thanks to its visual simplicity, this theme can be integrated easily with WooCommerce, bbPress or any other major WordPress plugin compatible with Monstroid.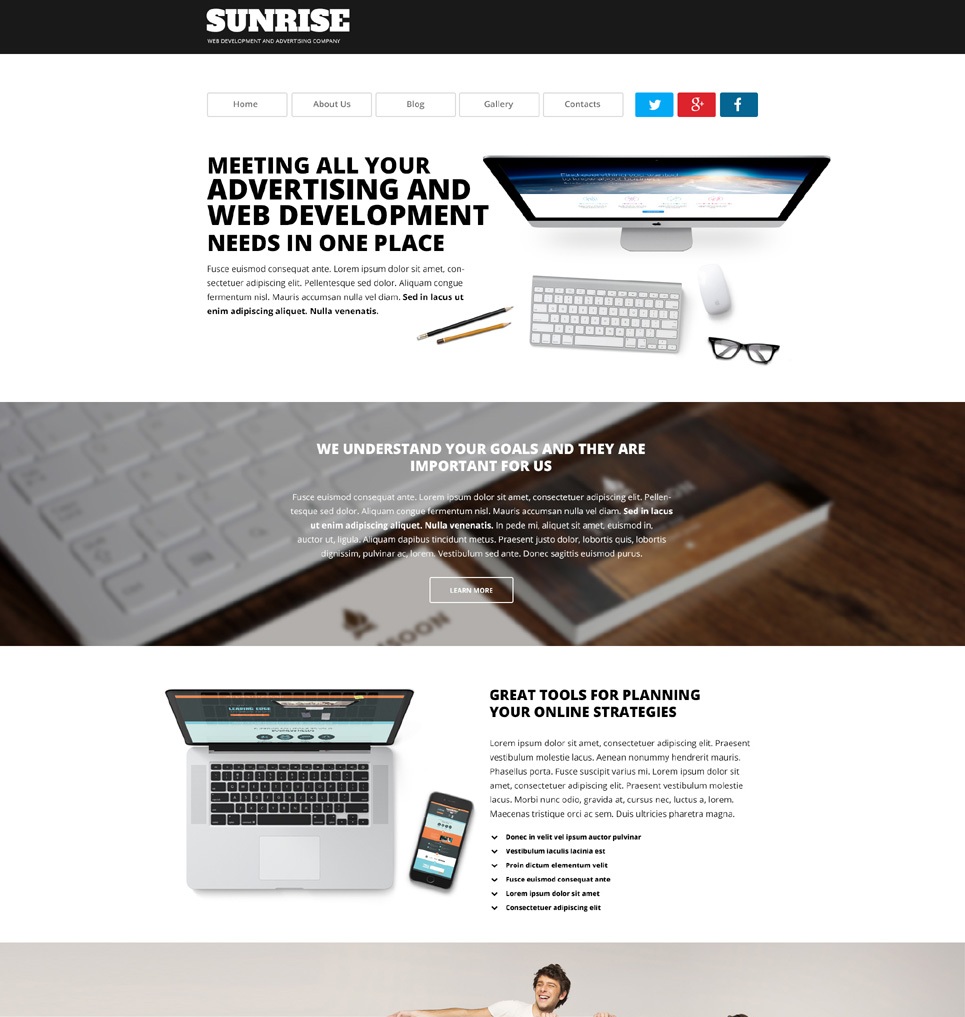 16. Sky-High
Sky-high is not a regular business theme. It has been designed for a specific niche of creative studios. Its extraordinary typography and full-page images are great for increasing brand awareness. In terms of functionality it is as versatile as other Monstroid business child themes. It comes with pre-built pages, WooCommerce compatibility, Google web fonts and many more. Choose this theme if you are not afraid to stand out in a crowd.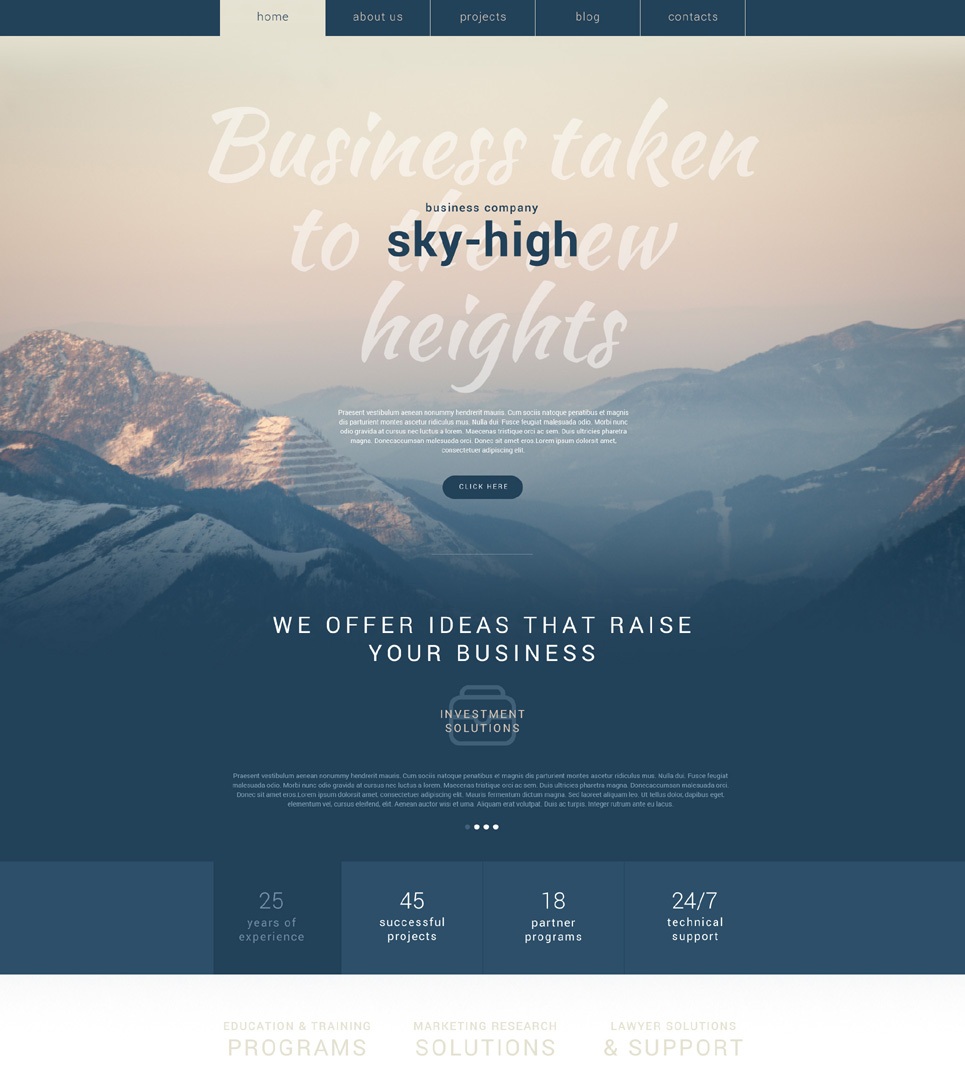 17. Art & Photography
Prime is a Monstroid photography theme that is the pinnacle of web design art. Crafted with attention to each detail, it offers unmatched possibilities for displaying your creative works. It is fully responsive, has clean design, and provides you with a series of gallery options. What else would you want from a portfolio theme? Oh yes, it can be used as a background for an online store where you can sell your photos or any other goods – both digital and physical. Don't pass by this theme if you are a photographer: you won't find a better solution for your portfolio than Prime.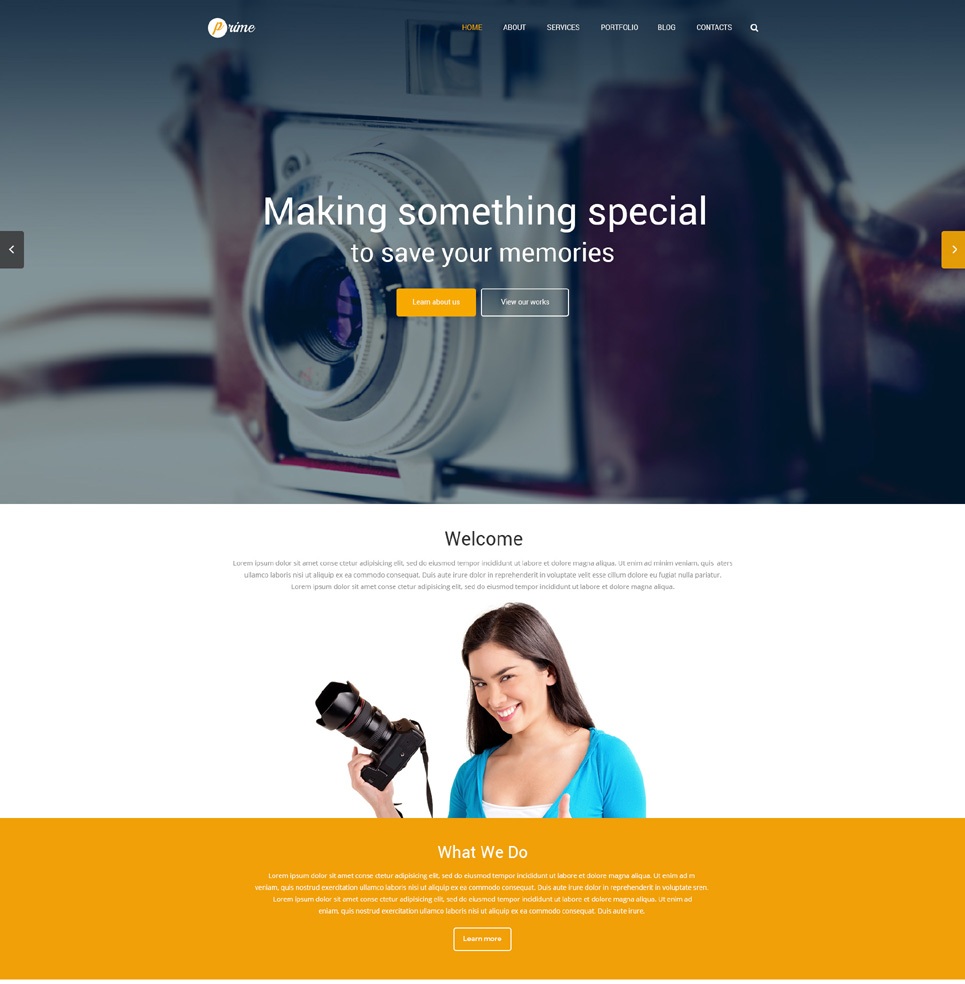 18. Frutti Bar
This Monstroid fruit-themed child theme has been designed with an emphasis on simplicity and usability. The images on the homepage are enhanced with various original on-hover and on-scrolling effects such as parallax and spin. The menu is not only sticky, it provides a combination of a classic dropdown, and modern mega menus. Its mega menu layout stretches over the entire page, serving as a subsidiary landing page.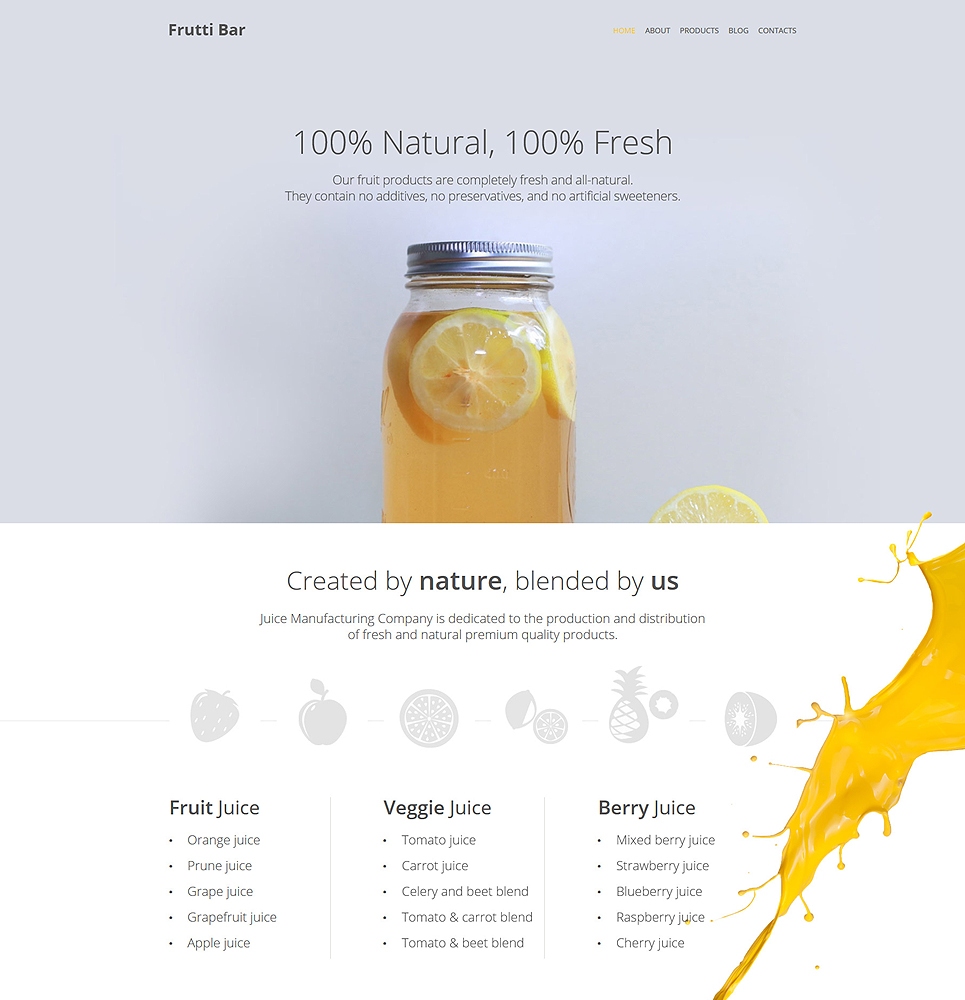 19. Tune Station
Tune Station WordPress theme is a ready solution for landing pages. The initial layout represents a thoughtfully designed presentation page for mobile music apps. However, it can be easily applied to any other product thanks to its flexible customization options. Its counters, blocks with embedded tweets, testimonials and product features, make a great high-tech design that can be used out of the box.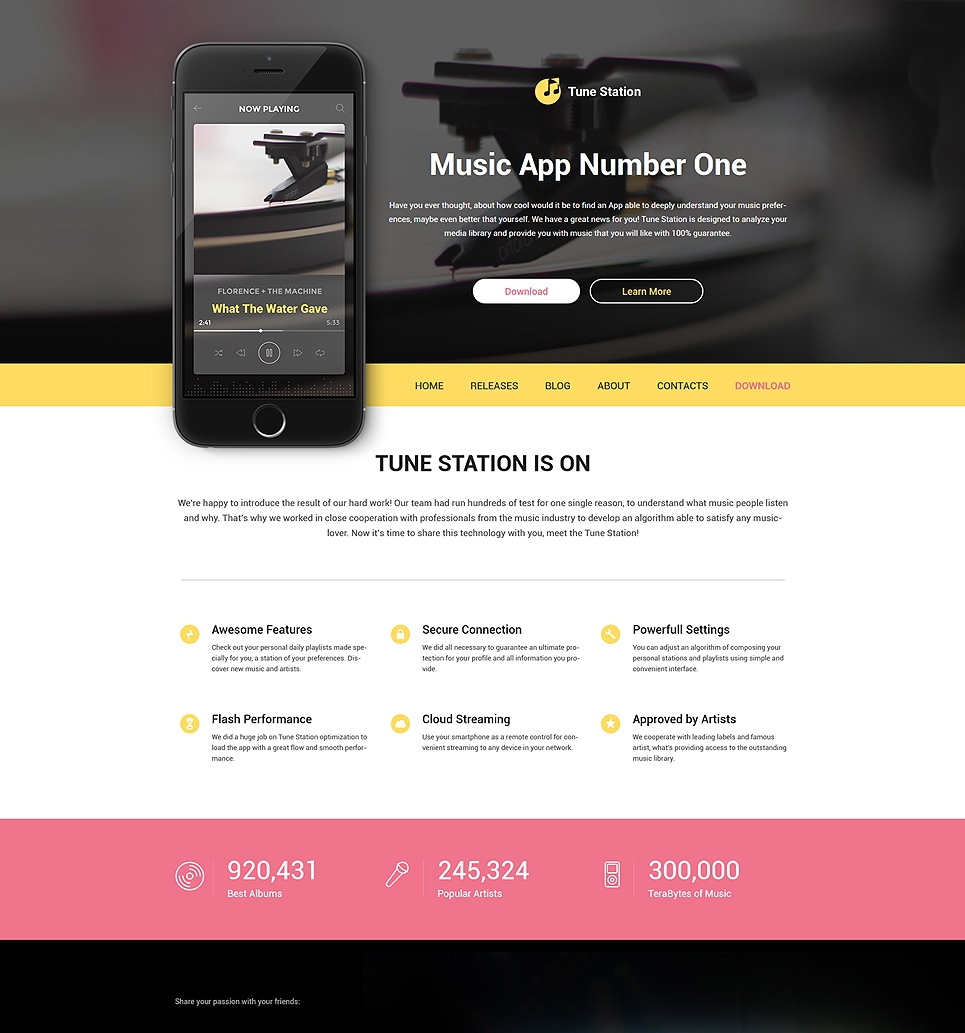 20. Smartex
Our next theme boasts a large background video block that was added to improve the visual component of the layout. It includes flat design with ghost buttons and parallax blocks. The contact page involves a built-in Google map with simple positioning of the location. The Cherry Services page supports many post formats: image, gallery, video, audio and many more. Another remarkable feature of this theme is intensive usage of circular image previews cropped with the help of CSS.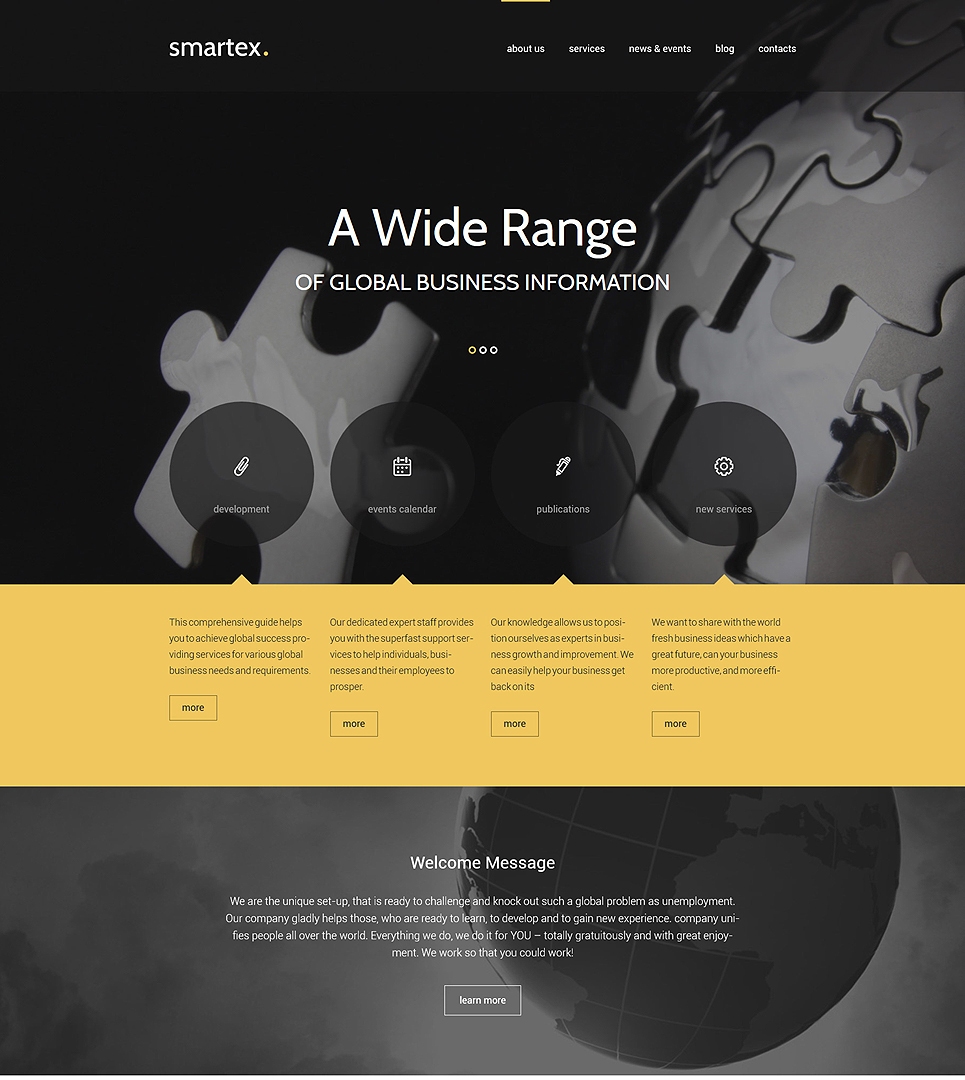 21. Video Records
Video Records theme is intended for presenting rich media such as online movies, flash games or images. It provides information about the number of views, landscape orientation of image previews and integrated media players including video sliders. In other words, it is just perfect for setting up a video website. Its homepage was optimized to accommodate as many post previews as possible, allowing you to showcase your content more effectively.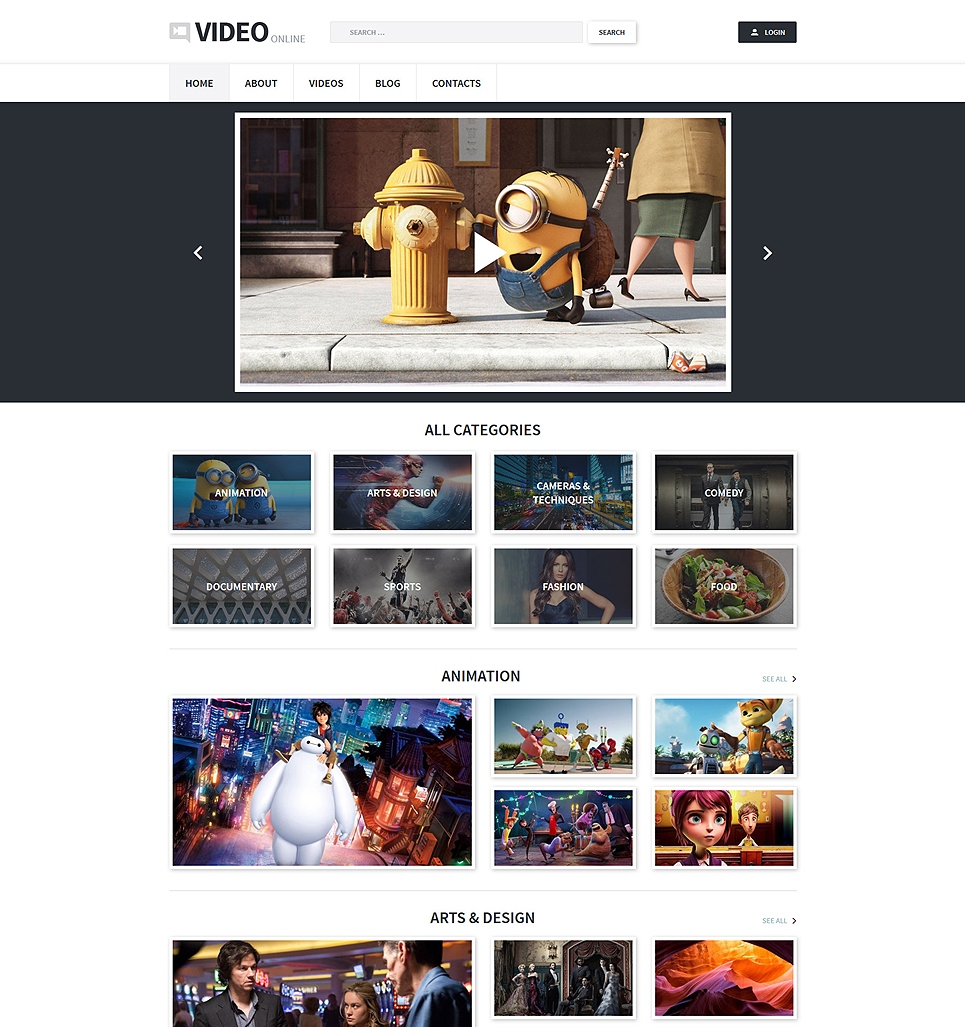 22. Business Expert
To improve your business website's credibility and trustworthiness you should use only clean, professional-looking designs, and Essperto seems to be one of them. It has been designed with a single purpose: to supply your business with a solid online showcase. That's why it includes only those features that are required for your commercial success: simple and intuitive flat icons, skill counters with extra large digits, and testimonials.
The key feature of this theme is the pullout sidebar menu that appears when you click on the hamburger button on the top bar. Such navigation differs greatly from anything you may have seen before.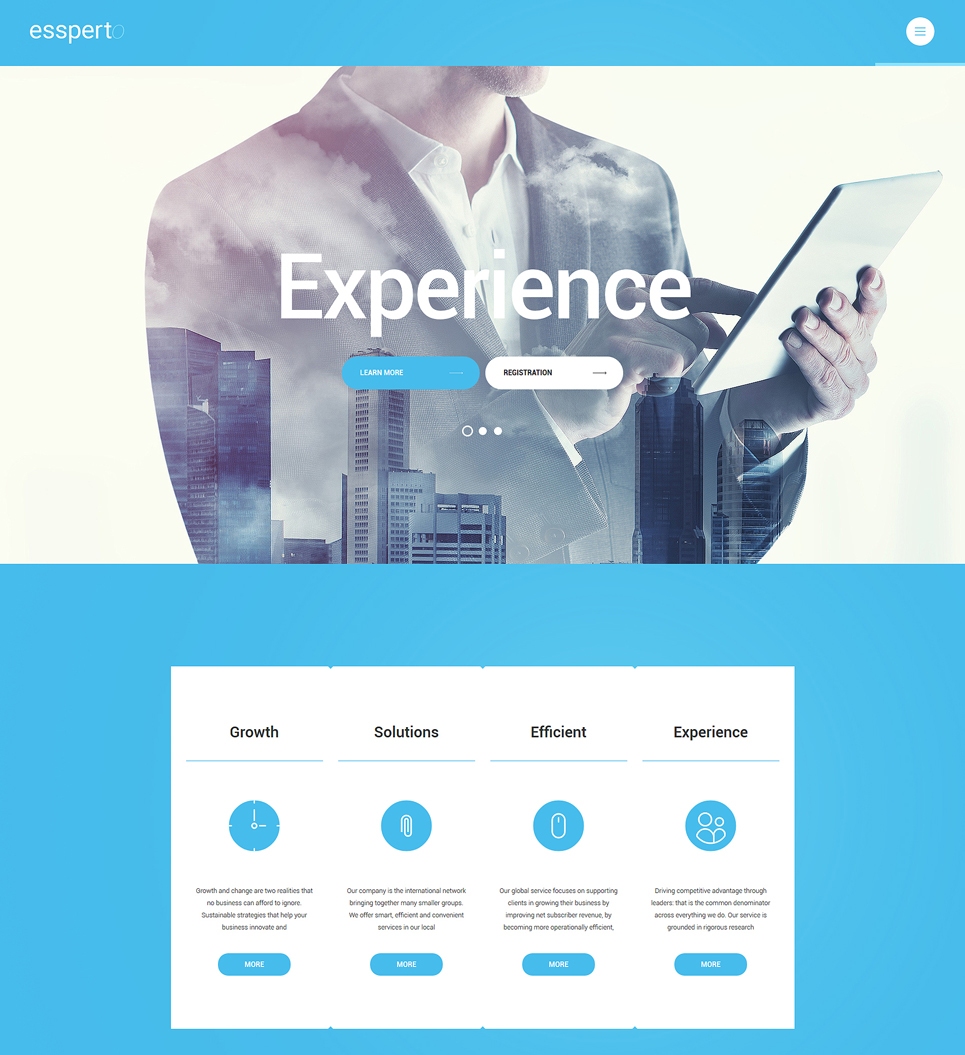 23. Taste
This restaurant theme's design merges retro and modern styles to benefit from both classic and contemporary visual features. Dark colors and outline vector images are aimed at creating a warm feeling, while the mouthwatering food photos placed close to each other do the job of selling your products. Another visual feature that is unique to this theme is reverse ghost buttons. They are initially color-filled, but turn transparent on hover, leaving only their outlines. Such ghost buttons are much more visible than the regular ones.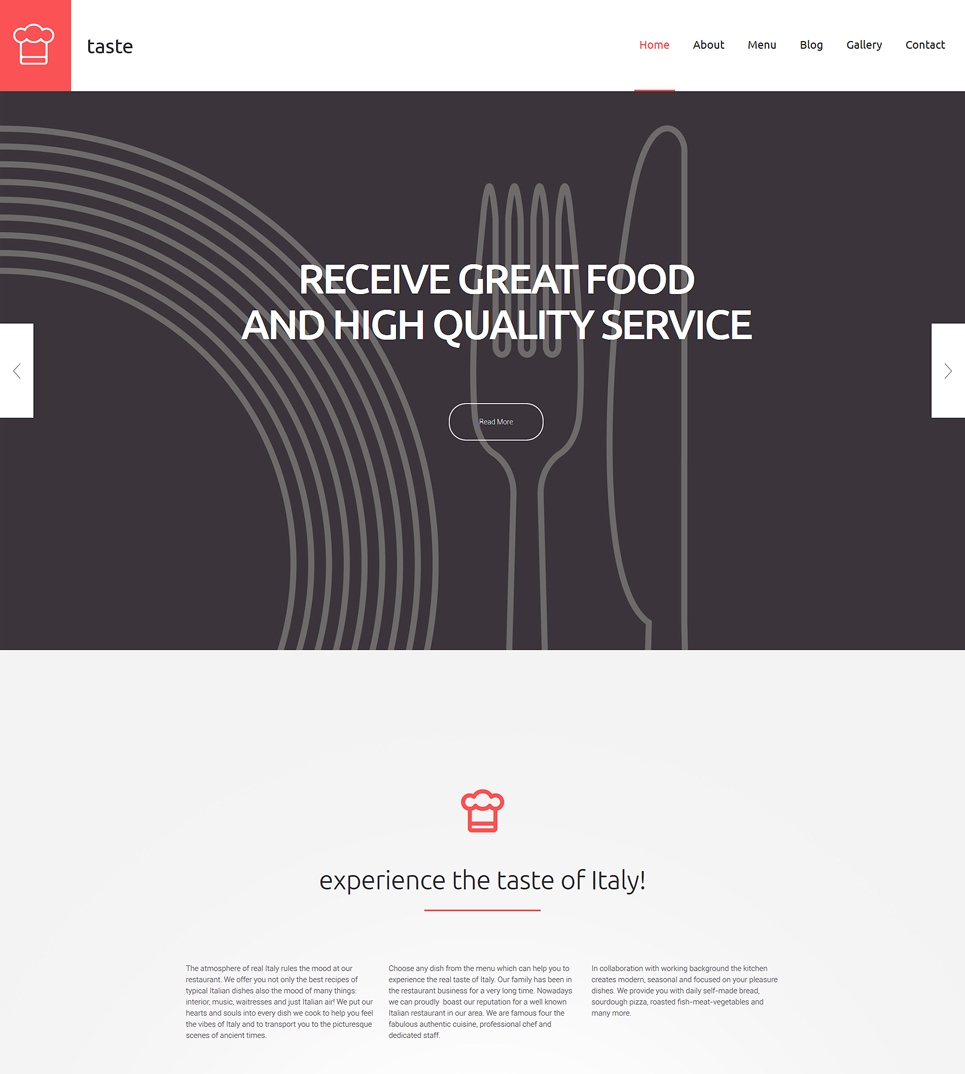 24. Fishing Club
Fishing Club is a clean Monstroid child theme for hobbies, tourist and sports goods. Don't forget that all Monstroid themes are WooCommerce-compatible, so it is very easy to launch an online store and sell, for instance, fishing tackle. If you are planning to use this theme as a blog, 'Cherry Blog Layouts' plugin is at your disposal. With its help you can arrange your blog post previews in numerous ways.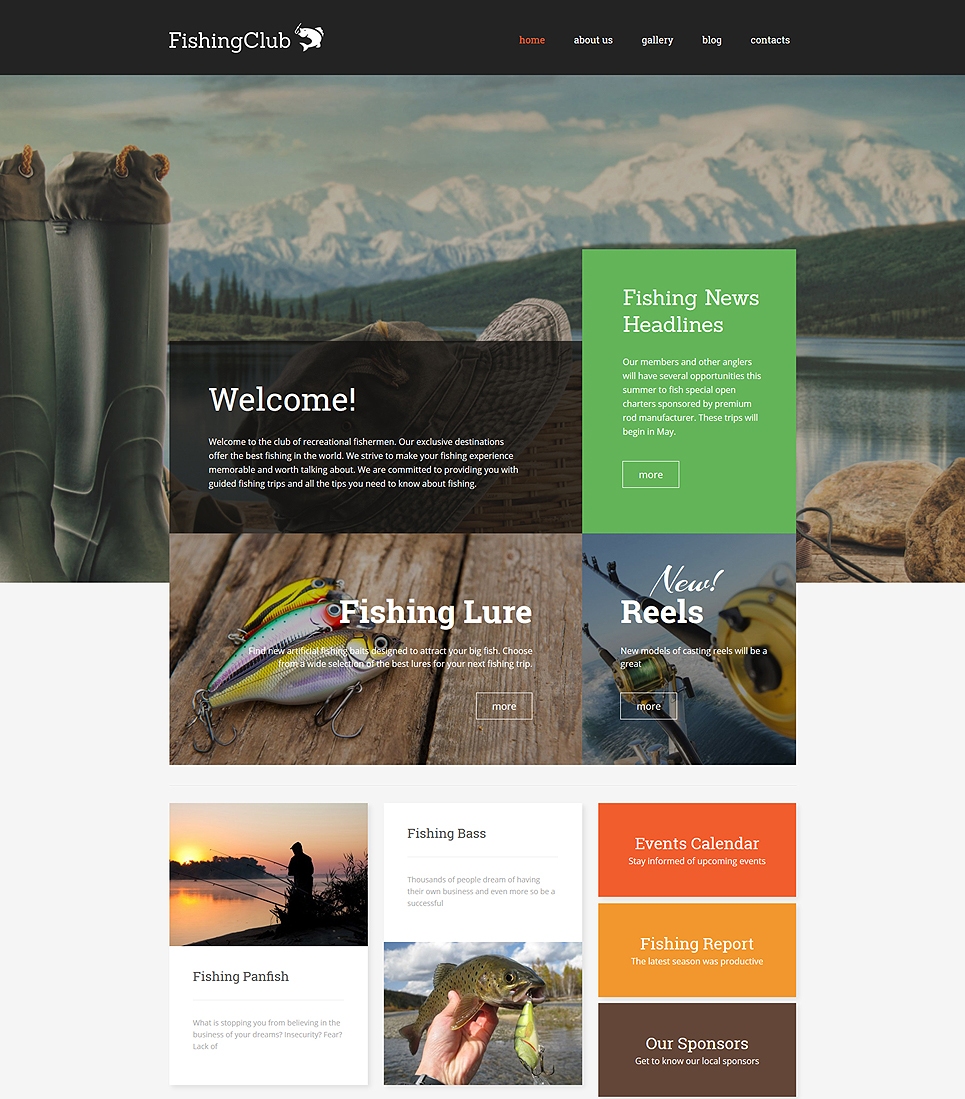 25. Textile
If you think that dark designs cannot be modern looking, that you haven't seen Textile – an ultra stylish Monstroid theme for textile factories, linen stores and workshops. It is designed mostly with dark colors, using ghost buttons to lighten the layout. The theme's menu and login form are minimized into activation buttons. As it should be, the most noticeable elements of the theme are the call-to-action buttons that were made red (they turn red on hover, literally calling your visitors to action).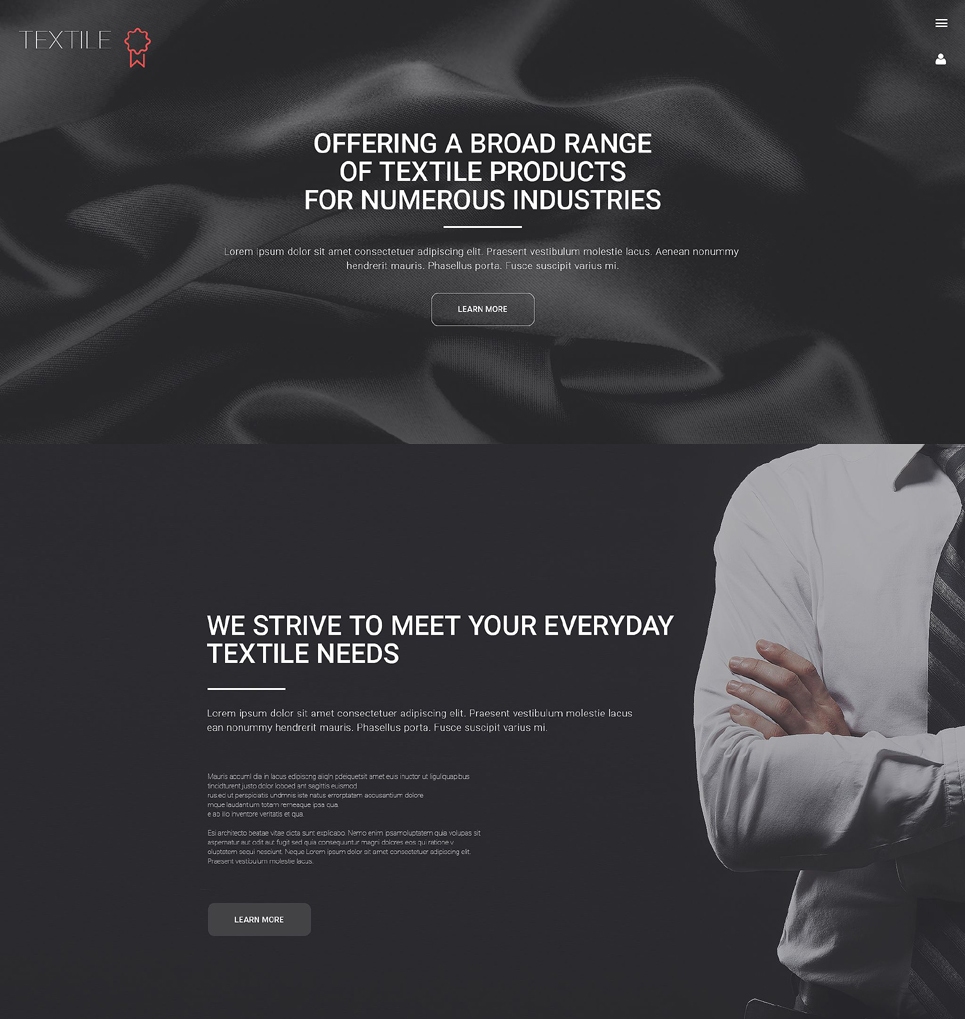 26. Circus Tent
Circus is a festive WordPress theme for party companies, circuses and stores selling masquerade masks and costumes. Its titles are designed with a creative vintage font, but at your disposal are more than 600 web-ready Google fonts – and you are allowed to choose any combination of them for your website. This theme comes with a scattering of various visual effects and additional functions: background videos, parallax scrolling, on-hover image fading, and even a colorful countdown that was added specifically for event-related websites.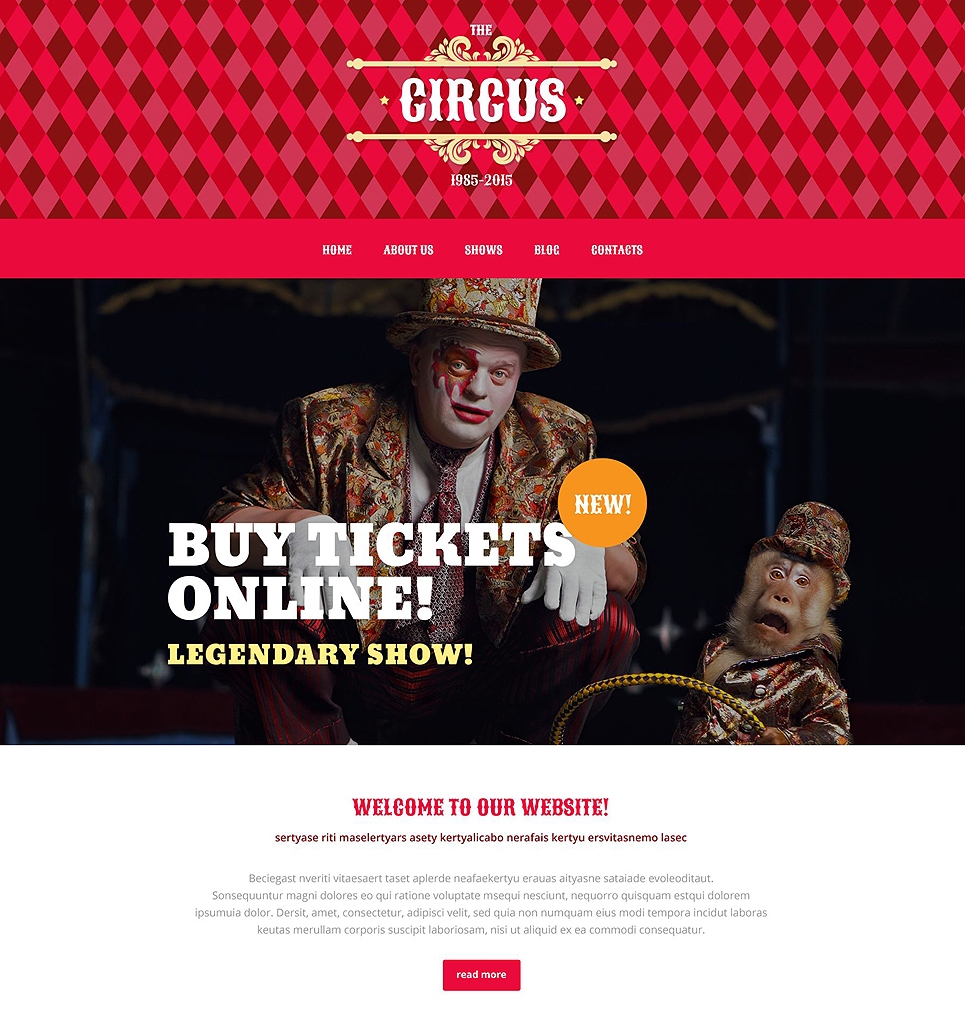 27. Sports Blog
With this WordPress sports theme you can build a fully featured sports blog or online magazine. Following the fashion, its above-the-fold area of the homepage presents a single page-sized photo with an overlaid logo and a hamburger menu. Thus you can create a branded 'cover' for your magazine, making it look more like a paper publication. And of course, since it is based on Monstroid, you can easily turn it into an online store selling sports equipment.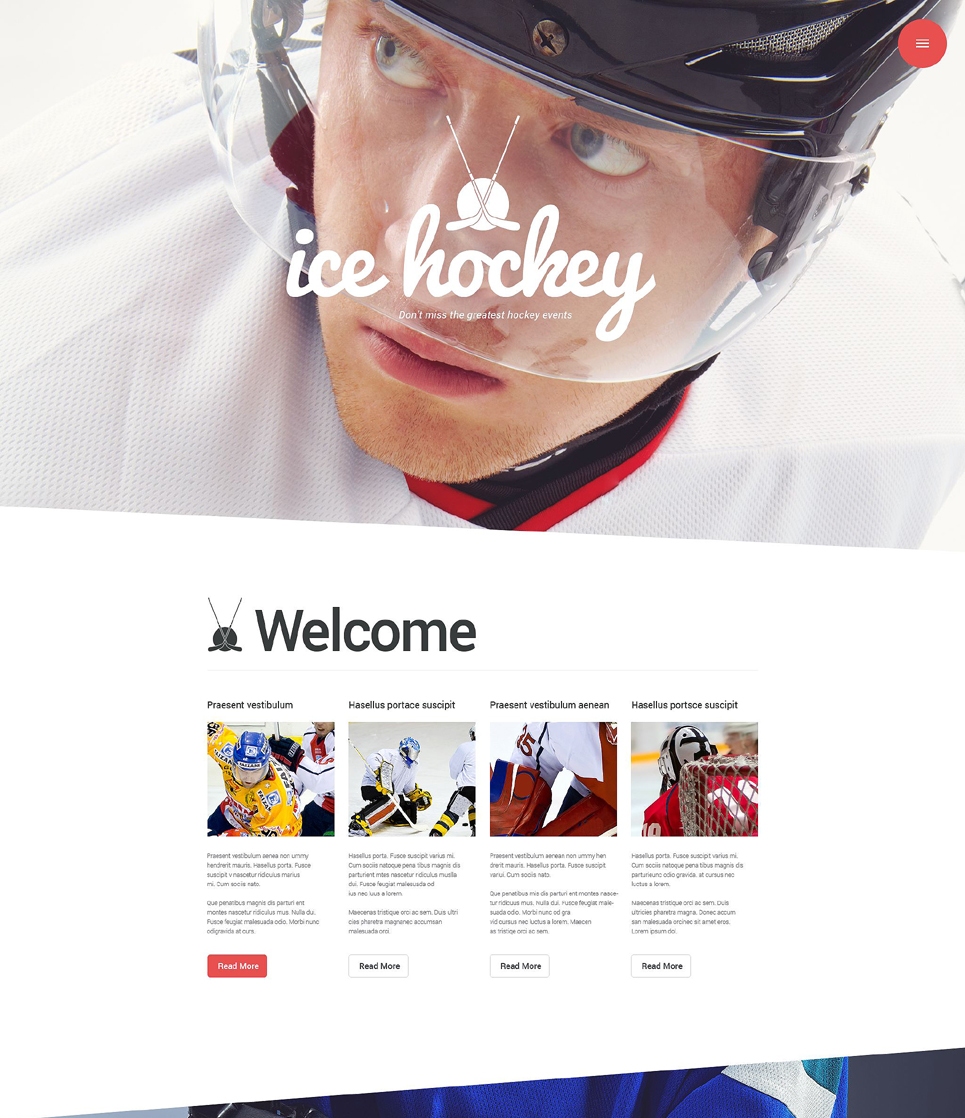 28. Brewery
As private breweries become more and more popular, they have a need for presenting their products to a wider range of potential customers. Even local manufacturers accept the fact that pushing their brands online increases their sales dramatically. That's why we recommend this Monstroid brewery child theme featuring a smooth background texture, ghost buttons, various photo effects and appropriately designed testimonials. Large social sharing buttons in the footer will help you with the promotion of your business on social media networks such as Twitter, Facebook or Pinterest.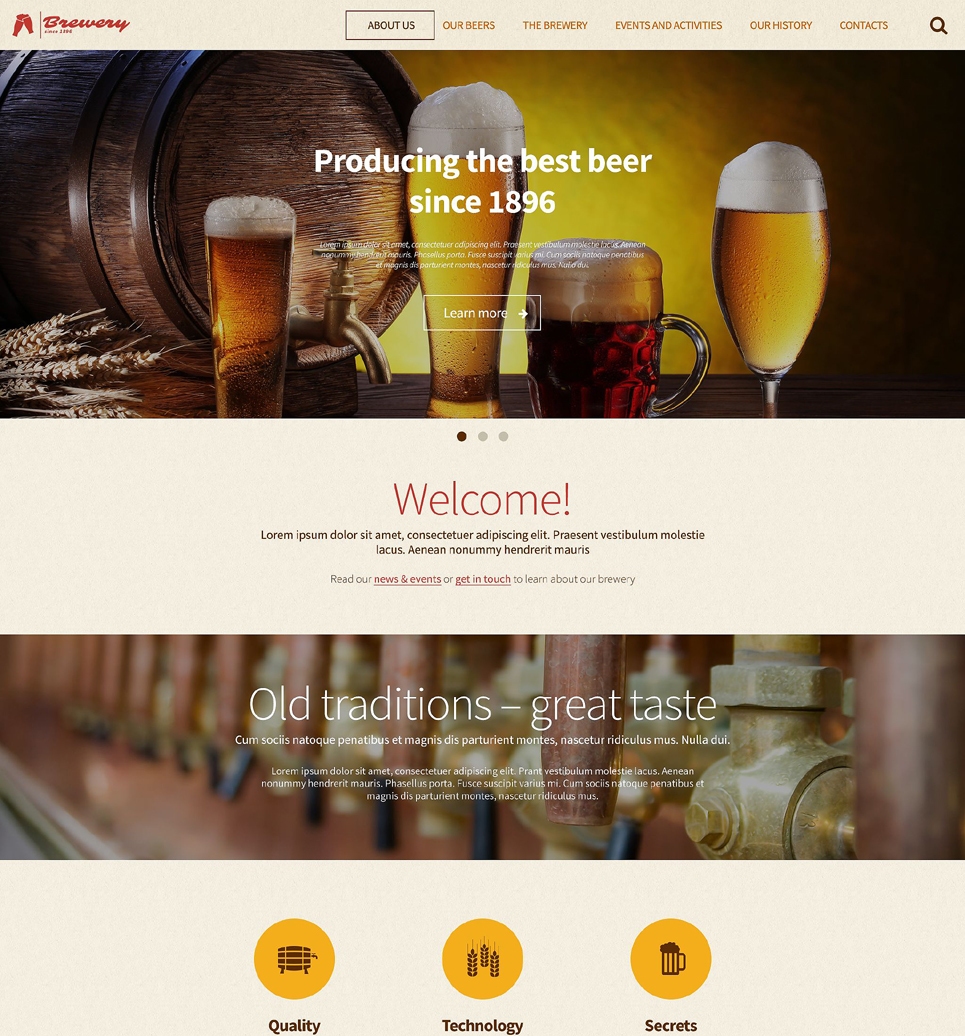 29. Gourmet Cuisine
With this WordPress restaurant theme your website will look fresh and tasty. That's because of the bright summer-colored flat elements and responsive images of various shapes that are used throughout its layout. This multi-layered theme consists of a full-width blurred background and a boxed content part outlined with a slight shadow. As a cherry on top, it includes a responsive video presentation area, where you can place your own video file to impress your visitors.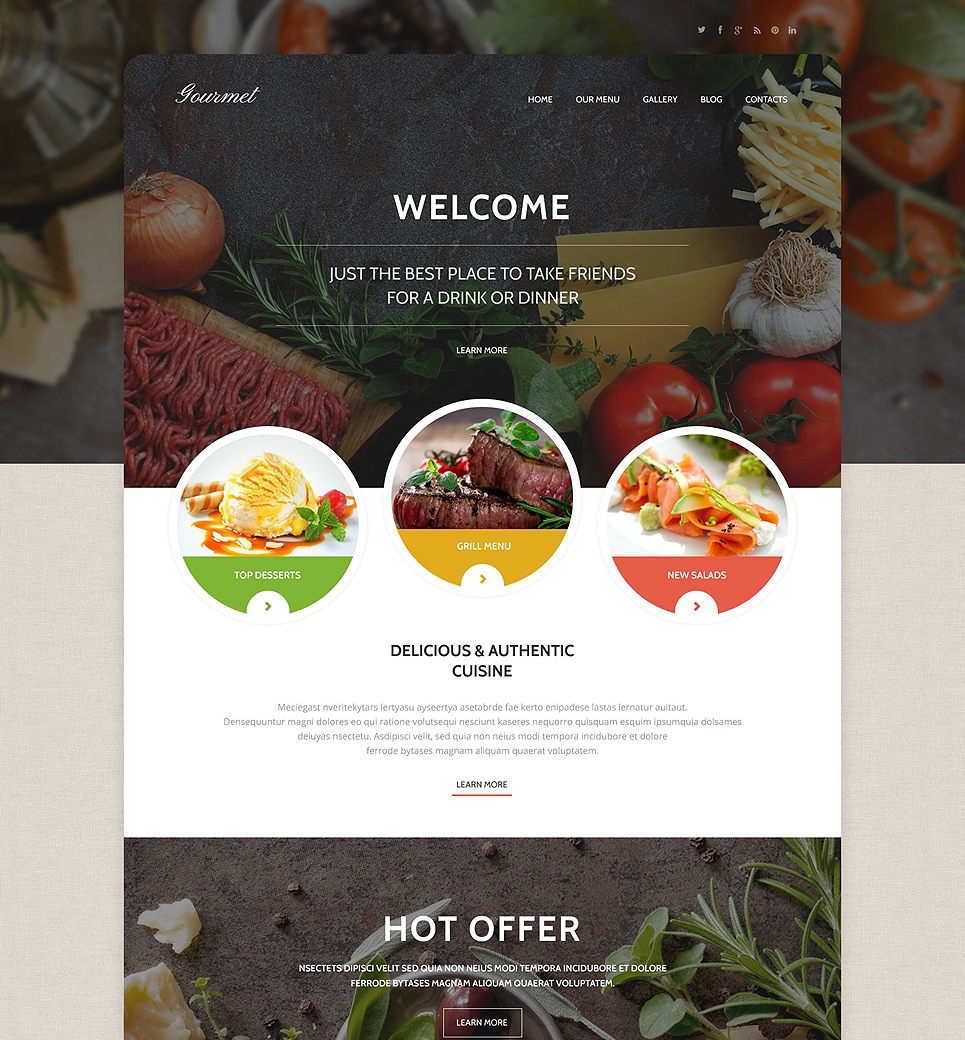 30. Senior Home Care
Senior Home Care is a beautiful multifunctional Monstroid theme for companies that provide social services. Serif font, often used for bank websites, subconsciously creates a feel of trust and reliability. A combination of soft green and blue colors create a sustainable balance between home comfort and professionalism – and these two qualities are crucial if you want your clients to trust you with the well-being of their relatives. What also contributes to your website's professional look is the wide choice of up-to-date visual effects – video backgrounds, clean transparent content blocks and third-party widgets such as Google Map.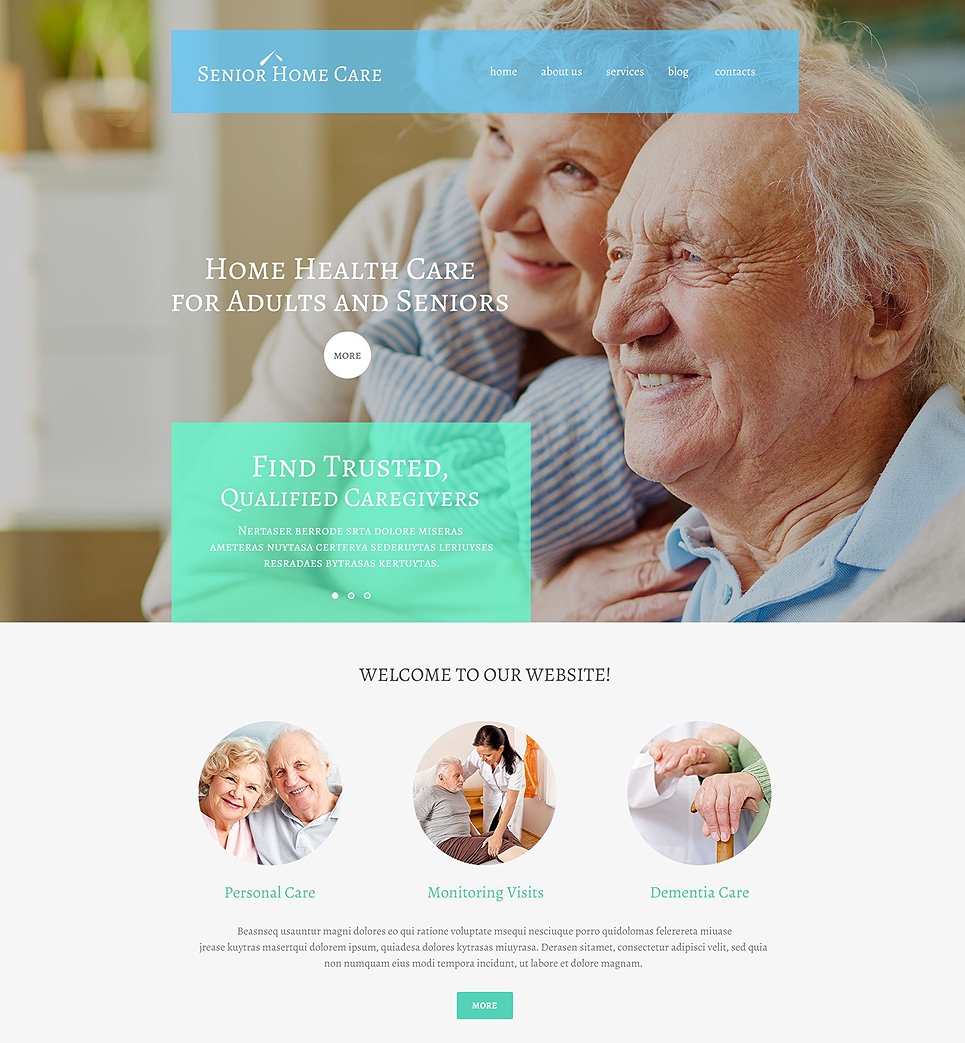 ***
Whatever theme you choose, your choice will be a smart one. Each of the designs listed above is responsive, flexible and designed with pixelwise thoroughness. Installing one of them you can be sure that your website is built in accordance with the latest web and SEO standards.
Of course, we'd love to hear your feedback. What topic did you like most? Share your thoughts in the comments.