A good UI kit needs to do one thing very well, and that is making your life easier as a web/app/product designer. In other words, as you're in the zone, working away, a good UI kit should come as a helping hand, allowing you not to have to spend your time designing the individual elements of whatever you're building, but instead focus on the bird's-eye-view of things.
So, how do you separate the wheat from the chaff? How do you find a UI kit that's actually worth your time and allows you to do the above? Let's look into that today. And let's do that on an example:
The good guys from Creative Tim have given us access to their newest and greatest UI kit called Now UI Kit PRO. Let's review it today and see if it checks out on all the important "great UI kit" traits:
What is "Now UI Kit PRO?"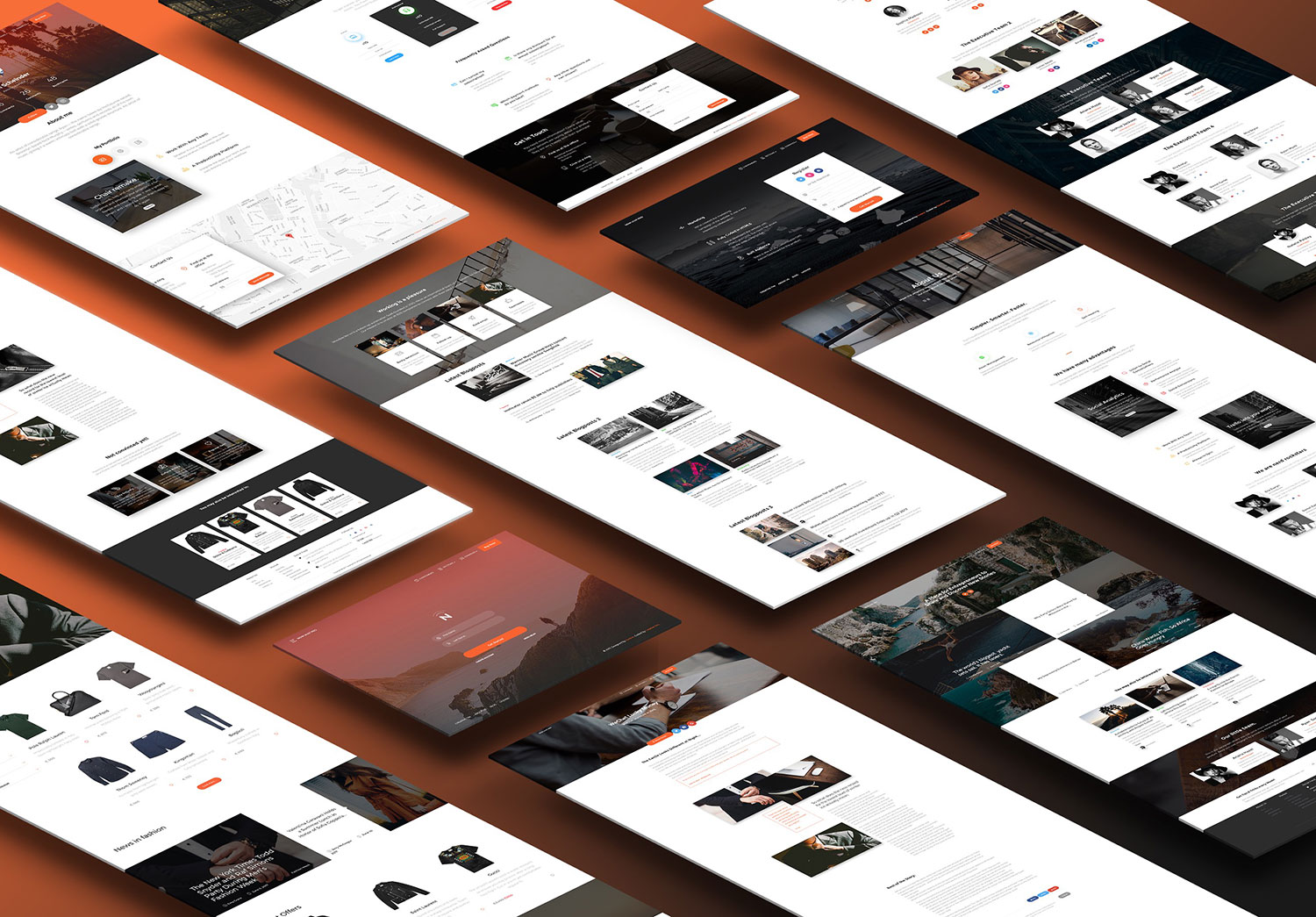 Now UI Kit PRO is a complete UI kit made available by Invision and Creative Tim. The kit is built on top of Bootstrap 4, which makes it cross-platform compatible and really easy to work with (more on that in a minute).
It consists of over 1000 components and 34 pre-made sections (e.g. things like "coming soon" elements, date pickers, landing page elements, and more). Plus, there are also 11 example pages that you can use to build your pages off of. Among those, you'll find: an About Us page, a blog post template, a Contact page, an example landing page, product and pricing pages, a profile page, and more.
This kit was first built by Invision as a PSD and Sketch kit. The designs of the elements proved to be effective and popular among designers so the Creative Tim team decided to partner with Invision to build a fully coded version of the kit (while also incorporating the early feedback from users). Hence, Now UI Kit PRO was born!
This new code-friendly version can be used by website developers much more easily. Because it supports the new Bootstrap framework fully, if you're working on a Bootstrap 4 project already, you can simply import the kit over it and have all the default UI elements of Bootstrap replaced with what's in Now UI Kit PRO. No need to do this manually through PSDs.
All the elements that are part of this kit look very crisp and pleasing to the eye. And, as I mentioned above, since there's 1000 of them, you will surely find the exact one that you want to use in your project.
The typography and color choices are also on point, making for a nice modern look. The whole thing seems very spacious and letting you experiment with good whitespace use in a way that doesn't impede the final effect. Just check out this blog post example built with Now UI Kit PRO: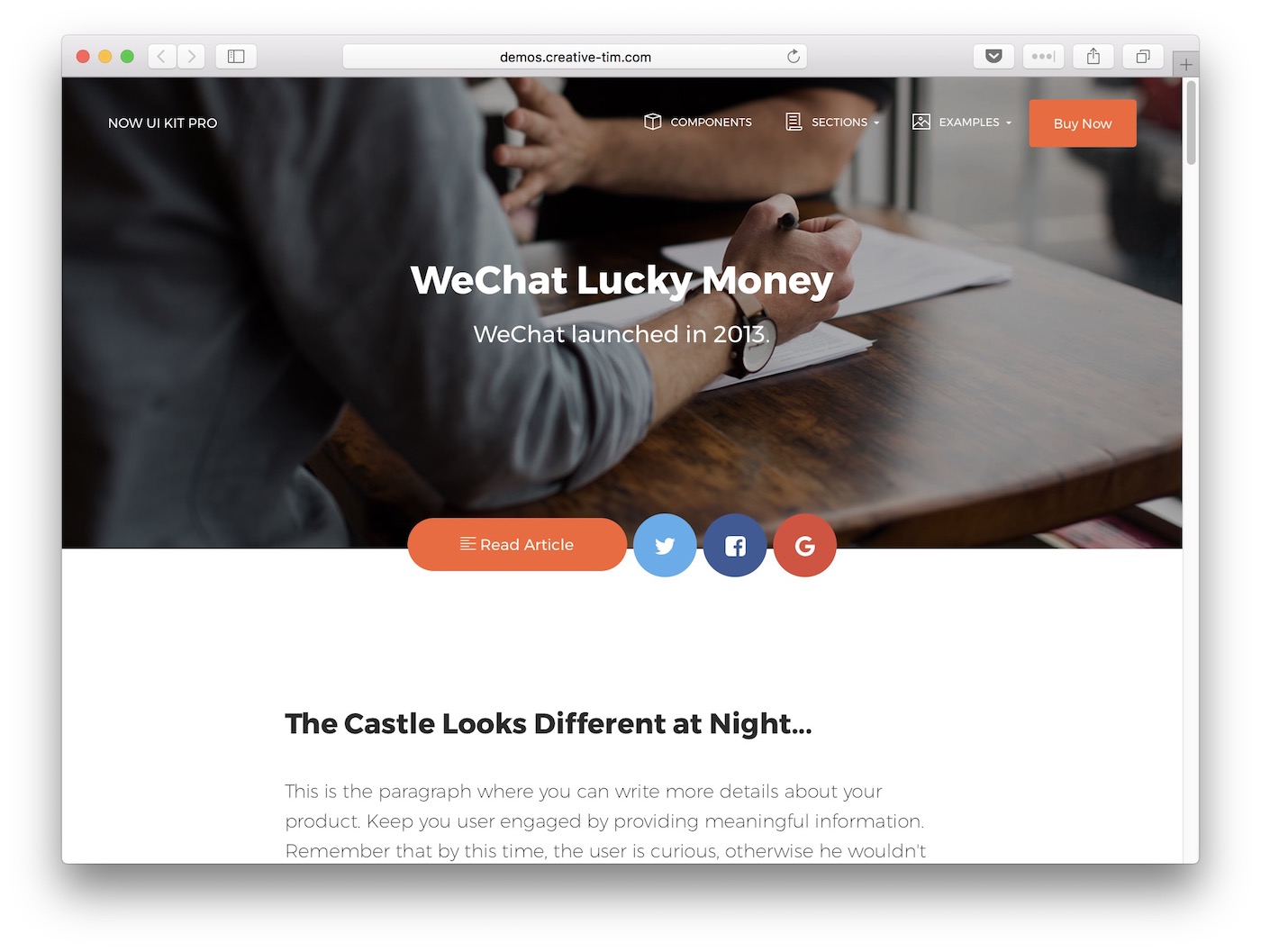 More importantly, all the elements that you'll find in Now UI Kit PRO are mobile-responsive, and there's complete documentation available for the whole kit. Plus, if you're interested, you can also get the PSD and Sketch files when you visit Invision's website directly.
Who should get Now UI Kit PRO
Personally, I see Now UI Kit PRO as a great option for anyone who loves working with the Bootstrap framework but at the same time wants to switch from Bootstrap's default element design to something more modern and unique.
Let's face it, many Bootstrap-born websites or products look kind of the same, and that's because many creators don't bother to switch from the default UI kit. In that light, using Now UI Kit PRO seems like a great way to not be thrown into the same basket with every other Bootstrap site.
In short, get Now UI Kit PRO if you want to stand out and make your website or product look really awesome.
Here's how to get it:
Now UI Kit PRO, as the name indicates, is a premium product. The Personal License is $69 and the Developer License is $279, you also get a 30-day money back guarantee. This means that you can test stuff out, and only decide to keep it if you really end up enjoying it.
But there's more! Here's the best part:
The giveaway
This is where you can get the complete Now UI Kit PRO package for free.
The team behind Creative Tim has made it possible for us to offer you 5 Developer Licenses of Now UI Kit PRO completely free.
Here's what you get with each of these licenses:
The complete, unrestricted Now UI Kit PRO
1000 handcrafted components
11 example pages for your website project
34 pre-made website content sections
everything based on and fully compatible with Bootstrap 4
full documentation
How to participate
See below for the rules and info on how to get on board: