With the launch of Magento 2, a lot of merchants upgraded their store engines, which caused the need to release themes compatible with this version. As a result of developers' hard work, you can find multiple Magento 2 themes out there. But today we'd like to share something special with you. Dubbed F2, this eCommerce design belongs to the collection of Magento themes by TemplateMonster. F2 took all the power of the revamped engine including the following features.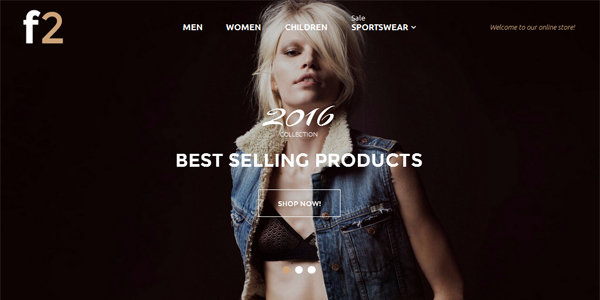 Full page caching.
When all the store pages are built in a static file system, their load times can reach a minimum of 1-2 seconds. To compare, non-cached files load 5-10 seconds. Faster page loading will lead to the decrease of bounce rates at your store.
New File Structure.
Magento 2 features an app-based file structure, which provides easier access to all the layouts, templates, CSS and JS files. In that way, you can customize your site without modifying its functionality.
Smarter Checkout.
Now, buyers can check out as guests, without creating their own accounts. As for registered customers, they don't need to remember their passwords when logging out. Magento 2 also identifies the credit card type automatically, based on the first digit a customer enters.
Multi-Shopping Experience.
The new version of the engine is especially helpful for owners of large stores. When a lot of customers try to make an order simultaneously, no table locking occurs.
Visual Editor.
With this tool, you won't need coding skills to configure the elements of your store.
As you can see, Magento 2 supplied F2 with many advanced features at the backend. But that's just the beginning. Besides the default functionality of the engine, the theme is powered by a lot of premium modules. What's noteworthy, you'd have to pay $265 if you bought them all outside of the theme. But with F2, you can use these modules for a single price of the theme.
Special Offer.
We teamed up with TemplateMonster and got a 30% discount provided exclusively for our audience. Use this promo code TM30F2 to get this innovative Magento theme for a cut price.
So, learn how F2 can empower your store in our review or go straight to the demo to view it in action yourself. Here are quick links.
View Demo | Learn More
TM Film Slider
Let's start with a module meant for visual introduction of your store, TM Film Slider. It is a level higher than those ordinary sliders that seem to be in every web store today. This advanced module allows you to build slides with text and image layers. For greater engagement, you can also spice them up with dynamic animations.
Due to responsiveness of the module, your slides will have an excellent look anywhere. Be it a desktop, tablet or mobile phone, users will appreciate the image quality they see. Moreover, you can configure the slider in different ways, particularly set its dimensions, navigation controls, transition effects, and more.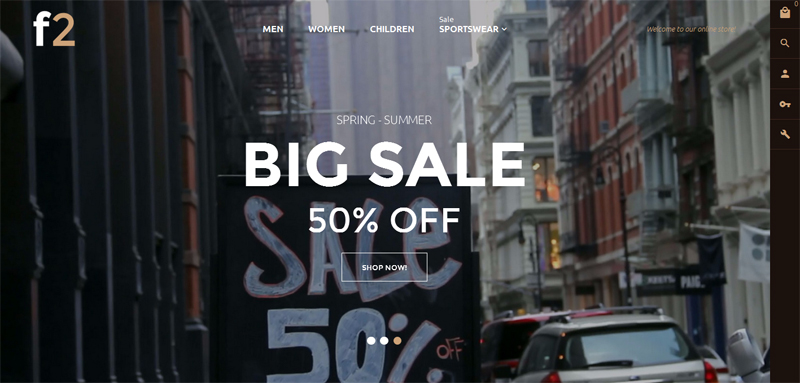 * * *
TM Mega Menu
To browse your product catalog, shoppers can use a mega menu. With its help, you can facilitate navigation at your store. It keeps all the product categories in columns on a single dropdown panel. In such a way, your menu will be free from the overload of submenus. In addition to listing categories, you can supply them with badges, labels, promo banners, and more. To configure the menu, simply drag and drop its elements.
What adds to the menu usability is its sticky nature. In other words, it always stays fixed to the header while scrolling. Wherever visitors are across the layout, they will have a constant access to your product catalog. As this module is responsive, buyers will find it easy to move around your store via any portable device.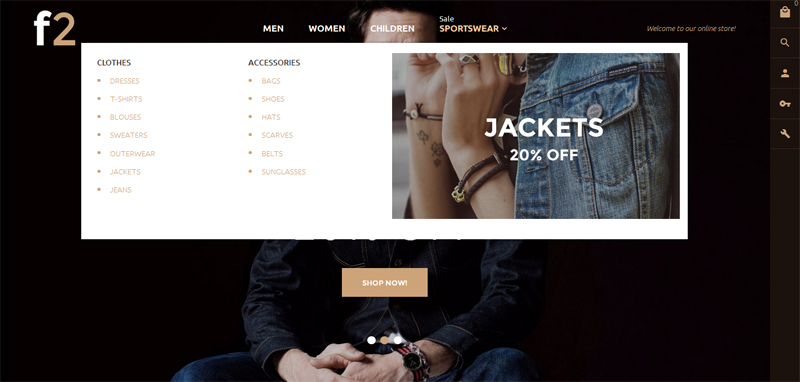 * * *
TM Ajax Search
F2 comes with a live search module, which allows shoppers to find particular products literally in a few moments. As soon as they start typing in their queries, results show up and narrow down with each new letter added. Products are shown with small images, names and prices. For better focus, buyers can view results in a full-screen mode. As the module is built with Ajax, search works without page reloading.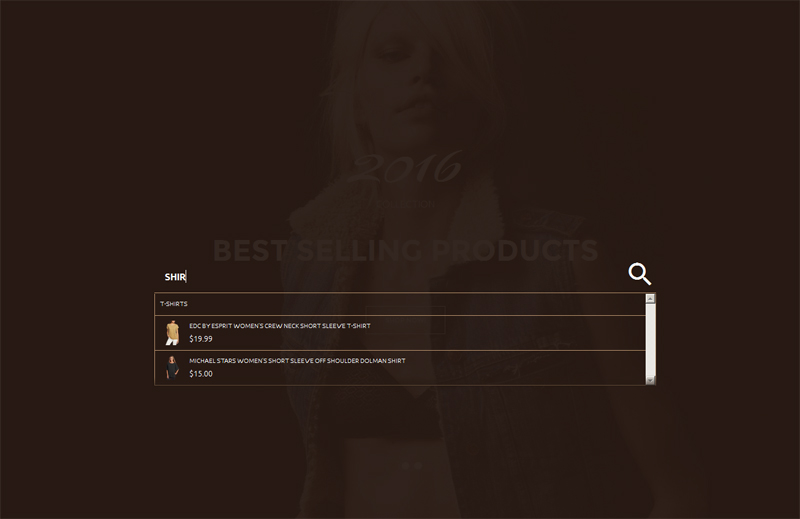 * * *
TM Ajax Catalog Filter
Viewing products of a certain category, customers can filter them by various criteria. From the material and color to season and size, there are many options to make your product showcase more relevant. For convenience, these filters are accessible from a sidebar. Additionally, buyers can arrange items in an ascending or descending order by the name, price, and position.
This Magento module provides flexibility for shoppers to adjust the layout to their needs. With a single click, they can set a list or grid view mode and the number of products to display at once. Due to Ajax technology, there's no need to reload the page when making adjustments. The module also has a feature of pagination that divides products into many pages under the same URL.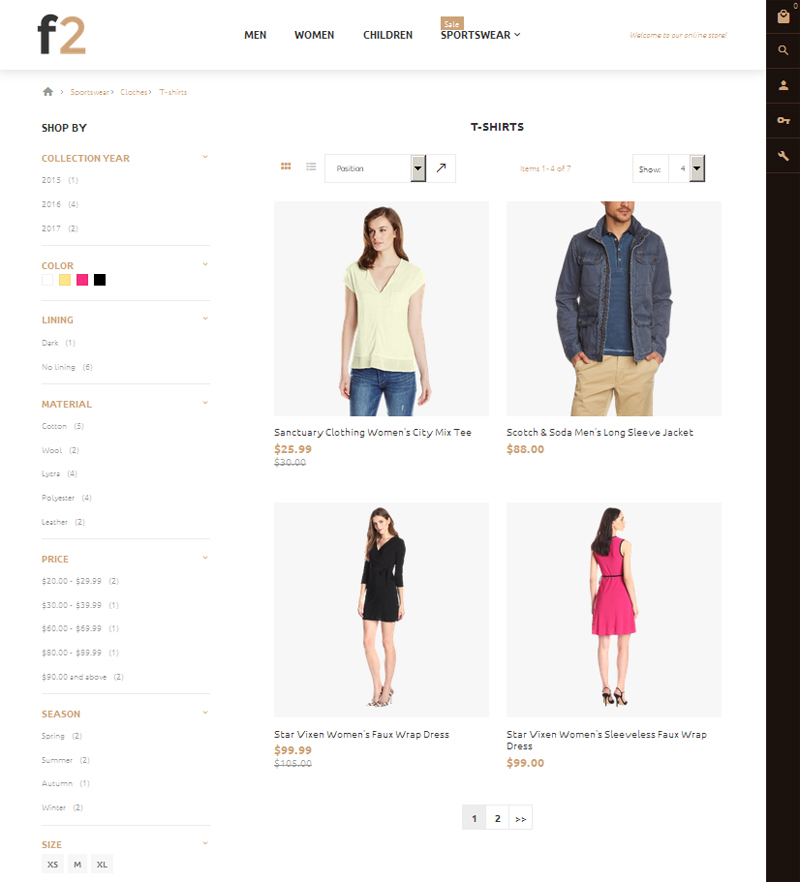 * * *
TM Ajax Compare
Looking though your catalog, buyers may like several items. To help them make the right choice, F2 has a special module for product comparison. It allows customers to compare items by different aspects, particularly the material, SKU, description, etc. Based on Ajax, this module won't keep customers waiting for the page to reload. They can add and delete items from the table shown in a pop-up window instantly.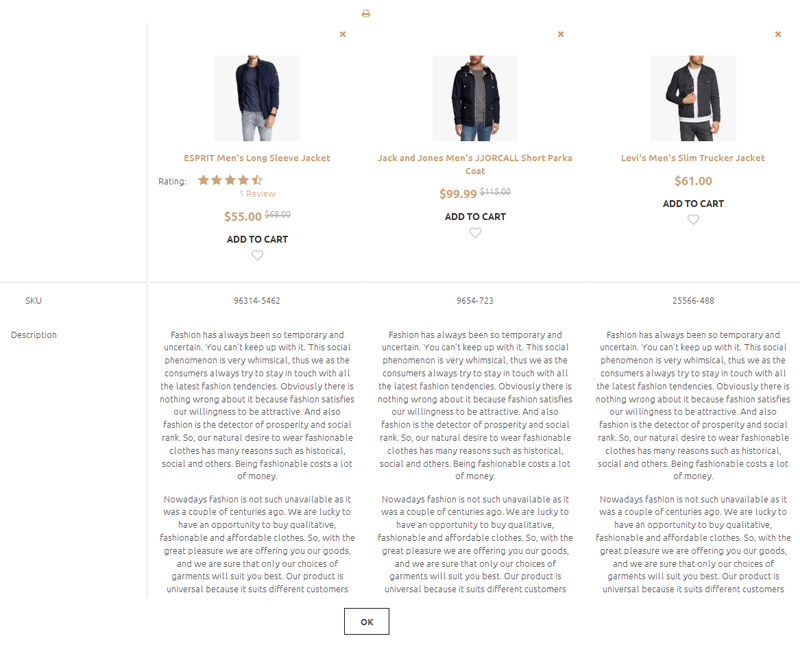 * * *
TM Ajax Wishlist
When customers like certain items, they can log in to your store and add them to the wishlist. It's rather comfortable to collect all the favorite products in a single place. Visitors can access this option on category and single product pages, as well as in a sticky sidebar menu. Just like previous Ajax modules, this one lets customers skip page reloading each time they add something to the wishlist.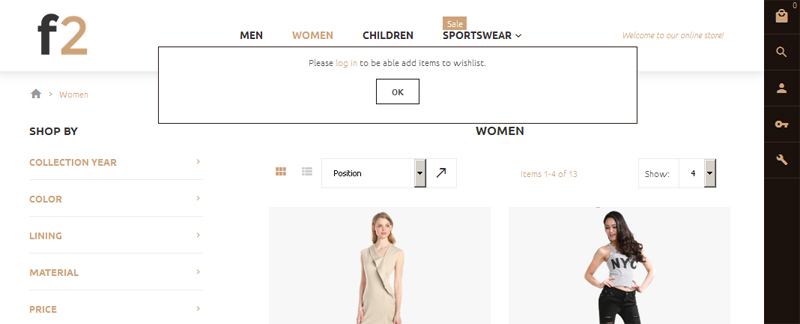 * * *
TM Newsletter Pop-up
Building a subscriber base is of utmost importance for any e-merchant. Such a tactic helps stay in touch with customers and notify them of new arrivals or, say, discounts via email. While buyers rarely notice a subscription form embedded somewhere in the layout, things are different with a pop-up form. It's impossible to overlook it, as it shows up front and center, dimming out the rest of the page.
To personalize your newsletter form, you can use multiple configuration options. For example, it's possible to set the pop-up timeout, width, button color, and more. The module also enables you to add social media icons to the form. In that way, you can link shoppers to your social profiles in addition to the mailing list.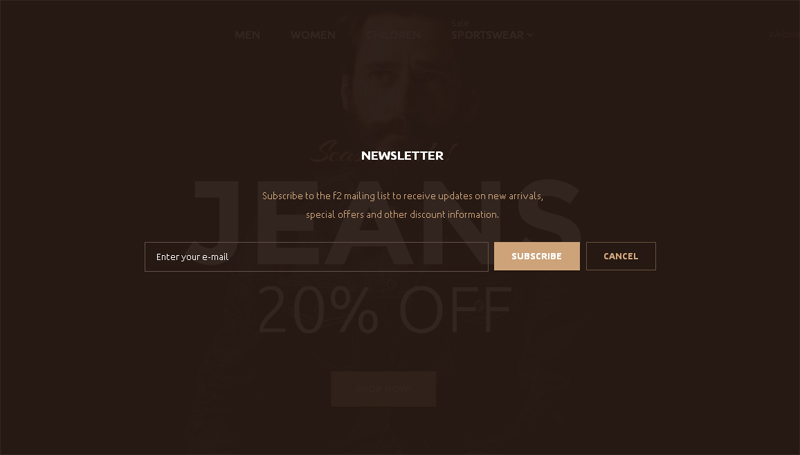 * * *
More Pop-ups
In fact, the design of F2 is based on multiple pop-ups, not only the one for newsletter subscription. The sticky sidebar menu on the right gives access to a shopping cart, language switcher, search and login forms, wishlist and account options. Thanks to pop-ups, you can build an uncluttered layout for your store, keeping the main content in focus.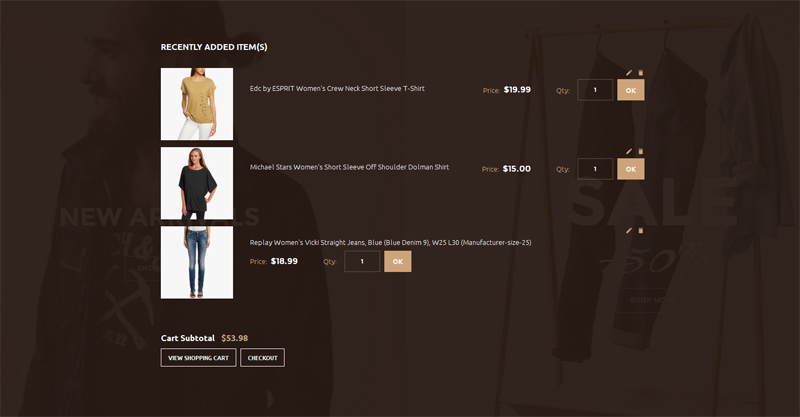 * * *
Custom Pages
This feature-rich PrestaShop theme is also packed with custom designs for various store pages. They include category, single product, contact, about, orders & returns, privacy policy, customer service, etc. As you can see, F2 enables you to start using any page out of the box.
Let's explore the single product page of F2. It has everything required to present each item in full view and even more. A built-in gallery allows buyers to view a certain product from different angles. On the right, they can see its name, code, price, quantity, and basic options such as login, cart, wishlist, and comparison. Due to tabs, you can keep a product description, table with its main parameters, and customers' reviews all in one place. There are also carousels to offer customers more items related to their search.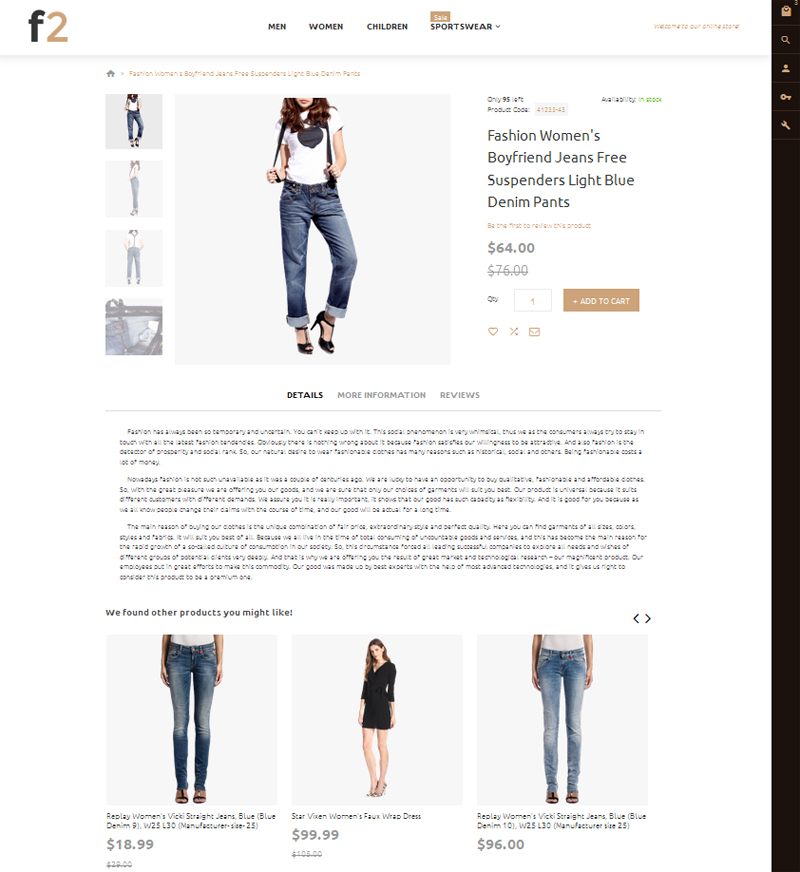 * * *
F2 is definitely a cool theme to use when upgrading your Magento store to its latest version. In addition to premium modules, it was crafted in the best traditions of web design. Full responsiveness, smart content hierarchy, extensive customizability, smooth animations, and many other features will let you run a fully-fledged store.
Also, remember about our special offer. Use an exclusive 30% promo code TM30F2 to save on your store design, but still get premium quality.