Usually, at the end or at the beginning of the year everyone makes plans for the future or evaluates what has been achieved in the past year. Ewebdesign is maintained by designers for designers and we couldn't have missed the opportunity to delight the readers with the most interesting things that were accomplished in 2014. As a result, we have prepared some captivating articles about the most interesting websites, themes or tutorials released in 2014.
In the next lines we will showcase 20 of the most popular WordPress themes that were released last year. We tried by all means to realize a very objective selection of these, but it was impossible to carefully check all the WordPress themes. Anyway, all the below items are perfectly crafted and they surely deserve your attention. In the eventuality that we have missed your favorite one, please let us know and we will add it, into a future post.
Kopa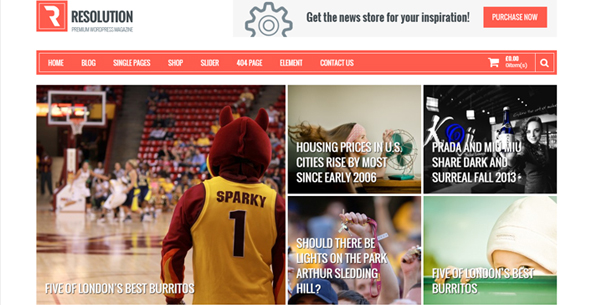 Kopa is a wonderful multipurpose WordPress theme that impresses anyone with its beautiful layouts. It's strongly influenced by the pure flat design- from color scheme to the shape of buttons everything respects the flatness principles. I appreciate very much the strong integration with social media channels and the unlimited possibilities of customization.
Baskerville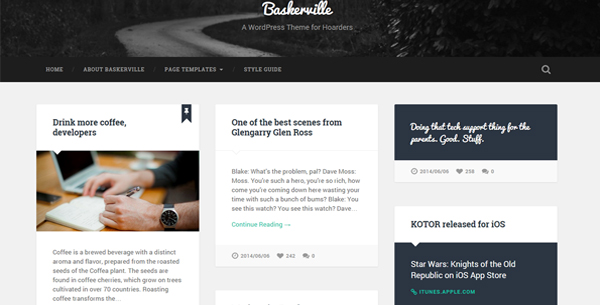 The initial purpose of WordPress was to offer a strong support for blogging activities. Across time, the destination of WordPress changed and now it's almost universal. Baskerville is a theme that goes back to the roots, which means that it's suitable for blogs. It doesn't have too many adornments, just the bare necessities and it's really cool since it will offer you a good reading experience. Another important fact about this wonderful theme is that it is free!
Sparkling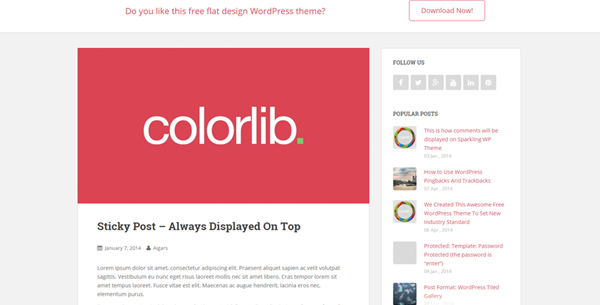 Sparkling is another superb WordPress theme that is suitable for blogging or news projects. Anyway, although it's a classic layout design for a blog, it doesn't mean that it doesn't look great. And, just like Baskerville, it's free of charge!
Fruitful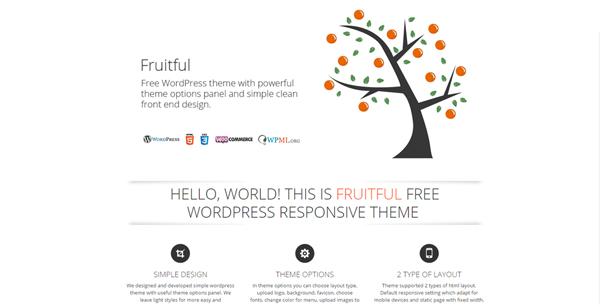 In this list it was impossible not to add a minimalist WordPress theme. One of the most interesting minimalist themes released in 2014 is Fruitful. It's extremely simple, it has tons of white space and the menu is very discrete. It's hard to believe, but such a marvelous theme is free!
Startup Framework for WordPress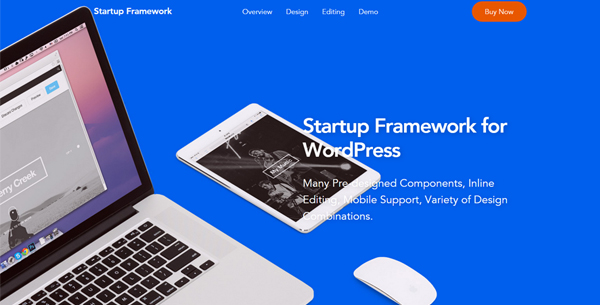 Startup Framework for WordPress is created by DesignModo team and I guess that this fact is enough to realize that it's a great product. It's built using Startup Framework, one of the best frameworks and consequently, all the websites created using this theme would look perfect no matter the device used. If you aren't convinced about the mighty power of this theme, check its official webpage to get a better insight about it.
Moesia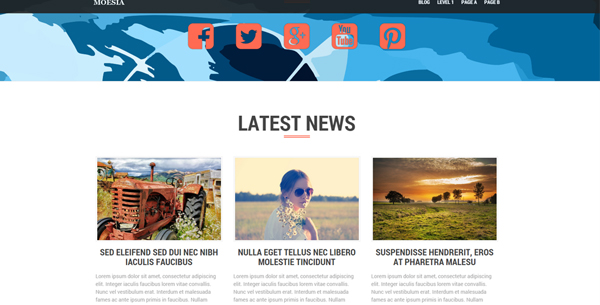 Moesia is a theme that is suitable for a creative agency or for a portfolio. 2014 was the year of the most dynamic sliding effects and this theme is a well-done example to support this fact. All the webpages of this theme are beautifully designed and I honestly believe that anyone who will use this theme will attract tons of customers.
Purpose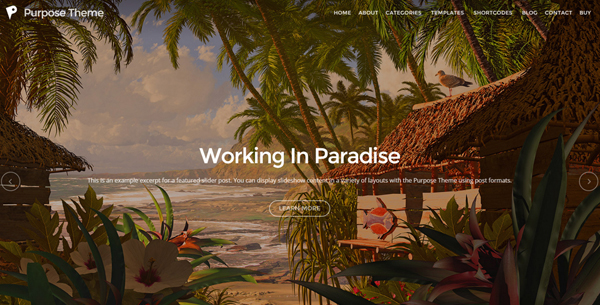 Organic is a multipurpose theme that is very clean and doesn't bother the eyes of the viewers. The color scheme is very simple: white is preponderant and in this way the items exposed are highlighted. Taking into account that this theme may be used as portfolio or online store, we will have to agree that this idea is really brilliant.
Restaurant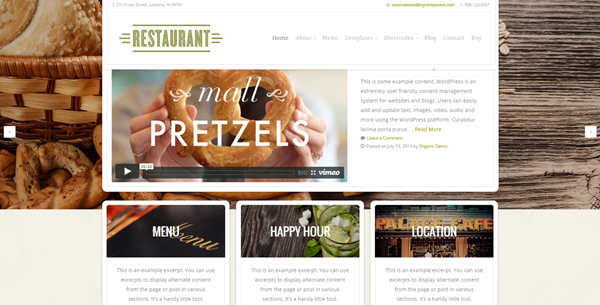 This theme matches any cuisine related projects; in 2014 this kind of themes were asked for by the clients and it seems that this trend will continue in the next year, as well. Warning: the images used are appetizing so it's possible to become addicted to this theme!
Observer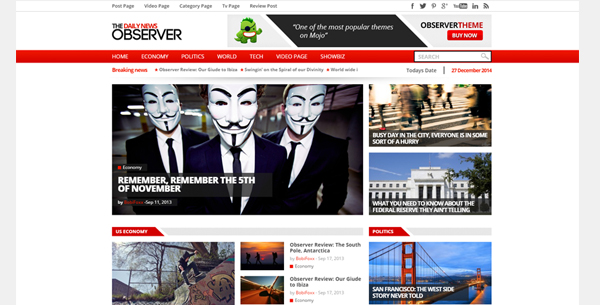 Observer is a WordPress theme that is destined for news providers. The design is very attractive even though there are a lot of posts, categories or other elements added. In spite of this complex design, the theme is lightweight and SEO ready which represent two key factors for the success of a news agency website.
Azolo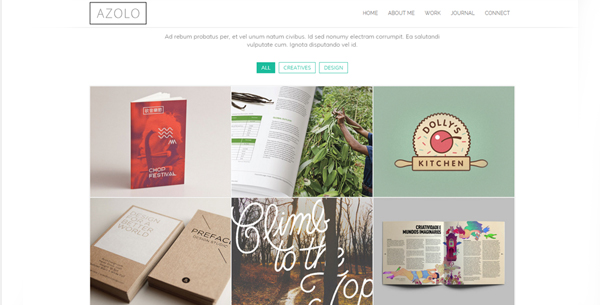 Azolo is a single WordPress theme but, in fact, its developers offer nine different versions, such as: "Corporate Design", "Creative Design", "Beauty Design" or "Fitness Coaching". Regardless the version selected, the theme is very modern and every pixel was created to satisfy even the most demanding taste of the viewers.
Eight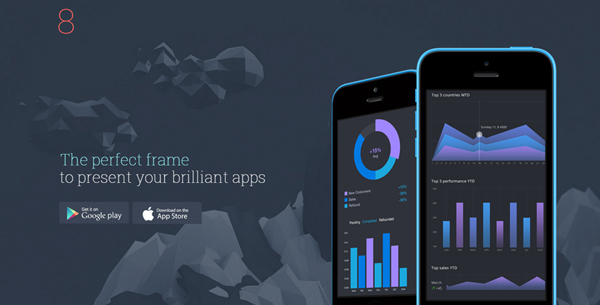 Eight is a very new theme, but due to the number of sales and features, it is a big hit. To begin with, the 20+ demos demonstrate the versatility and the unlimited powers of the theme. Then, the modern design and the smooth scrolling convince anyone that the theme is new and it is built for mobile users.
Modo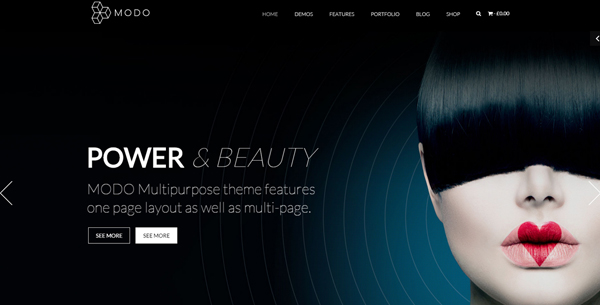 One page layout was a hot trend in 2014 (in fact, this started in 2013) and tons of WordPress themes were built using this format. MODO allows both multi and one page format, but it has many other features that will surely impress you: WooCommerce integrated, Visual Composer, wide or boxed layout, unlimited tailoring options for portfolio displaying, blog posts or testimonials.
Avada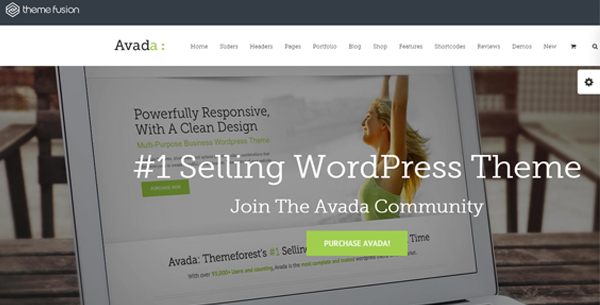 Avada is one of the best sold themes of the year, if not the most sold one. By studying this theme it's simple to deduce that good aesthetics and functionality are the most important factors for the success of a theme. It's a very complex one and practically it contains all the elements to create any type of website.
Jupiter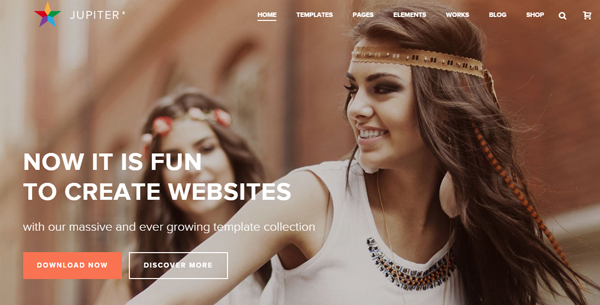 Jupiter is another example of good aesthetics combined with functionality; it's a multipurpose theme that contains tons of webpages and elements. No doubt, it's one of the most complex themes from this list.
Kallyas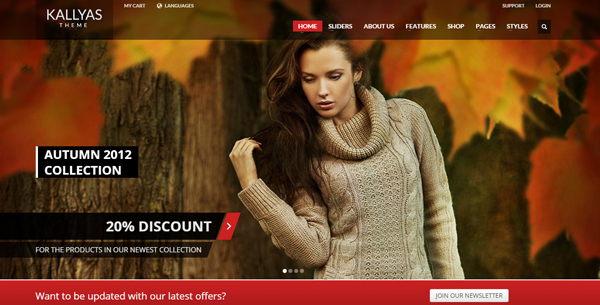 Kallyas is a great theme that can be used everywhere due to the richness of webpages and UI items as sliders. The iCarousel and 3D Cute Slider represent some of the most interesting ones; anyway it has many other great items, which is why you should definitely check it out.
Flatsome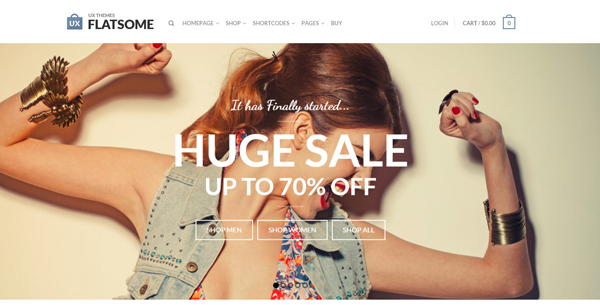 Flatsome is an e-commerce dedicated theme that will impress anyone with its cleanliness and modern look. I like this theme very much because everything is carefully planned; it has CSS effects to simulate the snow, glow or confetti. The extensive use of white space lets the user focus on the products and in this way the percentage of the effective buyers is improved.
Real Homes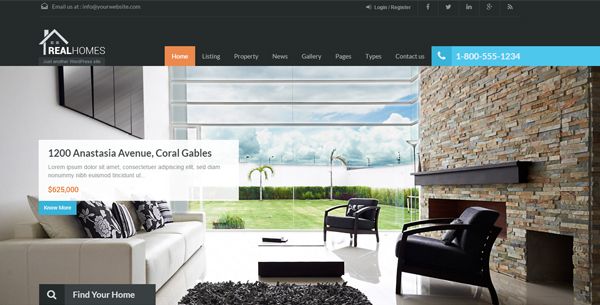 Real Homes is a theme destined for real estate projects and it is one of the most popular themes in this specific market. The big and useful search form will help the potential buyers to find the proper house that they desire to rent or buy. The grid and simple listing and the feature rich details page are amongst other elements that considerably improve the experience of each user.
Wedding vow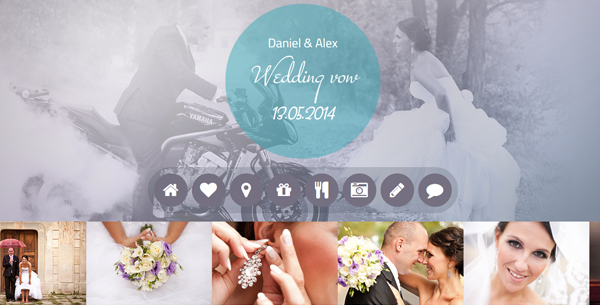 Wedding vow is a very original WordPress theme for wedding projects. Firstly, the navigational menu is original and the icons used are really eye-catching. Secondly, the theme is very warm and calming- two must have features of a wedding theme. Thirdly, but not lastly, Wedding vow is a modern and good looking theme that will convince people to come celebrate the happy event.
Rosa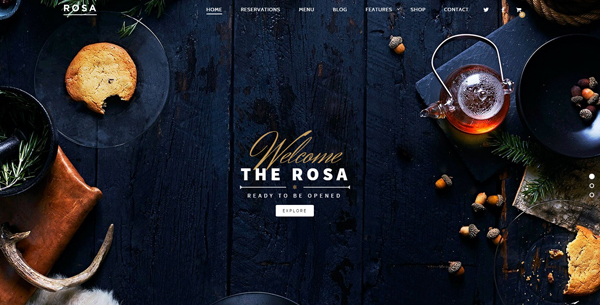 Exquisite is the last theme from this list, but it was almost first amongst the preferences of the buyers. It's a theme that may be used for restaurant projects- it includes a reservation or a menu webpage, but it works well for portfolios, too.
Once again, I must emphasize that it was a very difficult job to select only 20 themes from the multitude of those released in 2014. Also, I tried to cover all the potential projects and not to showcase themes from a single domain, such as e-commerce or portfolio. Definitely, the popularity of a wedding destined theme can't be compared, at least in terms of sales, to a corporate one, but it was unfair not to assure a selection from all kind of themes. If you appreciate my work or the themes exhibited, please share the post with your friends!