As you might have already expected, WordPress has started coming out with a wide variety of new themes for users to choose from. Seeing as how WordPress themes acts as an almost self-regulating system, there are many different options from many different developers. You'll find all kinds of features integrated into one seamless package. Unique colors, menu options, sliders, and widgets can give your WordPress site an aesthetically pleasing and welcoming feel. With a premium WordPress theme, you don't have to worry about installing everything one by one. It's all featured in one package that can give you a fully functional website immediately upon install.
WordPress themes effectively act like templates for your website. Of course, there's going to be more customization options with WordPress because that's what they're all about. Even so, these themes give you easy options for creating a website that doesn't necessarily look like a carbon copy of a basic website. They are generally built with either HTML5 or CSS (or both) and they often feature responsive designs and easy customization. Many of these themes are optimized for certain fields like blogging, news sites, businesses, and many more.
For 2013, many different options have already been released. Below you'll find a list of the best and newest WordPress themes.
Premium WordPress Themes that will help you to create beautiful websites
Rhino – Single Page Responsive WordPress Theme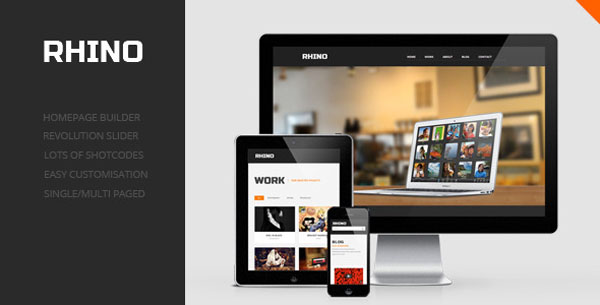 With a sleek gray design, this plugin certainly has a Rhino-like feel. The menu is permanently stationed at the top of any page, and you can add as many sections to the home page as you want. It's completely optimized for sliders, videos, and a simple "drag and drop" admin function that makes setting up the site ultra-easy.
Verb WordPress Theme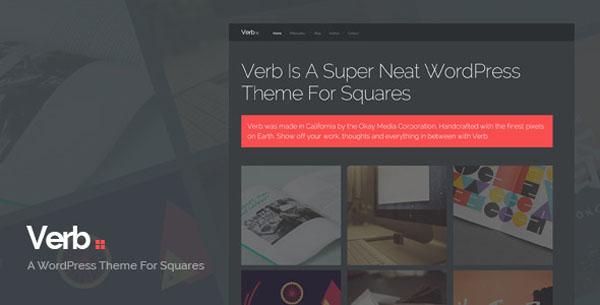 Retina-ready and super-unique, Verb takes the WordPress theme to a whole new level. It basically provides block-based links that are positioned in a grid formation with rows and columns. It's responsive (and, thus, easily navigable), and designed for video, photo, design, and text. This definitely has an artistic bent that will make any design fiend smile.
Paralex – Multi-Purpose Responsive WP Theme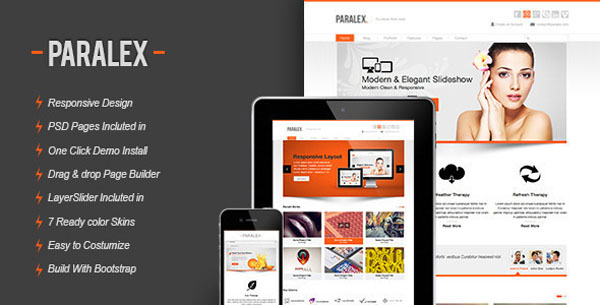 The Paralex theme provides you with built-in LayerSlider technology along with 7 different skin options. It takes a single click to install and features a drag and drop page builder for easy customization. It is also primed for SEO with HTML and CSS codes.
SmartScreen fullscreen responsive WordPress theme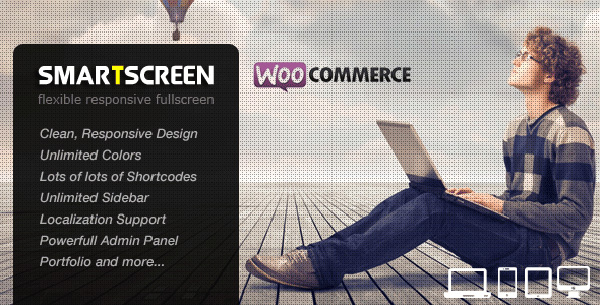 The full screen functionality of this WordPress theme provides your website with views like no other. The full screen background will act as a slide show, and you'll also be able to play music if you desire. The menu is listed vertically on the left side of the page, and there are plenty of customization options that can help you tailor the theme to your preferences.
Nollie Premium WordPress Theme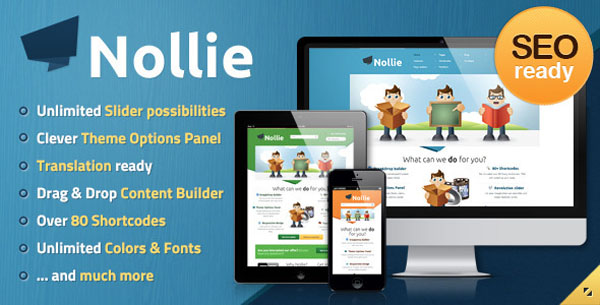 The Nollie theme gives you plenty of slider capabilities along with a drag and drop builder and a few vibrant skins. In fact, the theme boasts unlimited slider options for your website. It provides all this in a clean, animated package that makes for visually pleasing navigation.
Gameday – WordPress Sports Media Theme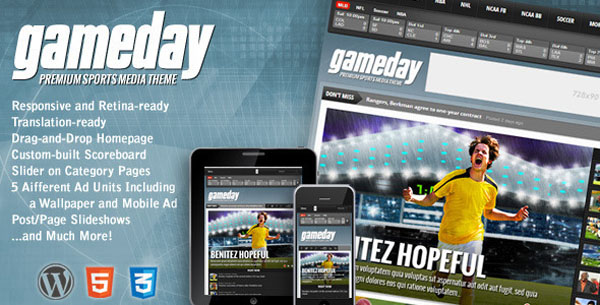 Optimized for sports media, Gameday provides you with all the ability to list scores, feature posts, and embed video. The design is stylish and packed full of content that allows you to cover all the day's sports headlines. With scrolling tickers and sliders and category pages, this theme is sure to never be dull.
Mission – Responsive WP Theme For Charity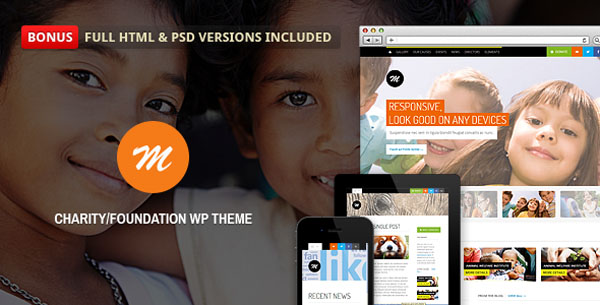 The intuitive design of the Mission theme is particularly suited to charities. Indeed, it gives you the option to have images, sliders, and dynamic content geared toward your particular cause. It also has options to display upcoming events on the home page and the option donate embedded within theme.
Kakia Multi-Purpose Business Corporate Theme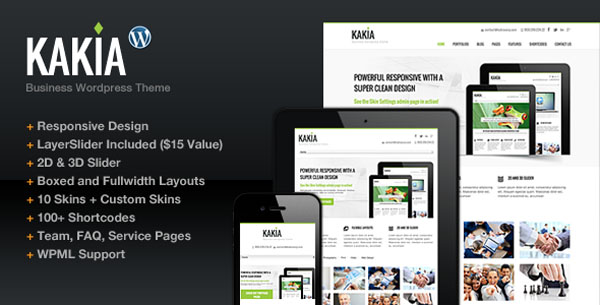 For high end businesses, there's really no better option than Kakia's theme. It features professional, sleek designs with 10 preset skins, 2 different slider options, and many different layout choices. The fast moving theme features built-in pages for FAQs, Team, and Services without having to edit any code.
Maximus – Responsive Multi-Purpose WordPress Theme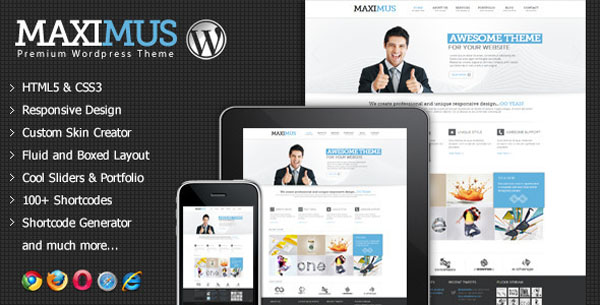 With easy admin options and intuitive web design, Maximus provides the ideal theme for any business or portfolio. It supports Google Fonts and Google Maps, and utilizes an unlimited amount of layout options. There's also a custom skin creator that gives you the power to create any kind of aesthetic change to your website.
Finesse – Responsive Business WordPress Theme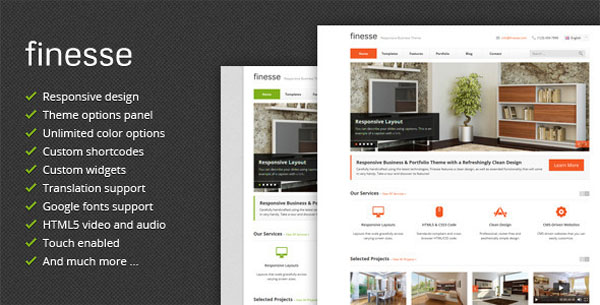 This theme provides you with a smooth user interface and a bevy of different modules already built-in. There are 8 premade skins with the option to create your own custom skins with the backend admin options. It also comes with many background patterns, layouts, sliders, and a whole lot of widgets to choose from.
CleanSpace Retina Ready Business WP Theme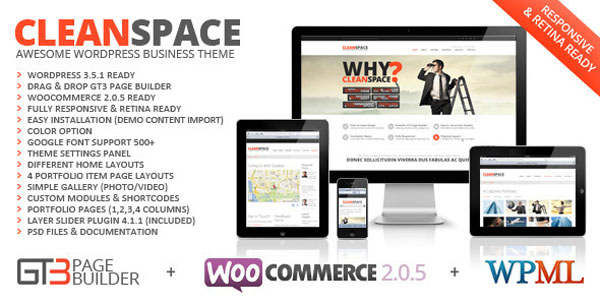 The vibrant display, custom modules, and drag and drop editor, this theme is certainly a sight for sore eyes. You can include background images, photo and video galleries, and plenty of different sliders to streamline your site entirely.
Studiofolio: A Versatile Portfolio and Blog Theme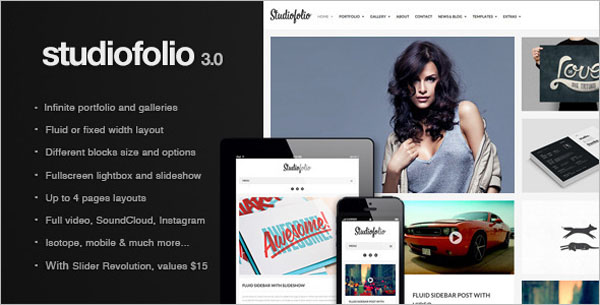 The Studiofolo theme offers definitive usability for portfolios and photos by giving you preeminent control over design. You can have photo galleries, text content, and either a fluid or fixed size layout to choose from. It's also optimized for SoundCloud use to play your favorite sounds alongside your favorite pictures.
Pinpoint – Responsive Multi-Purpose WP Theme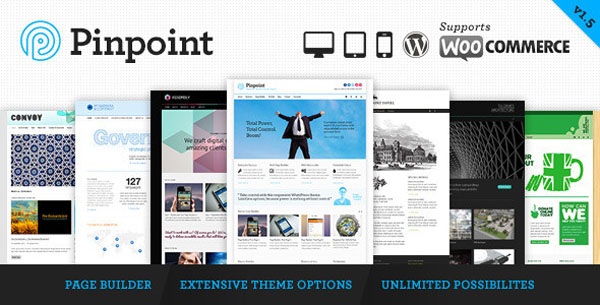 With the Swift Page Builder and extensive customization options, Pinpoint provides a clean, attractive theme for a wide variety of users. There are 99 preset backgrounds as well as 2 different layout choices. It can also have sliders of all types built into the code for sleek navigability.
Brick – Creative Ajax WordPress Theme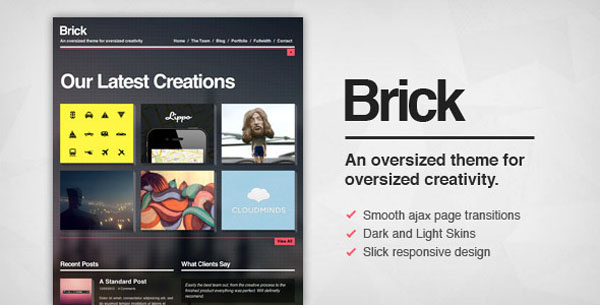 Powered by AJAX, this Brick theme provides both light and dark color schemes in a unique design. Navigating is both fun and easy with pulsing ellipses to indicate load time. You can host audio, video, images, and virtually anything else you can imagine with this theme.
2013 can turn out to be a good year if you get these new themes for your website. They offer some of the best options on the WordPress themes open market to give your website that added flair. Don't be left in the dust with an outdated theme full of errors and idiosyncrasies. Try one of these new options today to see what a breath of fresh air they can bring.