By now, it's likely that you're familiar with many of the things that WordPress can do for you. It can give your website an added jolt of power and functionality. Many people all across the globe are utilizing WordPress themes, plugins, and extensions to make their websites as perfect as possible. One of the greatest things about WordPress is its ability to be customized completely for e-Commerce. Many online vendors have used WordPress to assist in the website creation process because it can be difficult to get started if you don't know what you're doing. A large number of people have opted for the WP e-Commerce plugin to help them with the online selling process.
Other designers have taken that plugin and created themes that integrate both functionality and aesthetic quality into one website. For instance, many themes provide users with the interesting designs of a professionally created WordPress site along with the ease of use that the WP e-Commerce plugin provides. Instead of just having a default website, you can have a truly unique one that is sure to catch the eye of any potential customers. It also certainly helps to know that your website is going to still maintain the functionality inherent with the WP e-Commerce plugin. This includes support for tax, Gold Cart optimization, and support for multiple modes of payment (including PayPal).
There are many different options for you to browse through on the internet, and some don't even require that you know any programming code to install them. Here you will find a list of the best, premium WordPress e-Commerce themes for your website.
New Premium WordPress e-Commerce and Shop Themes for your Business
Mazine WordPress Theme – A WP E-Commerce theme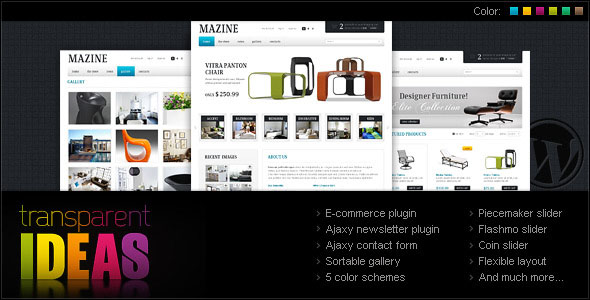 The Mazine theme comes fully loaded with three different slider options, six color schemes, and built-in newsletter widgets and contact forms. The layout is super flexible and the customization options give you full control over the look and feel of your website.
Kassyopea All In One: Ecommerce + Corporate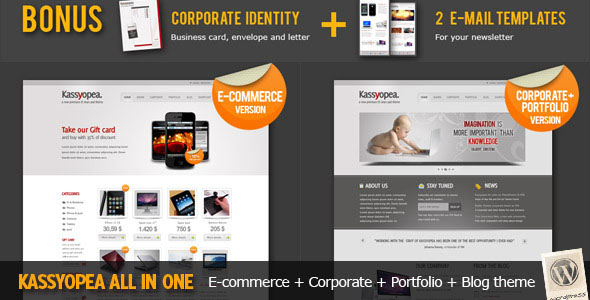 Optimized with full slider compatibility, this theme provides you with two different options. You can use it as an e-Commerce site or as a corporate site. The sleek, professional design also comes with two free e-mail templates so you can match your website and your e-mail marketing ventures.
Phomedia WordPress Theme – A WP E-Commerce theme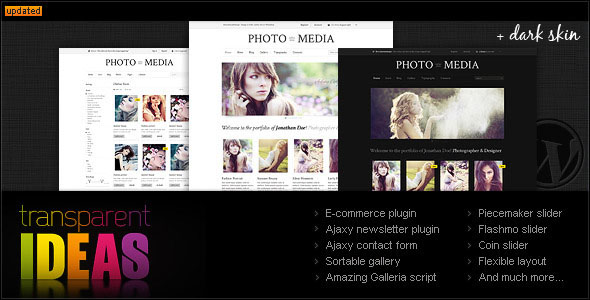 Although it is optimized for photography and other artistic media, virtually any kinds of business can make use of Phomedia's theme. It comes with three different sliders, several widgets, and a gallery that can show of your products with ease. It's also designed to be operational from the get go, so you don't have to worry about altering any of the code.
Kauri – responsive theme for WP e-Commerce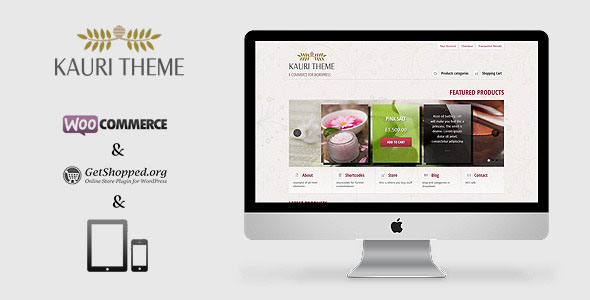 With 4 entirely unique skin options and easy navigability, the Kauri theme is ideal for any e-Commerce business. It comes complete with 2 slider options, custom sidebars, and even widgets that can be used to link to all kinds of different social media websites (including Facebook and YouTube). You can also customize the color schemes to your liking and feature certain products directly on your homepage.
RGBStore – Online Store WordPress Theme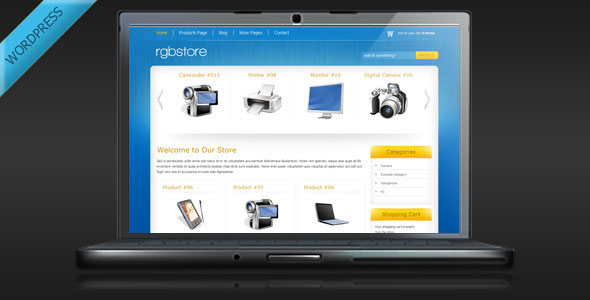 Naturally, the RGBStore comes with three different color options—red, green, and blue—for its theme. It also has 6 custom page templates and drop down menus to make your site as navigable as possible. You'll also receive all the PSD files used to make the site so that you can have full customization right on your hard drive.
DownloadShop – Sell digital goods easily, WP theme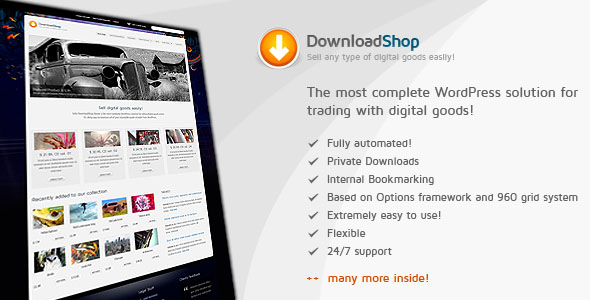 Based on a 960 grid system, the DownloadShop is fully optimized for individuals or companies selling digital content. That means, you can sell virtually anything you want as long as it's uploaded in a zip file to ensure security. Thus, you can sell anything from photos to WordPress themes much like this one. It also comes with automated downloads as soon as the purchase has been verified.
Origami WordPress – WP E-commerce Theme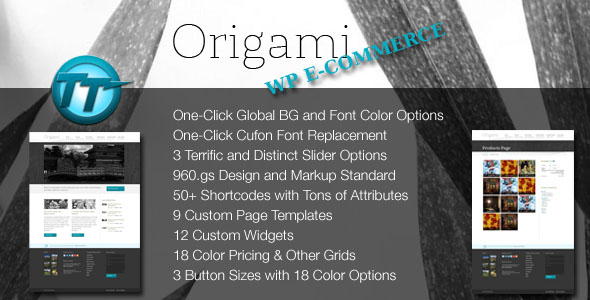 The Origami theme comes with 3 different slider options (including one optimized for video support) along with 9 page templates to make site creation much easier. It also features 12 different widgets to choose from. With unlimited background color choices and 9 unique background patterns, you're sure to stand out from the rest with this theme.
OSComm – Online Store WordPress Theme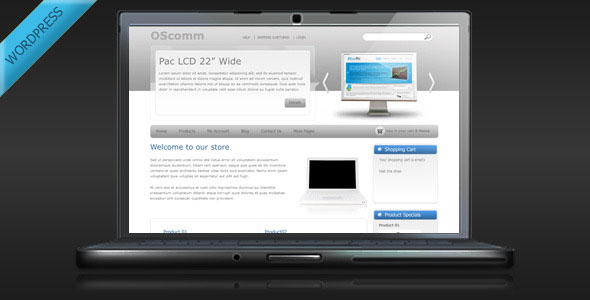 OSComm is full of different features including 6 page templates, jQuery sliders, and a custom post type for sliders and testimonials. The design is minimal but professional and can help your online store become the talk of the internet town.
Tribeca WordPress – WP E-commerce Theme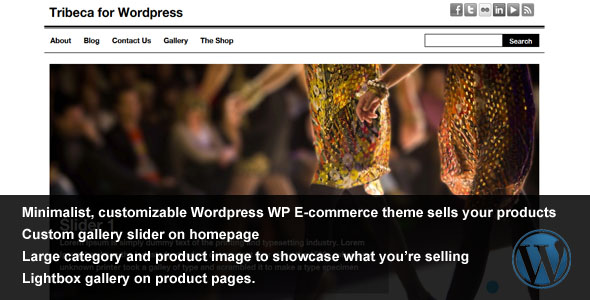 Here you'll find 3 different page templates along with a simple elegant design that is reserved but highly professional. It comes integrated with Lightbox gallery compatibility and 3 custom widgets to help get your name out and monetize your site. You'll also find a homepage slider that can provide professional displays of many of your products.
Storefront Pro for WordPress e-Commerce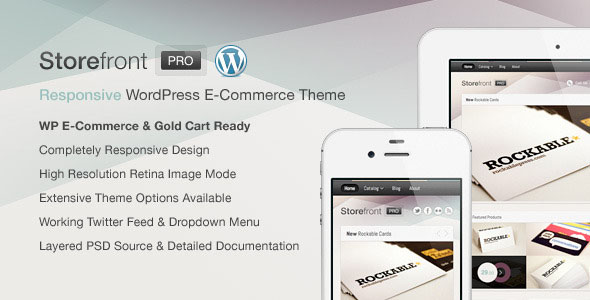 Storefront comes complete with Google Fonts integration. It's also completely Retina-ready to ensure that users on Apple products are getting the best view of all your pages. There are a total of over 50 different theme options that let you edit and customize to fit with the theme of your business entirely.
Lookshop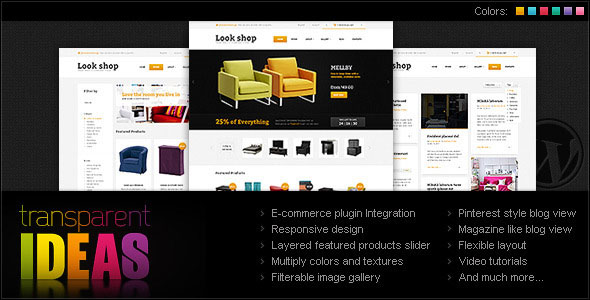 This theme requires that you download the free WP e-Commerce plugin, but that's only because it provides the best experience with that plugin possible. The theme itself comes with 3 custom menu options and social network support for your blogs. It's also fully integrated with Twitter to provide for ample social media exposure.
Conclusion
The idea behind a website with e-Commerce compatibility is obviously a good one. You can sell your products online with enhanced checkout, shopping cart, and shipping options. Trying to go at it alone can be a time-consuming process that is not easy to complete by any stretch of the imagination. With themes that integrate e-Commerce compatibility, you give yourself the ability to have a fully functional website that is also pleasing to the eye. It's difficult to have both flash and usability in today's world so it certainly makes sense to opt for one of these themes (if you haven't already). With this list, you're sure to find something that works for you aesthetically as well as in the confined of your WP e-Commerce plugin.