For ensuring the success of any tool or technology, you need to have some explicit option capable of making it viable in the long run. The determining factor for the success of mobile apps is longevity in terms of its exitance on different smart handheld devices. Doesn't matter if the device is powered by Android or iOS, the demand for mobile apps is splurging on all the app stores. In such instances, developers are expected to introduce some impeccable and profitable mobile apps that can uniformly run on multiple smart mobile devices.
Scope of Mobile apps

Mobile apps greatly influence the success of a newly built mobile device based on different operating systems like iOS, Android, Symbian, Blackberry, Windows, etc. These mobile apps are specifically designed to aid and simplify our daily life by regulating and managing it efficiently. However, with each of these mobile apps, you need to possess a website that can effectually exhibit the apps to all. Website is the best tool to promote mobile apps and definitely would be the first thing that potential users would head up to know about the app. So create a website showcasing the developed apps and their functions to publicize their exclusivity. Below mentioned is the list of best-known mobile app and landing page WordPress Themes available in the market:
Listed Best Mobile App and Landing Page WordPress Themes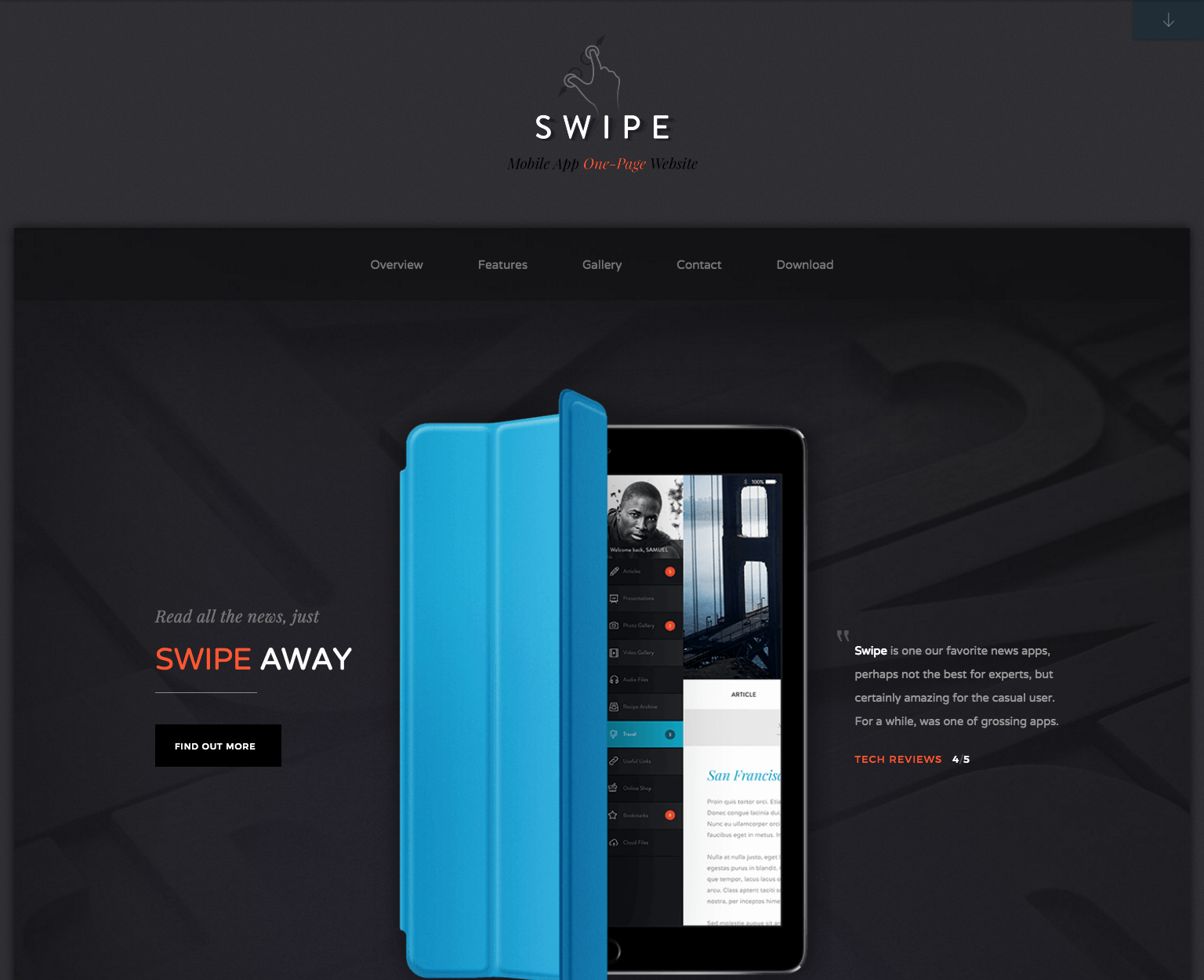 Swipe is an ideally suited theme for showcasing the exclusive applications built by the app developers. The minimalistic structure is designed keeping in mind the presentation of characteristics and pros of an iPhone or Android App. This theme is vastly used by the app developers to create the engaging app landing pages. Swipe lets the developers create one-page websites wherein they can accommodate all the important info about any app conveniently and attractively. Call-to-action button can also be incorporated that always adds to the conversion rate. This highly customizable and responsive theme is packed with retina ready attributes to deliver the great resolution on any screen.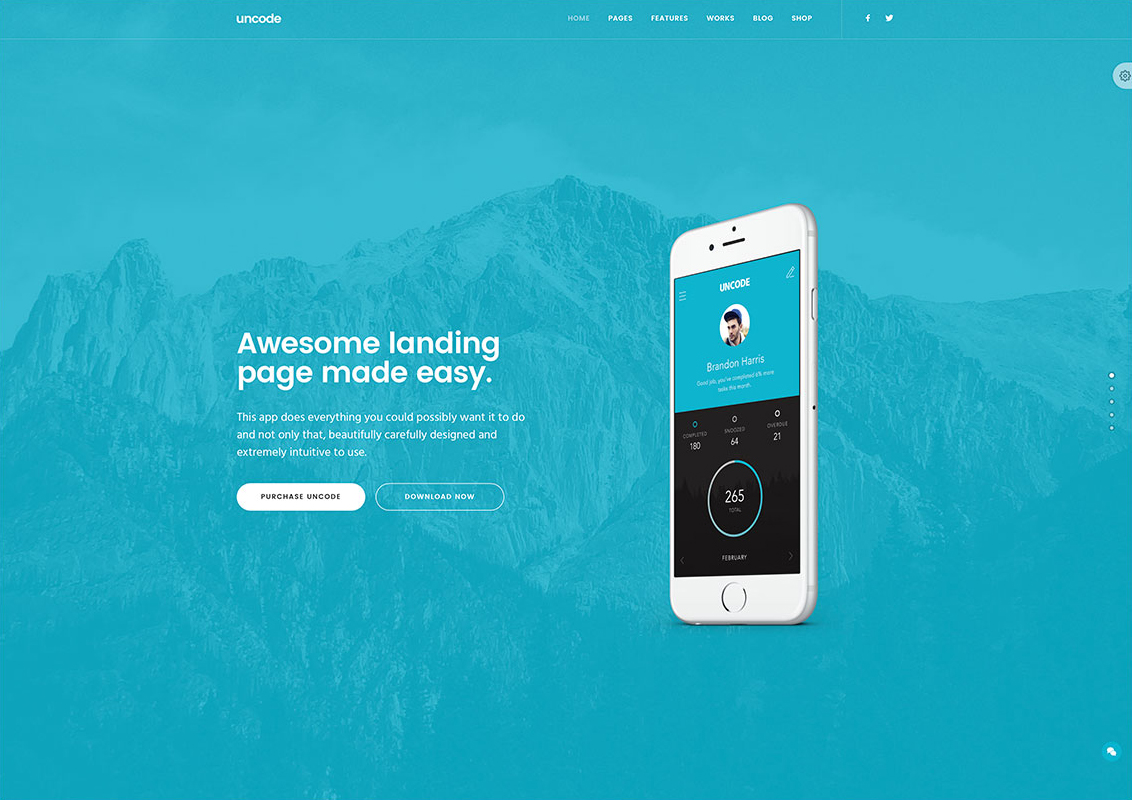 This is one of the remarkable and intuitively designed multipurpose WordPress theme that exquisitely shows off the mobile apps on your website. Uncode is a lightweight, swift and highly responsive landing page theme popularly utilized by web authors to amplify the visibility of their site on the web. The profound flexibility possessed by this theme helps site authors to integrate various advanced plugins and features for creating unique websites. Moreover, the inbuilt features offered by this WP theme are built on Bootstrap modular design that makes it compatible with multiple platforms. No wonder it exhibits the most advanced adaptive image technology that allows content to be displayed on a proper screen resolution, irrespective of the device size.
ZurApp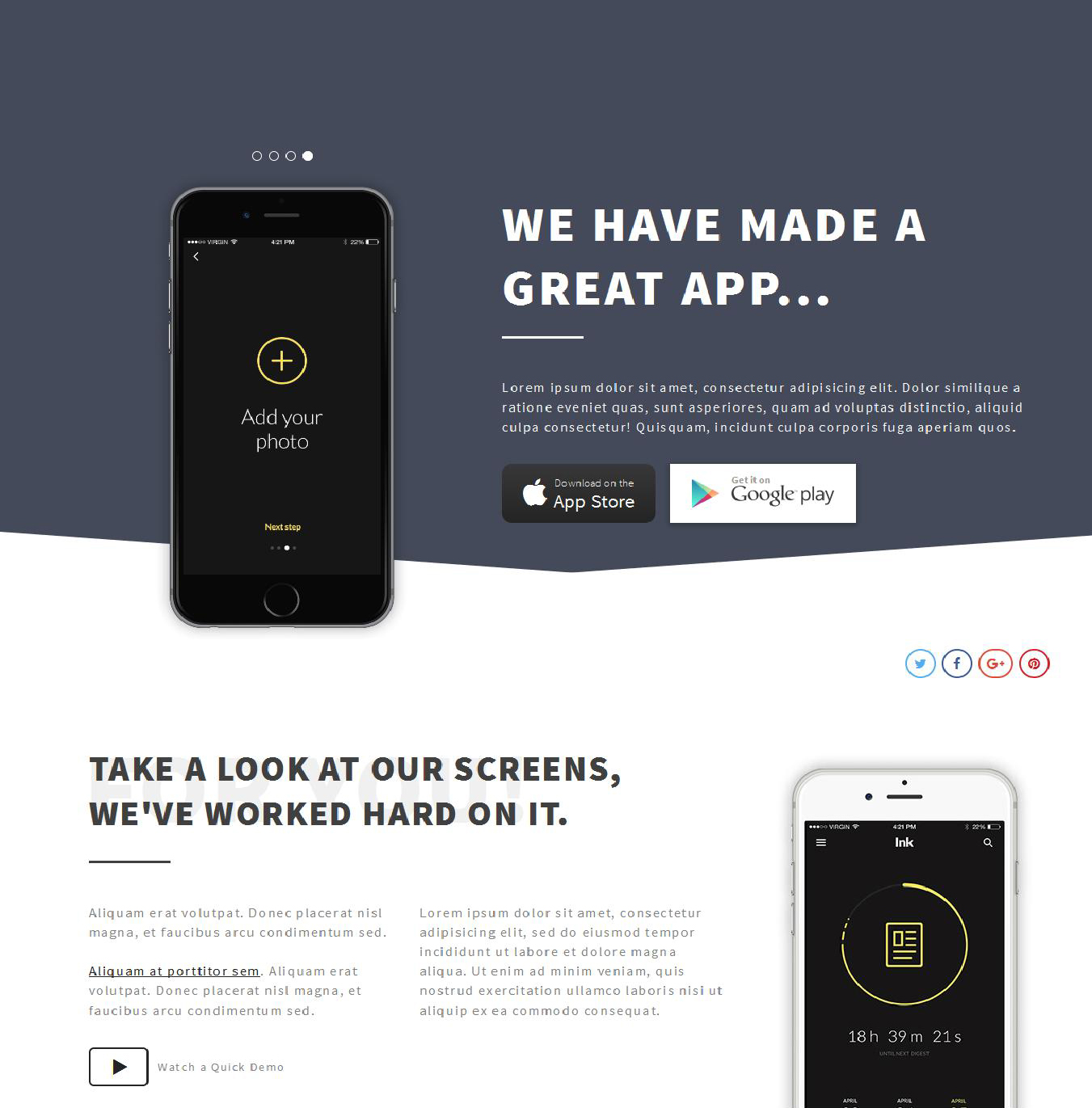 This is another WordPress theme in the list that confers a set of manifold remarkable features that help in exhibiting apps on the landing page with improved visibility and enhanced usability. A definite set of features is offered by this incredible theme in its panel, which can be used to design it the way you want. The App showcase landing page of ZurApp shows a defined Visual Page Builder along with some optimized shortcodes.
Crown
Crown is one of its kind added in this list, this multipurpose WordPress App showcase theme is responsive and widely used over a variety of business sites. Constituting all the latest features and functions, this advanced theme is built on a powerful Bootstrap model allowing greater flexibility to build mobile applications. With the availability of diversified color schemes, as an author, you can easily make use of these patterns to enhance the visibility of the themes and mobile apps' appearance. The panel of this Crown theme is meticulously built by professional programmers who understand the value of intuitive processing.
Neue
Neue is a new entrant into the clan of already existing popular app landing page WP themes. This new-age WordPress theme finely exhibits the mobile apps on the landing page endowed with greater interface and user-experience. Being well-equipped with advanced functions, Neue is popularly used by a newbie as well as experienced site authors.
AppsWorld is a widely-popular app landing page theme powered by WordPress and it is highly responsive in nature. For all those looking for a remarkable landing page for displaying the apps on both mobile and web, must choose this theme. Equipped with latest functions, AppsWorld is a definite choice for those seeking for some intuitive, innovative and futuristic theme solution for their site. You can now cater all your audience uniformly across different screens with the help of this responsive app showcase landing page theme. The validated HTML5 and CSS3 coding used in it makes it advanced and viable for long-run.

MyApp is a visibly enhanced app showcase theme finely built by Templatic to create customized sites. The inbuilt front-end drag and drop feature offered by this theme is high on usability quotient, thus making it popular among site authors and users equally. You can easily optimize the visibility of your site by using different options like typography, color, fonts, etc. available in drag and drop menu. The visual composer offered with this theme can actually help site authors to customize their site by adding relevant elements into it. This app showcase theme is compatible with WooCommerce plugin which means you can easily create your dynamic e-store using this theme.
App Mojo
It is an aesthetically designed device-agnostic responsive theme that can be used to exhibit apps uniformly on mobile and other web devices. App Mojo has been popularly used for promoting some digital products and other app promotions from the time it was built. If you are looking for some failsafe tool to retain customers on your site, use this theme and get it customized as per your needs to see the best results. The proven HTML5 and CSS3 Markups used in this theme simply make it remarkable and beneficial for use. The key customization features offered by this plugin include Revolution slider, layer slider, etc. along with 600+ Google fonts available in the typography list.
Applay is an amazing WordPress theme specifically built for app showcase, app landing pages, e-business sites, etc. This responsive theme comes with a plethora of color options, highly interactive plugins, drag and drop menu, etc. You can either customize it using the functions or simply pick the best-suited design out of the ready-made ones offered by it. No wonder a theme like this which is retina-ready, responsive, and interactive offers advanced features like multiple color options, parallax effects, screenshot layers, manifold icons & fonts, etc.
Wrapping Up!

Now that you are aware of the popular app showcasing landing page WordPress themes that are becoming a rage in 2016. So stay ahead of your competitors by choosing either of these themes that best suit your business requisites. If you think I have missed any of the themes that must be mentioned in this list, feel free to reply in the comment section below.