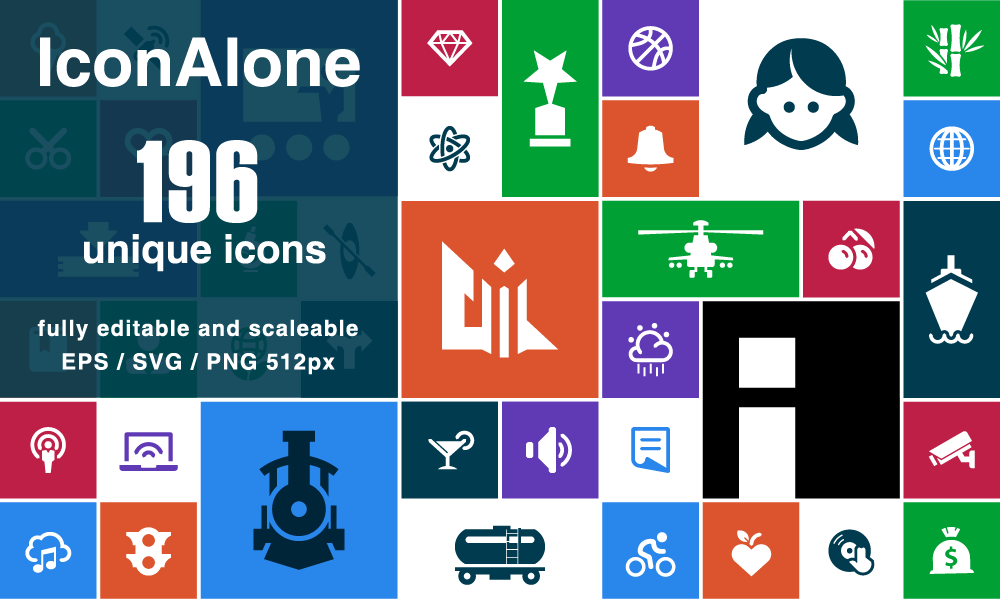 These days, it's really hard to imagine designing a new app or tool and using absolutely no icons along the way. I mean, there are just so many possible actions or elements that need to be visualized, thus making the experience better for the user.
Of course, you can go ahead and design all icons by yourself, but this will likely take a lot of time. For that reason, taking advantage of an icon pack is the better way out in 99 percent of the cases. But to pull this off, the icon pack you're using really needs to be top-notch.
So that's why today we're giving away just that – a high-quality pack of 196 icons designed by Icon Alone.
Here's what's inside:
All icons follow the principles of flat design.
The designs are diverse and come in 14 different categories: transportation, multimedia, environmental, education, security, healthcare, office, wireless, casino, vacation, entertainment, weather, snowflakes, and traffic.
Everything remains consistent, which means that you can pair any two icons with each other.
All icons come in .EPS, .SVG, and .PNG formats.
Each icon can be re-scaled freely from 16px all the way up to 512px.
There are 10 licenses available as part of the giveaway.
You also get access to a custom SVG editor (where you can add basic shapes to any icon, change sizes and colors, export to other formats, or even edit your own SVGs).

The Icon Alone guys have really done a great job here and delivered a pack of simple, yet very descriptive icons. Also, some of the categories are not that obvious (like the casino category, or snowflakes, for example), so you are very likely to find something that fits whatever project you just happen to be working on right now.
How to participate
See below for the rules and info on how to get on board:
Touchdown!
The giveaway has ended and this are the lucky winners:
Kingtosh
Eusebiu
Hristina Hristova
Brian Ennis
Marian Tofoleanu
Jord Riekwel
Kaius Karon
Michal Baginski
Tazem
David Ruiz
All winners will be contacted by email within 24 hours regarding the prize.