Up to the fabulous growing of the handheld devices, the majority of the web designers considered that cross-browsing issues were the most difficult & annoying aspect of their job. The extensive use of mobile devices complicated so much the lives of the designers that the cross-browsing issues were totally negligible compared to this new "provocation" called responsive design.
Responsive design, the new way of crafting websites, makes the process of creating a web page more difficult, but on the other hand this kind of website is perfectly rendered, no matter the device used. In conclusion, the work of the designers is more substantial, but the final result is better. I don't want to scary away the designers, but I think that a new "revolution" will make their jobs even more challenging. The Internet of things isn't so far away from us, therefore it's better for the design community to prepare for the future. Sooner or later, the Internet will become an entity that is similar to the oxygen! It will be in the air and the humanity will constantly need it. As you can see, we already have Wi-Fi Internet!!!
Definitely, this scenario is very likely to happen, but right now the designers should fully resolve the issues related to responsive design and handheld devices. Fortunately, the designers aren't wasting their time and the users already benefit from good mobile experiences. I guess that every one of us visited a website or used an app via smartphone or tablet, therefore you must agree with my previous conclusion. In order to help you, I created a list of 20 free and fresh mobile templates for your inspiration. Enjoy all of them and don't forget to let me know which one is your favorite!
Flat app Ui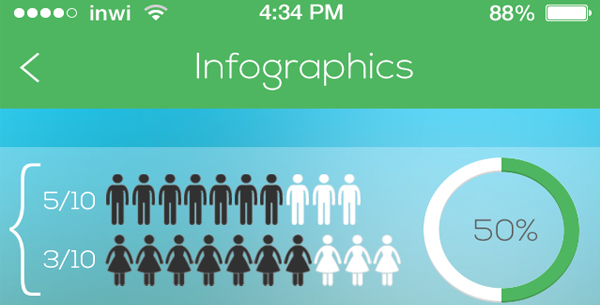 This is really a premium freebie: you may download free 18 psd files containing various UI items, from home and splash screen to login in/sign up and even a MP3 player. In fact, the freebie contains two versions of an app design, therefore it's golden for the ones interested in creating and releasing apps. It's useless to mention that the design is pleasant and every pixel is carefully treated.
Quest iOS7 App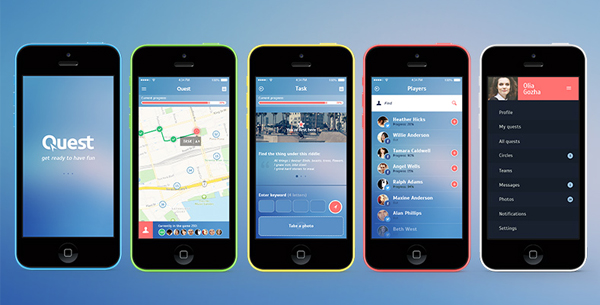 Quest is an app that may be used for both commercial and personal use (I highly recommend to recheck the license, maybe its creator has changed his mind). I like very much the use of various hues of blue and the modern design.
Blue App for iPhone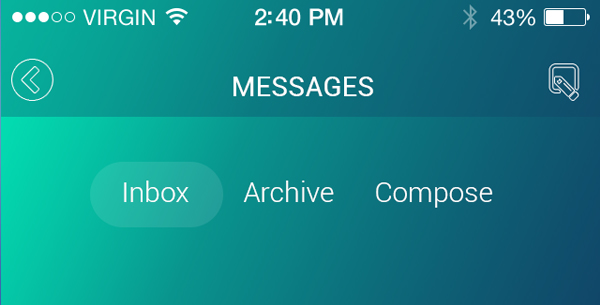 This freebie is intended to be the blueprint for an iPhone app. It's awesome! Any designer and app developer should carefully check it and study every layer of the psd files. The files are well organized so it will be a pleasure to study them.
Free Musicapp Ui Kit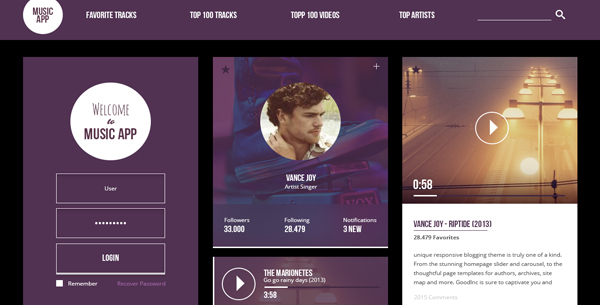 Musicapp is another "wow" freebie. As the name is self-describing, it's the design of a music related app. Its structure isn't standing apart, but it's impossible not to notice the nice aesthetics and the good and unobtrusive design. I like it very much because the app is very discrete and intuitive, which means that the less experienced users won't encounter any issue when using it.
Flat Mobile App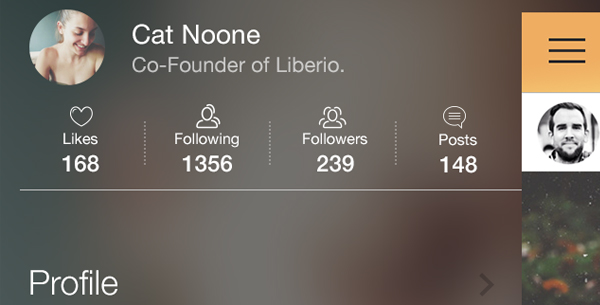 Flat design continues to be the most used style both in web and app design. By downloading this mobile UI template, you will get 10 amazing psd files that are completely editable. The template is flat based and it looks very modern.
Free Weather App PSD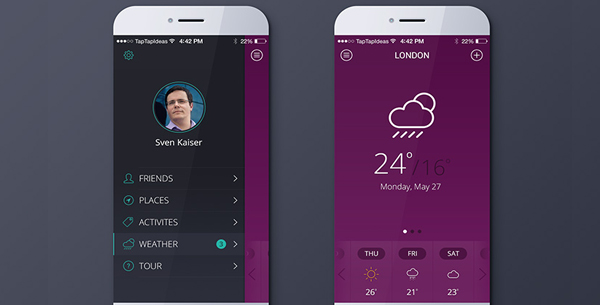 A very trendy category of apps are the ones related to the weather. There is a paradoxical situation that makes their creation extremely challenging. The design of the app must be simple because the user wants to know what the weather will be like and nothing more, but at the same time, the design must still attract the users, or else who would download and use it. I think that the creator of this template managed to find a very good solution.
Taxi iOS App Template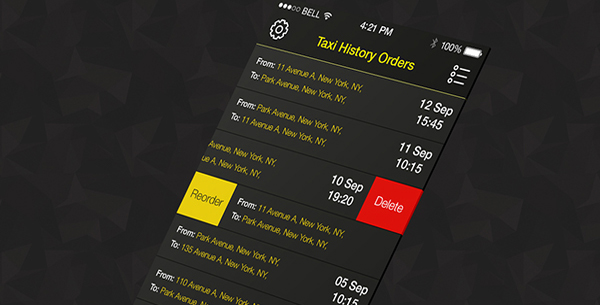 Black and yellow create the most powerful contrast and maybe it's one of the reasons why the taxis are painted using this color combination. A consequent approach is to create a taxi app using the same color scheme. This app template is created with this idea in mind and the result is awesome. The sleek design would impress any viewer; so many congratulations to the creator.
Flybi iOS App Template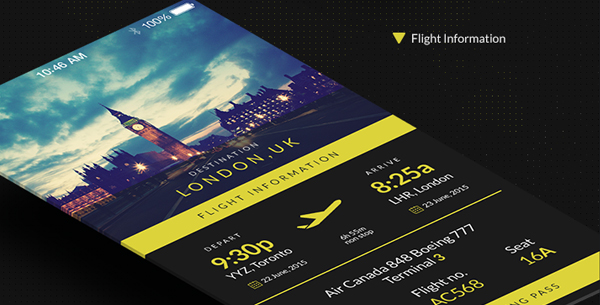 It seems that the black and yellow combination is working not only for taxi apps, but also for flight apps. Flybi isn't free, but its price is a tweet or a like and this fact determined me to add it in this list of free templates. The blurred backgrounds and the powerful color contrast create a great experience for the user. Check it and please let me know your opinion about it.
iOS 7 UI Components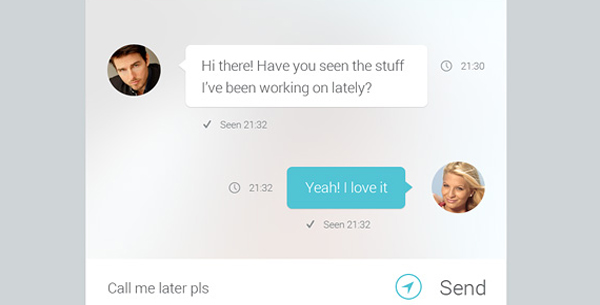 If the previous two examples were characterized by a powerful color contrast, this template is exactly the opposite. Each UI item is very delicate and subtle and the colors used, mostly blue and white, are relaxing. It's a complete template that contains, amongst others, a calendar, a stats page and a player.
Google Material Design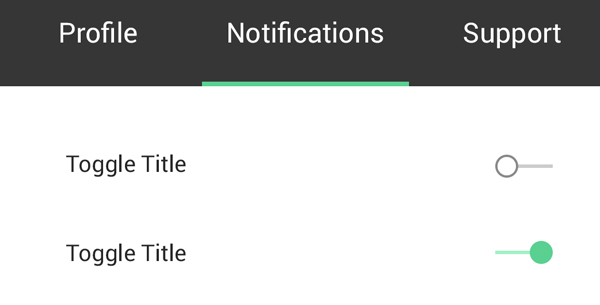 I think that almost everyone agrees with the fact that a black and white app would be boring, but once you see this template it's quite possible to change your mind. Its simplistic look expresses elegancy, refinement and top quality and all these are a good reason to pay attention to this freebie.
WRNC App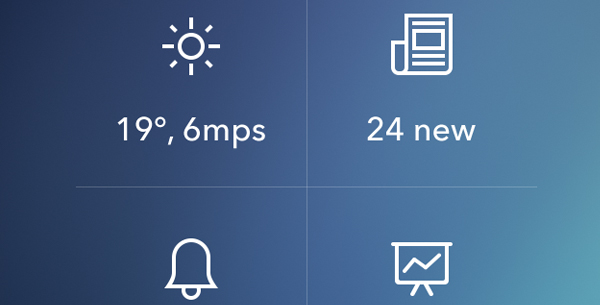 WRNC is a very modern app that will impress anyone due to the bold typography and due to the nice icons. The template is free for both personal and commercial purposes, so you may use it no matter the context.
Music Player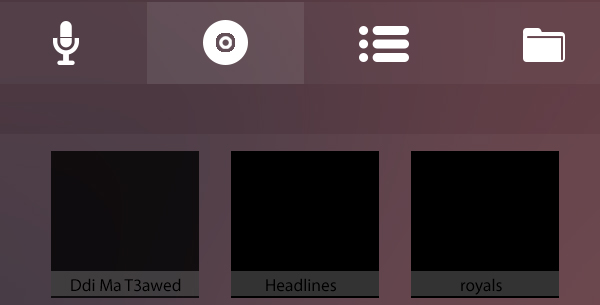 Steve Jobs once said that Apple created so nice buttons that the users would want to lick them. I am a big fan of Apple design so I might be subjective about this idea. Luckily, not only Apple creates wonderful interfaces and this wonderful music player is a good example. What do you think? Is the interface attracting or not?
Camera App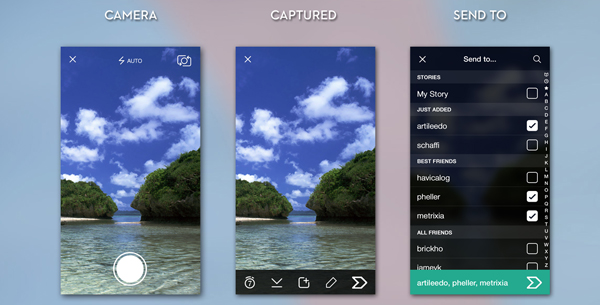 The psd files included in this freebie are very carefully created and named that it's a pleasure to check them. Still, there are many quality freebies, but very few contain complete and detailed explanation about the purpose of the files. This author presents everything in a very creative mode and I recommend checking it yourself and afterwards writing your opinion in the comment form.
Capload iOS App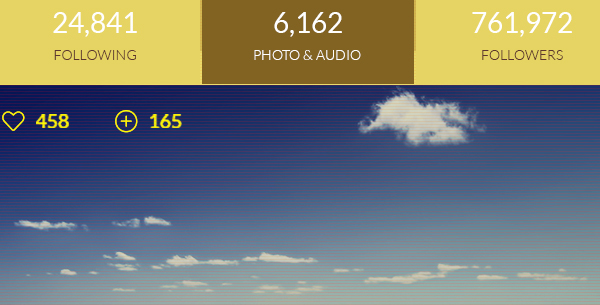 Capload may be the prototype of a great image processing application. This kind of application it's all about playing with colors that it will be a shame for Capload creators to use a poor color combination. Fortunately, not only the color combination used is wonderful, but the entire design is looking great.
Apps Concept iOS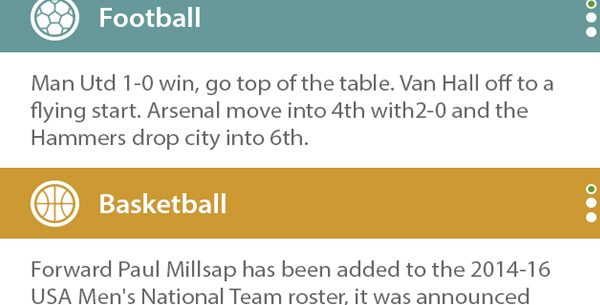 Sprt.io is a concept for a sport news application. I like the blurred background of the login page very much, but I think that the summary page looks too crowded. What do you think? Am I wrong? Wouldn't it be better to use a bigger font size and to give up to a sport rubric? Anyway, the concept is superb!
App News iPhone 6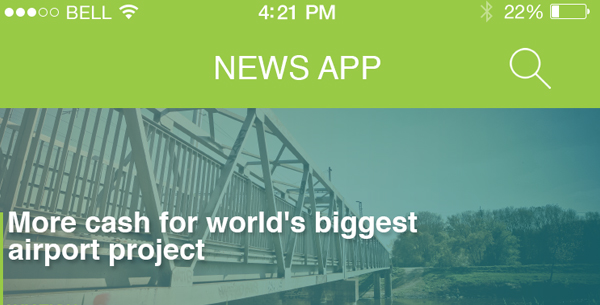 This is a news app concept that has many similitudes with the previous item. Altogether, there are some important differences; for instance, I would give this one a plus due to its cleanliness. What do you say? Which one is nicer?
Flat Mobile App UI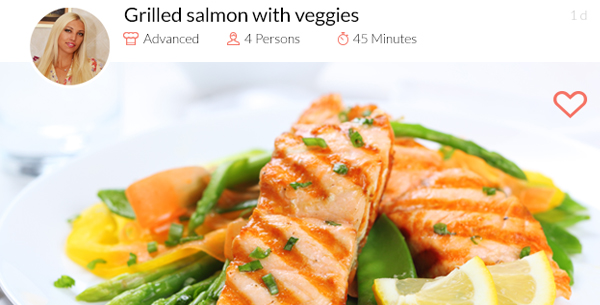 If you are hungry I don't recommend downloading this freebie. If you are hungry, but you like good design, then this freebie is for you. This is an app concept dedicated to culinary domain and the images used are very appetizing. To emphasize the images, the creator uses a lot of white space and the final outcome is truly wonderful.
Modern Mobile App UI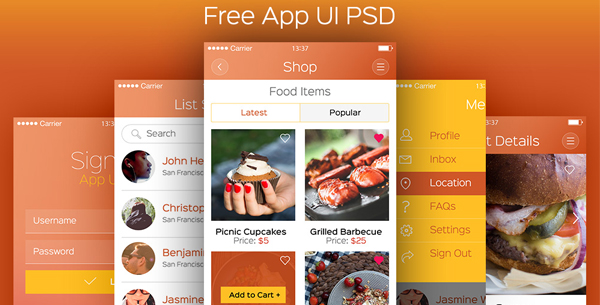 If you aren't satisfied with the previous app concept, then this UI template is a second solution. Unlike the previous one, Wow is a very colored presence, having a jovial approach. It's not wrong to say that the app is sweet because the design is very pleasant and optimistic and the creator used a lot of dessert images that surely are very tasteful and sweet.
UI Kit Beeline App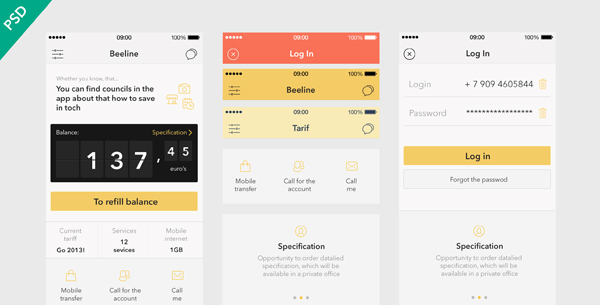 Like it or not, money is important and the handheld device users are very interested in having a good app aimed at helping them to manage their finances. This UI template represents a good solution of the design of a finance app. It's simple and effective- two must have attributes of an app destined for keeping the finances.
Social UI App PSD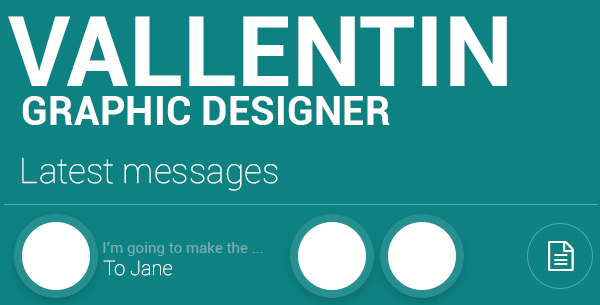 This freebie consists in five awesome psd files: chat, friends, inbox, log-in, and profile. Even though it's the last item from this list, this mobile template should be carefully checked by any designer because it's really well-designed.
I hope that these UI templates and app concepts would be appreciated by you. I am pretty sure that that their creators would be extremely satisfied if you will share the post via social networks. Also, please let us know which one is your favorite!