Do you hate offices? Is freelancing to unstable for you? Do you have a great idea? A great team? Then it's time to incorporate. It's time to be your own boss.
Obviously, you may be inclined to start your business in your country. However, this may be not be always the best choice. There a quite a lot of factors to take into account including political stability, health policies , culture, economy and much more. If you've been freelancing as a developer around the world, you've probably got a gasp on how things work.
One of the most important criteria for staring a business it's the registration procedure. You may want to have a look at World Bank  "Doing Business" economy rankings section, that contains detailed benchmarks on world economies based on predefined parameters such as:
Doing Business;
Starting a Business;
Dealing with Construction Permits;
Getting Electricity;
Registering Property.
You'll notice that our top is different, because while we've chosen to focus on the registration procedures, we've also taken into account the ease of doing business rank.
The registration procedure has three main components:
The number of steps for the registration procedure;
The time to complete the registration procedure;
The cost of the registration procedure.
Number of steps for registration – In order to register a  company you'll have to obtain a registration from a sanctioned authorities. To be awarded the permissions to start a business, depending on the specific country regulations, you'll have to provide information about the founders of the company, the nature of the business and sometimes… much more.
Time needed to complete above mentioned procedure – The faster the better. Well, at least for the registration procedure.
The Cost of Registering a New Business– In most countries, you'll have to pays fees in order to get your company registered. The less, the better.
So, let's have a look at the best places around the world, where you may want to start your business
New Zealand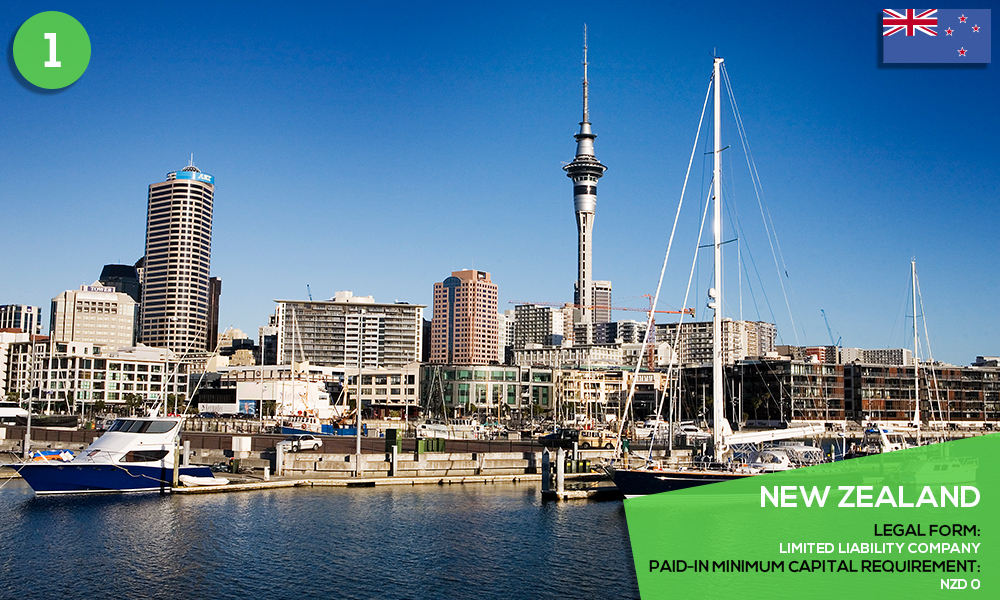 Income Category:
Population:
GNI Per Capita:
You can start a company in New Zealand in less than a day. You'll have to register your company's name on New Zealand Companies Office Web site, by completing a form containing company details including the name of the director, the location of the company's office, the list of the shareholders, etc. The procedure can be done without spending a single paper. The tax for the registration is around  95 Euros, and there is no minimum capital requirement. New Zealand was on World Bank's top list for more than 10 years, so it's safe to assume that it will remain there for the foreseeable future.
Canada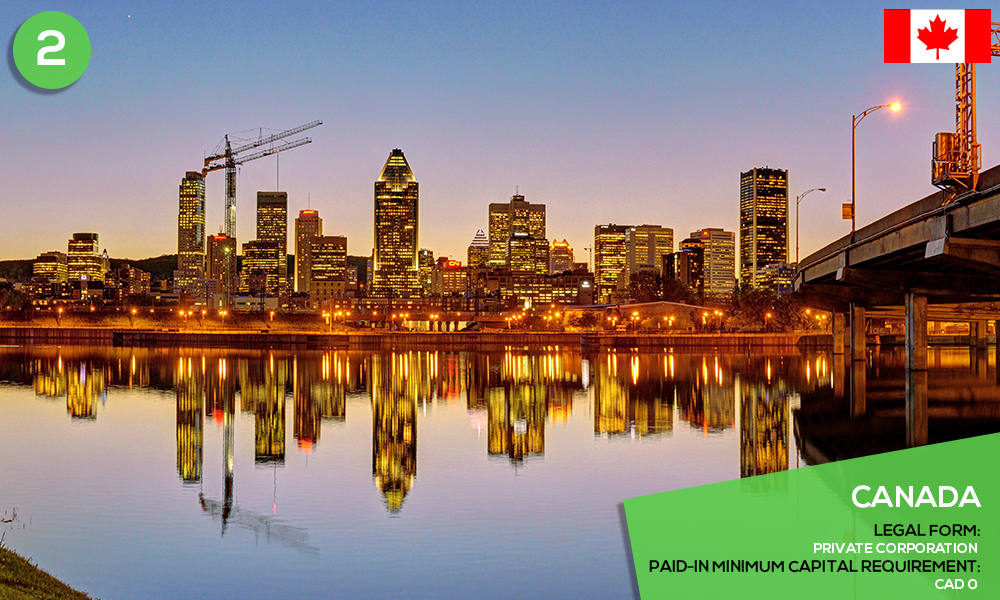 Income Category: High income
Population: 35,851,774
GNI Per Capita: 47,500 (US$)
Ready to enjoy the "Canadian Dream"? Canada is one of the best country to live in. Canada is somehow separate from the rest of the world, as it benefits from a puzzling immunity to economic or social issues. It's also a welcoming country for anyone ready to contribute to Canada's economy, culture or science. If you'll start you business here, you'll enjoy a two day registration procedure. First, you'll have file for a federal incorporation and provincial registration via Industry Canada's online website and register for the VAT. If you'll register in Ontario, you'll be exempted from any taxes. Otherwise, it's 200 CAD for the registration.
Some of the most influential start-ups in Canada are Bench – a startup focused on providing bookkeeping services to small and medium-sized businesses, Zoocasa – a start-up that is using technology to improve the home buying experience, or League – a digital alternative to traditional health insurance that allows employers and employees to benefit from unparalleled choice, convenience, and value in health services.
Hong Kong SAR, China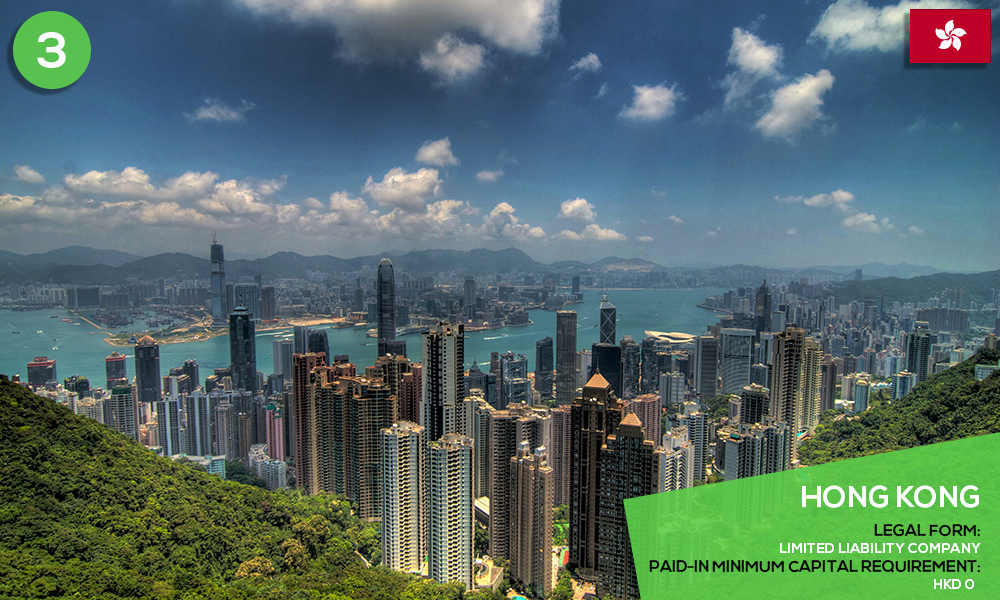 Income Category: High income
Population: 7,305,700
GNI Per Capita: 41,000 (US$)
Hong Kong is one of the busiest places on earth. You'll get your company register in less than two days. Since 2011, the incorporation and business registration process can be done online by submitting an electronic application online to the Companies Registry. The procedure comes with a $ 221 fee for application, plus $ 30 for the business levy. You'll also have to submit to one of the Employee's Compensation Insurance and Mandatory Provident Fund Schemes. It's a one day procedure, that is free of any fees.
Some of the most interesting start-up originating from Hong Kong are Boxful – a logistic service that takes care of your storage needs, Lalamove – the "Uber for logistics" or Klook, not your typical travel company.
Macedonia, FYR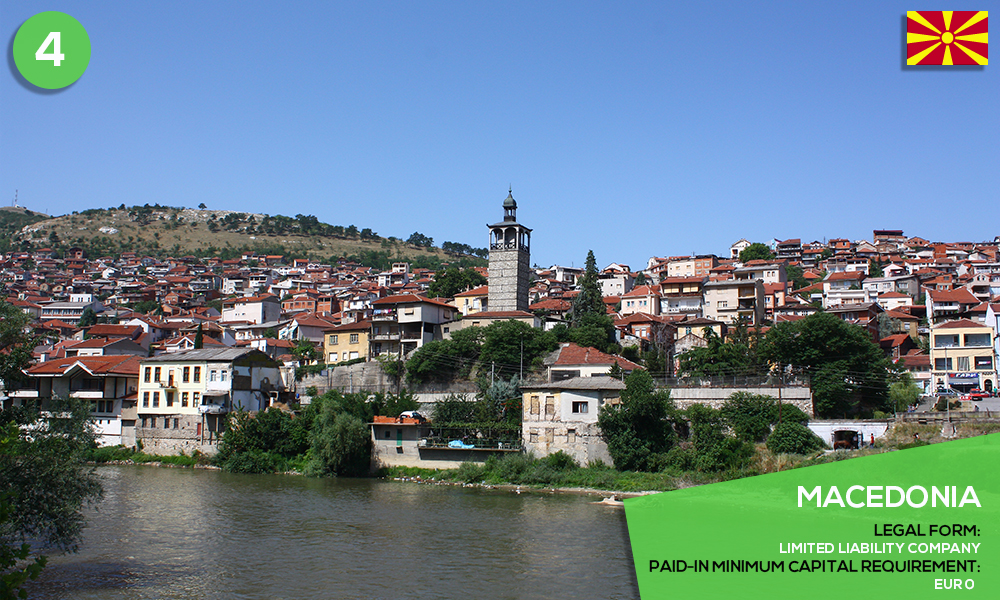 Income Category: Upper middle income
Population: 2,078,453
GNI Per Capita: 5,140 (US$)
Macedonia is a wonder country. A few years ago, the country was on the verge of collapse. Today, is one of the best country to live in. It's also a great place to start a business. The registration procedure takes less than two days. The Central Register of Republic of Macedonia is the single authority for registering LLCs, foreign representative offices, and other entities.  The registration procedure is available on-line.
Some of the start-ups to keep an eye for are VapourApps – a cloud provider offering virtualization, monitoring, storage, VPN, email, and more for for small to medium businesses, MARKO – a SaaS service and app that helps anyone build effective training and support materials with an augmented reality twist, or NulaBox –  the social media feed creation tool that merges all your social streams in a single feed.
Singapore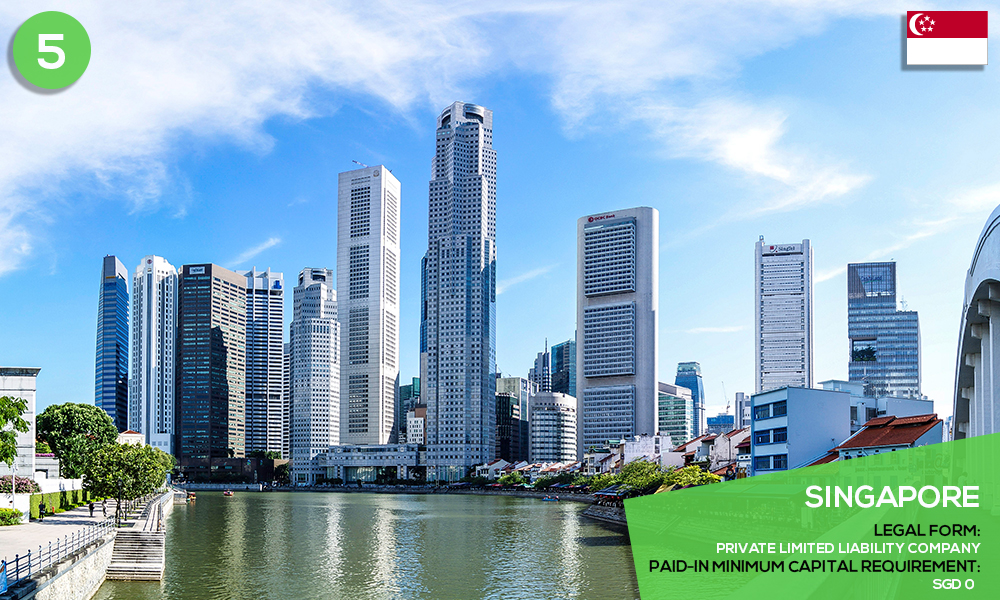 Income Category: High income
Population: 5,535,002
GNI Per Capita: 52,090 (US$)
Singapore – the city of tomorrow. Singapore is a somehow displaced in time. It's way ahead of most other world economies. Singapore is the perfect template for the homo-sapiens futuristicus. Yes, it's a term I invented, but don't judge me too harshly. Plan a trip to Singapore, and you'll know why. Registration is a three day hassle free procedure:
1. Register on-line with the Accounting and Corporate Regulatory Authority and the Inland Revenue Authority of Singapore;
2. Make a company seal;
3. Sign up for Employee Compensation Insurance at an insurance agency.
And you are all set. There is also no minimum capital requirement.
Singapore has a vibrant start-up ecosystem. Have a look at Look a start-up that opens the world at the convenience of your phone screen. Agentbong will help you with your daily routines including cleaning, cooking, grocery shopping, and even… pet-sitting. Trax is another start-up with an innovative twist. By using computer vision, this start-up uses image recognition and analytics technology to track goods in the retail sector.
Australia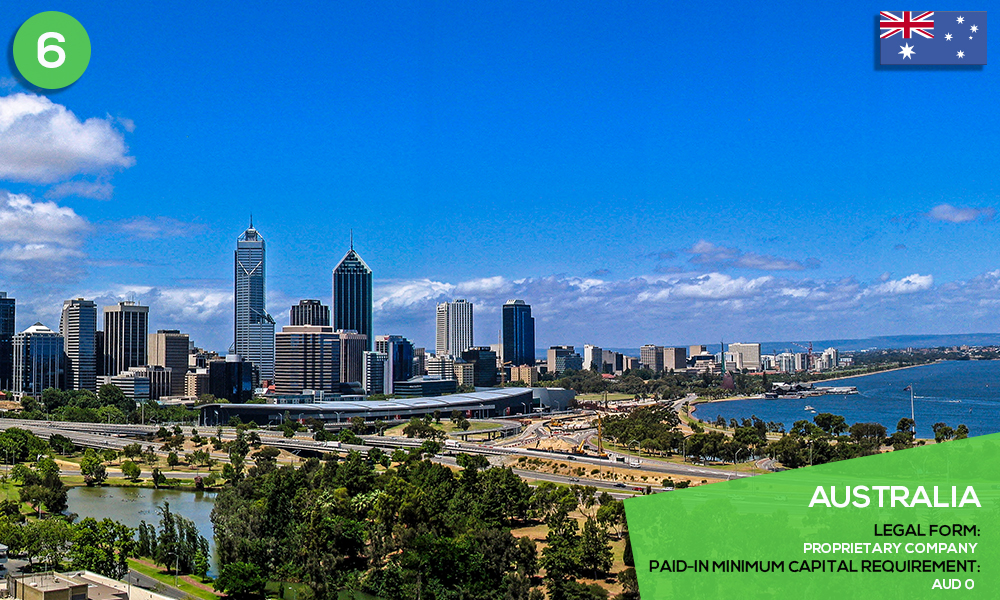 Income Category: High income
Population: 23,781,169
GNI Per Capita: 60,070 (US$)
Australia is a wonderful place to live, but it's also one of the most favorable ecosystem for business. With a three day procedure and less than $ 350 for the registration fee, a mainly on-line registration procedure and the lack of a initial capital requirement, registering your company in Australia is a breeze. You may have to factor in the relative high cost for property, but, we are talking about registration here, don't we?
If you are looking to Australia's most amazing start-ups, you may want to look at Speedlancer, a marketplace of more than 450 writers, designers, researchers, lead-generators and developers, ready do help you build the app of a lifetime. Liven is a restaurant discovery service that pays users to do what they already love to do – eat out. What more is here to say.
Georgia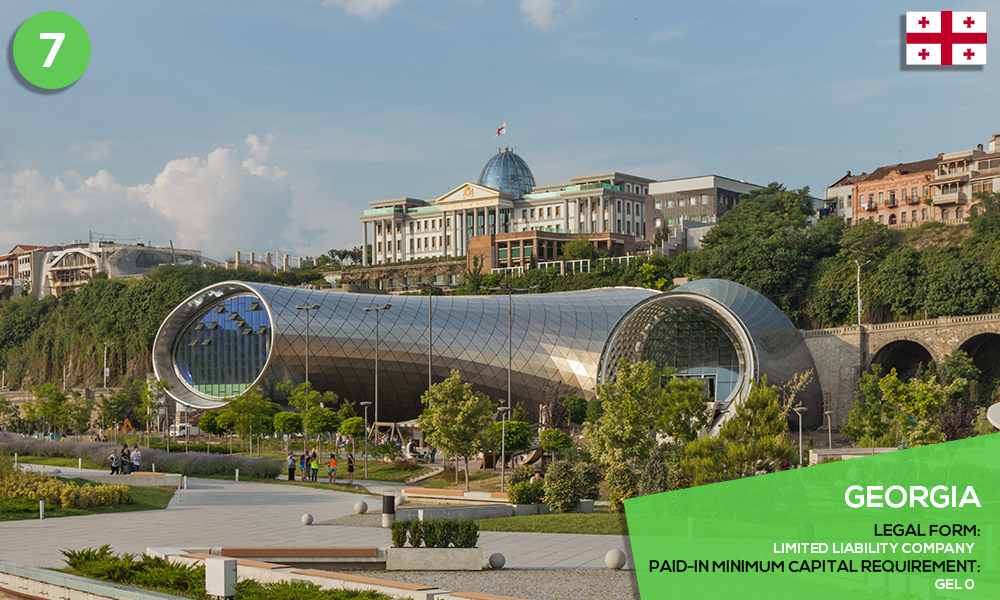 Income Category: Upper middle income
Population: 3,679,000
GNI Per Capita: 4,160 (US$)
Georgia is a small country with a big heart. It's known for it's amazing landscape and, in the last few years, for it's vibrant economy. Registering a company is a three day procedure, and most of the time you'll spent for opening bank accounts and registering for VAT. And while you are registering your company, have a look at Treepex, a mobile app that builds a tree, every time you purchase your favorite products.
Ireland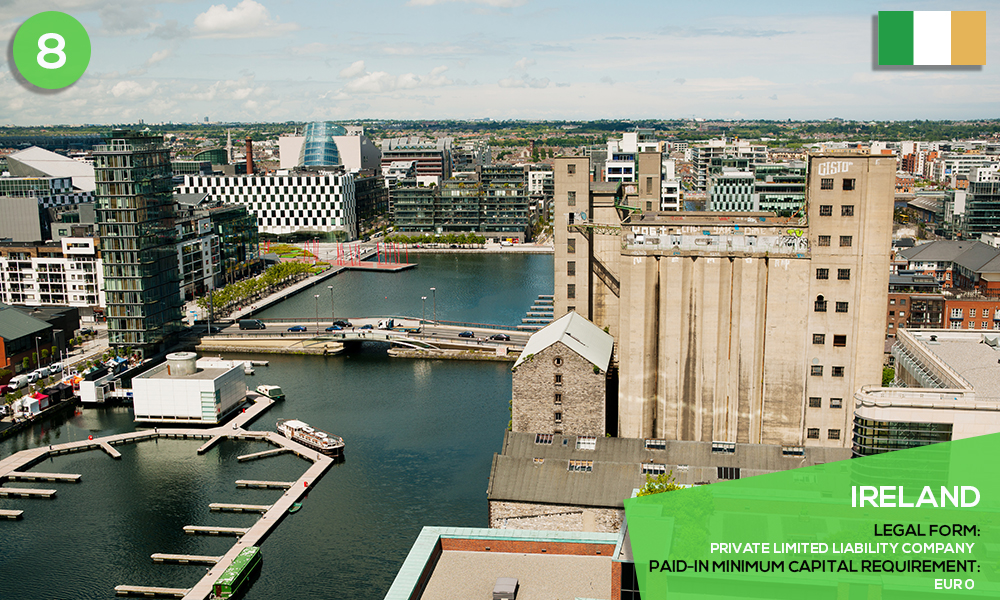 Income Category: High income
Population: 4,640,703
GNI Per Capita: 46,680 (US$)
Ireland is a great country to do business. However, the registration procedure is a little bit more complicated. The registration procedure within the  Companies Registration Office takes three days and amounts to around $ 100. Next, you'll have to obtain a company seal register for  corporation tax, social insurance and VAT. Then, get ready to compete in a rewarding start-up scene.
Estonia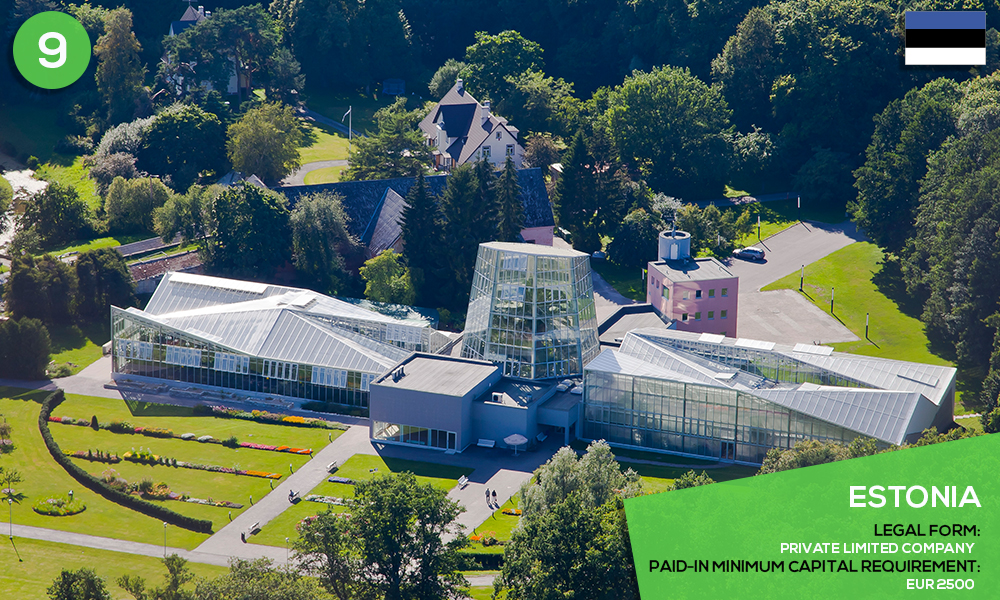 Income Category: High income
Population: 1,311,998
GNI Per Capita: 18,480 (US$)
Estonia, a small country in Europe, is a leader in innovations. The registration procedure is a four day procedure. While it may seem lengthy compared to the previous contenders, the procedure is clear and concise. After the registration which should be obtained in less than a day, you'll fill for VAT at the Estonian National Tax Board and register with with the Employment Register. And you are all set to compete with Weps the chat bot that builds websites, Palleter the company that allows truckers to find  freight offers,  or SprayPrinter the technology that allows you to print pictures from your smartphone which prints pictures from smartphones to different surfaces.
Sweeden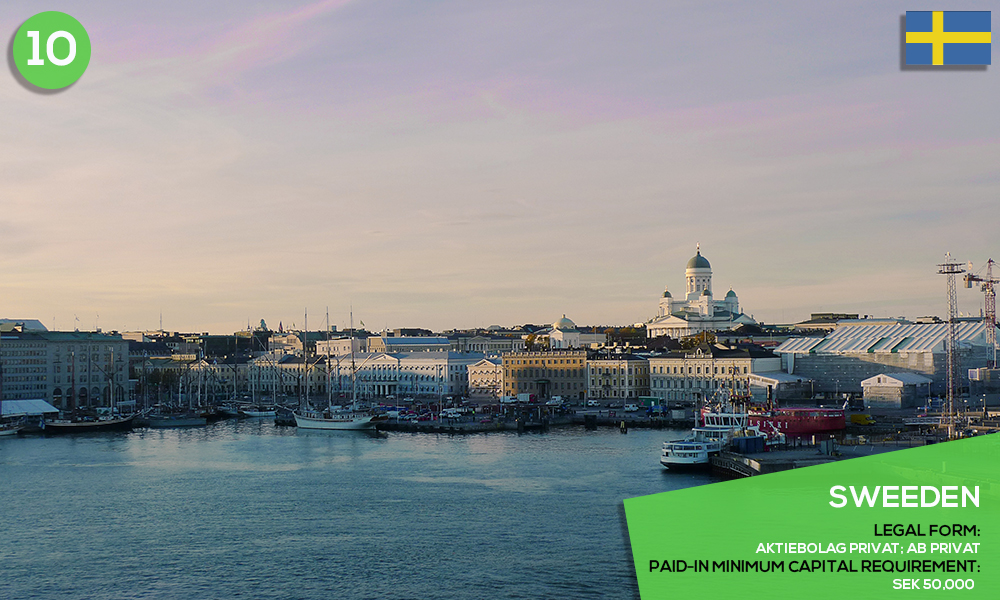 Income Category: High income
Population: 9,798,871
GNI Per Capita: 57,810 (US$)
Sweden is, statistically, the country where you'd want to live in. And it's not that cold either. In less than a week, you'll get your company up and register. The registration is not as a friendly as you'd got accustomed from this list, but it's clear and efficient. You may want to use the online procedures to speed up the process, but it's worth the wait.
have a look at the success stories of Storebadge – a shopper's sidekick, Lendify – the peer-to-peer financing service, or Soundtrap – the ultimate tool for music collaboration
Conclusion
Of course, registration is only the begging for your company. However, all of the countries mentioned above have a entrepreneurship friendly characteristic. Just don't forget to plan. And don't forget, if you want to succeed, try to be the boss you always wanted to have.