Twitter released Bootstrap in August, 2011 and in just few months, in February, 2012 it becomes already the most loved project in Github. Bootstrap has some features that made it almost indispensable for the modern web designer. It's open source and it means that everyone may use or contribute to improve Bootstrap.
Also, this framework is build having the user in mind and people felt in love with its structure; the quality of it is incontestable. Lastly, but not at least, Bootstrap allows creating better websites in less time. Definitely, I think that the last feature was the most important. The situations where all the parts implied won are very rare and Bootstrap templates is an example where everyone is happy with the final result.
Nowadays tons of websites are built having at their roots Bootstrap that reached the 3.1. version. Of course, Bootstrap is a responsive framework, therefore we have enough reasons to believe that it will resist on the market for many years.
If you are not sure about the unlimited powers of Bootstrap, then the next themes and templates should make you to pay closer attention to this efficient framework. Much more, some of them are free, while some require a small payment, but by sure, it's a bargain to invest some dollars into such amazing design works.
List of Free and Premium Bootstrap 3 Templates & Themes
Flat UI Free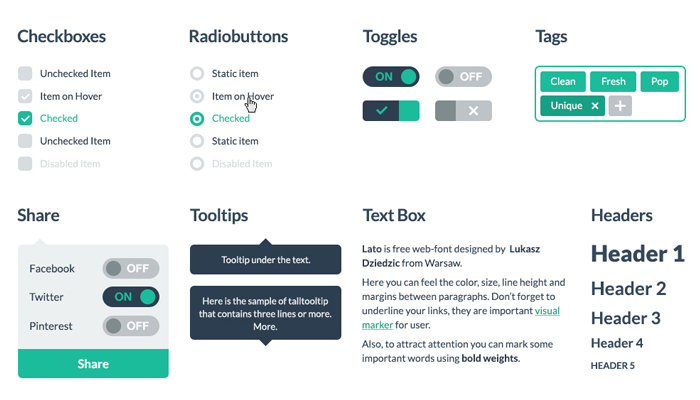 Designmodo team has the great merit that it was amongst the firsts ones that understood the potential of the flatness in the process of creating websites. In March, 2013 it was released the Flat UI Free, a great set of flat items extremely useful in creating new websites. Even if this package was released a year ago, it's very actual and you may use it in your cool projects.
Hipsta Food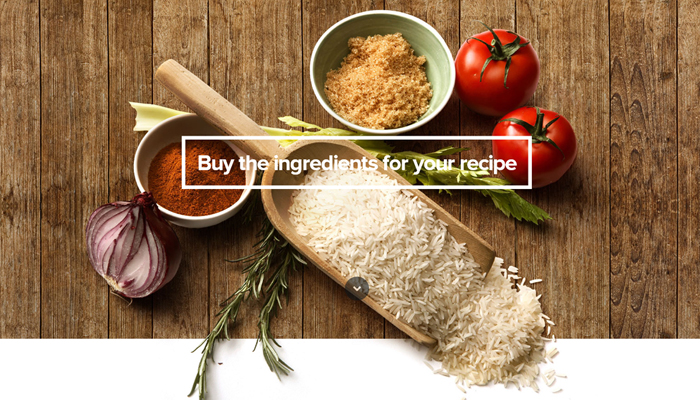 Hipsta Food is a sample of the mighty Startup Framework. This Bootstrap framework is a super powerful tool that shouldn't miss from the arsenal of any designer. I think that anyone agree with my opinion that Hipsta Food is a great website. It's a modern and beautifully designed one-page website, isn't it?
Startup Framework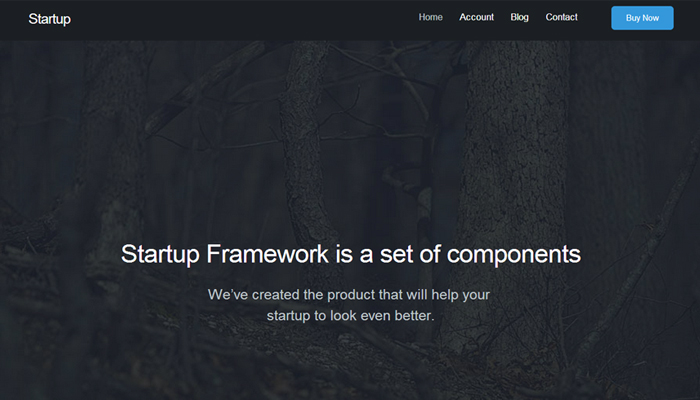 This website is another sample of what can be achieved by using Startup Framework. I consider that is better to visit yourself the website to see the potential of this framework. This template is multi-purpose; it may be used for a portfolio, creative agency or app-presenting website, but with few tweaks, it's suitable for any kind of projects.
GrayScale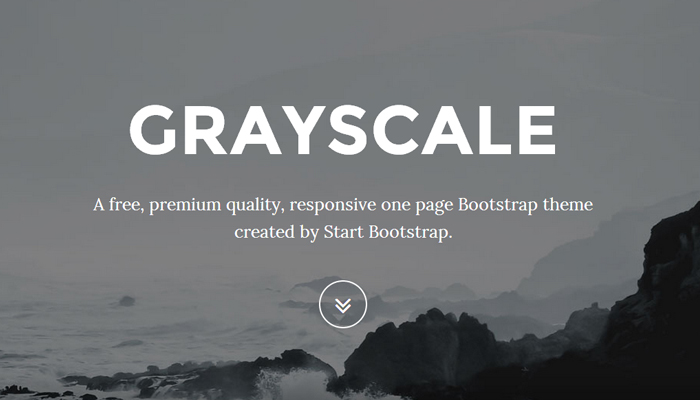 GrayScale, as the name itself is saying, is created using various shades of gray, including the maps! In spite of the lack of colors, the template is simply stunning. It's available for free download and it may be customised for each one needs. Gray Scale is designed using HTML5 and it's 100% responsive, so you must visit and eventually download it!
SB-Admin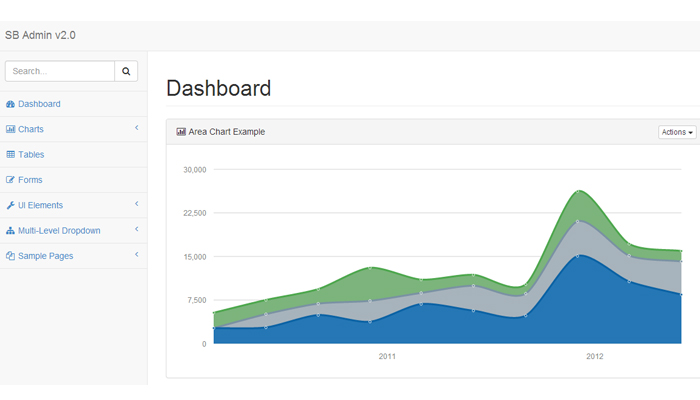 Here are two wonderful solutions for the ones that need a custom dashboard. SB-Admin is a free admin template that will delight every user due to the less-cluttered design and due to the tons of cool features. The authors improved the first version and thanks to them, we have here also the second version of it.
Unfortunately, everyone of us has bills to pay. The designers and the developers aren't separated communities and for quality products and services it's absolutely normal to ask for a decent payment. The next themes and templates aren't free, but as it was aforementioned, every paid dollar fully deserves the investment.
Flat UI Pro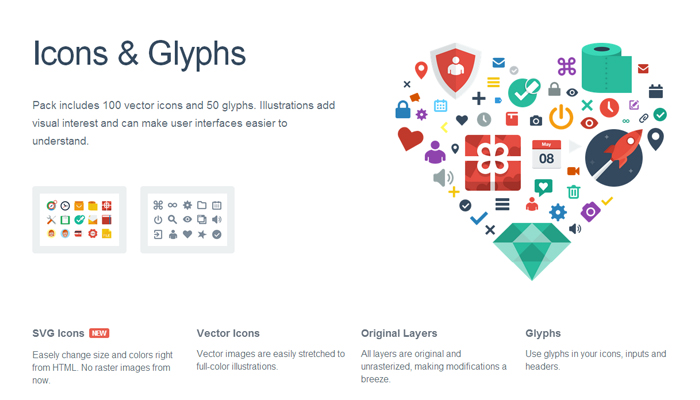 Flat UI Pro is a great kit that is very useful for the designers. It is responsive, Bootstrap 3 based, contains tons of items, all of them flat and carefully crafted. Having so many wonderful components (including 100 vector icons) the workflow is seriously improved and the designers may focus on more important aspects of a website.
Tranquil Template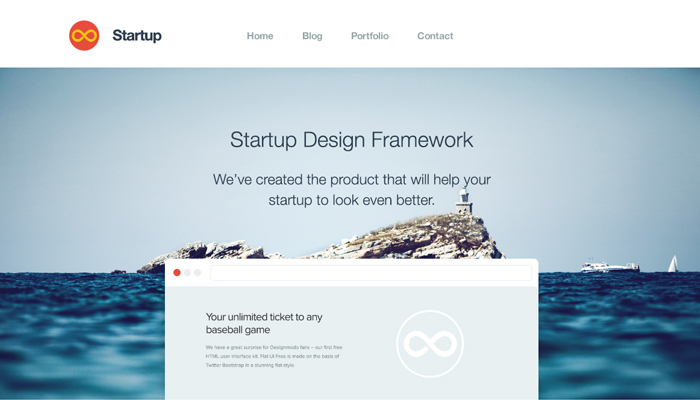 If you need a website to express calmness, reliability and optimism, then Tranquil Template must be taken into account. Personally, I am a big fan of white and blue, but I think that everyone must agree that this template, based on a white& blue color combination, is awesome. The entire website is clean and simple and surely the users will enjoy this approach.
Smart App Theme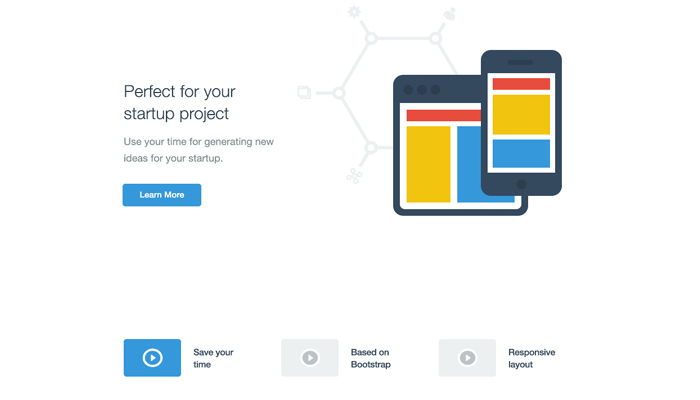 Simplicity have always been fascinating and it will be never outdated. This template is a great example of simplicity in use. The layout is clean  and put the full emaphsis on the content, which is a very smart idea. The template is suitable for app presenting websites and the simple and clean design let the user to concentrate on the features of the app. Not chrome, just content, isn't it?
Beautiful Startup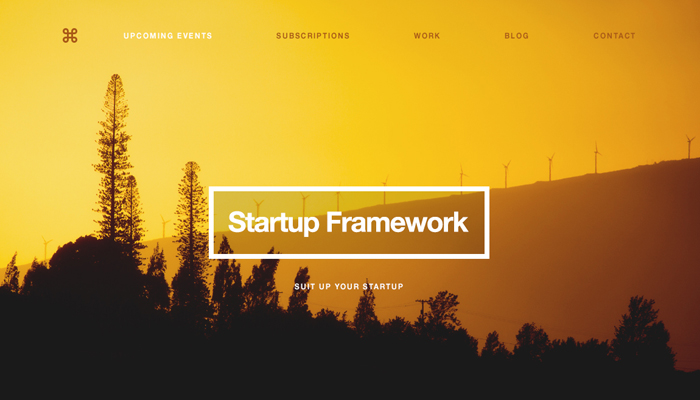 This template is very suitable for creative agencies or startups websites, but also for portfolios. It's flat based and all the UI elements are looking extremely nice and modern. Definitely, the potential clients will be delighted by visiting such a website.
Turquoise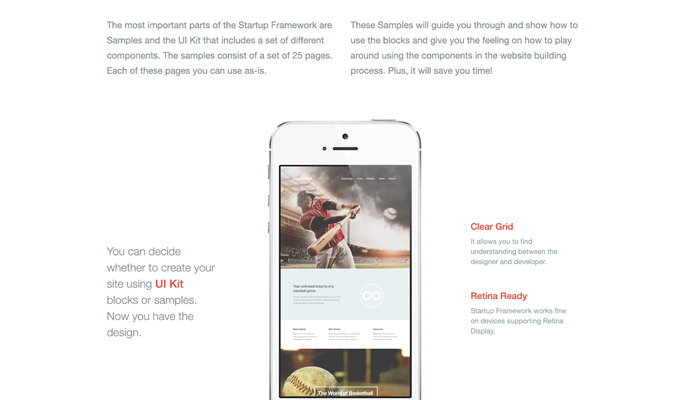 The modern websites are created by using just pure colors, the gradients and the big shadows being totally forgotten. Turquoise is a website that lack any complicated structures and the designer wisely used only pure colors. Of course, turquoise is one of the colors used, but it's also a very common one in flat projects.
Light Business Theme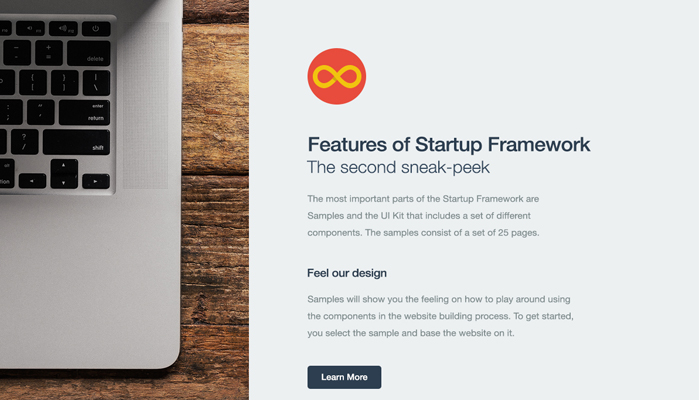 In the actual context everyone is hurried and lack patience. Altogether, the businessmen and the start-up owners seem even more hurried. Light business theme is specially created for them: no clutter, just pure information delivered into a nice format. What do you think, do you agree with me?
Clean Carousel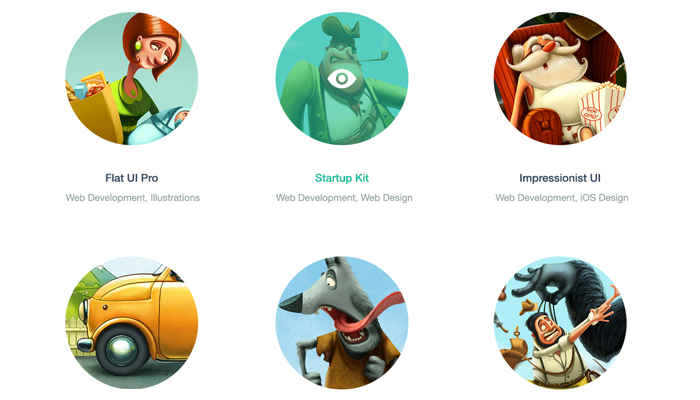 Every design must be different from the competitors, but when there is an infinite number of websites, how could one stay apart? One of the best solutions is to use creative illustrations and Clean Carousel is a great example. I think that is impossible not to fall in love with such impressive illustrations!
Call To Action Theme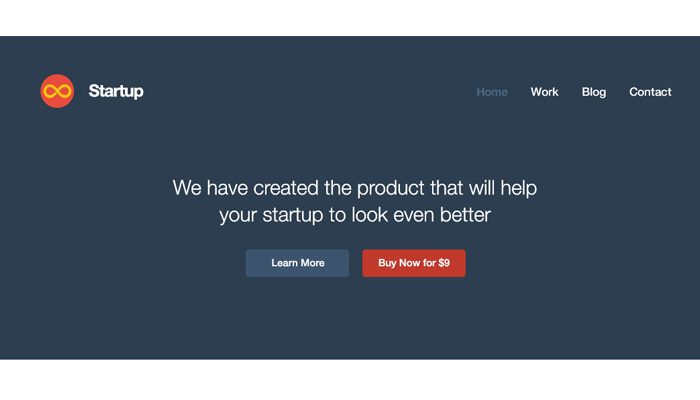 A good landing page may bring profit or bankruptcy, it depends on its design. Definitely, the designers merely try to create better and better landing pages and this "fight" won't be ever finished. Still, some designers managed to create very efficient landing pages. Call to action theme contains a great landing page; this webpage isn't obtrusive to annoy the readers, but also it's impossible not to see the main message.
Flat App Template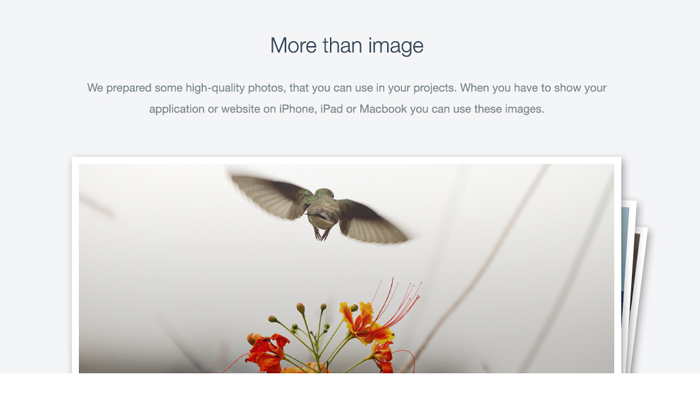 Flat design is a hot debated matter, but everyone agree that it has a special beauty. If you want to admire a pure flat template, then Flat app is for you. Every structure or UI element is created to satisfy any flat design requirements, so even the most demanding persons will be satisfied by this template.
Modern App Template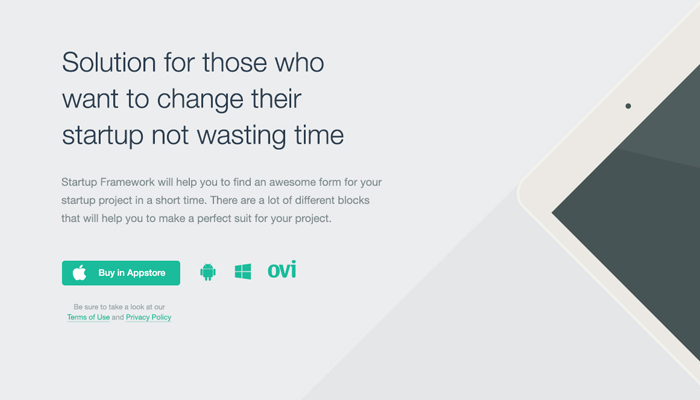 Even if this template is very different from the previous one, it's also created by using the Startup Framework. This is suitable for app presenting websites, but it may be used for portfolios or creative agencies. The template has a modern and fresh approach and it manages to transmit these states to the viewers.
Simple Business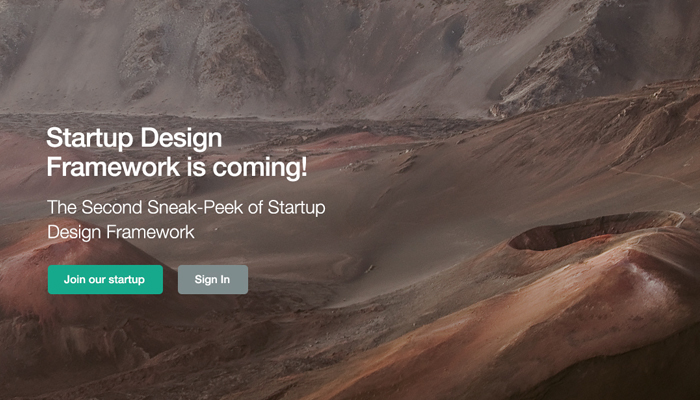 People are relative easy to delight with the use of cool HD photos into the websites. This website template contains a huge background photo that will impress everyone, but it's not the single reason to convince you about its quality. The design is good looking and the template has all the needed webpages and UI items, from register form to price plans.
I hope that you enjoyed all these Bootstrap 3 templates and themes. These are very customisable for specific needs and almost sure, the visitors and the potential clients will appreciate the beautiful design. Do you have a favourite one? Please let us know your opinion about these amazing themes and templates, we are waiting for!