2013 was a great year for the web design community. There is no web designer that could say he/she got bored during the last year. Responsiveness was already hot debated in 2012, but in 2013 the most solutions for the various issues related to responsive design were developed. Willingly or not, for the majority of the designers, responsive design turned into web design. More exactly, a website won't exist unless it's responsive. The future seems even "more responsive" if we take into account the release of Google Glass or similar products. No wonder, the Internet became mobile!
Under these circumstances, it's almost impossible for a product, software, application, or web entity to remain the favourite of the users for a long time. However, web designers have had a "friend" for more than a decade and surely, it will remain their no.1 friend in 2014, as well. As you have probably guessed, I am talking about WordPress, the most famous content management system. No matter how many alternative solutions are or it will be launched this year, WordPress will remain the most used CMS.
The web designers & developers confirm this supremacy and the most significant prove is the huge number of themes and plugins released – practically, a user has unlimited possibilities of customising his WordPress website.
The beginning of the year is the best moment to make a retrospective and we decided to combine what was new and what was constant in the previous year. It was a titanic work to objectively judge so many appealing themes and surely it's impossible to satisfy the preferences of all the readers. In conclusion, if we missed your favourite one, please share it with us and we will gladly showcase it into a next post.
Best responsive WordPress themes released in 2013
Sahifa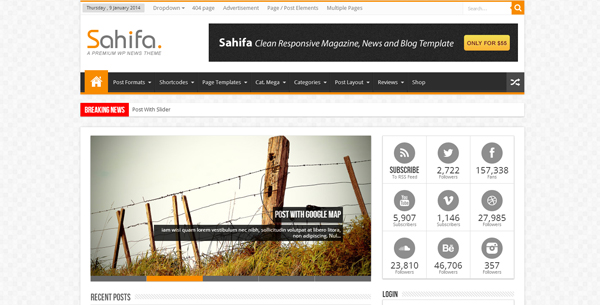 Sahifa is a stunning responsive and retina ready display WordPress theme that is suitable for magazine news or blogging. The design is extremely appealing, but the most important advantage of this theme is represented by the limitless features. It has 9 page templates, built-in review system, unlimited sidebars, 33 custom widgets, tons of customisation options and it's SEO optimised. Now, it's clearly why Sahifa was the favourite of the people needing WordPress themes.
Extra News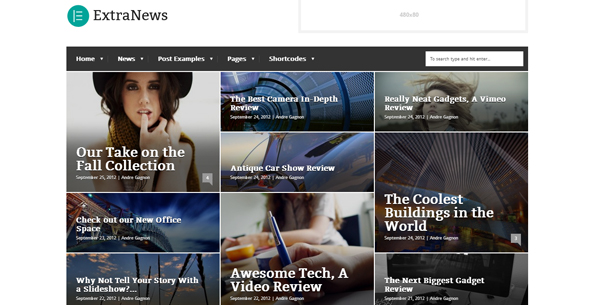 In 2013, the demand for blog or news related themes continued and some would say that it even increased. This determined the developers to create more and more appealing items. Extra News is one of the best themes for this category. It's a flat style inspired theme and the layout is modern, fresh and clean. Another plus of the theme is the colour scheme- it's simple and discrete, letting the user focus on the content.
Salient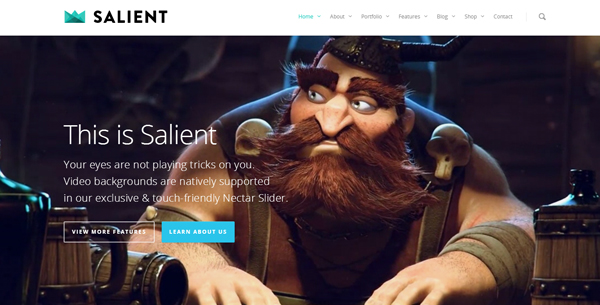 If you need a new theme for your portfolio or if it's under construction, then Salient may be the best solution for you. It's a well-designed, complex and fully customisable theme and it's impossible to disappoint someone. It has five versions that you could use for your home page, many solutions of displaying the items from the portfolio and of course, a clean and attractive blog.
Invictus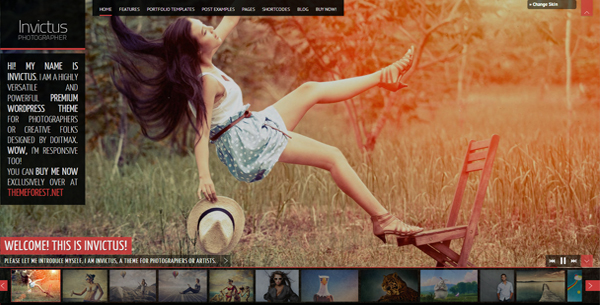 Making a portfolio for a photographer is one of the most challenging tasks for web designers. It must assure the perfect balance between an attractive layout and subtlety. The layout must be attractive to get the attention of the eyes of your visitors, but in the same time it should be discrete because the images uploaded are the reason of the visit. In my humble opinion, Invictus is created by realizing the perfect balance between attractiveness and discretion!
Jarvis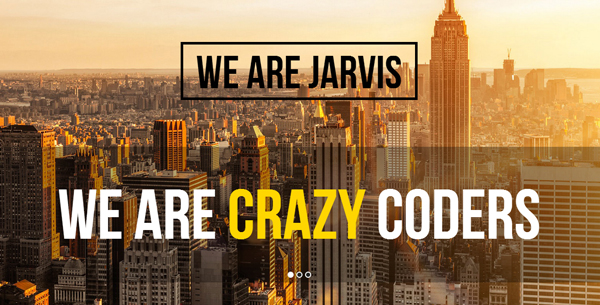 Jarvis is a wonderful multipurpose WordPress theme. Last year, the single page websites were very appreciated by both users and designers, therefore you shouldn't wonder about Jarvis success. Besides being a single page theme, it has other features that should convince you about its value: 12 home variations, Mailchimp support, various navigation styles and tons of fonts. Pretty interesting, isn't it?
Avada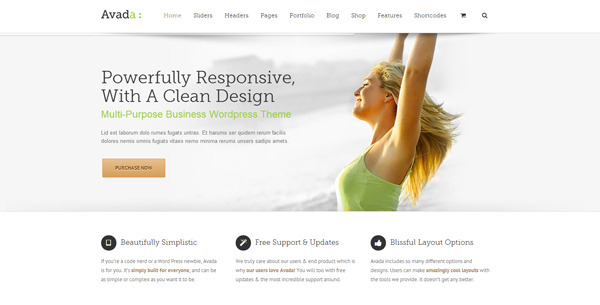 Avada is one of the top selling WordPress themes from 2013 and this fact should convince you about its beauty and utility. The fantastic advantage of this theme is that when you buy it, you have in fact at least 20 completely different themes. Avada is suitable for any kind of projects because the creators pushed the customisation to a new level- the user has unlimited powers to create his personalized theme.
Karma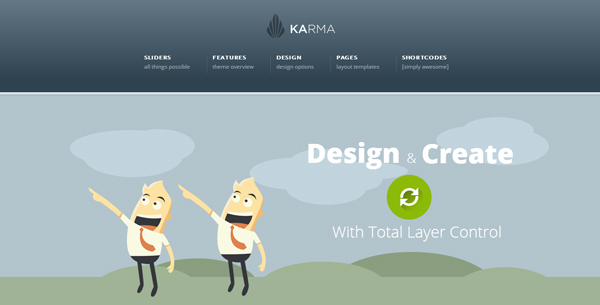 The success of a WordPress theme has at its roots three items: a good design, clean code and unlimited tons of customisation options. Avada is a theme that successfully passed the exam of these three facts and it's no wonder why it is in this honouring list. You may yourself admire the good looking layout, the quality of code is guaranteed by the feedback of other buyers and in five minutes the themes may be easily tailored for each preference.
Inovado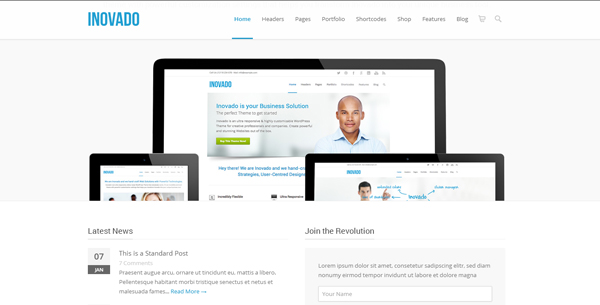 Nowadays, the Internet is no longer the realm of dreaming entrepreneurs, it's a functional industry where astronomical amounts of money are invested and of course, the profits are impressive. Under these circumstances, it's crystal clear that everyone needs a quality corporate WordPress theme. If you need a high quality corporate theme, then Inovado is the best solution. Personally, I felt in love with the colour scheme. Moreover, the user has the option to select from 30 colour combinations available – I bet you will be surprised when you will see that they are all extremely appealing!
Charitas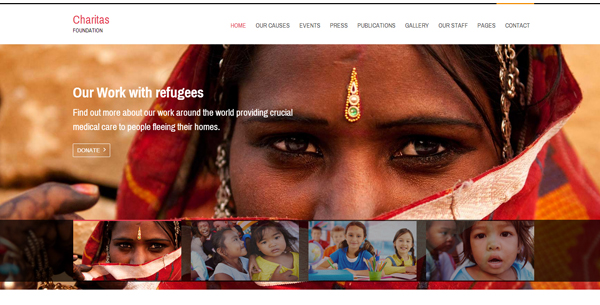 Unlike the previous theme, this one puts emphasis on the emotional aspect. Charitas, as the name says it, is destined for charity projects and it's one of the most appealing theme released in 2013. The strong point of the theme is constituted by the qualitative and touching images used.
Auto Trader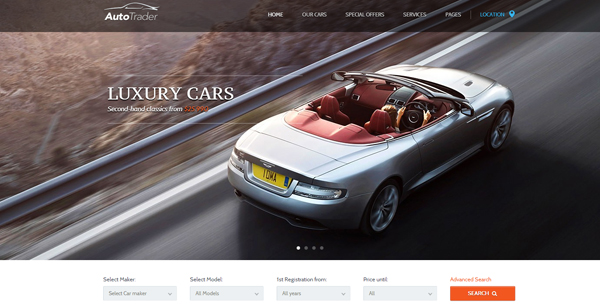 Definitely, cars are attractive for everyone. Auto trader is a stunning WordPress theme designated for an online cars marketplace. Nobody can stay indifferent to the luxury approach of the theme. It undoubtedly deserves your entire attention. Did you notice the logo? It's brilliant, isn't it?
Parallax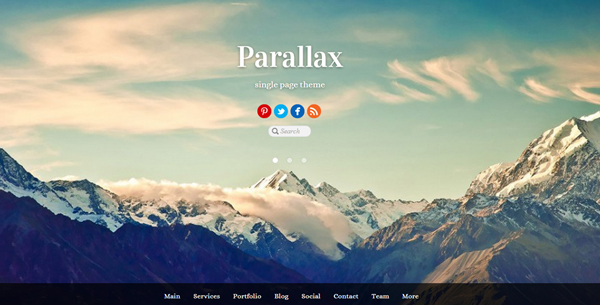 One single page websites were a cool trend last year and it seems that this year too this approach will be highly appreciated. Parallax is a wonderful single page WordPress theme based on Parallax scrolling; therefore the theme is trendy and modern. In addition, the images and the fonts used emphasize the modern character of the theme. Using it for a creative agency or for a portfolio would be a good idea.
Vertex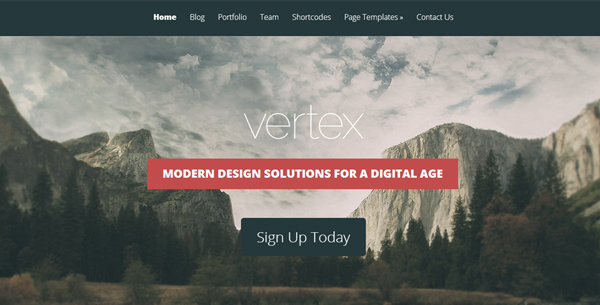 Vertex is a beautiful theme, but it has nothing special that will fascinate the users. Instead, the good design is visible everywhere, from the fonts to the images used. The clean design let the viewer "breath" and this feature is particular only to top quality themes.
Fable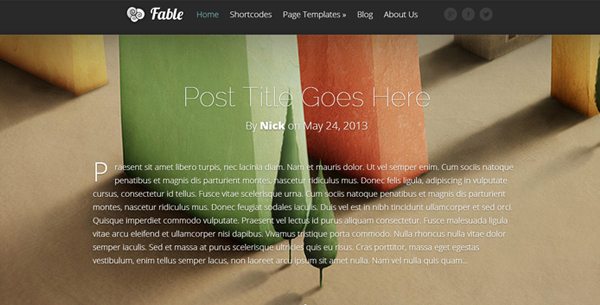 Fable is one of my personal favourite. The team that created it stated that Fable is specially designed for blogging. Well, I consider that this theme is suitable for portfolios, too. In 2013, many designers & developers criticised WordPress for its boring options regarding the blogging support. Fable offers a fresh solution that will probably become common in the near future. I felt in love with the bold fonts and the full focus for written content.
More+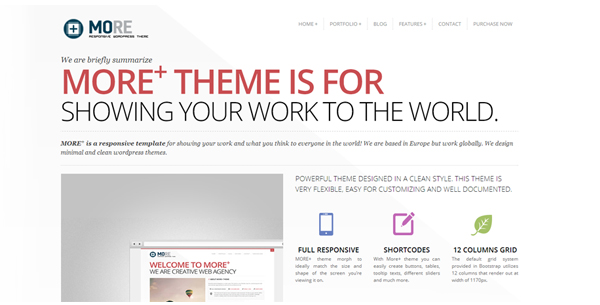 More is another simple, but at the same time sophisticated WordPress multipurpose theme. It contains 8 different skins, 4 portfolio styles and 2 options for the homepage. It may be used as a portfolio, but I think that when you use it for blogging you should modify the fonts. Anyway, it's a very elegant theme!
Seasons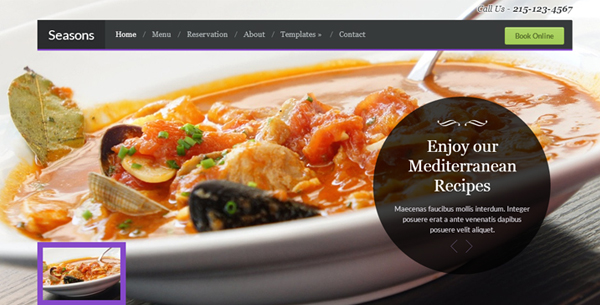 Making a website for a restaurant isn't a very challenging task but it requires a high level of inspiration. Seasons are the perfect example to sustain the manner in which such a website should look like. It's simple, usable and eye-catching. The slide of the homepage showcases some appetizing images and you can't resist this temptation!
Klix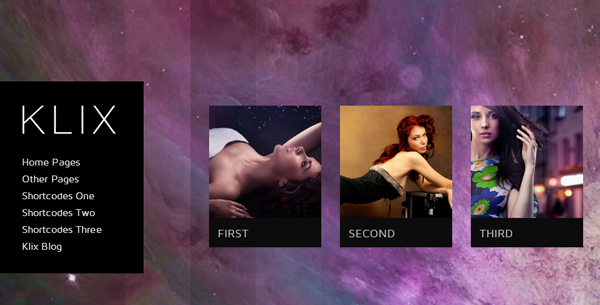 Klix is a theme designed to be standing apart; it has two different variants, dark and light. The theme is created for artists and creative designers because every pixel is original and contributes to a special atmosphere. I am amazed by the tons of background options, but I think that the navigational menu should be reconsidered. It won't get a good mark at the usability test.
Role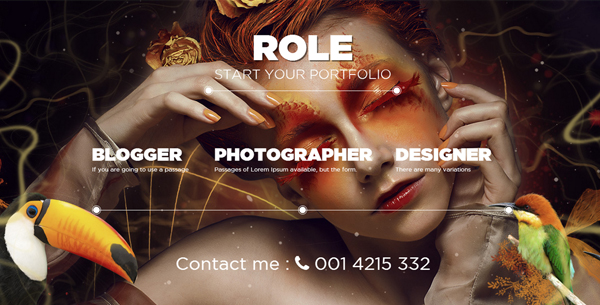 Usually, too many colours destroy a design. In the case of this theme, one could say that there are too many shades indeed, but they have a beneficial influence. The theme is flat design based and now it is quite clear why there are so many pure colours used. The theme is multifunctional and brilliant designed. If you allow my humble opinion, it's the coolest one from this collection!
TechGoStore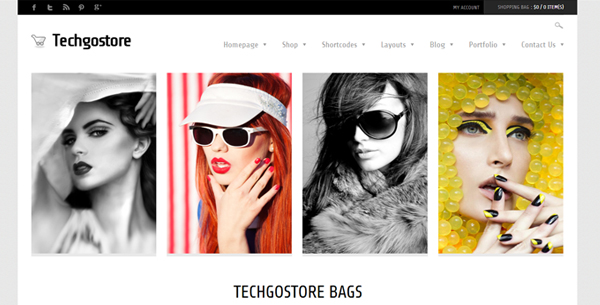 This theme offers practically, unlimited solutions for any taste. It consists of 7 different homepage versions, 30 short codes, 3 sliders (Awesome Revolution, Flex and Nivo), boxed and wide layout, Google Maps integration and many other cool features. Of course, the layout is wonderful; therefore it deserves its place here!
Pandora Box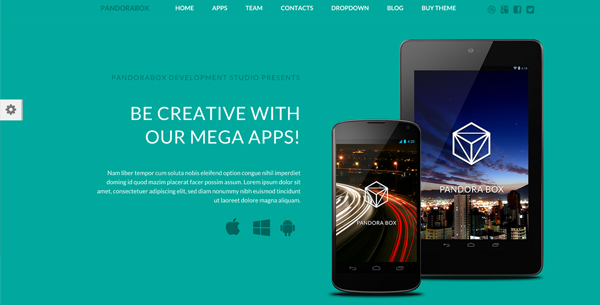 Selling smartphone applications is a profitable affair and the demand for themes showcasing various apps was huge. Pandora is a great theme suitable for this kind of activity. Besides that, this theme combines all the trends from 2013: one-page flat based website that is retina ready display. I am sure that Pandora is one of the best options available and the visitors will pay more attention to the showcased app.
Chariot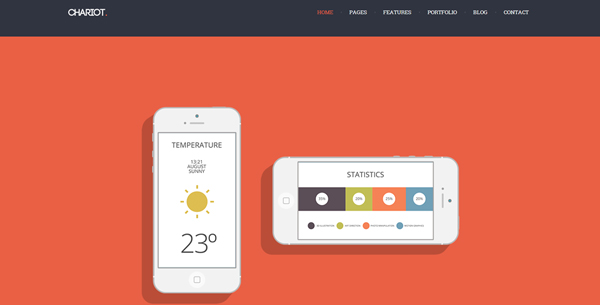 Chariot is another theme that may be used for selling mobile applications. Still, it's more complex and may be used for portfolios or even for blogging. The particular feature of this theme is the 100% pure flat design. If you want to see the essence of flat design, then visit this theme!
I am sure that I missed other amazing themes, but as it was aforementioned, it's practically impossible to judge the WordPress themes released in 2013. Anyway, I hope that these themes convinced you that the last year was a good one for the WordPress community!