Website platforms offer user friendly options for new website owners and for niche markets. A prime example of creating themes for specific purposes is WordPress' Gurublog theme.
This theme moves beyond simply offering blog opportunities because experts' skills and knowledge can now be turned into training and business.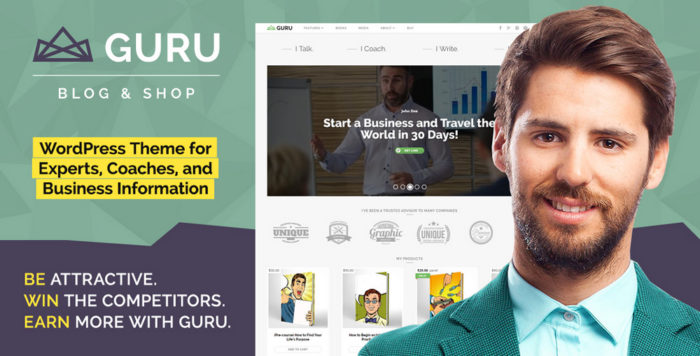 Who will profit from this theme?
The GuruBlog theme is created for those aiming to impact the world via online training. You'll find ideal features in this theme if you're a:
Expert in a certain field
Trainer
Teacher
Consultant
The GuruBlog features are focused on making it easy for this group to flourish online. 
Features that make learning easy
The designer of the GuruBlog theme is the experienced company StrictThemes. Their expertise in building themes for specific purposes shines through once more with this creation. 
Showcase your products
If you're a trainer you can upload information about your training videos or books and other resources onto this blog. By placing yourself within the online market your product is seen where potential clients look for resources and information. With the GuruBlog theme you can create a modern showcase that communicates the value your training offers to clients. The next step is to sell these products via the online sales feature.
Enable online training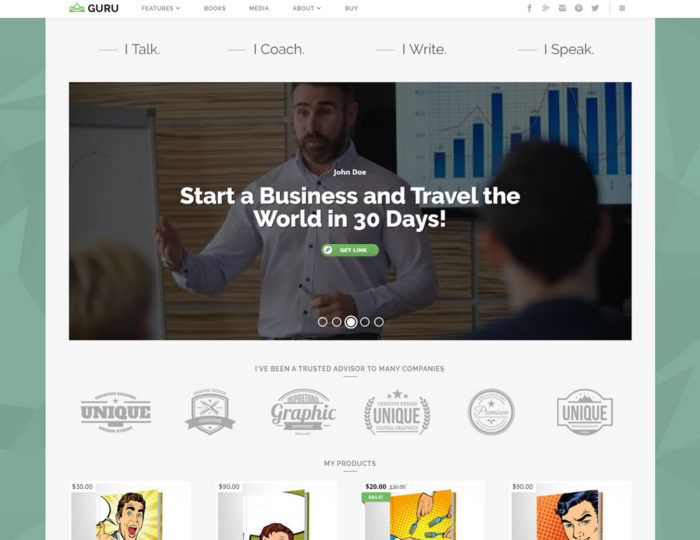 The GuruBlog makes it easy to develop online products into online training. The many features of this theme enable teachers and learners to engage with each other & share resources effortlessly. You can approach this aspect as a business. Customize the setup so learners can be granted access to training material only after payment is received. Other features include:
Training videos can be uploaded for viewing by learners.
Social Media icons are part of the theme so you can effortlessly connect with your online community. This is also helpful in building your business' online presence.
A live search option helps learners look for courses or topics they're interested in.
Easily attach documents such as notes to regular posts for enhanced training.
Many language files are already loaded as part of the theme so you can translate resources to enhance your service.
You can add quizzes for learners via Woocommerce. This means it can be used in a school setup where feedback about learners' development is essential.
Different types of posts can be created so site owners can use the one that best enhances the particular idea, teaching or message. If your passion is to share your knowledge with the world you can package it in the best way possible. The GuruBlog theme allows you to create files—whether as written or recorded versions—that learners and clients will want to read and view. Post types include:

Standard posts
Images as well as galleries
Links
Audio or Video
Quotes
Features that turn teaching into business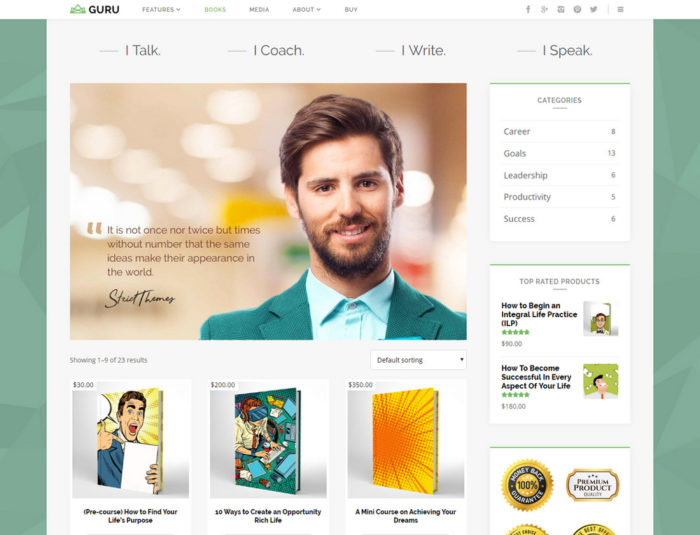 A business needs to look as good as its services are because clients form their opinion around what they see as well as what they receive. The GuruBlog theme covers all of this. Firstly it offers a modern look and secondly its features make running a business easy so clients stay satisfied. It also incorporates features to help you build your online presence effectively.
Build your brand by using your own logos and photos.
The theme can easily be customized to suit your needs and your business' style. This is done by allowing you to change many aspects:
The HiDPI ready feature ensures your stunning website will look great even on high resolution screens for optimum impact on clients.
The modern style looks inviting to today's market and will attract potential clients.
The theme works on many devices—such as SmartPhones–and accessibility is key in getting a foothold in today's market.
Make sure you use the SEO optimization function to get your business noticed online.
Why this theme is ideal for novices and experts
Building your own website for training becomes easy via the GuruBlog theme because it's user friendly even though it has many state of the art features.
Installation happens through simply unlocking the zip-file and following the Setup Wizard. This means newbies can access the same benefits as online experts.
WordPress offers great customer support. Included in the package is a free bug fix service so you only have to report a problem to have it tended to directly.
Summary
The GuruBlog WordPress theme is a great tool for education. Trainers and teachers can easily communicate with learners while offering a variety of learning resources. The modern design complements any brand and the features work together to help trainers build flourishing business by showcasing their skills & knowledge.
The dynamic features focus on converting training resources into business products and your online visitors into learners & paying clients.