Professional designers around the world have to deal with the reality that if they want to build web sites they have to either deal with code or settle for second rate solutions. Having to manually code features adds cost and complexity and for some professional designers turns them away offering website services completely.
If coding isn't your game you are stuck with DIY website builders that just don't make the grade and these compromises are enough to push any self-respecting designer over the edge.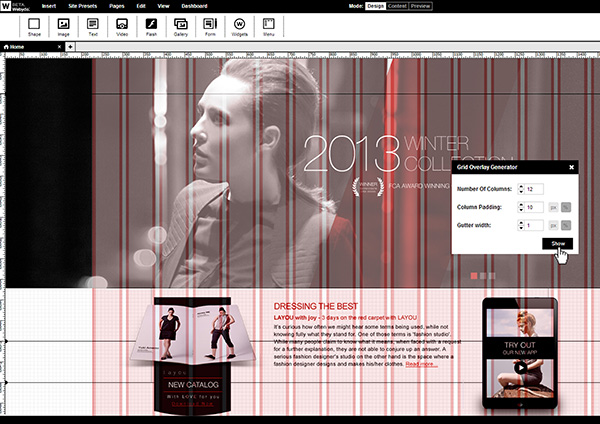 Step into the ring of Webydo. The Tel Aviv- based startup is making waves for a number of reasons but the first things you will notice is that it offers true WYSIWYG web design with no need to write code. In fact the closest you are going to come to code with this service is cutting and pasting some HTML from another site into a widget to embed a map. Being able to get exactly what you want from a product, such as placing an element in exactly the spot where you want it is as easy as drag and drop and getting pixel perfect alignment in a cinch.
The entire service sets you free to create as you see fit and this is where the second big difference between Webydo and the rest of the market comes into play.
The folks over at Webydo have built the service from the ground up to appeal to designers. Designers, being a rather demanding bunch, are not looking for rigid designs, but rather want to build their client's sites to match the vision in their minds. This is where Webydo hits the ball out of the park.
Anyone who has used an Adobe application, be it Photoshop, InDesign or Illustrator will automatically feel right at home with Webydo. All the interface elements are exactly where you expect them to be and the ability to manipulate individual elements is beyond intuitive.
Other DIY website builders like to tell you what to do and while Webydo offers these as well, the one thing that it has that won't find anywhere else is the ability to start with a blank canvas. No constraints, no artificial limitations and nobody telling you where a specific element can or cannot go when you begin to design a website. After using other services, working on Webydo is like getting out of prison.
Much of this functionality you could get out of a desktop application but Webydo goes far beyond that. Being a hosted service there is hosting included and the free version of Webydo offers the ability to host sites up to 15 pages and storage up to 1GB. The free version offers all the same design features as the paid, however in the Premium service you have unlimited page creation, 2GB of storage and can connect your custom domain to your website and have it hosted. If you go for the premium offering you can pay annually at $7.90 a month or every six months at $9.90 a month.
But for designers who are looking to use Webydo as a business tool the Premium offering is a no-brainer.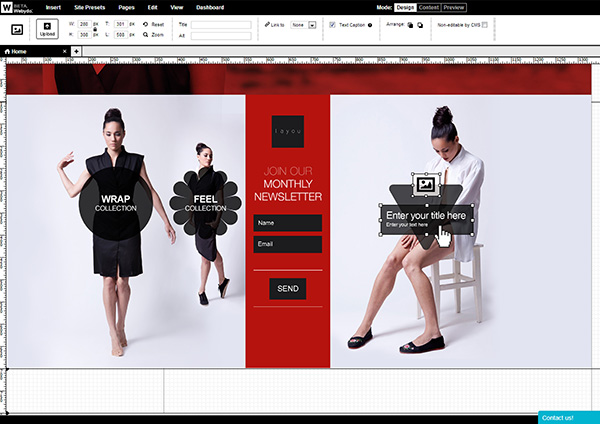 The content management system (CMS) is also pretty slick and with minimum effort you can empower your customers to do basic updates on their own. Then you don't need to worry about them breaking the site because you can identify which elements are accessible to users on an individual basis, freeing you up to do creative work instead up uploading the text for the latest edits. You can even customize your CMS by white labeling your brand by using the "Build Your Brand" feature to add in your logo into the dashboard to create a more professional experience for both you and the customer.
There are also a number of other features that make running your business easier including my personal favorite, "Bill your Customer". This allows you to send an invoice for the work you have done to your customer straight from Webydo.
Some companies don't want you telling them what to do, Webydo actively encourages it. Right at the top of their homepage you will find a Participate link. This takes you to the page where you can see requested features and the number of votes that each request has got from the community. You also see the feedback from the team at Webydo and often that feedback will include the status of the request from "we are working on it", right through to "You asked for it, here it is".
There are other ways to get a website that looks just the way you want it, but most of them involve manhandling code to behave in a specific way, paying a fortune or using an amateur tool yielding lackluster results. The joy of Webydo is that you can get almost everything you need without having to step out of a designer's comfort zone.
Now if you will excuse me I have a customer waiting for their site.