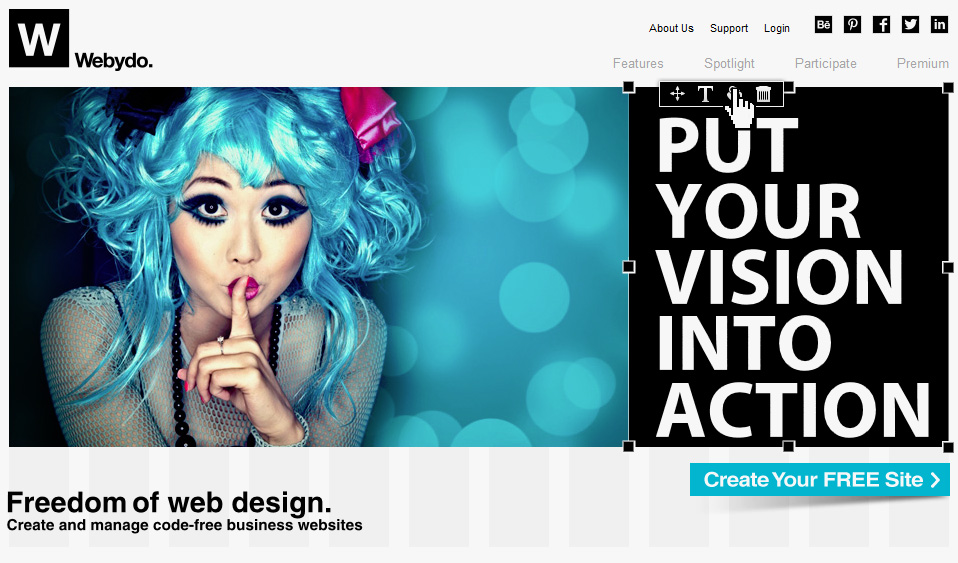 Now-a-days, web designers are bombarded with might feel like endless possibilities when it comes to designing a website for their clients. They can go about it the old school way by creating a website in Photoshop and then hiring a developer or converting the image to HTML themselves. There are also DIY website builders geared towards the amateur designer, which are not suitable for professionals looking to create high end, quality websites.
You have another sector, the B2B category of professional website creators that are freeing the experienced designers from being locked into the old method and providing them with professional features to create without limitations.
We're going to explore three uniquely different online platforms, first going into detail and highlighting Webydo, currently the leading professional online web design platform, then comparing it to Squarespace and Macaw.
To begin with, I plan to get straight to the point and focus on providing you with the raw facts. So let's dive in.
What is Webydo?
Webydo is a professional online website design platform for professional web and graphic designers. Currently, there are over 50k designers in their community who are consistently contributing to the growth and development of the platform, making it a unique combination or design and Participation. Webydo is a WYSIWYG platform and their online design studio resembles something like "Photoshop" or "InDesign".
In short, the platform delivers a clear canvas where you can build your next design, make it look and feel exactly like you want it to, and once you're done, you can turn it into an actual live website. The robust CMS offers professional designers features and settings like the ability to set site permissions for different users, bill clients and add your client's logo right in the dashboard while also being able to manage hundreds of sites all from a single dashboard.
The Webydo Benefits
Webydo helps you save precious working hours with clients and on the design itself. It also frees you from worrying about what's the current best practice in HTML or CSS since all designs are immediately converted to VC3 validated code, and it is completely responsive and has cross browser capabilities. You can just focus on what you love – being creative on a canvas.
Professional Features
Let's do a quick case study here. Right after you sign up, you will see the following screen: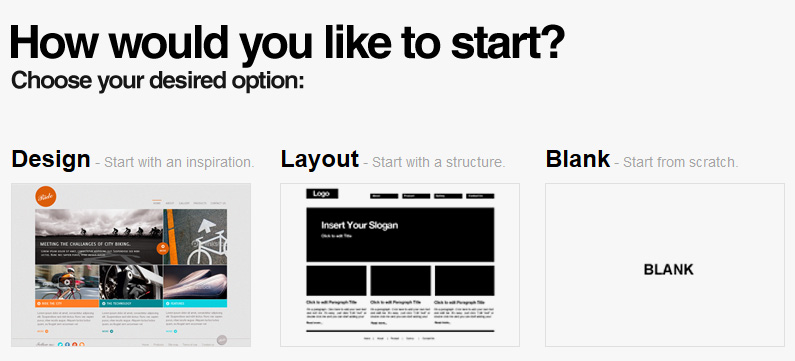 Webydo offers you 3 options to choose from to start to design a website:
Design – you can start creating your website as a version of one of their ready-made inspiration designs.
Layout – you can start with a basic mockup, and then edit the content accordingly to fir your vision.
Blank – Unlike some of the other site creators, you can unleash your creative side and see your visions turned into a reality.
After selecting which Design you wish to start from, you will then be taken directly to the main workspace: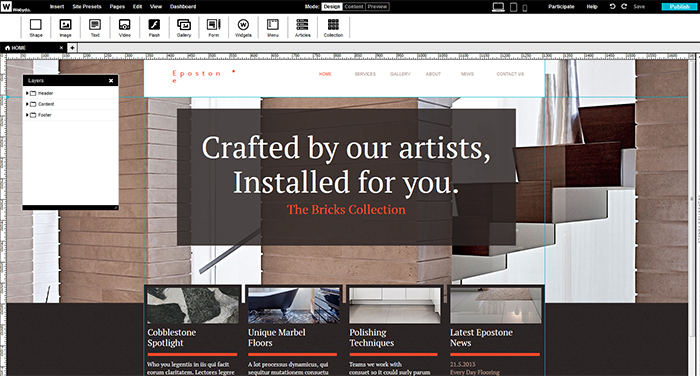 On the top bar, there are buttons that let you insert various elements onto the canvas (shapes, images, text, videos, etc.), set the site presets, and add new pages (home, about, etc.) and also switch between the design screen, content screen, and the preview.

Overall, Webydo offers competitive professional features, and it works with drag-and-drop ease and functionality. This also means that you can focus on the design and not worry the need to code anything or go through long lists of settings/ parameters, as Webydo automatically converts your site to fully responsive website with cross browser capabilities.
(The "no code" policy is actually one of Webydo's main promises as well as their 24/7 customer support.)
When you're done working, you can hit the Publish button and watch your design turned into a live website in seconds and that is completely responsive in nature with cross-browser capabilities.
Some other things worth pointing out:
web fonts – you can choose from hundreds of open-source fonts
cross platform compatibility
e-commerce module – should you need an online store functionality
full CMS functionality – all content can be changed through a built-in CMS
SEO-friendly structure
basic site analytics
site permissions – define user account permissions for your clients
cloud hosting and automatic backups
dozens of video tutorials to help quickly get you started
Is it for you?
Webydo has been created out of necessity by a web design agency that wanted to speed up their own design process. It's actually advertised as a product developed by designers, for designers.
In other words, it is meant for people who design sites for their clients and need a platform that would make their work quicker and more streamlined. This is in comparison to the standard approach where a Photoshop design needs to be turned into HTML manually.
Now, although Webydo is open to the public, it is hard to imagine a complete beginner using it to design a quality site for themselves. I mean, you still need a strong design taste to be able to produce something that looks good and is actually usable in the end-user environment.
So yes, if you're a designer who's tired of spending hours turning a static Photoshop project into a live website then this platform is definitely for you.
Price and where to get it
There are two main plans at Webydo:
Free – you get to create up to 15 pages and have them hosted under a subdomain at Webydo.com. You also get unlimited bandwidth and 1GB of storage.
Premium – $7.90 a month. You can hook up your own domain name, unlimited page creation, unlimited bandwidth, and 2GB of storage.
To get started, just go to http://dashboard.webydo.com/start.aspx and create a free account.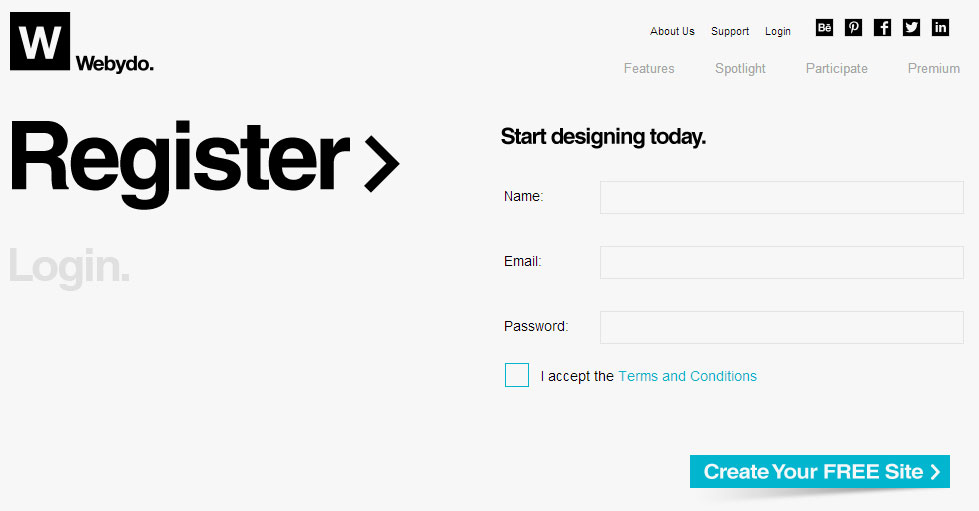 What about the alternatives?
There are two main competitors: Squarespace and Macaw. Here are some thoughts on both of them.
Squarespace feels like an end-user app – one where people can create designs for themselves.
It's a much shallower environment (for the lack of a better word). And I don't mean it in a bad way. It's just that Squarespace was designed to enable non-designers to build great websites for their own use and falls into the DIY category.
Much like Webydo, Squarespace allows users to build a site from the ground up and then have it hosted on the company's servers with a number of side features.
At the end of the day though, Squarespace is for people who have no background in design or web development knowledge, yet they still want to be able to create a great site on their own.
Macaw, on the other hand, looks like a graphic design environment – you can interact with it just like with a standard Photoshop design. You can play with the individual widths, the grid layout and stuff like that. When you're done, you get to generate a set of HTML/CSS/JS files.
While Macaw is similar to Webydo in some ways, it's a platform is geared at giving you a blank canvas along with a range of tools that still have a slightly bigger learning curve. However, Macaw is not as comprehensive and is less robust, does not fall into the B2B category.
So is Webydo better than the competition? Like I said, the promise of each platform is slightly different. So depending on your needs, one of them is always going to be better than the others. I hope the descriptions above will make the decision easier for you.
Pros and cons
Webydo is for the advanced and savvy professional designer who is looking to design on a blank canvas, on which you can place individual elements, arrange them, tune everything up, and then turn it into a live site with just one click. The platform offers, and is the only online design studio to do so, professional B2B features like such as 'bill your client' or 'build your brand' and offers the robust CMS.
A cool option as well for saving time in the future when working with and managing multiple clients is to create your own layouts and save them as templates. Then, when you're creating a new design, you can duplicate your template and build upon it.
Finally, I did notice some technical difficulties on my plugin-heavy Firefox. Using a fresh browser made them go away, so no big deal.
The Bottom Line
Webydo feels like a structural design platform. It's a diverse environment that basically allows you to focus on what's important instead of worrying about the code. Like I said, it's a WYSIWYG for website design.
But is signing up and using it worth your while?
Let me put it this way. I'm a WordPress guy, always been, but after getting familiar with Webydo, I can honestly see the value of looking into other design platforms, especially Webydo.
Granted, you won't see much time savings if you're only building one site a month on the average. But if you're managing dozens to hundreds of sites, this platform can allow you to improve your processes significantly. Surely worth giving it a shot.