I think that everyone heard about a post, video or image that is viral and therefore everyone knows what these are. It's that kind of product that is viewed and liked by tons of people in a very short time span. Altogether, I think that you have not heard about "viral websites", yet. Honestly, I don't know anyone in this world that has used this expression before; probably, we are the first ones. This expression defines those extremely good looking websites that instantly made the viewers, fell in love with them. Usually, these aren't marketed, it's enough just for a single person to share it via social networks and the "explosion" is initiated.
Thanks to the latest version of HTML and CSS, the web designers have the best tools of creating wonderful websites. Under these positive circumstances, it will be great for web designers to admire the daily most "viral websites". Fortunately, there are tons of impressive and selective galleries where websites that have the potential of turning into a viral one are exposed.
We, the team behind Ewebdesign, but also many other web designers get our inspiration dose by visiting the most interesting website galleries and we strongly believe that you should get this habit too. If you don't have any website gallery addresses bookmarked or if you want to freshen up your collection, then this post is very useful for you. Here you will find showcased 20 highly visited website galleries; practically, it's impossible not to be satisfied with these. Of course, if your favourite one isn't mentioned here, you may add it via comment form and we will update the post with it!
List of 20 Highly Visited Website Galleries
Awwwards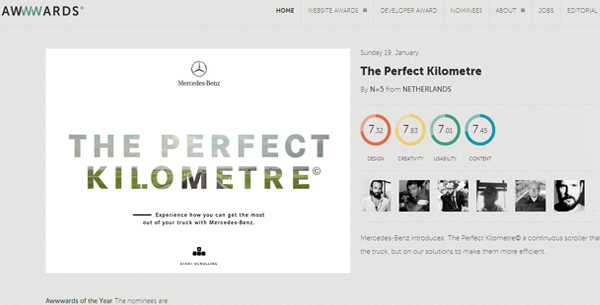 Awwward is a website gallery that is mandatory for every serious web designer. Here are exposed the most beautiful websites. I dare to say that if someone has exposed a website on Awwwards, then it's the best evidence that the respective individual is a web design expert. Obviously, everyone is invited to submit his/her creations, but not all of them are showcased.
Abduzeedo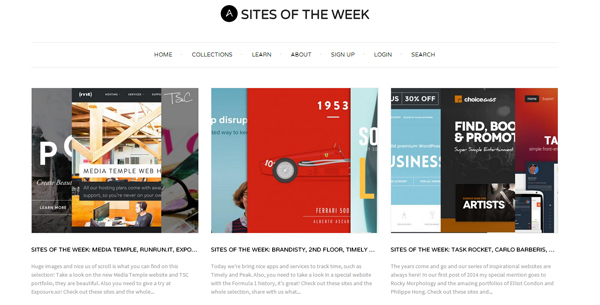 Abduzeedo is the blog of Fabio Sasso, a well-known Brazilian designer. His blog is one of the most influent one into the web design blogosphere and relatively a new section of it represents the "sites of the week". It isn't a conventional website gallery, but there are many advantages that made me add it here. The selection is very carefully done and the exposure gained may be compared with the one gained by exposing the works on a highly visited website gallery.
CSS Design Awards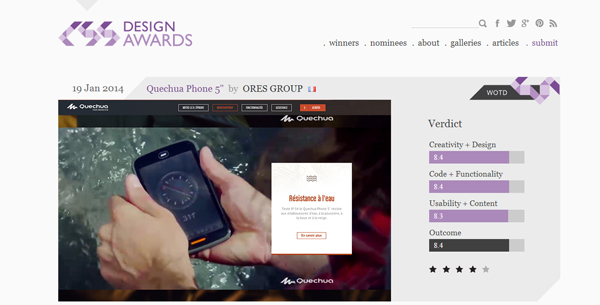 No doubt, every designer should bookmark this address. CSS Design Awards is a mix of resources that delight even the most demanding website crafters. In order to submit the website here, a small fee must be paid, but it is insignificant compared to the exposure that you will gain. Also, the blog is another must see piece. Besides these, it's impossible not to observe the beautiful design of the website.
101 Best HTML5 Sites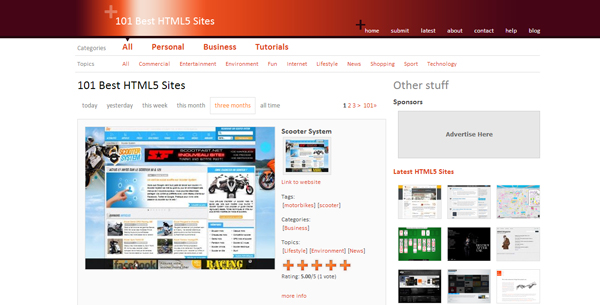 101 best HTML5 sites can't be compared with Awwards in terms of traffic, but the quality of the exposed websites is pretty much the same. Having a website exposed here must be a real honour for any designer, but I am almost sure that it will took some time to get the submit button. The team behind this gallery said that they are working to improve it, clearly the submitting process should be improved.
Best Web Gallery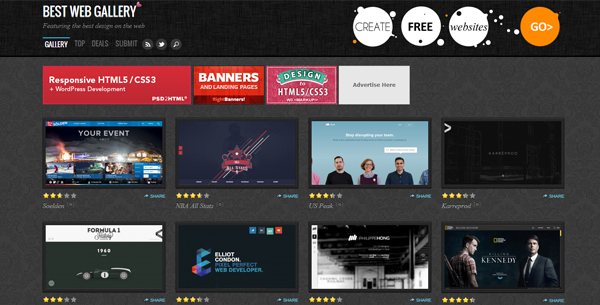 It's a standard gallery: just quality websites, a submit form and a special section where the best websites are presented. Another advantage is that the submission is free, so don't waste time and let us know your latest web design project.
HTML5 Showcase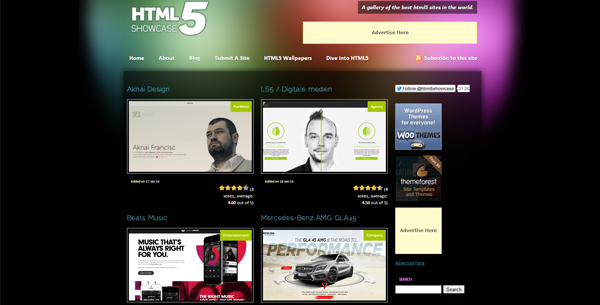 The initial idea of this website is to present the most visually appealing HTML5 based online presences; while nowadays, HTML5 became usual, it turned into a "normal" website gallery. I really liked it because the websites exposed are wonderful and another plus is the rating system. It's obvious that there isn't a professional feedback, but anyway it helps in making an idea about the website rated.
The Best Designs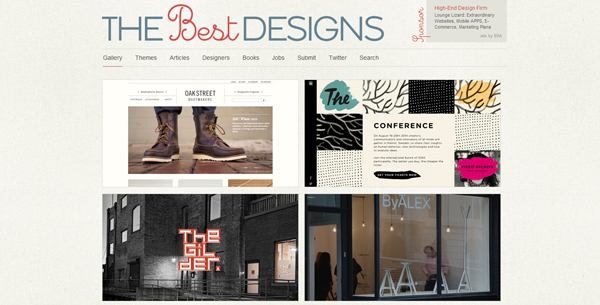 The Best Designs is another complete resource that should be periodically checked by the designers, there is a rubric containing jobs, therefore by visiting this website gallery you gain inspiration and maybe a new job. The downsides of it are the lack of fully responsiveness and the blog that isn't updated for some months.
Mobile Awesomeness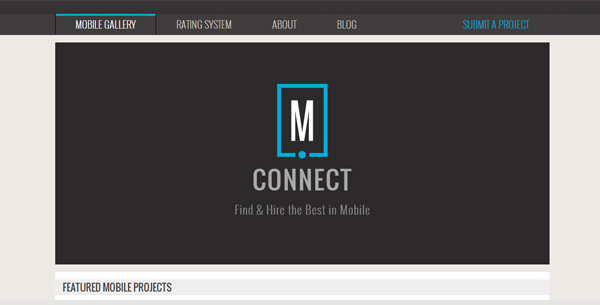 Mobile Awesomeness is another original website gallery. The full focus is on the way in which the websites are rendered when they are accessed via mobile devices. I was impressed by the quality of the feedback offered- it's divided into three categories (UI/UX, design and concept) and only a small group of experts are giving the marks.
Unmatched Style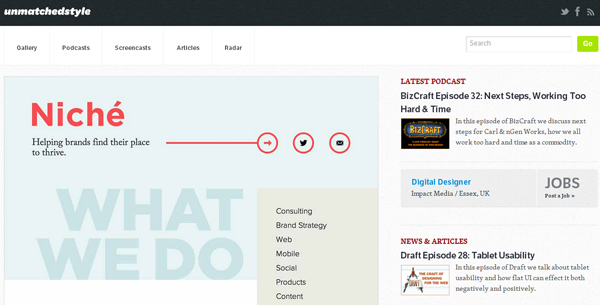 The initial purpose of the post was to highlight the most important website galleries and nothing more. Honestly, I didn't expect to meet so complex resources. A good example and definitely a great resource is Unmatched Style. Here websites may be uploaded, but also you may listen to the podcasts, read posts presenting useful resources (scripts, plugins, buttons etc) and design related news. I think these are enough to make a designer spend entire days checking them out, knowing that their time isn't wasted.
CSS Dsgn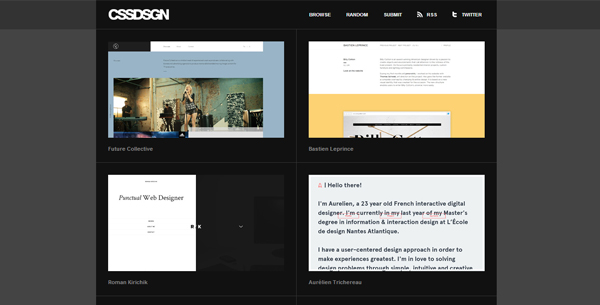 Unlike the previous one, CSS Dsgn is a simple website gallery. Still I spend half an hour here because the websites presented are created in order to satisfy the highest standards. Anyway, a good place for inspiration and for getting exposure for latest projects.
One Page Love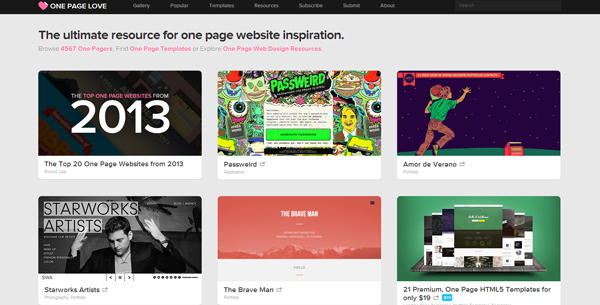 Last year we faced an exponential growing of the one single page websites and personally, I think that this trend will keep on. If you create such a website and want to get some buzz around it, then One Page Love may be a good solution. Of course, you may get some inspiration by admiring the websites showcased.
Minimal Sites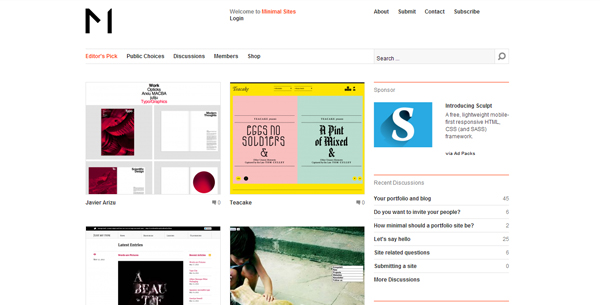 Many Internet users are bored with complicated online presences and prefer the minimalist approach. Minimal Sites is the best refuge for the lovers of extreme simplicity; here are many stunning minimal websites.
Make Better Websites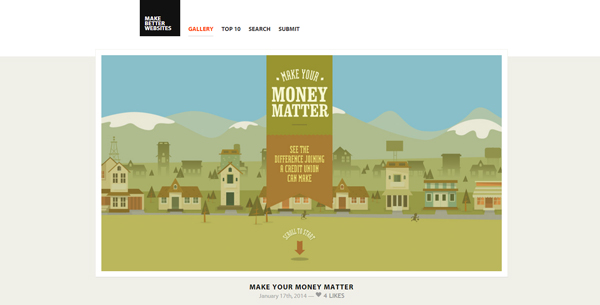 I dare to say that Make Better Websites is a gallery mostly for relaxation; is that kind of website to visit when you are bored and need a motivation boost. There aren't complex filters or other resources to "disturb" the visitor. Instead, the full focus is on the websites that are exposed. I like this idea very much. What do you think?
CSS Winner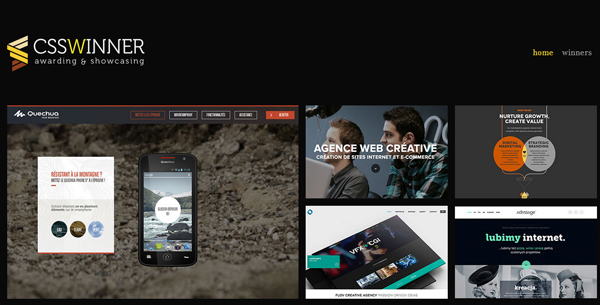 CSS Winner is a cool website gallery that showcases only top quality creations. There is nothing more to say, just sit down and enjoy each website to refuel your inspiration level.
Admire The Web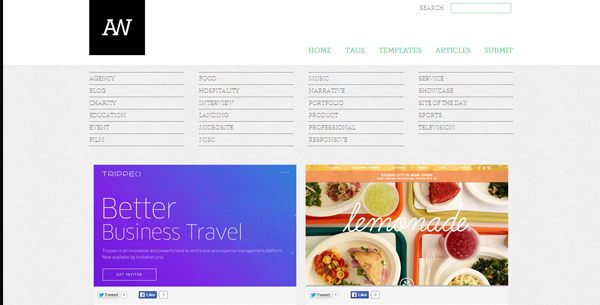 Admire the Web is a pretty exclusivist place, so you should judge twice the quality of your website in case you want to submit it. Everything looks awesome here, from the website itself to the latest work uploaded.
Web Design Inspiration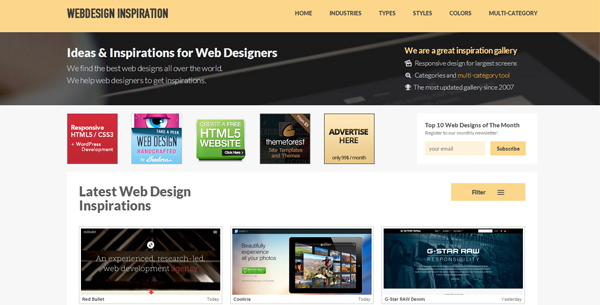 I was impressed by the navigational menu of this gallery. If you should create a website for a client from a narrow niche or you search for various types of websites, then it's the perfect resource for you. Definitely, a good place to get inspiration and of course, to inspire others!
CSS Based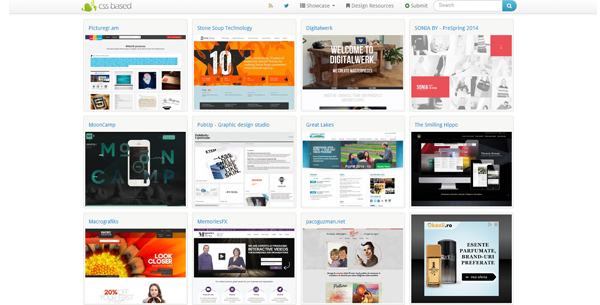 CSS Based has three options of submitting a website. Two options suppose a small payment while the last one is free, but it will be available only after they will reach 2700 Twitter followers. It will happen very soon, so you have another cool website gallery to submit for free your website.
CSS Dance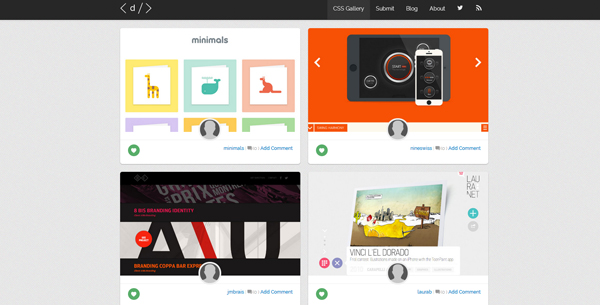 CSS Dance is another gallery that let the user focus only on the uploaded websites. The same as other previous galleries, the blog isn't updated for many months, which isn't a positive aspect. In spite of this, the websites showcased are professionally made.
Design Bombs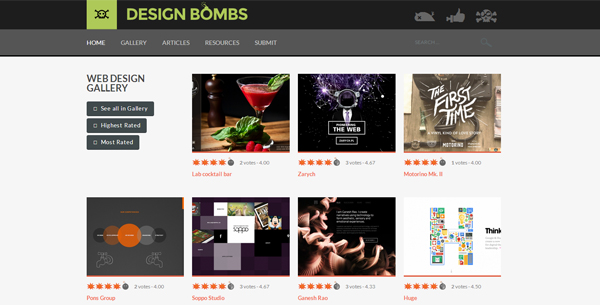 Design Bombs is a website where originality and humour are combined with serious work. It's enough to check the social media buttons from the header or the logo and taste the humour sense of the designers. On the other hand, the works uploaded are seriously judged because these are impressive. Overall, a nice and relaxing place!
CSS Garden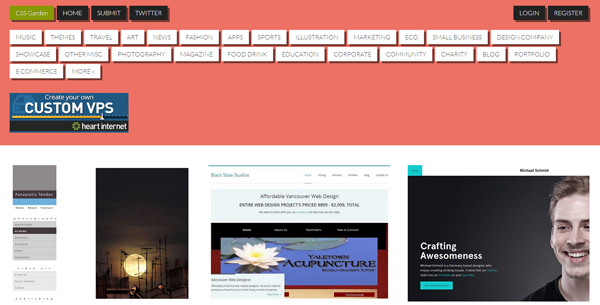 CSS Garden is another gallery that should be bookmarked: websites can be submitted for free, the number of visitors is high and the other works uploaded are extremely creative. These facts are convincing enough, aren't they?
I hope that this post will help you make more buzz around your freshly finished projects. Many galleries contain interesting resources or news; therefore you should periodically visit at least a part of them. I hope you will create more and more viral websites that would be showcased into these galleries!