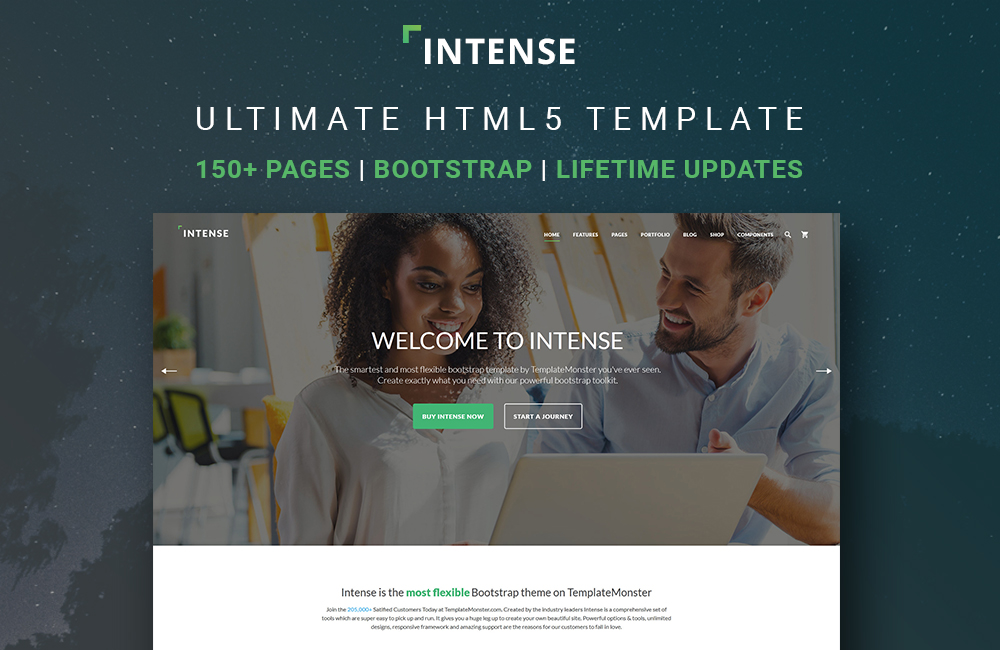 It is not only astronomers who may experience that rare opportunity to observe the mind-boggling process of a supernova star outburst. Web developers are not denied such an experience either. Today the object of our research is the Intense multipurpose website template that appeared in the web design galaxy on April 13, 2016.
What is Intense?
It is an HTML 5 website template, a professional solution for personal sites, corporate websites, portfolio sites, landing pages, web shops, and any other projects you can think of. Intense is a complex HTML template that comes packed with an all-embracing set of pages and features. It is a universal tool that provides all of the elements you lack at the moment. It is a result of TemplateMonster developers hard work on the quality of HTML templates. The template is the result of multiple experiments the guys have successfully carried out. They have invented helpful functionalities in the process, which meet all current quality standards and requirements of popular platforms.
Please note that Intense offers free lifetime updates and support, which is important as this giant product requires close attention and constant improvements. After the initial release, Intense will be updated regularly. Those updates will take the form of new pages, skins, and child themes. Owners of this template will not only be able to keep pace with web innovations, but also expand their opportunities dramatically and totally free.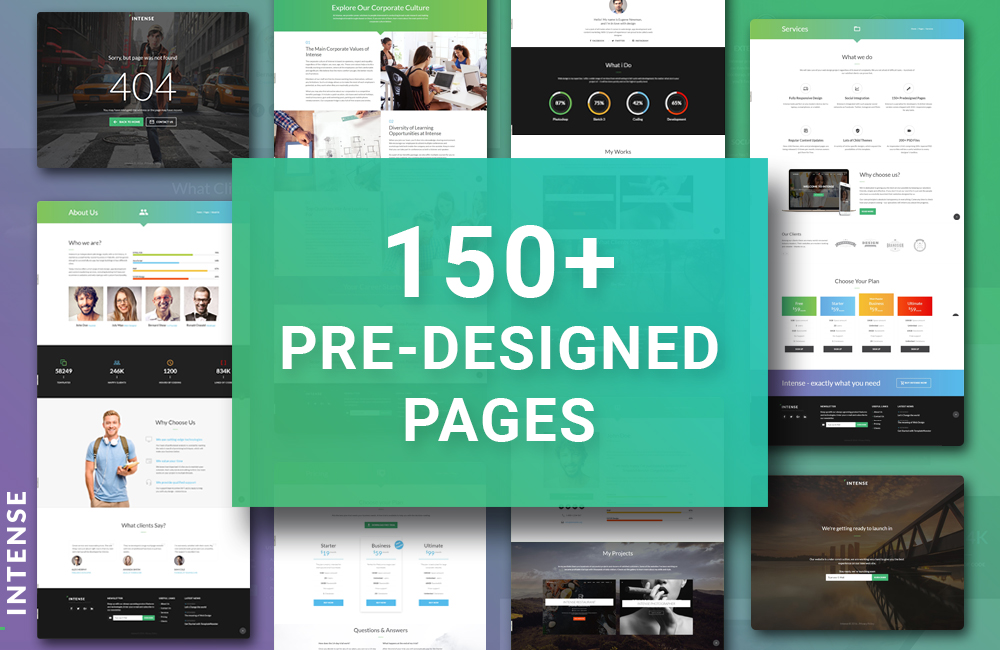 Key features of Intense:
A really huge choice of pre-designed pages. About Us, Services, Careers, FAQs, Contact Us, Coming Soon, Login, Pricing, Maintenance, Clients, and many other pages are ready to showcase your content.
Multiple niche templates. Two templates are available at the moment. Click the following links to view their demos: Intense Restaurant and Intense Photographer Portfolio

. Child themes will be developed constantly to meet the needs of all business niches.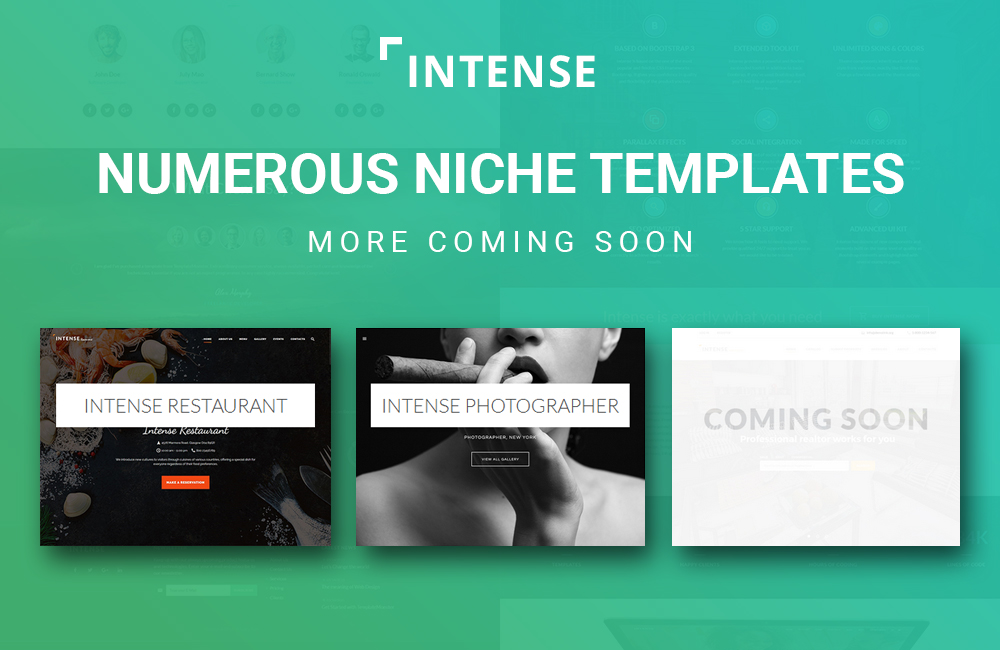 Apart from the child themes Intense pages will also be added regularly. This is included in the lifetime updates of the template.   
The following pages are available at the moment: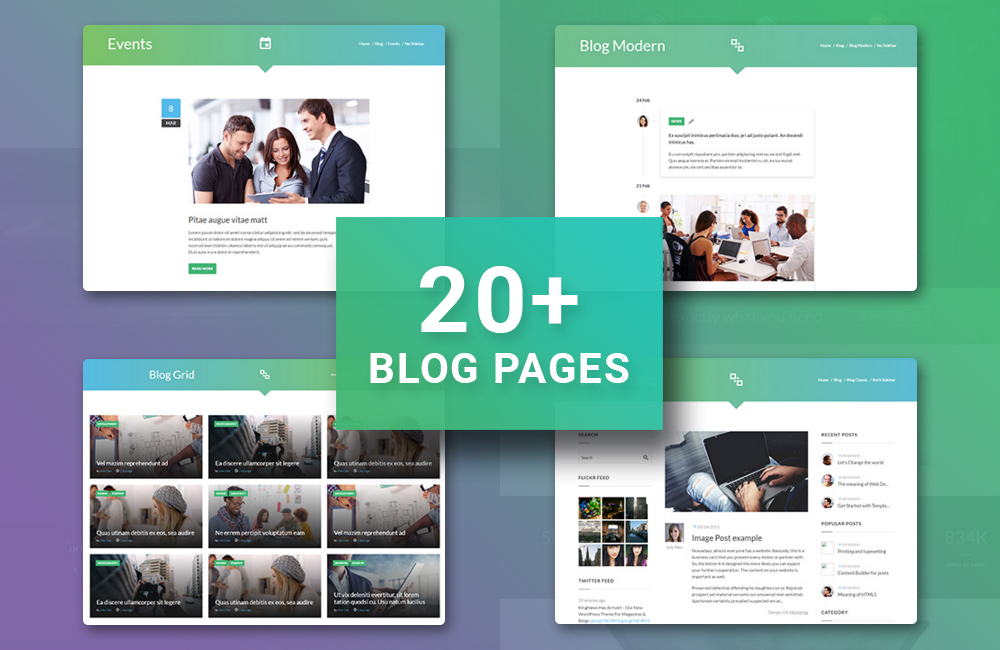 20+ Blog Templates. Intense offers a lot of blogging solutions because running a blog is beneficial for both customer engagement and SEO. You can experiment with the layout of your blog from classic and modern to timeline and events. You can also add a sidebar to the left, right and both sides or go without any sidebars at all. Each blog style has its own design for a single post page.
15 Portfolio Pages. Intense offers a diversity of ideas to showcase your works in the most appealing way. It allows you to choose from grid, masonry, wide and full-width layouts. For an easier search, visitors can filter your projects by categories that can be shown in vertical and horizontal lists. You can also arrange your projects in a different number of columns. There is also a separate page for a single project. The single project page features a carousel of images shown one by one and supplemented with the text. Under the carousel you can display the project manager and related works.
10+ eCommerce Templates. This HTML5 CSS3 multipurpose theme is a great choice for online merchants. It has a ready-made single product page and templates to show multiple items in grid and list view modes. Similar to blogging layouts, you can optionally add a left or right sidebar to any eCommerce layout. There are pre-designed pages for cart view and checkout purposes as well.
You can also enjoy: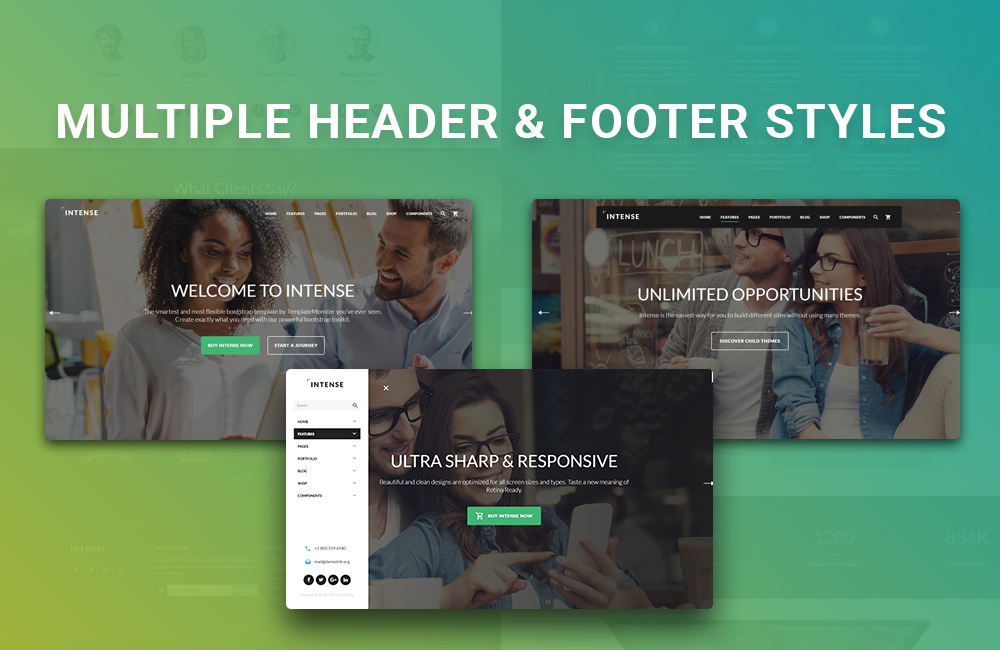 20+ Header Layouts. Yes, you can choose from so many variants. On top of the default header, you can use a sidebar toggle, floated, and top panel. Whichever option you pick, you can keep it as a light or dark tone. The default variant can also be transparent.
10+ Footer Layouts. You can experiment with 10+ footer variants to add a final brush stroke to your website. 2 of them are available in the initial pack. The default footer is supplied with a logo, social links, newsletter form, latest news, and links to the main pages of your site. The second variant of the footer has your address, testimonials in a carousel, social links, and contact form.
So, additionally, you get:
150+ HTML Files and 150+ PSD Files are also included in the package, so you will be able to modify your website according to your personal or corporate requirements.
50+ Shortcodes and 110+ components will make the template's customization much easier. They let you fill pages with the content and functionality for any website type.
Flexible RD Audio and RD Video Players are included, so you will be able to tell the users much more about your company and its products in an engaging and unobtrusive manner.
Social Integration is crucial for website promotion nowadays. Intense has a fully fledged system for integration with social networks. From Flickr and Instagram galleries to Facebook and Twitter feeds, the template has all the must-have social widgets. Intense adds social options elegantly to match the overall website aesthetics.
A teaser for developers:
Extended Bootstrap Toolkit. These are Bootstrap components, and an advanced, all-inclusive UI kit. It contains elements for virtually any purpose your project might have. Alerts, breadcrumbs, counters, dividers, infographics, labels, – this is just the tip of the iceberg.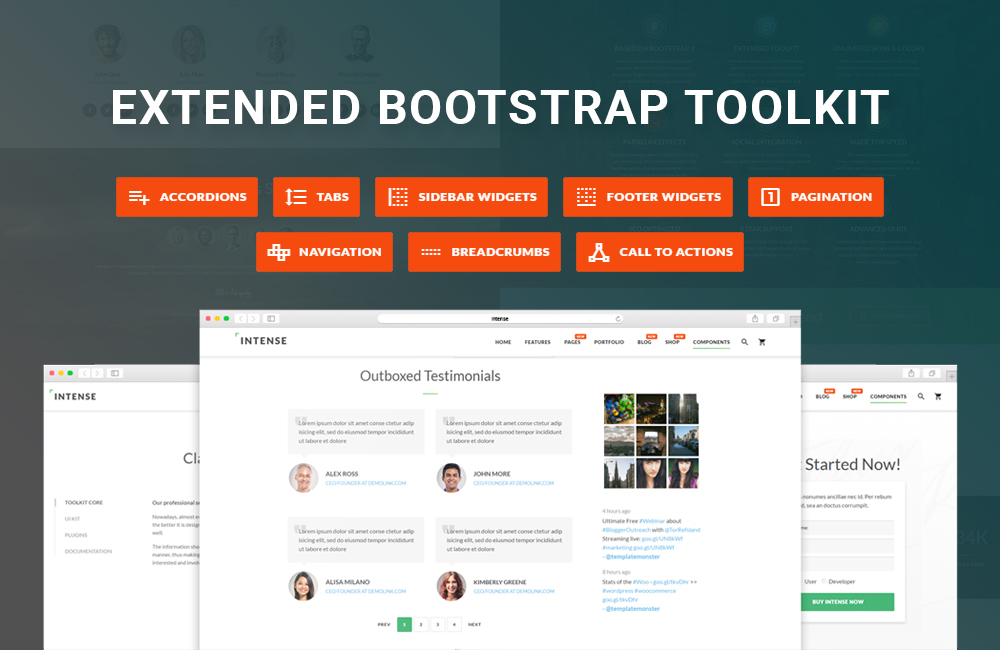 If everything said above sounds like a promo, see what customers say about Intense: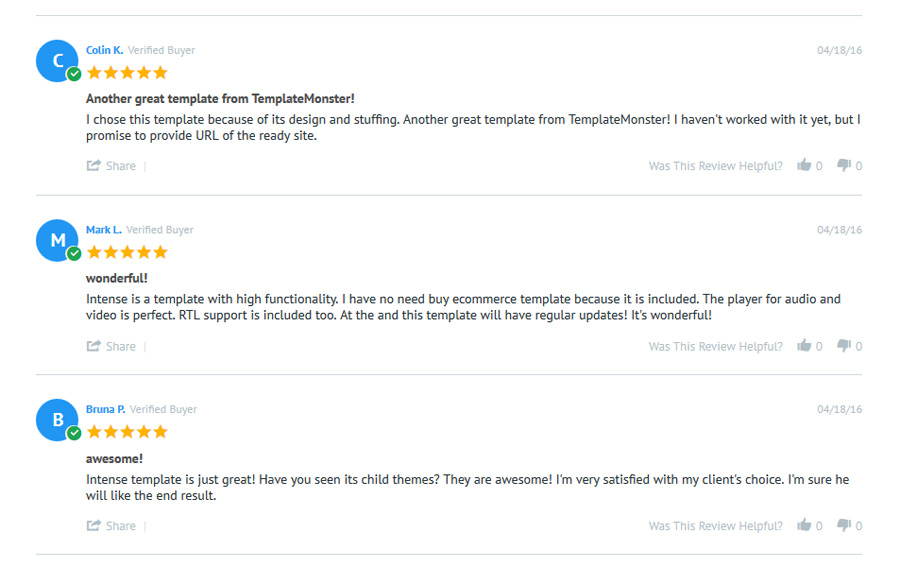 They absolutely love it!
Conclusion
It's up to you to decide if Intense is the way for you to go. Read more about the template, view its demo and see that you can build absolutely any website quickly and easily with this multipurpose solution/toolkit. Everything you need for customization comes in one package with the template.
Let us draw your attention to the following info as it might save you some money. TemplateMonster is carrying out multiple promos at the moment, so we advise you to visit their site and check out whether some of them can be advantageous for you.
Thanks for your attention and have a nice day :)