Due to the enormous growth of WordPress in the last years, Joomla has lost its position of the most popular and novice-friendly CMS. But does it mean that it is not worthy of your attention anymore?
In fact, Joomla is as technically advanced as any large modern CMS. In addition, it has its benefits comparing to WordPress: it is faster, generally less prone to hacker attacks, and more scalable. In addition, it has a vast library of designs, which are exclusive for Joomla.
To give you an idea about what does the Joomla of today look like, we have collected for you a gallery of 30 premium templates with outstanding design and profound functionality. Also, don't forget to check out the entire collection of them. Enjoy!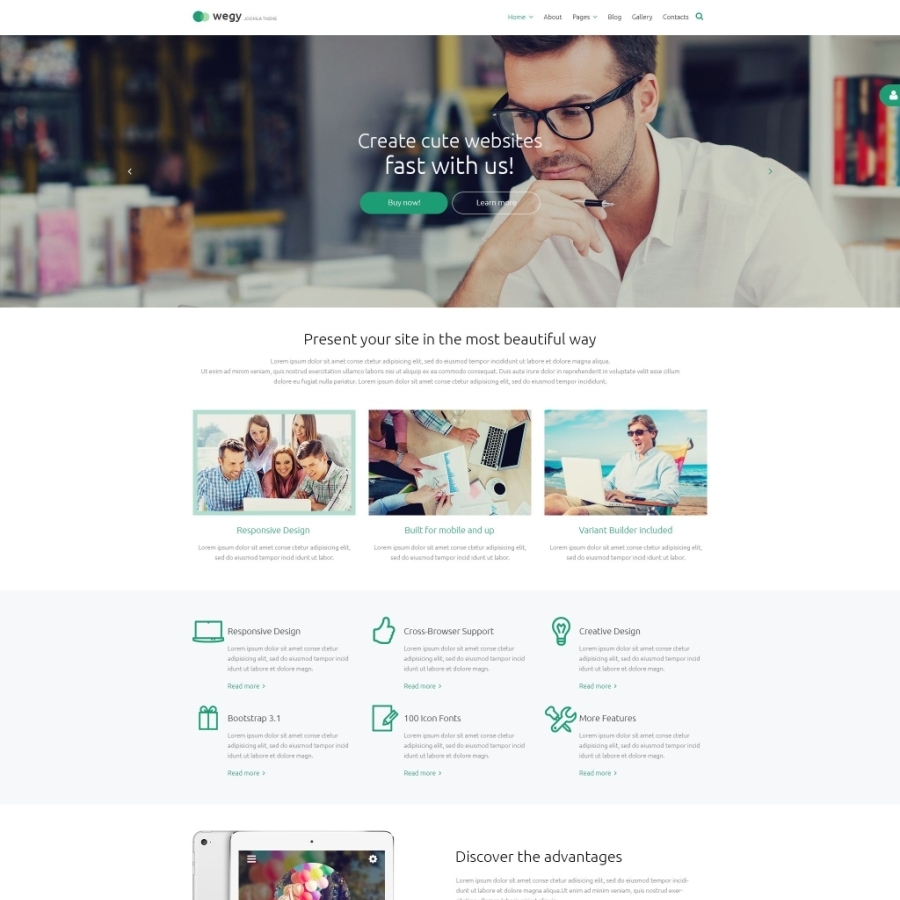 Wegy is a bestselling next-generation Joomla template. It is multipurpose in both design and functionality, meaning it is not fully focused on any particular website type or topic. Instead, you can compose your website by choosing from a number of layouts for business, blogging, ecommerce, etc. Wegy is integrated with Kunena forums, VirtueMart, font icons, and many other extensions, which turn it into a robust and scalable one-fits-all solution.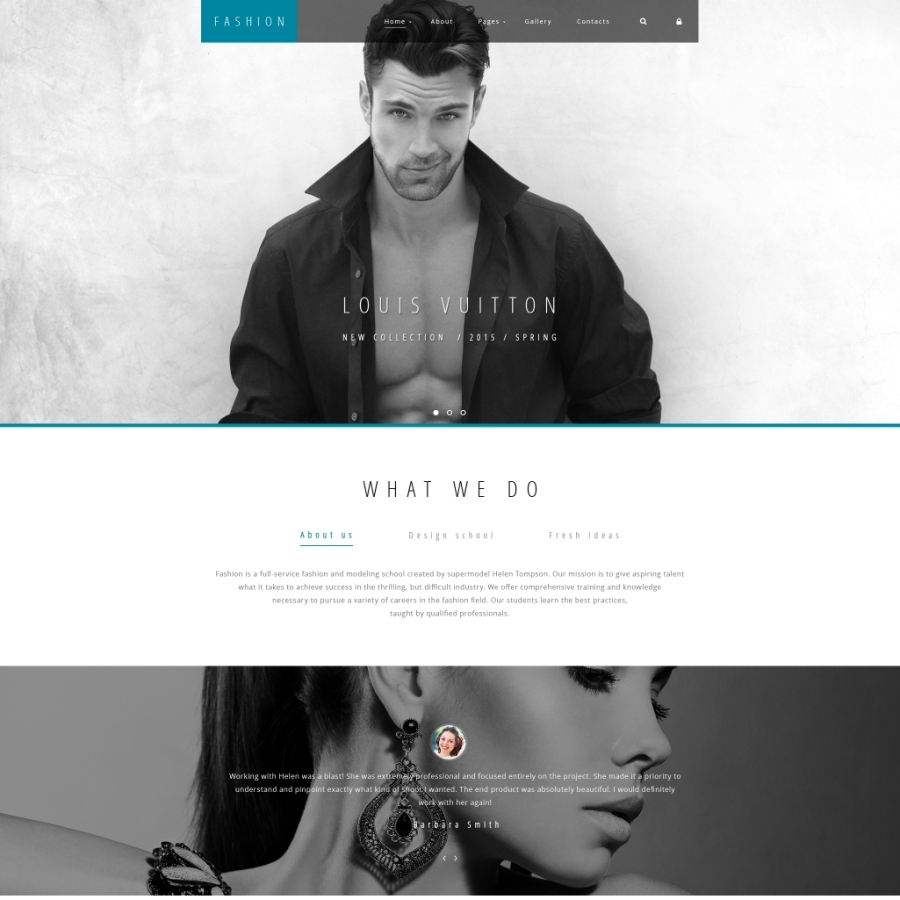 This responsive Joomla template has been designed for companies involved in the fashion industry. By means of the built-in color switcher you can quickly change the color scheme of the entire website, adjusting it to the general style of your brand. This template comes shipped with 14 pages laid out to serve any purpose: grid portfolio, timeline, forum, and many more.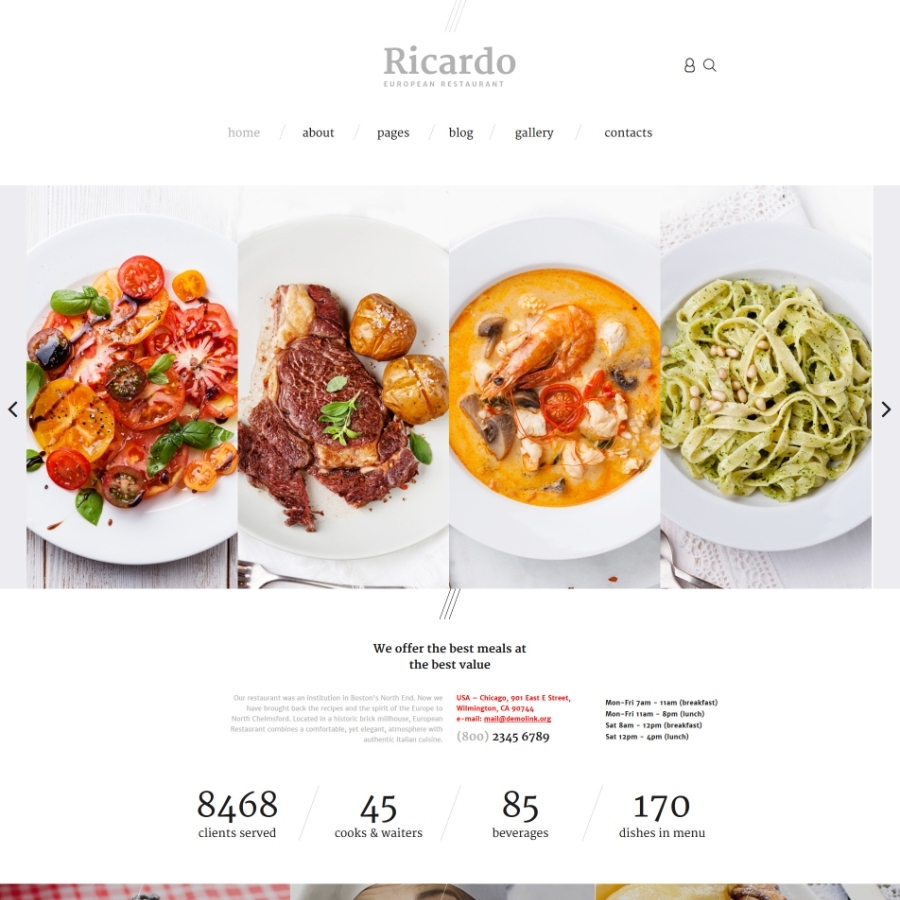 Ricardo is a responsive Joomla template with predominant white color, which relies on expressive images. This responsive Joomla template has been designed for restaurants, cafes and food delivery services. It can be additionally customized by applying one of the 4 dichromatic color schemes.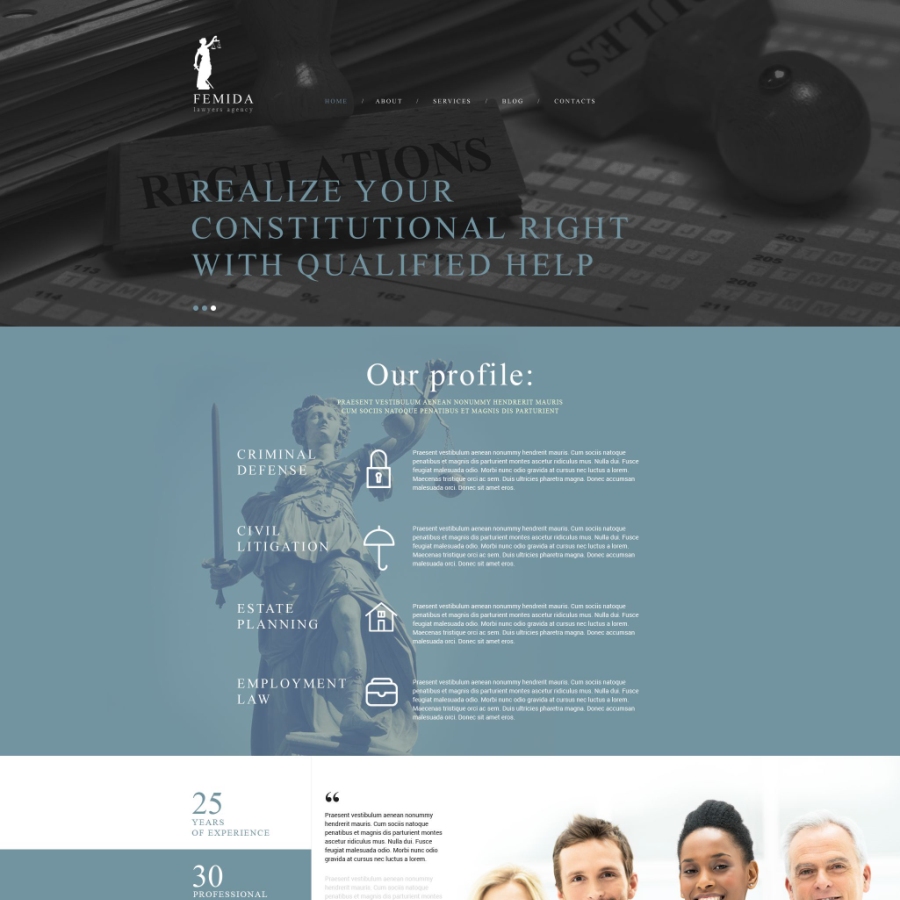 Aptly titled, Femida is a comprehensive Joomla template for law firms. Its aim is to ensure that your website has a professional design, and is able to serve your clients effectively even if you are offline. For this purpose two feedback tools have been added – a free live chat module and a contact form placed on the dedicated page.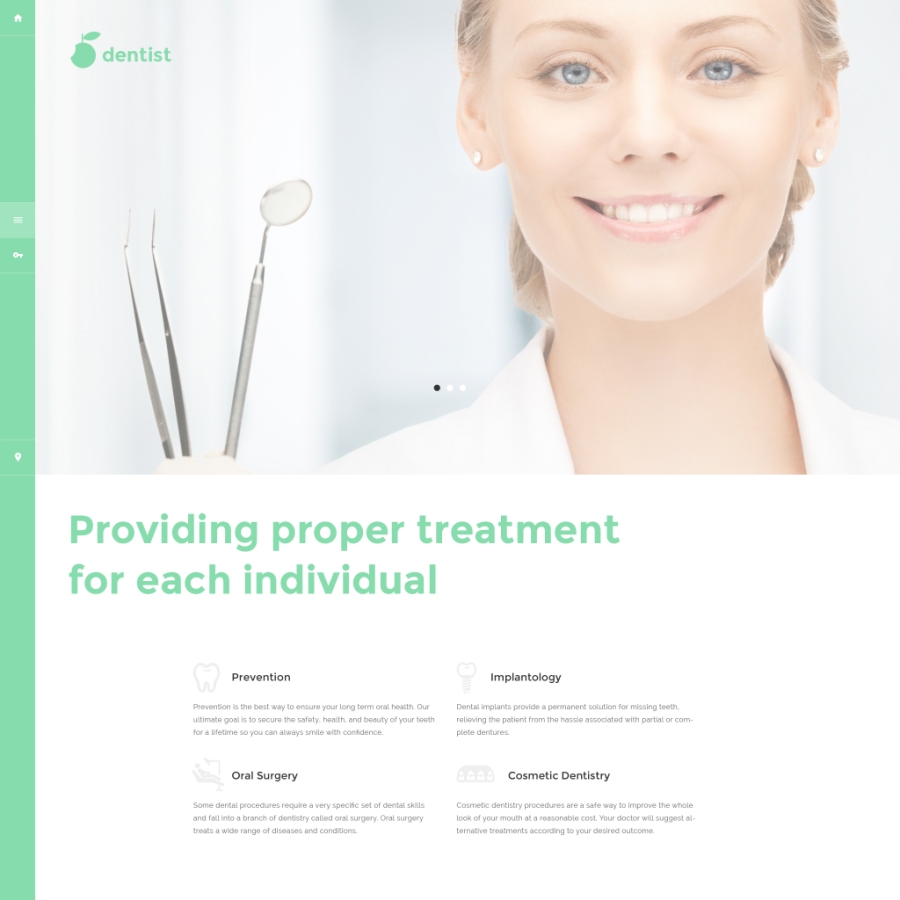 This responsive Joomla template for dentistries and other medical institutions is a technologically perfect way to inform the potential clients about your services. Its offbeat sidebar menu is minimalist, yet informative, providing the visitors of your website with convenient navigation, while not looking bulky. At your disposal there are 4 carefully selected color schemes, customizable sliders and a huge pack of predesigned page layouts.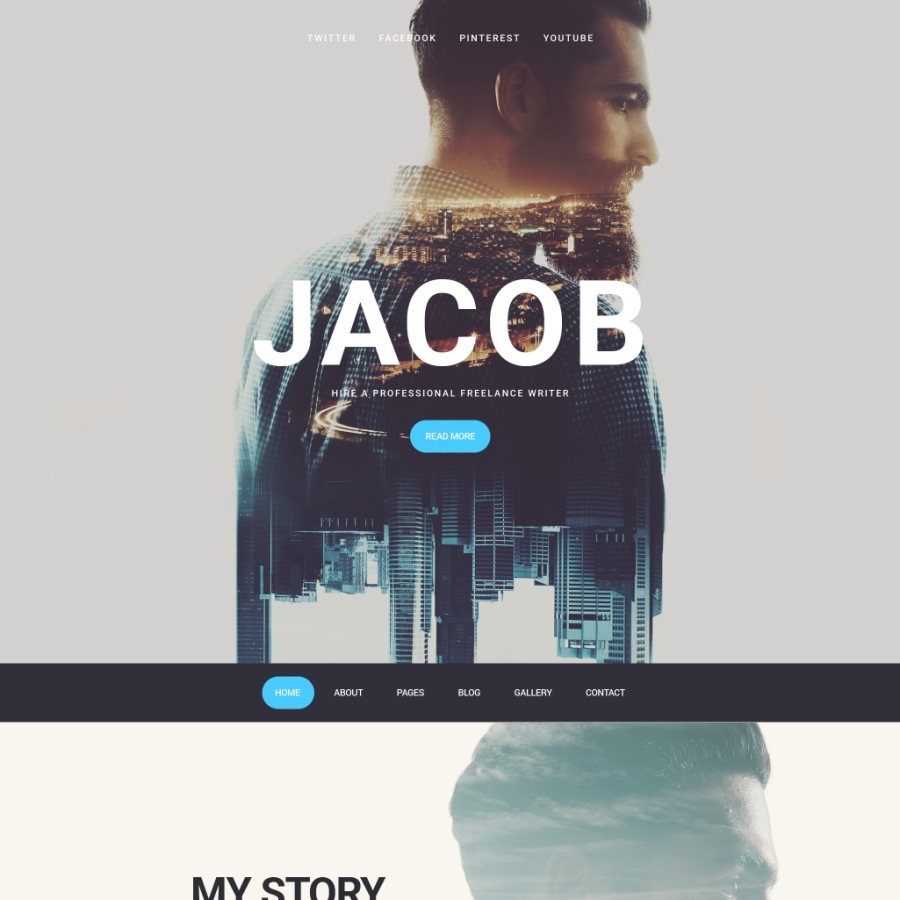 Jacob is a responsive gallery fully focused on parallax effect. This Joomla template does a good job of making an impactful first impression by moving almost all the text content to the secondary pages, and leaving only images and headlines on the homepage. Before using this template make sure that you have enough high-definition pictures to fuel it with.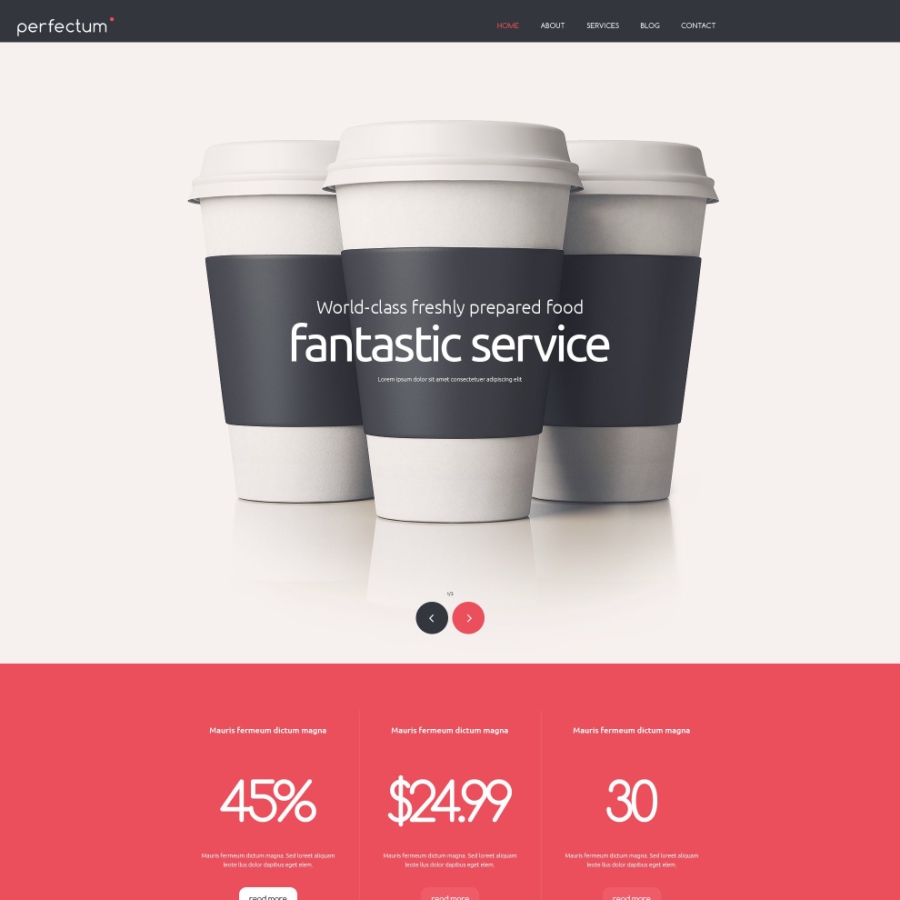 Perfectum is a beautiful Joomla template based on clear-cut shapes, modern fonts and impressive imagery. Its social options are presented by a set of social sharing buttons and a Facebook widget placed in the footer.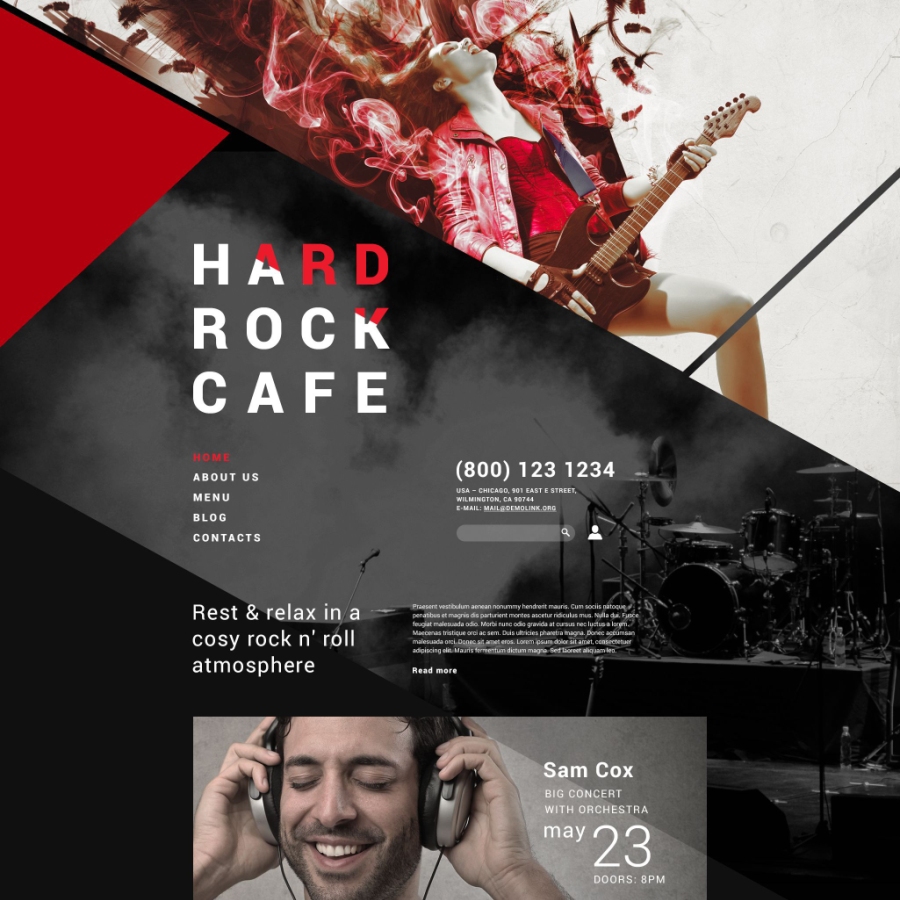 Hard Rock Café is an extraordinary Joomla design for all kinds of music websites. It features a mega menu, multiple sliders, trendy circle-shaped image previews and impressive polygon-based backgrounds. The newsletter subscription form on the homepage will help you with collecting user emails for email marketing.
This responsive Joomla template for IT companies is designed with blue and green hues, various ghost elements and CSS-based animations. In the footer of its front page you will find a customizable Google Map styled to fit the design of the template.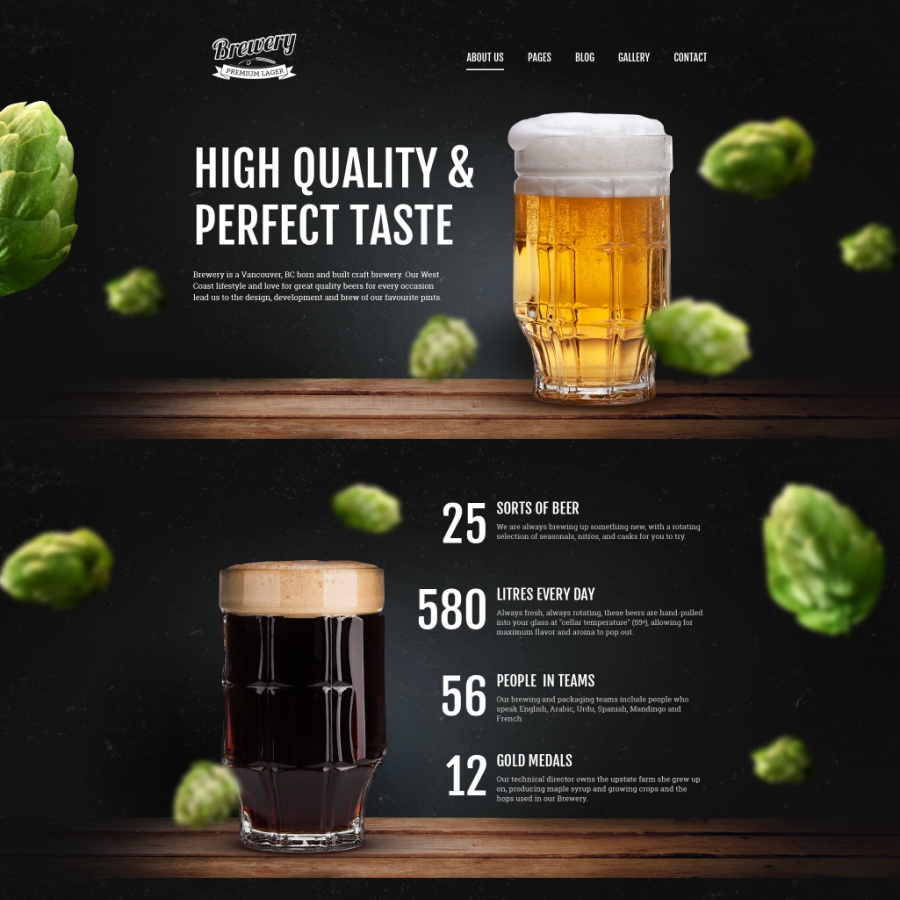 Brewery is a breathtaking Joomla template made with dark colors complemented by a vintage logo and lazy load effect. The peculiar feature of this template is the overlay with moving images (originally – hop cones). This effect adds volume to the design, making your website look really unique. You can freely replace the default images with your own for even more personalization.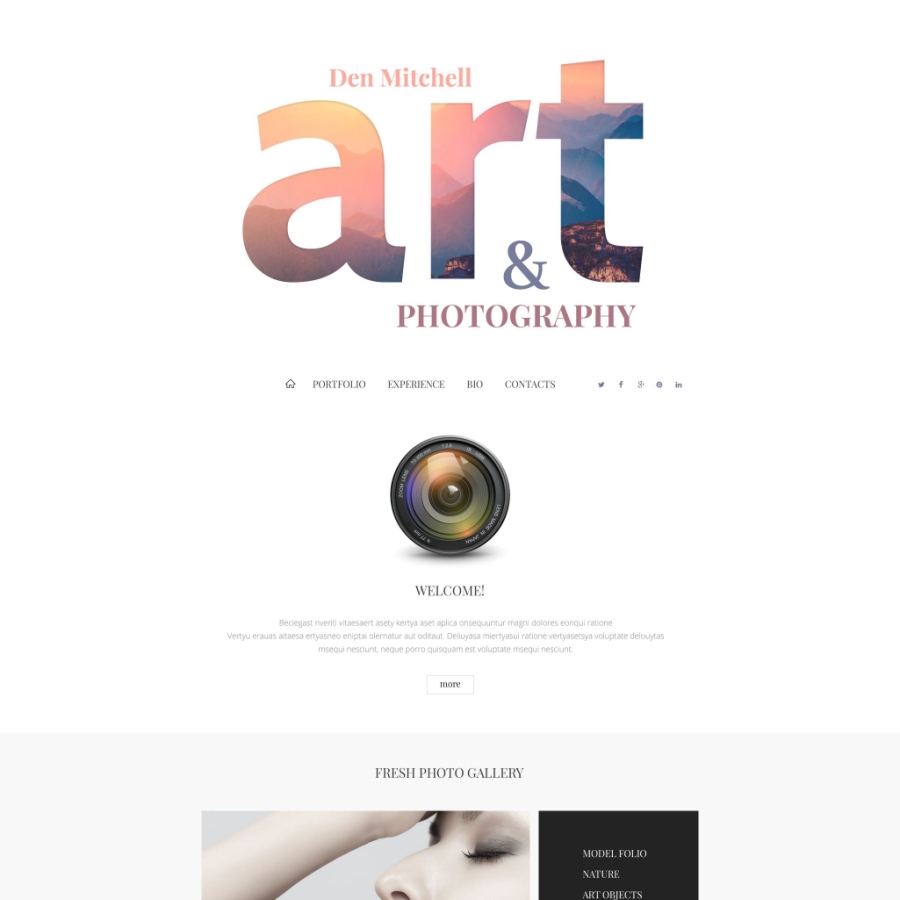 If you are not sure what design to choose for your design portfolio, pick the one that will be appropriate in any situation – a flexible minimalist design, like this responsive Joomla template for photographers. Its clean, distraction-free layout will always focus the attention of your visitors on your creative works.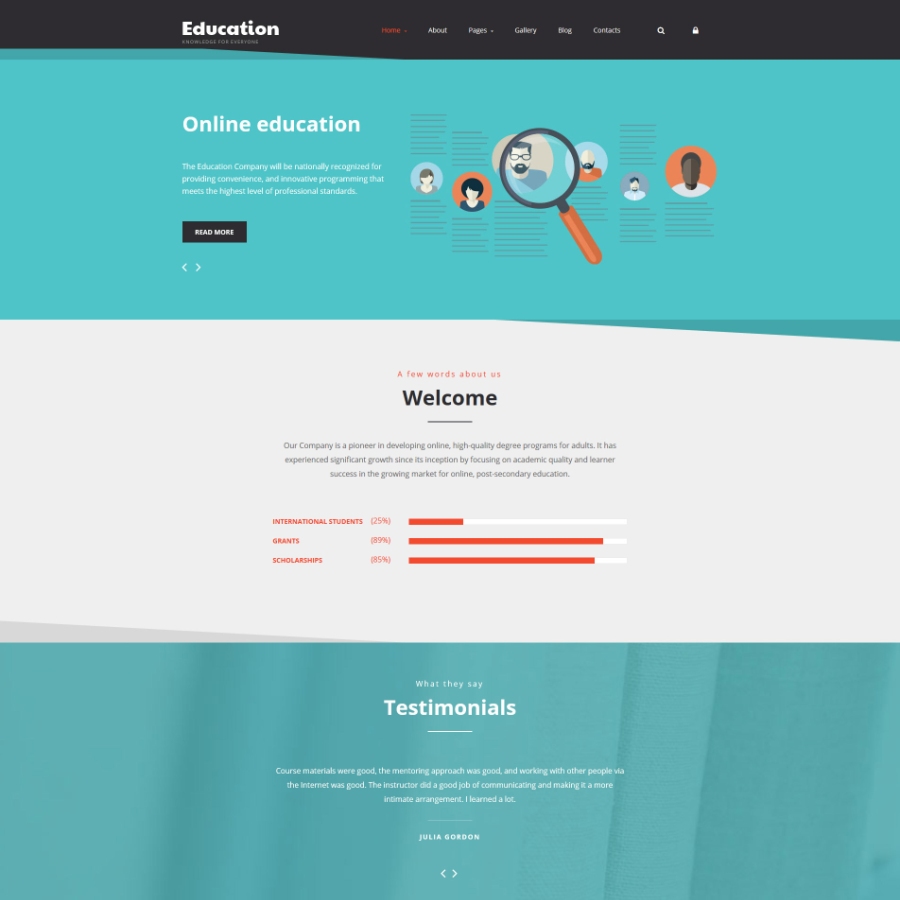 Under the compact flat header section of this Joomla template there are striking image areas improved by parallax effect. The top navbar is sticky, with mega menu functionality. If you want to customize the template, just pick one of 5 premade color schemes, or, if you are a skilled web-designer, create your own by editing the well-structured code.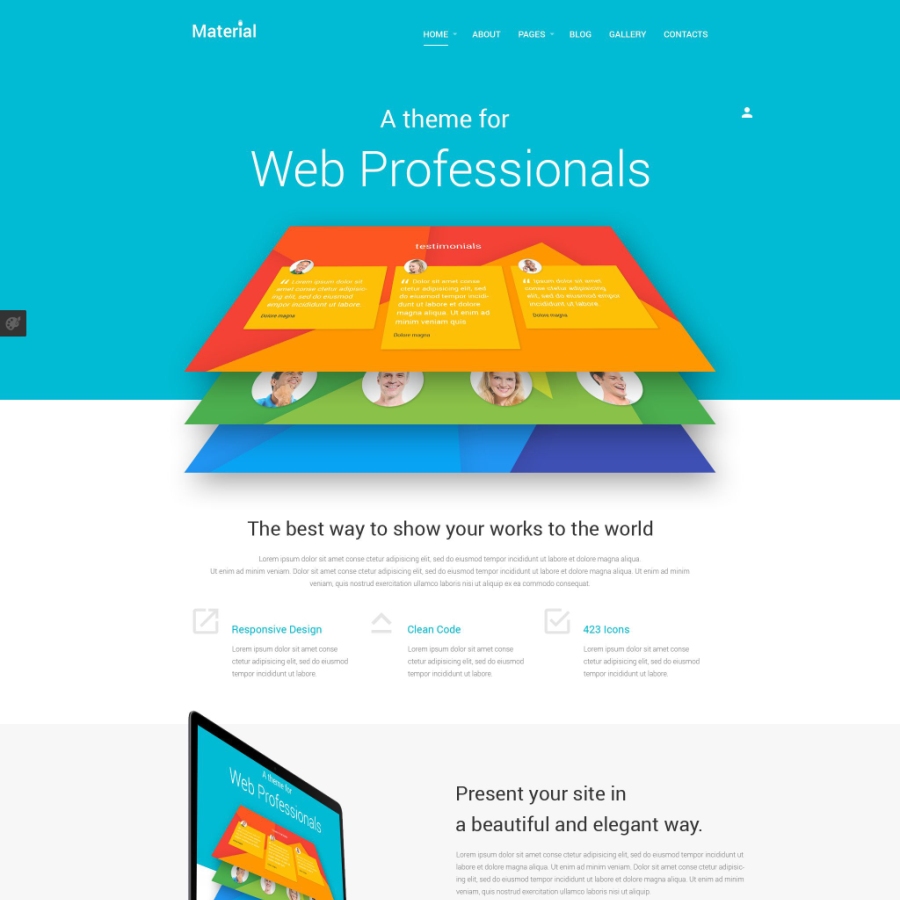 As material design spreads across the web, more and more webmasters want to implement it into their websites. The easiest way to do so is to take a template, which is originally designed using this technique. This Material Joomla template is one of such designs.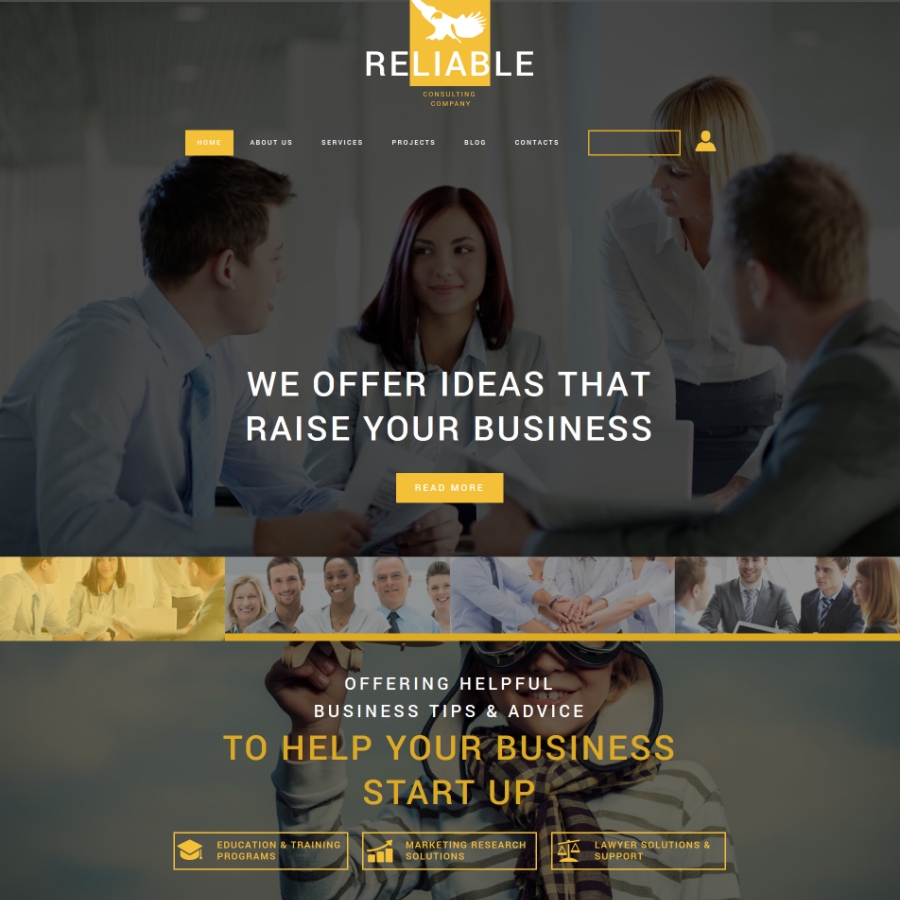 Reliable Consulting is an image-rich business Joomla template with fully responsive design. It features a combination of a simple dropdown, and an advanced mega menu, allowing you to customize the navigation according to the size and complexity of your website.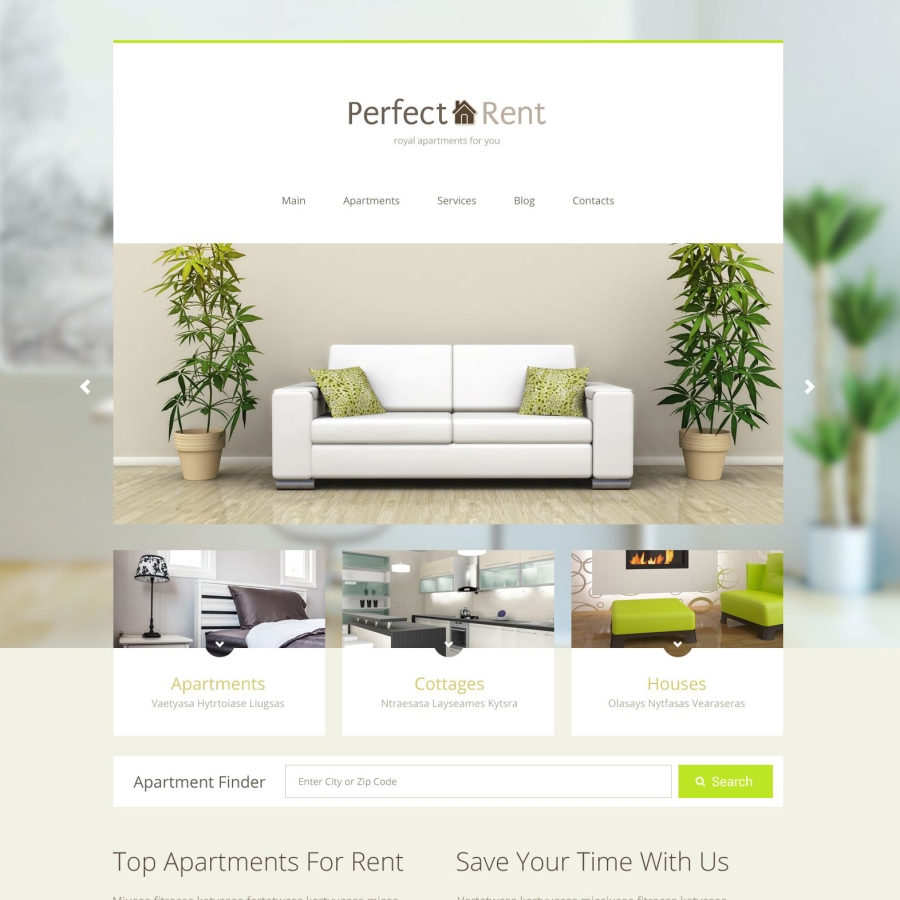 Perfect rent is perfectly suitable for real estate, interior and exterior design and other similar websites due to its roomy gallery block with tabs, where you can arrange your offers by categories. The layout of this template is boxed, but it doesn't mean it looks obsolete: the large blurred background fills all the vacant space.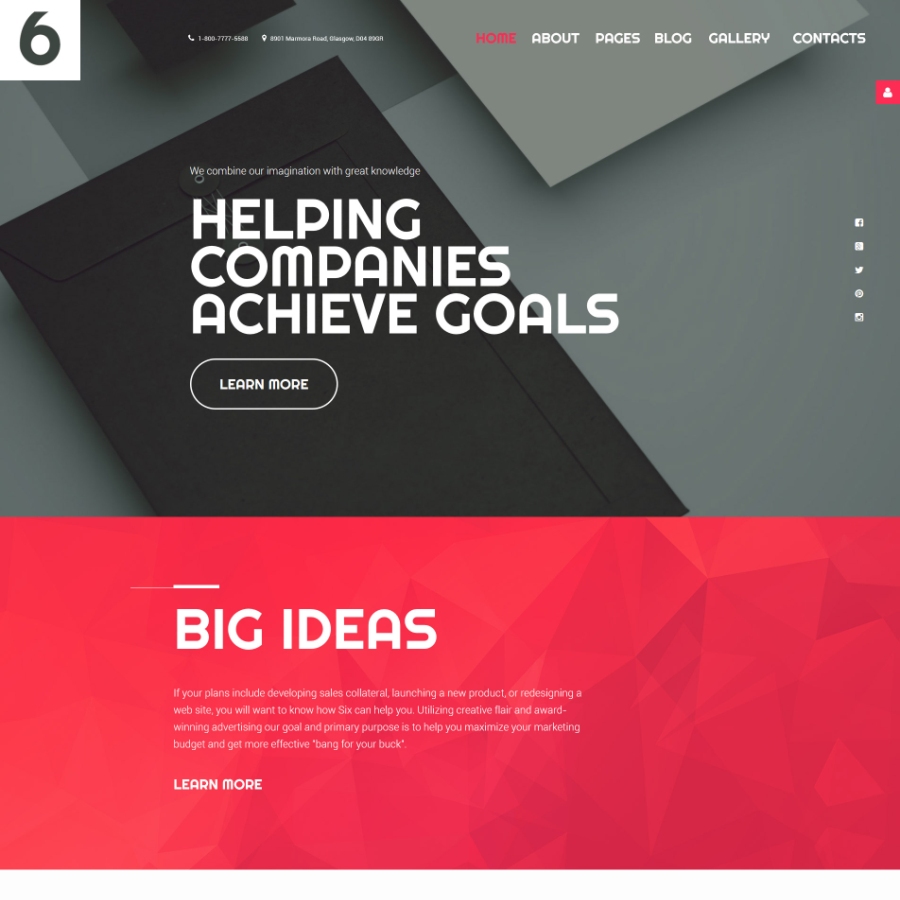 This responsive Joomla template comes with 4 bright color schemes, impressive large sliders, stick-to-top menu functionality, font icons, and various input forms. It supports social login via Facebook or Google+, as well as Google Maps, Olark live chat and the counter of post views.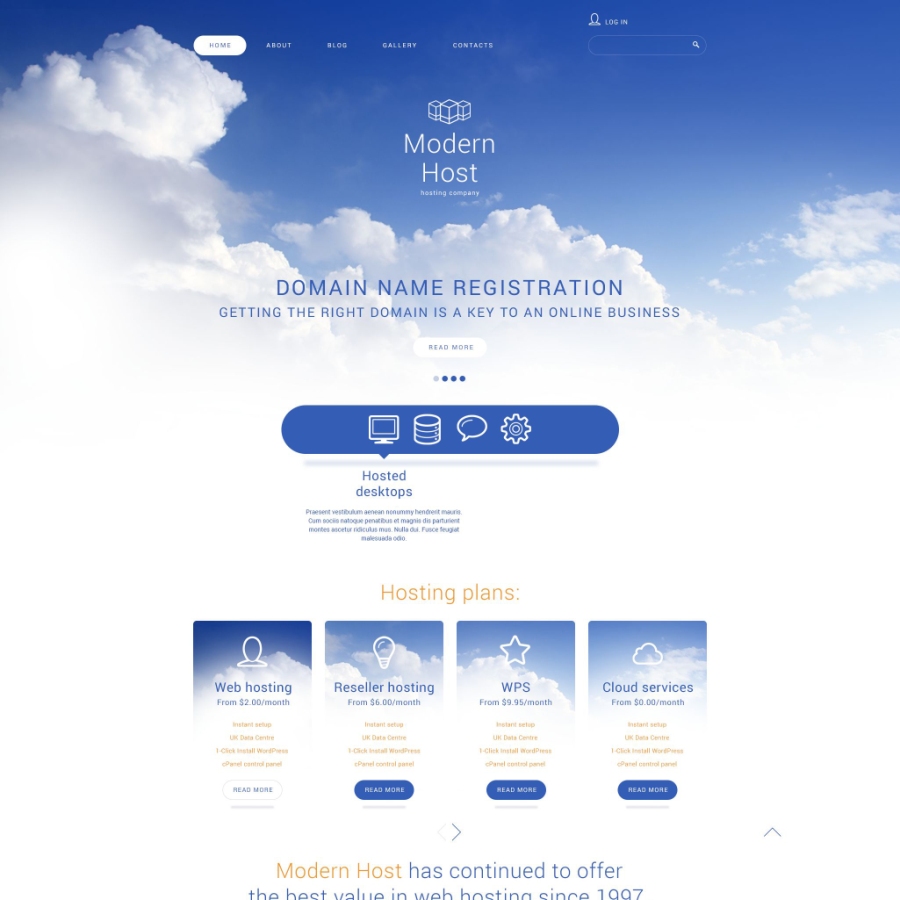 This responsive Joomla template proves that monochromatic templates can also be stylish. It has been designed for hosting providers and other IT companies. This template offers mega menus, visually appealing feature presentations with icons, effective pricing tables and thoughtfully designed call-to-action UI elements.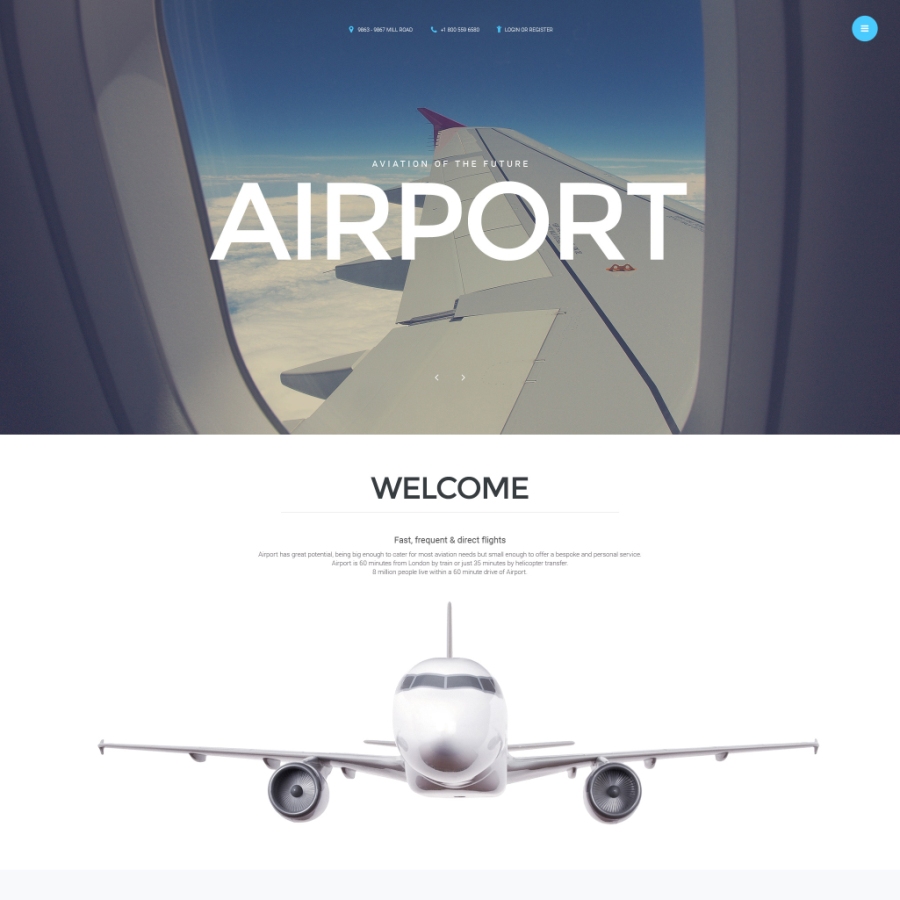 Airport is a nice multipurpose Joomla template. It is well coded and thoroughly designed, but what's most important, it supports background videos. To experience this feature in full upload your own footage instead of the default one – and you will see its positive impact on user engagement.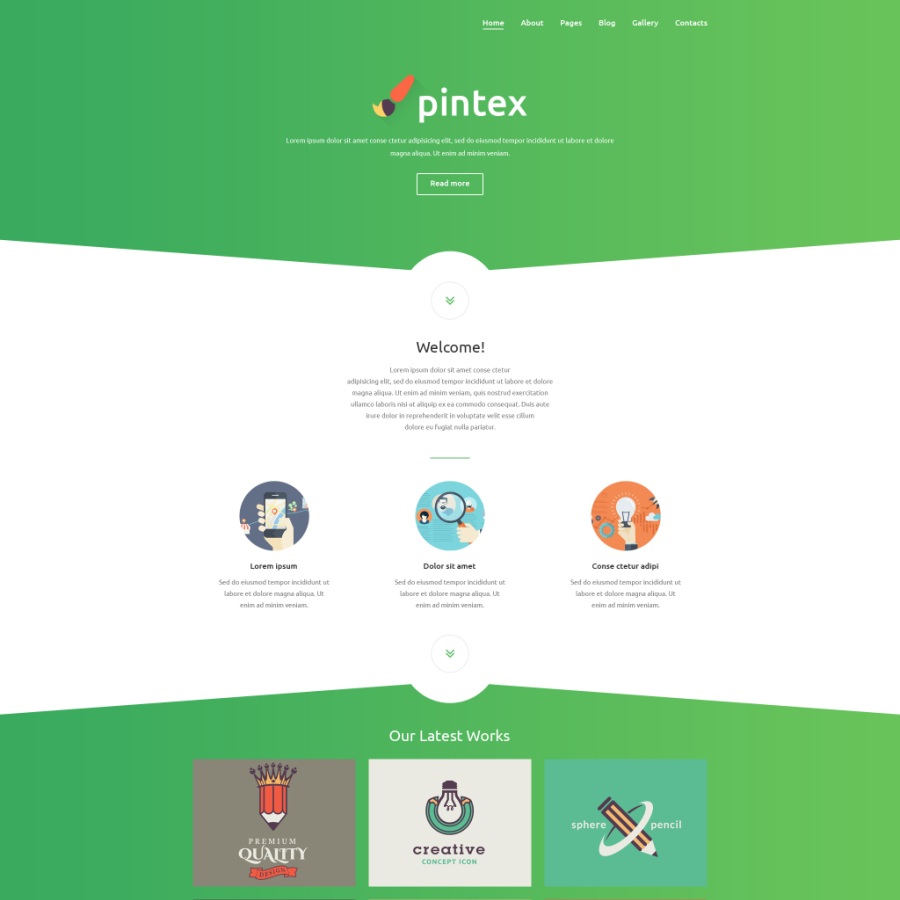 Pintex is a responsive Joomla template with pure flat design and 4 color schemes to choose from. In is integrated with Kunena forums; comes with separate pages for pricing plans, portfolio and sitemap, and offers flexible sign-in options. Pintex is especially recommended for web design studios and freelance copywriter, as its creative look will create a positive impression about the website owner.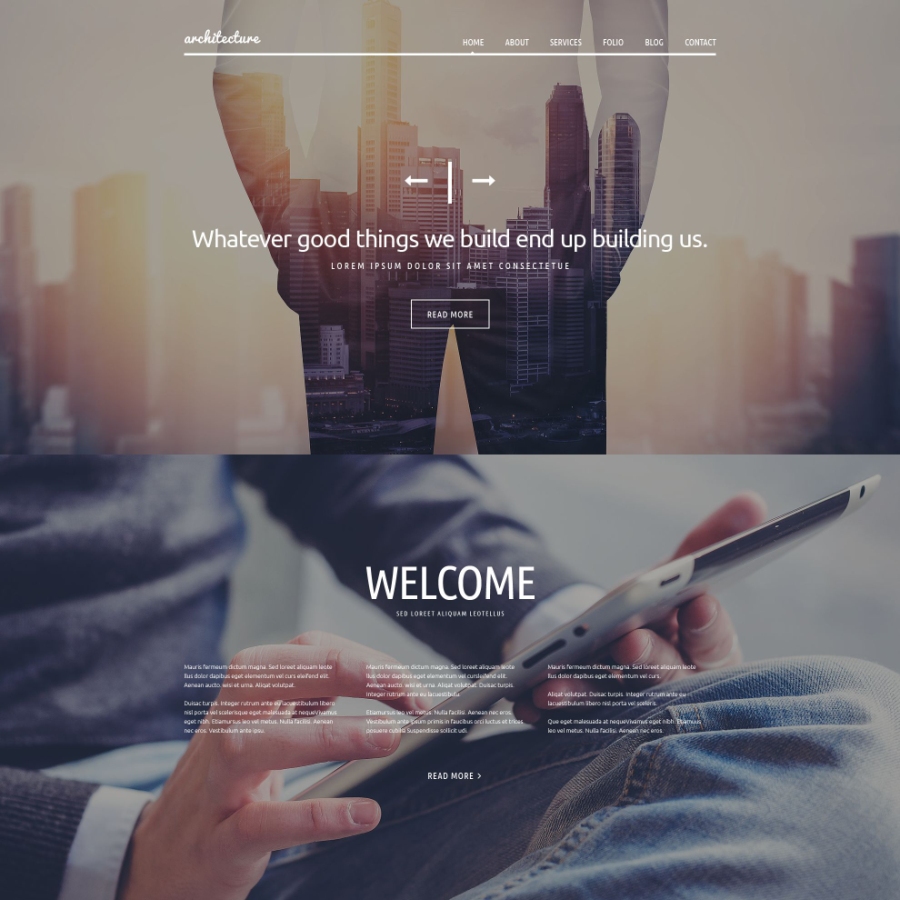 This Architecture Joomla template will help you with setting up a company website. Apart from the beautiful imagery (which you, probably, will replace with something more personified), it boasts extensive gallery options and multifunctional mega menu. The footer is optimized to help your visitors reach out to you; it includes a contact form, and a Facebook like box.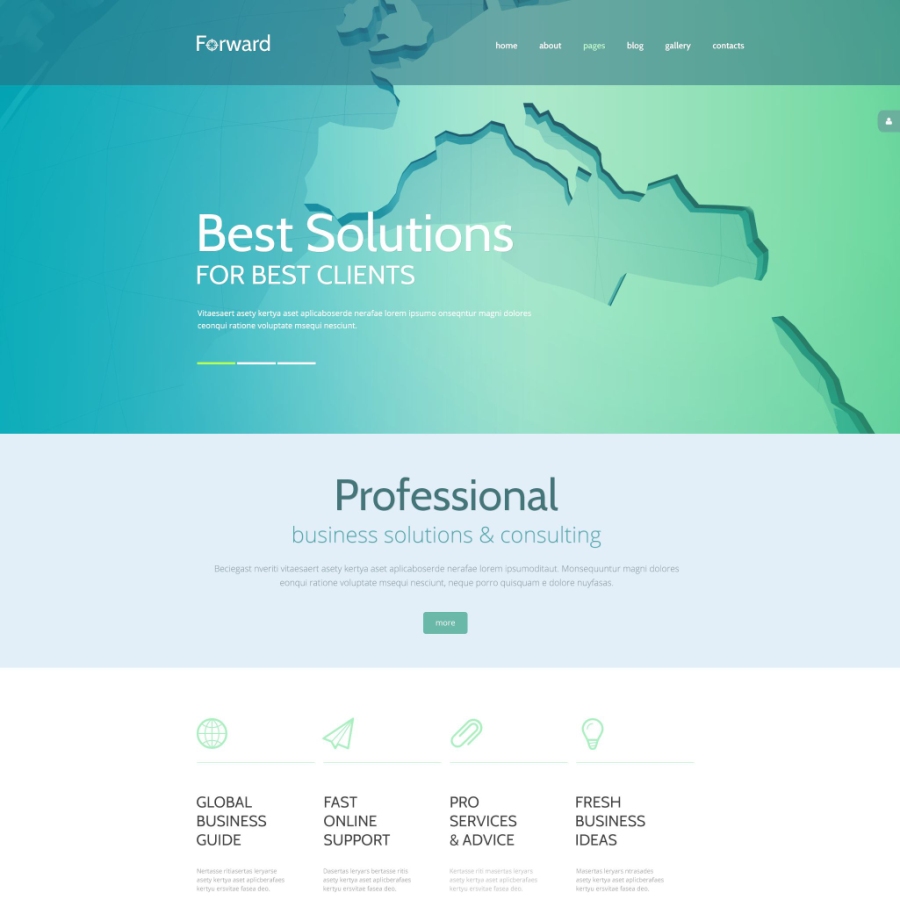 Best Solutions is another multipurpose Joomla template crafted for IT companies. Its design is featured by soft colors, flat backgrounds and semi-transparent menu bars. Available are two registration options: via email and via social networks (Facebook and Google+). The live chat widget changes its color along with the theme when you pick another color scheme.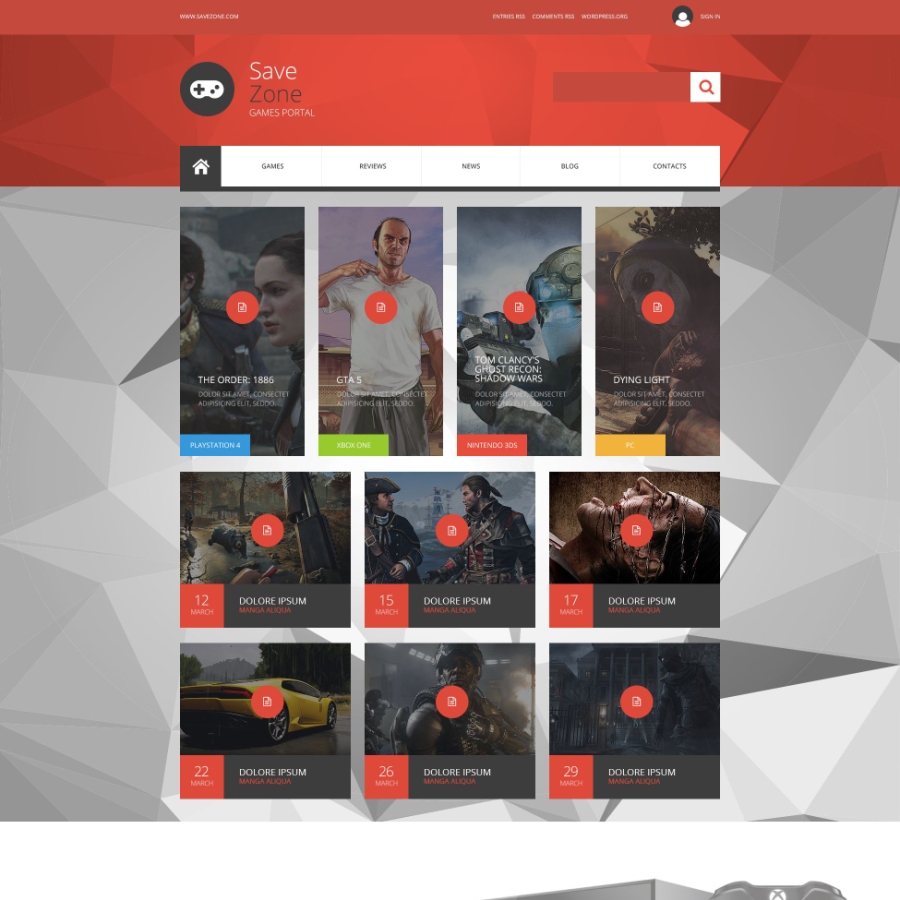 This responsive Joomla template is a specimen of a rare, yet highly demanded kind of designs for game portals. It features a complex layout, which can display category and image previews, blog post excerpts, banners, popular posts and many more.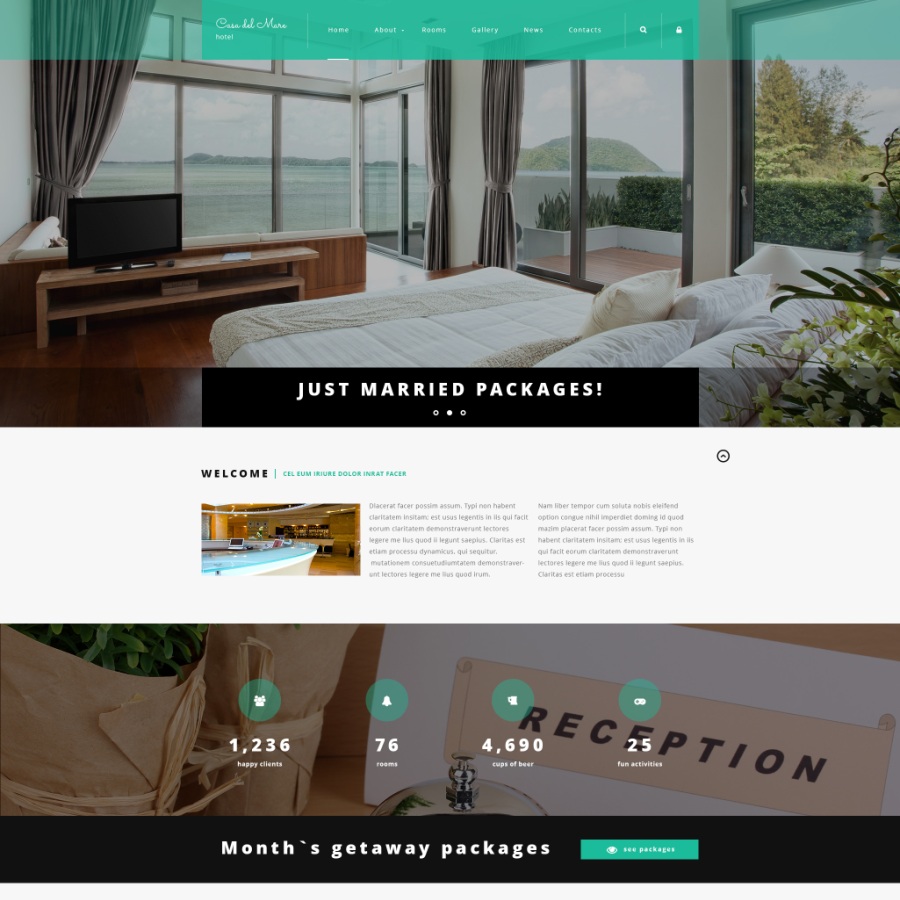 Hotel Suite is a well-designed Joomla template for interior design websites. It is enhanced with parallax scrolling and lazy load effect, fade-out transition animations and other captivating visual features. The contact page is supplied with a Google Map and a contact form.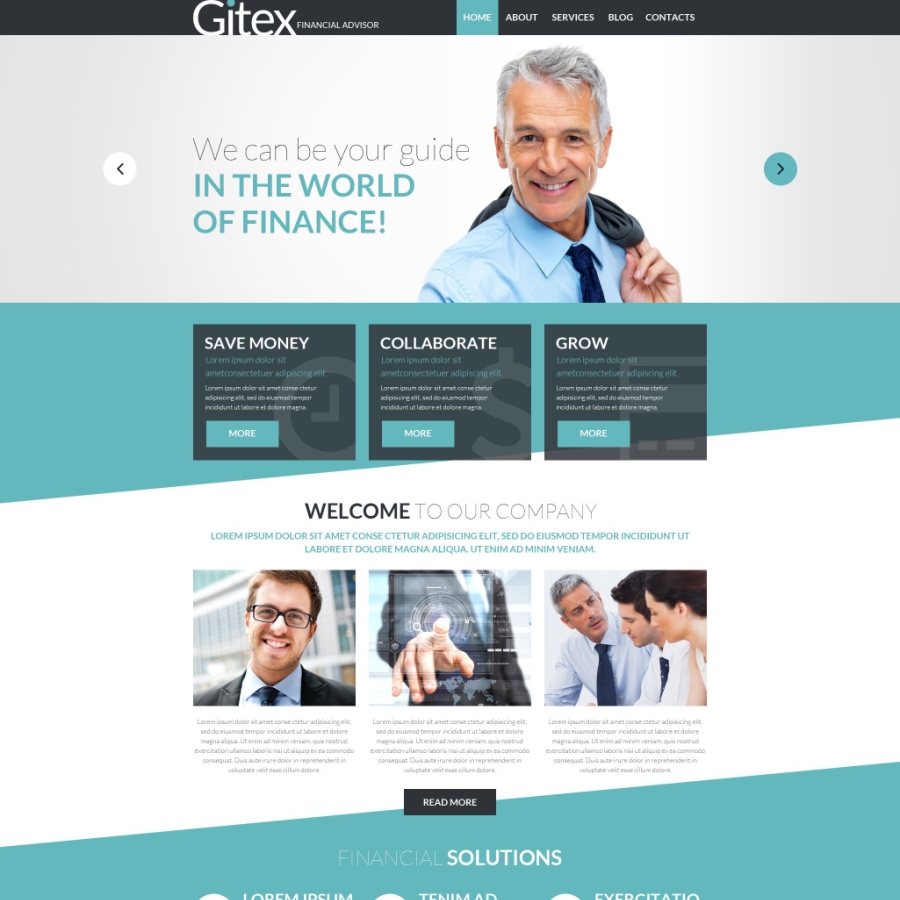 Gitex is a contemporary-looking responsive Joomla template for corporate websites. The choice of fonts and colors used in its design is highly beneficial in terms of readability, providing great user experience to your potential customers. The custom Google Map features extra-size markers, which can be improved with your own images for better visibility.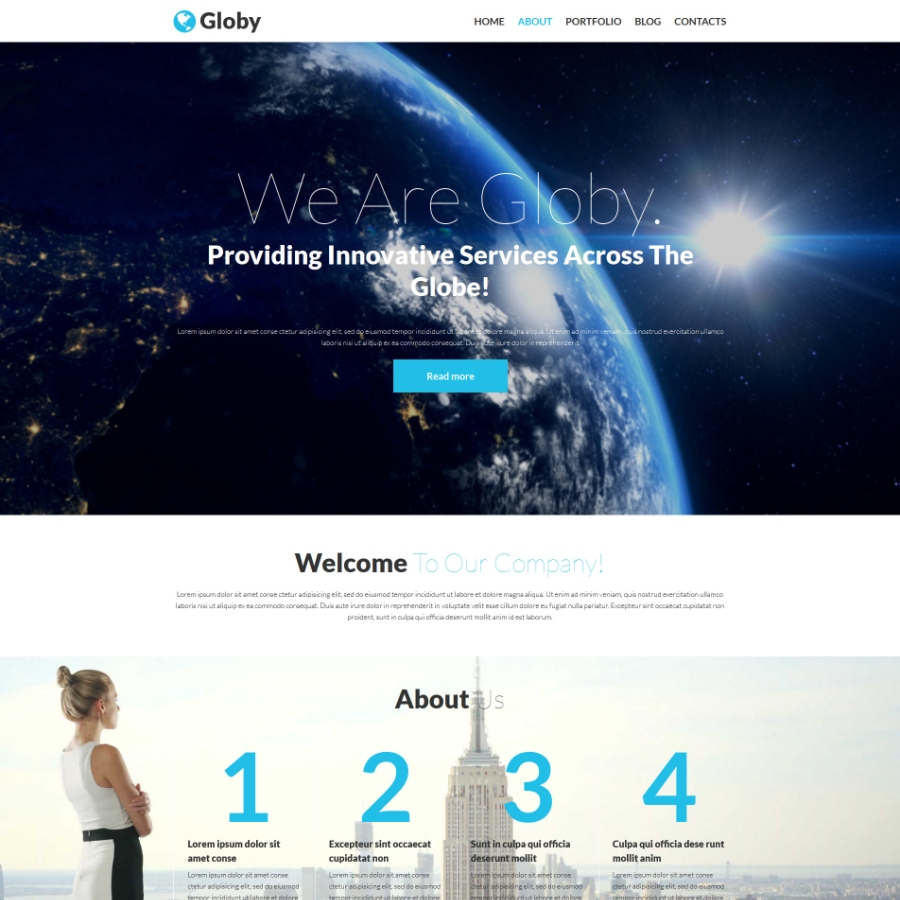 The most impressive thing about Globy is its header with a video background, which drastically improves the visual attractiveness of your website. Other features include dynamic animated counters, parallax, testimonials and gallery tabs.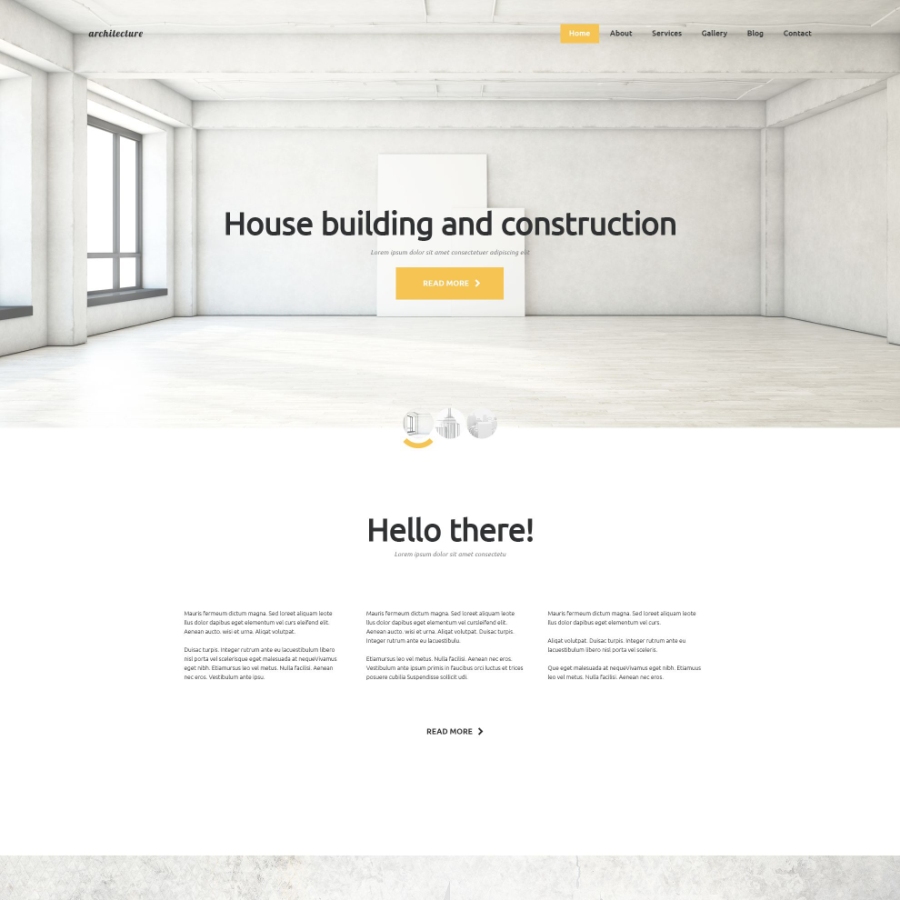 Construction and architecture companies can improve their online presence with the help of this responsive Joomla template with a minimalist white background. Its gallery with a seamless grid-based layout provides broad possibilities for showcasing your company's portfolio. The template also features the extended Facebook block displaying the last posts from your account on the homepage of your website.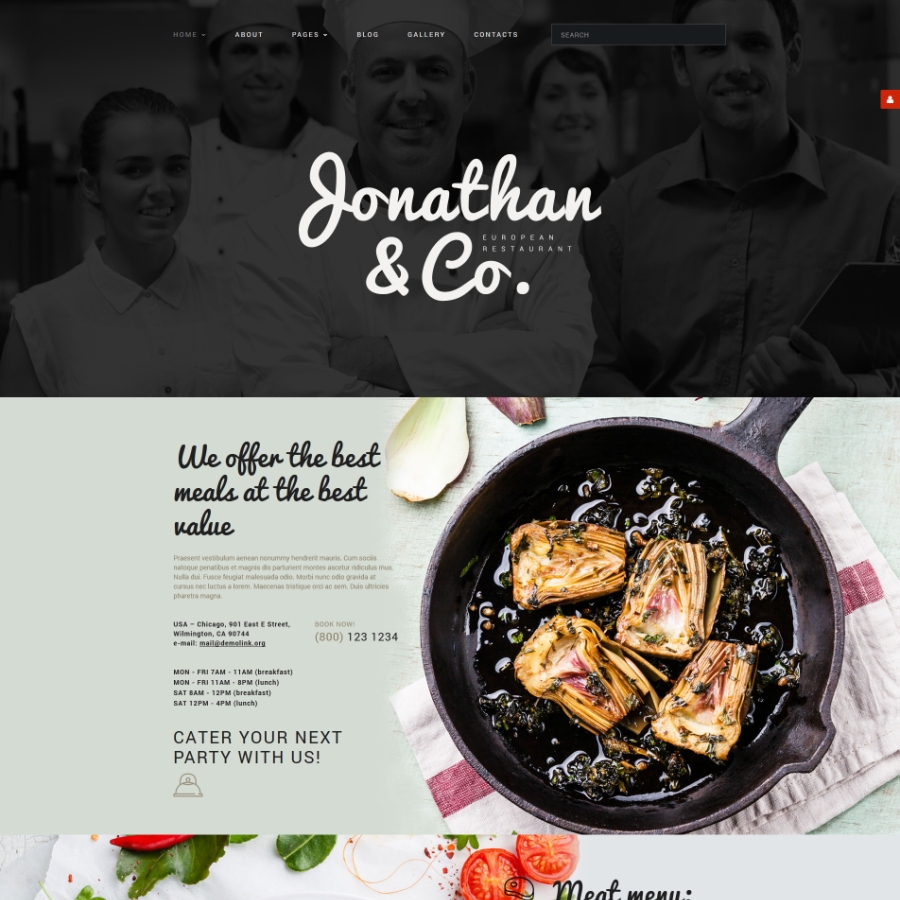 This appetizing design belongs to Johnatan & Co. – the ultimate Joomla template for restaurants. All the elements you can see in the demo are already included into the package: handwritten fonts (the template is integrated with 600+ Google Fonts), food-related icons and illustrations, and high-quality stock photos.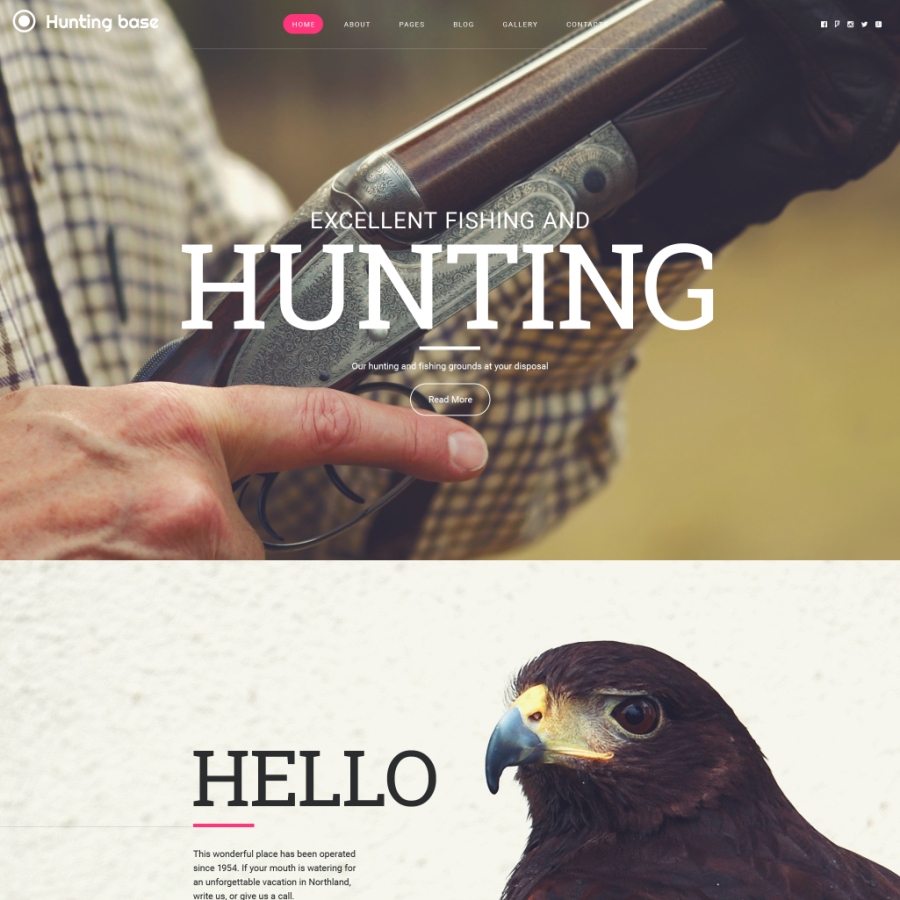 This hunting Joomla template has a long scrolling layout heavily dependent on parallax effect. Its distinctive features are: large colorful buttons, slab serif fonts, extended gallery previews and transparent menu bars. The template comes with 4 predesigned color schemes, which affect such of its elements as buttons and dividing lines.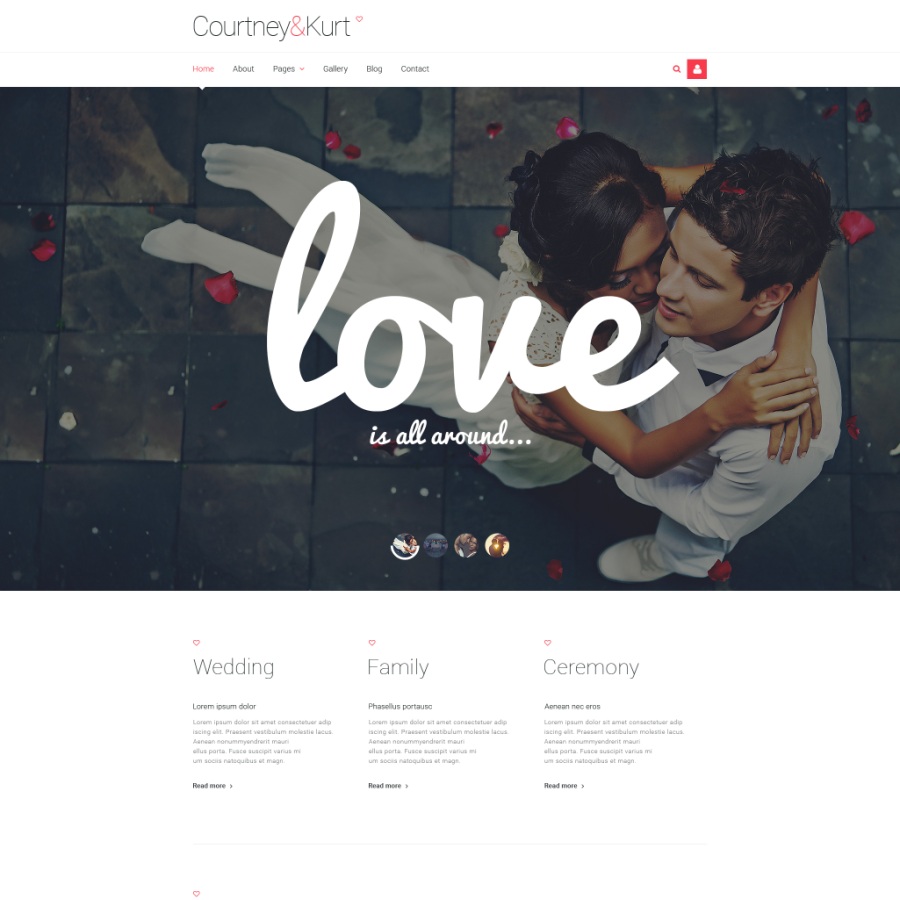 Cortney&Kurt is a tender and feminine Joomla design, which can be effectively used for wedding agencies, personal websites and online stores selling wedding accessories. It can be easily customized either via switching the color scheme or by replacing the icons with the ones you see fit.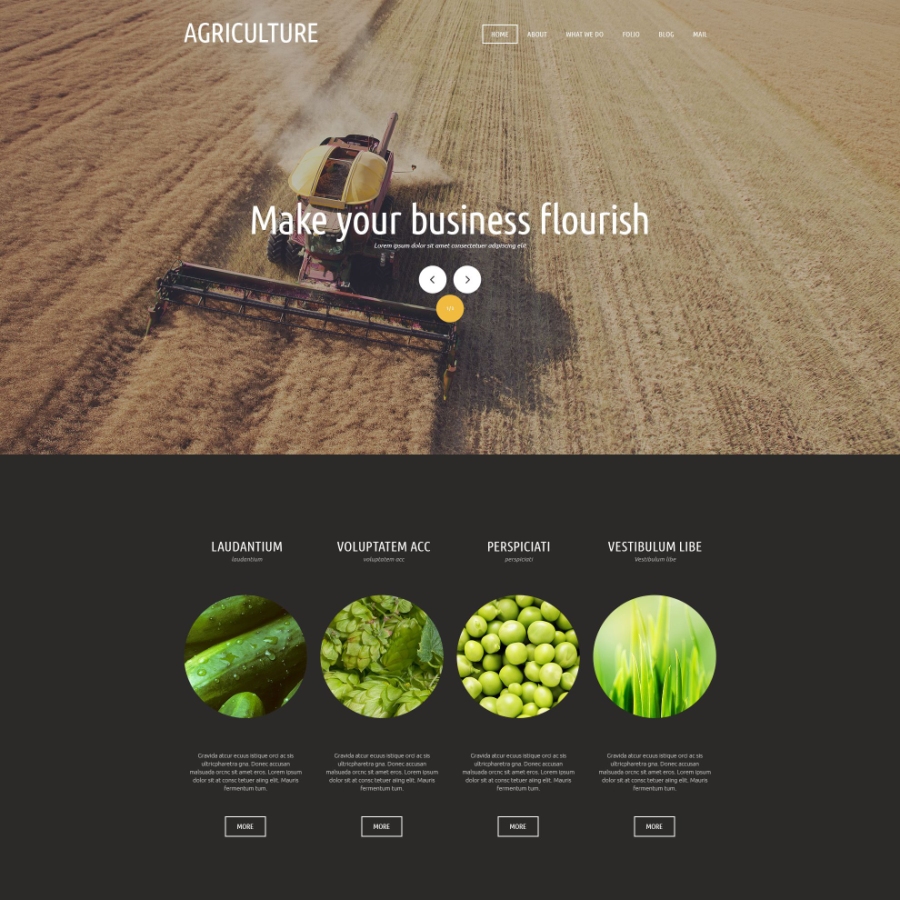 This Joomla template has been developed for all kinds of agricultural and food-related websites. As many other designs from this list it is fully based on large responsive images, which can totally reshape its final look.
We hope this roundup got you inspired to install Joomla and try out one of these feature-rich and neat templates. There are more in the largest collection of Joomla templates over the web. Check them out and grab the one that is most suitable for your project.